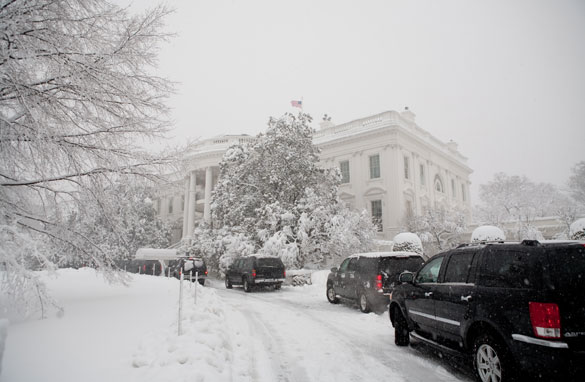 Washington braced Tuesday for a second major winter storm. (Photo Credit: Getty Images)
Washington (CNN) – The wheels of justice have been slowed but not paralyzed by the one-two punch of wintry blasts forcing much of the federal government to shut down this week.
Justice officials said Tuesday that essential personnel - including Attorney General Eric Holder - have managed to keep critical counterterrorism and other priority missions up and running - even as the nation's capital is buried in snow and bracing for more.
"All of the necessary national security functions and public safety functions are fully operational," FBI Assistant Director Michael Kortan told CNN.
But the weather has forced the closing of various U.S. attorneys' offices, affecting more than a thousand federal prosecutors and support staff in the Washington metro area alone.
Of the 94 U.S. attorneys' offices nationwide, nine were forced to close Monday, according to Justice Department spokesman Melissa Schwartz. She told CNN those offices are the one for the District of Columbia, Maryland, Eastern Virginia, Eastern Arkansas, Western Arkansas, Northern Oklahoma, Western Tennessee and Kansas.
On Tuesday, closings were required in the District of Columbia, Maryland, Eastern Virginia and Eastern Arkansas.
In the Washington metropolitan area, 25,300 employees work for the Justice Department and its agencies. Most of those employees stayed home because of nearly impassable roads and side streets, but officials said a significant number telecommuted, using laptops and other devices, while some key personnel were able to make it to their offices in downtown Washington.
By late afternoon Eastern time Tuesday, no closings had been announced for Wednesday.