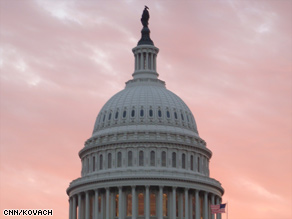 The CNN Washington Bureau's morning speed read of the top stories making news from around the country and the world.
WASHINGTON/POLITICAL
For the latest political news: www.CNNPolitics.com
CNN: White House official: Feb. 25 health care meeting to be televised
President Obama's bipartisan meeting on health care reform planned for February 25 will be broadcast live, a senior administration official said Monday.
Washington Post: Obama team debated treating Detroit suspect Abdulmutallab as enemy combatant
Should Umar Farouk Abdulmutallab, who allegedly tried to bomb an airliner on Christmas Day, have been considered an enemy combatant under the law of war and placed in military detention? The same question raised by senior Republicans last week was considered during a Jan. 6 National Security Council meeting led by President Obama in the White House Situation Room. hould Umar Farouk Abdulmutallab, who allegedly tried to bomb an airliner on Christmas Day, have been considered an enemy combatant under the law of war and placed in military detention? The same question raised by senior Republicans last week was considered during a Jan. 6 National Security Council meeting led by President Obama in the White House Situation Room.
CNN: Rep. John Murtha dies after surgery complications
Rep. John Murtha of Pennsylvania, a longtime fixture on the House subcommittee that oversees Pentagon spending, died after complications from gallbladder surgery, according to his office. He was 77.
Politico: Richard Shelby lifts hold on Obama nominees
Sen. Richard Shelby (R-Ala.) has lifted his controversial holds on more than 70 executive branch nominations, the senator's office confirmed Monday night. With the announced release, the administration's nominees no longer will face a politically difficult 60-vote threshold in order to be considered on the Senate floor.
New York Times: McCain, Facing G.O.P. Foe in Primary, Tilts to the Right
Still bruised by his presidential run and struggling to find his footing in the fractured Republican Party, Mr. McCain remains a formidable force in his home state. …Yet Mr. McCain now finds himself jammed, moving starkly — and often awkwardly — to the right, apparently in an effort to gain favor among the same voters whom Mr. Hayworth, a consistent voice for the far right, could pull toward him like taffy come summer.
New York Times: Lawyers Back Creating New Immigration Courts
Responding to pleas from immigration judges and lawyers who say the nation's immigration courts are faltering under a crushing caseload, the American Bar Association called Monday for Congress to scrap the current system and create a new, independent court for immigration cases.
Chicago Tribune: Democrats prepare to pick new lieutenant governor
Democratic Party leaders began the delicate dance of picking a new running mate for Gov. Pat Quinn on Monday, while emphasizing there was no horse-trading involved to get a scandal-ridden Chicago pawnbroker to abandon the primary nomination for lieutenant governor.
Wall Street Journal: Senator Prodded Fed to Aid Ailing Bank From Home State
Sen. Robert Menendez of New Jersey urged the Federal Reserve last July to approve an acquisition to save a struggling bank in his state. He didn't mention that the bank's chairman and vice chairman were big contributors to his political campaign. If the acquisition had been approved, it would have prevented the two executives from losing what was left of their investments in the bank.
NY Post: Old friends ready to show Ford the money
Harold Ford Jr. has a national base of support if he decides to run for the Senate in New York - a network of donors and friends cultivated over years that could ease the burden of raking in campaign cash.
McClatchy: Latinos say their votes could tip 40 congressional races
Failing to overhaul the nation's immigration system, currently a backburner issue for Congress and President Barack Obama, could play a pivotal role in key mid-term election races in November, according to a new study on Latino voting patterns.
St. Petersburg Times: Secret contract, lavish spending push Republican Party of Florida to crisis
As a volatile election season gets under way, the Republican Party of Florida is facing its biggest crisis of confidence in decades. Donors and party activists are livid over newly revealed records that suggest outgoing chairman Jim Greer used the party as a personal slush fund for lavish travel and entertainment. The records also show that executive director Delmar Johnson padded his $103,000 salary with a secret, $260,000 fundraising contract and another $42,000 for expenses — at the same time the once mighty Florida GOP was having to lay off employees amid anemic fundraising.
NATIONAL
For the latest national news: www.CNN.com
CNN: World War II-era navigation system shut down
In a series of small ceremonies, the U.S. Coast Guard on Monday shut down Loran-C, a navigation and timing system that has guided mariners and aviators since World War II. Killing Loran-C will save the government $190 million over five years, Obama said. But supporters of Loran - including the man known as "the father of GPS" - say the nation's increasing reliance on GPS paradoxically has increased the importance of maintaining Loran as a backup.
Christian Science Monitor: New Orleans at the ready to help Haiti rebuild
Haiti's cataclysmic earthquake has struck home in New Orleans, which itself is still recovering from the 2005 hurricane and flood. For a time, the city's survival was in doubt, but with much aid, it's come a long way. Now, many New Orleanians want to put their knowledge and experience to use in Haiti, helping others in dire need.
Hartford Courant: Explosion Investigation Focusing On Safety Issues
Possible gaps in safety protocols at the Kleen Energy power plant are at the center of the investigation into Sunday's blast that killed five and injured 12. It occurred during the always-dangerous process of purging, or cleaning, of the underground, high-pressure natural-gas pipeline that runs about 800 to 1,000 feet through the facility.
INTERNATIONAL
For the latest international news: http://edition.cnn.com
CNN: Sources: Pakistani Taliban leader is dead
Pakistani Taliban leader Hakimullah Mehsud is dead, three Taliban sources said Tuesday. Mehsud died near the city of Multan while on his way to a treatment center in Karachi, the sources said. It was not immediately clear why he was going to the treatment center.
Authorities have been looking into reports that Mehsud died after being wounded last month in a drone attack.
New York Times: Iran Is Said to Begin Nuclear Enrichment
Brushing aside international calls for stricter sanctions against it, Iran was reported on Tuesday to have begun enriching its stockpile of uranium for use in a medical reactor, raising the stakes again in its dispute with the United States and other countries over its nuclear program.
Der Spiegel: How Goldman Sachs Helped Greece to Mask its True Debt
Goldman Sachs helped the Greek government to mask the true extent of its deficit with the help of a derivatives deal that legally circumvented the EU Maastricht deficit rules. At some point the so-called cross currency swaps will mature, and swell the country's already bloated deficit.
Los Angeles Times: China says it shut down online academy for hackers
Black Hawk Safety Net was shut down in November and its founders later arrested, state media report. The school took tuition from tens of thousands who wanted to learn 'successful attack tools.'
CNN: Officer: U.S. missionaries had tried to take other Haitian kids
The group of American missionaries in Haiti facing kidnapping charges for trying to take 33 children out of the country last week made an earlier, unsuccessful attempt at taking dozens of other children, a Haitian police officer said Monday.
CNN: China seizes tainted milk less than 2 years after scandal
Chinese authorities have seized 72 tons of milk powder tainted with melamine and are trying to track down an additional 100 tons, less than two years after contaminated milk killed babies and sickened people across China.
Daily Telegraph: Brazil joins scramble for Africa's natural resources
A Brazilian mining company is preparing to start operations in Mozambique as the South American country joins the scramble for Africa's natural resources.
Washington Post: World Digest: International observers say Ukrainian election was free and fair
International monitors on Monday described Ukraine's presidential election as free and fair, putting pressure on Prime Minister Yulia Tymoshenko to concede defeat despite a tight vote count and charges of irregularities.
BUSINESS
For the latest business news: www.CNNMoney.com
CNNMoney: Debt fears drag Dow below 10,000
The Dow closed below 10,000 Monday for the first time in three months, with financial shares leading the way, as worries about the U.S. economy and European debt weighed on investor sentiment.
Wall Street Journal: Hitting Goldman Where It Hurts
President Barack Obama has taken aim at the world's largest private-equity operation: Goldman Sachs Group Inc. Most of the focus surrounding the White House's bank-overhaul push has been on its proposed ban on banks' proprietary-trading activities. But the administration also wants to prohibit banks from making private-equity investments, in which they use their capital to acquire stakes in companies, often using large sums of borrowed money.
CNNMoney: Toyota to announce Prius recall
Toyota will announce a global recall of its 2010 Prius hybrid vehicles, a source with knowledge of the plans told CNN. The auto manufacturer will file recall papers with the Japanese and U.S. governments Tuesday, the source said.
Investors Business Daily: Does China Still Need U.S. Tech? Google Tiff Highlights Evolution
The looming question is whether China's tech development is reaching a point where its government is ready to risk U.S. players like Google (GOOG) leaving if they don't like the rules of doing business there.
In Case You Missed It
Iran's Rep. to the International Atomic Energy Agency tells Christiane Amanpour how much uranium Iran will enrich.
http://www.cnn.com/video/#/video/world/2010/02/09/iran.amanpour.cnn
Coalition troops in Afghanistan's Helmand province prepare for an upcoming offensive. CNN's Atia Abawi reports.
http://www.cnn.com/video/#/video/world/2010/02/07/abawi.afghan.offensive.cnn
Subscribe to the CNN=Politics DAILY podcast at http://www.cnn.com/politicalpodcast
And now stay posted on the latest from the campaign trail by downloading the CNN=Politics SCREENSAVER at http://www.CNN.com/situationroom