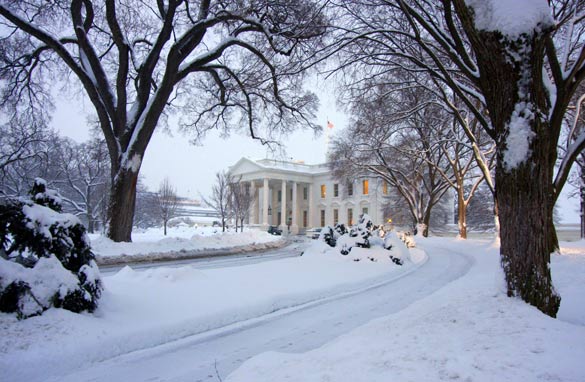 Wednesday's snow has many West Wing employees homebound. (Photo Credit: Erika Dimmler/CNN)
Washington (CNN) - While the federal government is officially closed Wednesday, the White House never really shuts down. But because of unprecedented snow and an early morning blizzard warning, even this weather is keeping many West Wing employees homebound.
According to Deputy White House Communications Director Jen Psaki, "thanks to modern technology many people are working from home," including one senior administration official who was providing information on health care reform from the warmth and safety of his house. But Psaki is quick to add that the administration has "a stalwart crew in parkas and snow boots at the White House as well."
Stalwart indeed. Psaki herself was overheard talking about making the trek to the White House on foot from Adams Morgan, and journalists covering President Obama also walked miles or spent the night in downtown hotels in order to make it to the White House campus during Snowmageddon, Part II. Even Deputy White House spokesman Bill Burton is telecommuting today, since staying at home "helps me shovel my front walk every 45 minutes or so."
And what about the president? With a commute of only a few feet, he stuck to his scheduled meeting with African-American leaders pushing for more jobs for chronically unemployed minorities.