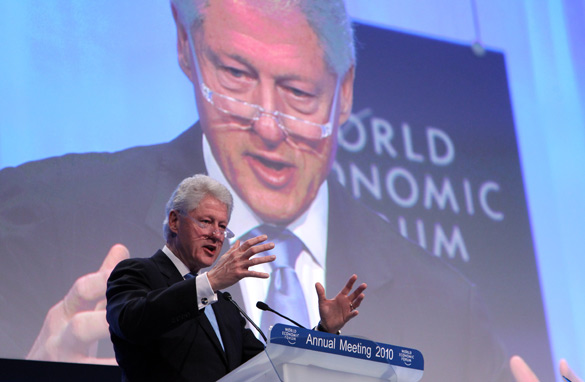 Former President Bill Clinton was hospitalized in New York on Thursday after experiencing chest pain, two sources told CNN. (Photo Credit: Getty Images/File)
New York (CNN) - Former President Bill Clinton was in "good spirits" Thursday after undergoing a procedure to insert two stents into one of his coronary arteries, his office said.
Clinton, 63, was hospitalized at the Columbia Campus of New York Presbyterian Hospital after experiencing chest pain, according to Douglas Band, counselor to the former president.
Despite other media reports that he had left the hospital, Clinton remained there Thursday evening, a spokesman for the hospital said.
A stent is a tiny tube that is inserted into a narrowed or blocked vessel to open it up and allow blood to travel through, according to CNN's chief medical correspondent Sanjay Gupta.
A source close to the former president said "he is fine" and will recuperate.
Clinton's wife, Secretary of State Hillary Clinton, left the White House after a meeting in the Oval Office and headed to New York, a State Department official said. The Clintons' daughter, Chelsea Clinton, was with her father, according to spokeswoman Julie Goldberg.
In a written statement, Band said, "President Clinton is in good spirits, and will continue to focus on the work of his Foundation and Haiti's relief and long-term recovery efforts."

Full story
Updated: 6:06 p.m.