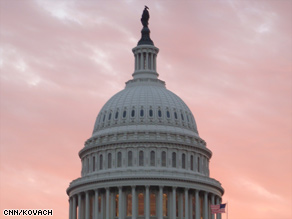 The CNN Washington Bureau's morning speed read of the top stories making news from around the country and the world.
WASHINGTON/POLITICAL
For the latest political news: www.CNNPolitics.com
CNN: California Democratic congresswoman to retire
Rep. Diane Watson will retire at the end of the year rather than run for re-election, three Democratic sources tell CNN. Watson will become the seventh House Democrat to retire at the end of the year rather than run for re-election, but the first from a district considered safe for the party.
CNN: Michigan Republican announces retirement
Michigan Republican Rep. Vern Ehlers said Wednesday he will not run for re-election in November. Ehlers is the 16th House Republican to announce plans to leave the House either to run for another office or outright retire.
Bloomberg: Obama Says He's 'Fierce' Free-Market Advocate, Rejects Critics
President Barack Obama said he and his administration have pursued a "fundamentally business- friendly" agenda and are "fierce advocates" for the free market, rejecting corporate criticism of his policies.
Wall Street Journal: Snow Adds To Drift In Politics
In a town where everything takes on political freight, this week's historic snows have dumped a shovelful of mixed metaphors on the federal government. …The storm, the result of two weather systems combining, brought official Washington to a near standstill, not to mention disrupting air travel and knocking out power to thousands in the capital area. Wednesday's snowfall, the fourth in two weeks, topped off what's now the nastiest Washington winter on record—55.6 inches of snow for the season so far—and one of its foulest political seasons, too.
CNN: Biden: Major terror attack on U.S. unlikely
Vice President Joe Biden said Wednesday that terrorists continue to try to harm the United States, but another "massive" terrorist strike like the September 11, 2001, attacks is unlikely.
CNN: Reagan brothers spar over dad's view of Tea Party movement
Don't invite the late President Ronald Reagan's two sons over for a tea party, much less a beer. Well, maybe a beer, kind of like President Obama's "beer summit" last summer at the White House. That might be needed. The brothers Reagan, Ron and Michael, don't agree on how their dad – often described as the father of the modern day conservatism – would view the Tea Party movement.
CNN: Palin's 'an engaging person,' Biden says
Vice President Joe Biden said Wednesday he's a fan of Sarah Palin's personality but questions where some of the former Alaska governor's comments "come from."
CNN: Edwards' spokeswoman denies story on marriage proposal
Former Sen. John Edwards' spokeswoman flatly denied a story in the National Enquirer Wednesday that claimed the 2004 Democratic vice presidential nominee is engaged to his mistress, Rielle Hunter.
CNN: Kerry calls John Edwards' situation 'a tragedy'
Sen. John Kerry, who tapped former Sen. John Edwards for the No. 2 spot on the 2004 Democratic presidential ticket, said Wednesday that he was "disappointed" by Edwards' political and personal downfall in the wake of revelations about an extra-marital affair and Edwards' recent admission that he fathered a child out of wedlock with his former mistress.
CNN: Rep. Charlie Wilson of Texas dead at 76
Former Democratic Rep. Charles Wilson of Texas died Wednesday at age 76, an East Texas hospital said. The 12-term congressman, who served the state's second congressional district and inspired the 2007 movie "Charlie Wilson's War," had been in a meeting Wednesday morning with a friend when he complained of difficulty breathing, said Yana Ogletree, a spokeswoman for Memorial Medical Center in Lufkin.
Boston Phoenix: New and improved Romney
Scott Brown's unexpected victory in last month's special US Senate election captured the attention of the country — and particularly of core Republican voters, who huddled eagerly before their TV screens to watch their hero du jour give his acceptance speech. But even in the midst of his moment in the sun, Brown made sure to thank the other handsome, well-coifed man on the stage, Mitt Romney — who, as it happens, would very much like the votes of that national Republican audience in the 2012 Republican presidential primaries.
Chicago Sun-Times: Blagojevich: Play all wiretaps in court
Former Illinois Gov. Rod Blagojevich — famously caught on tape calling a U.S. Senate seat appointment (bleepin') golden — said today he wants to make sure that the jury that will hear the corruption case against him gets to hear that recording.
Dallas Morning News: Sessions says recent GOP victories aided fundraising for party
After a year of lackluster fundraising, House Republicans are bouncing back, Dallas Rep. Pete Sessions said Wednesday, thanks to several mood-lifting wins for the party.
Boston Globe: Brown's next step: putting his saga into a book
Seeking to cash in quickly on his newfound celebrity, the freshman Republican from Massachusetts is shopping his autobiography to publishers. Brown has retained agent Robert Barnett, a Washington attorney whose high-powered clients include President Obama and former president Bill Clinton, among other luminaries.
NATIONAL
For the latest national news: www.CNN.com
CNN: 'Perverse incentive' in current health care system, says expert
Even as the health care debate turns to blood sport in Washington, some analysts say the debate is ignoring one of the leading causes of rising costs: the way health care providers are paid.
New York Times: Once Stigmatized, Food Stamps Find Acceptance
A decade ago, New York City officials were so reluctant to give out food stamps, they made people register one day and return the next just to get an application. The welfare commissioner said the program caused dependency and the poor were "better off" without it. Now the city urges the needy to seek aid (in languages from Albanian to Yiddish).
New York Times: Mayors Grow Attuned to the Politics of Snow Removal
Mayor Adrian M. Fenty, whose city has been overwhelmed by record snowfall, knows the clock is ticking. While residents have been relatively understanding — so far — about delays in plowing roads and clearing sidewalks, he recognizes the perils for politicians who do not get their cities cleaned up quickly.
Wall Street Journal: Six Faulted Over Fort Hood
The military will formally discipline at least six officers, mostly from Walter Reed Army Medical Center in Washington, for failing to take action against the officer accused of carrying out last year's deadly shooting rampage at Fort Hood, according to people familiar with the matter.
INTERNATIONAL
For the latest international news: http://edition.cnn.com
CNN: Ahmadinejad addresses Iranians on key anniversary
Iranian President Mahmoud Ahmadinejad said Thursday on an important national anniversary that the West criticizes his country because a powerful Iran is an impediment toward its goal of controlling the Middle East.
New York Times: Obama Takes Several Gambles in Bid to Defuse Nuclear Standoff With Iran
As President Obama adds economic pressure and military containment to force Iran's leadership to negotiate on its nuclear program, he is taking three big bets on his ability to defuse an increasingly tense confrontation.
Washington Post: Technical setbacks cause Iran to falter in push to enrich uranium, report says
Iran is experiencing surprising setbacks in its efforts to enrich uranium, according to new assessments that suggest that equipment failures and other difficulties could undermine that nation's plans for dramatically scaling up its nuclear program.
Times of London: EU leaders on verge of deal to rescue Greece and save euro
European leaders are poised to announce a multibillion-pound rescue of the Greek economy today to try to stop its debt crisis spreading to other countries and wrecking the euro.
CNN: South Africa 20 years after Mandela release
When Nelson Mandela stepped out of South Africa's Victor Verster prison a free man 20 years ago Thursday, he was his country's most famous freedom fighter.
CNN: Iraq orders ex-Blackwater contractors out
Iraq has ordered former employees of the private military contractor once known as Blackwater to leave the country, its interior minister announced Wednesday.
New York Times: 2 Ex-Workers Accuse Blackwater Security Company of Defrauding the U.S. for Years
Two former employees of Blackwater Worldwide have accused the private security company of defrauding the government for years by filing bogus receipts, double billing for the same services and charging government agencies for strippers and prostitutes, according to court documents unsealed this week.
BBC News: Thailand drops North Korea weapons charges
Thailand has dropped charges against the five-member crew of a plane suspected of carrying weapons from North Korea. A spokesman for Thailand's attorney general said the five would be deported to face prosecution in their own countries.
CNN: UK ordered to publish details of alleged U.S. torture
The British government was ordered to publish previously secret information Wednesday about the alleged torture of a former British detainee by U.S. authorities.
BUSINESS
For the latest business news: www.CNNMoney.com
CNNMoney: Stocks dip on Bernanke plan, Europe worries
Stocks struggled Wednesday as investors weighed the Greek debt situation, a strong dollar and Fed chairman Ben Bernanke's plan for eventually withdrawing some of the trillions of dollars used to bolster the nation's financial system.
Daily Telegraph: China orders retreat from risky assets
China has ordered managers of its vast currency reserves to withdraw from risky dollar assets and retreat to core debt guaranteed by the US government, a clear sign that Beijing is battening down the hatches for fresh trouble on global markets. A Communist Party directive leaked to the Chinese-language edition of the Asia Times said dollar reserves should be limited to US Treasuries or agency mortgage debt such as Freddie Mac that enjoys Washington's implicit backing.
Business Week: FCC May Pay Broadcasters for Airwaves
To relieve the strain on mobile networks caused by smartphones, the agency is considering a plan to pay broadcasters to vacate some of their airwaves
CNNMoney: AIG overhauls bonus system
AIG announced on Wednesday that it is changing the way it pays out bonuses to its employees, opting to determine compensation based on performance.
New York Times: Wall St.'s Biggest Bonuses Go to Not-So-Big Names
The list of the biggest earners in finance usually reads like a Who's Who of Wall Street. But these days, it reads more like a Who's That?It turns out that some of the highest-paid financial executives in America work far from the canyons of Lower Manhattan, at companies that have largely avoided the outcry over the return of hefty paydays on Wall Street.
CNNMoney: Google testing super-fast broadband network
Google said Wednesday that it will start testing a new broadband network that will deliver speeds of more than 100 times faster than traditional broadband.
In Case You Missed It
Congressional business is largely on hold after snow paralyzes Washington CNN's Brianna Keilar reports.
http://www.cnn.com/video/#/video/politics/2010/02/10/tsr.keilar.empty.senate.cnn
Larry King sits down with Vice President Joe Biden to talk about the state of the economy.
http://www.cnn.com/video/#/video/bestoftv/2010/02/11/lkl.joe.biden.cnn
Subscribe to the CNN=Politics DAILY podcast at http://www.cnn.com/politicalpodcast
And now stay posted on the latest from the campaign trail by downloading the CNN=Politics SCREENSAVER at http://www.CNN.com/situationroom