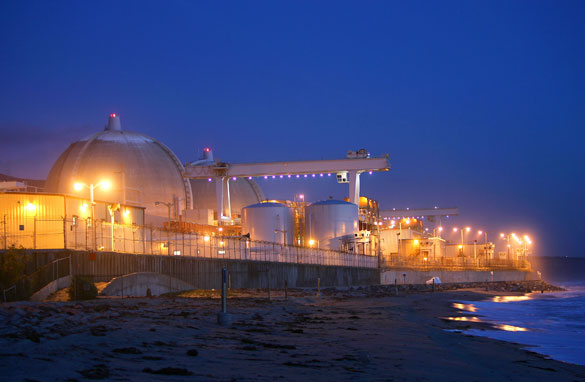 The San Onofre Nuclear Generating Station is located north of San Diego. (PHOTO CREDIT: Getty Images)

Washington (CNN) - President Barack Obama announced $8.3 billion in loan guarantees Tuesday for two nuclear reactors to be built in Burke County, Georgia.
A new nuclear power plant has not been built in the United States in three decades.
The new reactors are to be part of an expansion of an existing nuclear facility near Augusta, Georgia, operated by Atlanta-based Southern Company.
The loan guarantees will help create 3,500 on-site construction jobs and 850 permanent operations jobs, administration officials claimed. The reactors will help provide power to over 550,000 homes and 1.4 million people, it said.
"This is only the beginning," Obama said during a visit to an International Brotherhood of Electrical Workers training facility in Lanham, Maryland. "We'll continue to provide financing for clean energy projects ... across America."
The president acknowledged that construction of new nuclear facilities will meet with some political resistance. Nuclear development has traditionally been opposed by more progressive elements of the Democratic Party. But nuclear power, he said, remains the country's largest source of fuel that produces no carbon emissions.