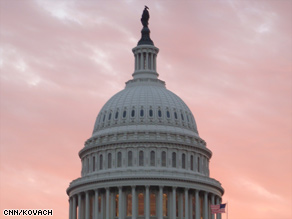 The CNN Washington Bureau's morning speed read of the top stories making news from around the country and the world.
Compiled by Alison Harding
WASHINGTON/POLITICAL
For the latest political news: www.CNNPolitics.com
CNNMoney: Curbing debt: Shoulda, coulda. Now gotta.
In the past five years, the administrations of both parties have tried to reform three big-ticket items: the tax code, health care and Social Security. The reform efforts would have helped put the federal budget on a more sustainable course. Now policymakers' work is infinitely harder as they wake up to the realization that they must deal soon with the country's long-term fiscal problems. At stake ultimately is the United States' status as a first-class economy.
Los Angeles Times: Banks step up spending on lobbying to fight proposed stiffer regulations
Even as the financial industry has sought to keep a low public profile, some of the country's largest banks have ramped up their spending on lobbying to fight off some of the stiffest regulatory proposals pending in Congress.
Wall Street Journal: Senate Woes Flag Wider Disease
On this much, just about everybody agrees: The U.S. Senate isn't well. However, let's not misdiagnose the disease. The Senate isn't the problem. The Senate is merely a symptom of the U.S. political system's larger dysfunction. The Senate is worth examining mostly because it is like a giant X-ray machine, allowing us to peer into the broader body politic to examine its broken pieces.
New York Times: U.S. Encounters Limits of Iran Engagement Policy
For two days this month, Gen. James L. Jones, President Obama's national security adviser, and Manouchehr Mottaki, the Iranian foreign minister, were in the same place at the same time, attending a high-level security conference in Munich with a number of high-ranking officials from around the world. And yet the two made no plans to meet with each other. Whatever happened to engagement?
CNN: Bayh won't seek Senate re-election
Sen. Evan Bayh, D-Indiana, said Monday afternoon that he won't seek a third term in the Senate - a major blow to Democrats worried about losses in the midterm elections.
CNN: Is it too tough to be a centrist Democrat?
– Facing a backlash from the liberal wing of their party, Sen. Evan Bayh and other centrist Democrats are examining their re-election options and deciding to simply walk away, political analysts note.
Los Angeles Times: In Texas, 'tea party' candidate may shake up governor's race
At another time, in another place, Medina might be a mere curiosity, peddling unconventional ideas - replacing property taxes with a bigger sales tax, encouraging every citizen to be armed - from the political fringe. But as early voting starts Tuesday in the March 3 primary, Medina has emerged as a key factor in a Republican race once seen as a battle between two titans, Gov. Rick Perry and Sen. Kay Bailey Hutchison.
Dallas Morning News: Missions differ for Texas governor hopefuls in dash to primary
With early voting set to start today, the main contenders for governor go into the final two-week sprint on decidedly different missions. Gov. Rick Perry would like to muster a majority in the Republican primary and avoid a runoff…Sen. Kay Bailey Hutchison, trailing in the polls and struggling to find a breakthrough message, could use a six-week runoff campaign to convince voters she is best suited to be the GOP nominee and ensure the party a victory in November. Debra Medina, who ascended a wave of Tea Party populism, is scrambling to patch the damage from a controversial radio interview and keep her upstart candidacy alive.
CNN: Hayworth throws hat in ring for McCain's seat
The GOP's 2008 presidential nominee has earned a primary challenge from the right on Presidents Day. J.D. Hayworth, a former congressman from Arizona and radio host, formally announced Monday that's he's challenging Republican John McCain for his U.S. Senate seat.
New York Daily News: Kirsten Gillibrand gets William Thompson's backing as she blasts Harold Ford over finances
Sen. Kirsten Gillibrand added another prominent African-American supporter to her campaign Monday after taking a shot at Harold Ford for not yet making financial disclosures.en. Kirsten Gillibrand added another prominent African-American supporter to her campaign Monday after taking a shot at Harold Ford for not yet making financial disclosures.
The Detroit News: Bowman quits Michigan governor race
Former state Treasurer Robert Bowman bowed out of the governor's race Monday after less than a week, the second Democratic contender to throw in the towel this month and further narrowing the field for the nomination.
Politico: W.H. messaging in 140 characters
The White House has started using a new weapon for correcting news reports, pushing back against a negative story, or shaping the press corps narrative of the day: Twitter.
Times of London: Meet Marian Robinson, the US First Grandmother
President Barack Obama's mother-in-law lived her entire life in Chicago, so it was only natural that her move to the White House came with some resistance. But a year later, it seems Marian Robinson is in Washington to stay. …She even has an unofficial nickname: FGOTUS.
NATIONAL
For the latest national news: www.CNN.com
USA Today: States going online to sell surplus property
States looking to unload surplus property used to do little more than take out an advertisement in the local newspaper, hang an "Open" sign at a warehouse and set up a cash register. Not anymore. This spring, Vermont will begin selling its surplus goods on eBay, the online auction site. The goal is to attract more bidders and bring in more revenue to state coffers, says Mark Casey, the state's Surplus Property Programs assistant.
Los Angeles Times: A lethal business model targets Middle America
Immigrants from an obscure corner of Mexico are changing heroin use in many parts of America. Farm boys from a tiny county that once depended on sugar cane have perfected an ingenious business model for selling a semi-processed form of Mexican heroin known as black tar. Using convenient delivery by car and aggressive marketing, they have moved into cities and small towns across the United States, often creating demand for heroin where there was little or none. In many of those places, authorities report increases in overdoses and deaths.
San Francisco Chronicle: Puzzled doctors asking: Where is the flu?
The swine flu has all but disappeared for the time being, but in its wake public health officials are facing a bizarre influenza season – there's almost no seasonal flu going around.
INTERNATIONAL
For the latest international news: http://edition.cnn.com
CNN: Top Taliban commander captured, U.S. official says
The Taliban's top military leader, Mullah Abdul Ghani Baradar, has been captured, a senior administration official told CNN late Monday.
CNN: Jihadist Web sites warn al Qaeda leaders of possible exposure
Some jihadist Web sites monitored by CNN are warning al Qaeda leaders that a recently captured field commander had more than 300 names and numbers plus important documents on him at the time of his arrest.
Washington Post: Spain to accept five Guantanamo detainees
Spain announced Monday it will accept five detainees held at Guantanamo Bay, Cuba, the largest commitment by a European country and a boost for the Obama administration's dragging effort to close the military detention center.
CNN: NATO troops clearing out Taliban stronghold, officials say
The NATO operation aimed at tackling a Taliban stronghold in southern Afghanistan is making progress, officials say. Operation Moshtarak, in the southern city of Marjah, is going "very smooth" so far, U.S. Marine Corps Lt. Col. Mark Dietz told CNN Monday.
Washington Post: U.S. curtails use of airstrikes in assault on Marja
The rejection of Bravo's airstrike illuminates the challenges and complexity of waging a counterinsurgency mission that aims to protect Afghan civilians, while battling militants who appear determined to stand and fight for control of this farming district.
CNN: Clinton: U.S. sees Iran moving to military dictatorship
U.S. Secretary of State Hillary Clinton and Saudi Arabia's foreign minister expressed concern Monday over Iran's nuclear ambitions during a meeting between the two leaders.
CNN: Israeli PM pushes for Iran sanctions in Russia meet
Israeli Prime Minister Benjamin Netanyahu met with Russian President Dmitry Medvedev on Monday during a quick visit to Moscow to lobby for stronger sanctions on Iran.
New York Times: Opposition Grows in Germany to Bailout for Greece
As European finance ministers refused Monday to name specific measures to rescue Greece and the Continent's common currency, opposition grew among Germans to bailing out what they call spendthrifts to the south after years of belt-tightening by workers at home.
BBC News: Pope and Irish bishops abuse summit continues
Pope Benedict XVI and his senior officials are due to begin the second day of an extraordinary meeting with the 24 Irish bishops in the Vatican.
BUSINESS
For the latest business news: www.CNNMoney.com
CNNMoney: Toyota mulls incentives to patch its reputation
Toyota is considering new incentives aimed at reviving sales as the troubled automaker works to repair its reputation following a spate of high-profile recalls.
Wall Street Journal: Dollar Up as Europe Reels
A dramatic turn in sentiment in favor of the dollar and against the euro continued Monday, with lingering fears of a possible European debt crisis pushing the greenback to its highest point in nine months.
Wall Street Journal: Investors Recruit Terminally Ill To Outwit Insurers on Annuities
For years, insurers have cried foul about "stranger-originated" life insurance, in which people are paid large sums by investors to take out life-insurance policies and sign over rights to collect on them. In the most controversial of such deals, some elderly people lied to get multimillion-dollar policies, using loans to pay their premiums until they sold the policies, court rulings indicate. The investors continued to pay the premiums, collecting when the insured person died.
Times of London: Barclays bosses forgo bonuses amid record profits
The chief executive and the president of Barclays have both turned down a bonus for a second successive year despite the bank's full-year profits surging by 92 per cent to £11.6 billion.
In Case You Missed It
Evan Bayh's decision further hinders Democratic chances for the mid-terms. CNN's Jessica Yellin reports.
http://www.cnn.com/video/#/video/politics/2010/02/15/yellin.bayh.bids.farewell.cnn
CNN's Anderson Cooper and his panel look into the recent capture of a top Taliban commander.
http://www.cnn.com/video/#/video/bestoftv/2010/02/16/ac.taliban.command.capture.cnn
Subscribe to the CNN=Politics DAILY podcast at http://www.cnn.com/politicalpodcast
And now stay posted on the latest from the campaign trail by downloading the CNN=Politics SCREENSAVER at http://www.CNN.com/situationroom