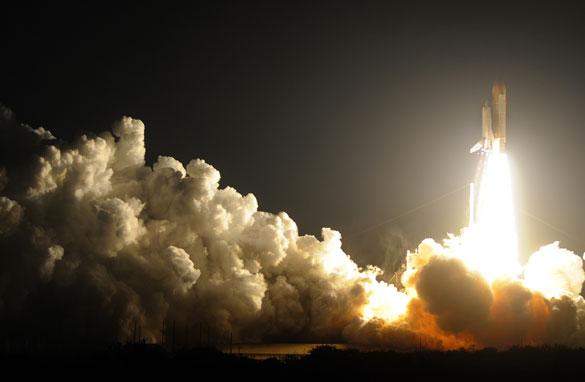 The Space Shuttle Endeavour lifts off from the Kennedy Space Center in Cape Canaveral, Florida. (PHOTO CREDIT: Getty Images)

Washington (CNN) – President Barack Obama held a video conference call with the astronauts aboard the International Space Station Wednesday.
During the video conference, the president congratulated the crew who traveled to the space station aboard the Space Shuttle Endeavour and expressed his administration's commitment to NASA programs, according to a readout of the conversation released by the White House.
Obama said the work being done on the space station is "a testimony to human ingenuity, a testimony to extraordinary skill and courage that you guys bring to bear and is also a testimony to why continued space exploration is so important and is part of the reason why my commitment to NASA is unwavering."
His remarks came just weeks after the administration released its new budget, which plans to increase the NASA budget to 19 billion dollars in 2011 but cuts NASA's lunar exploration program and opens up space exploration to private companies. Several members of Congress have protested the proposed cuts to the space program.