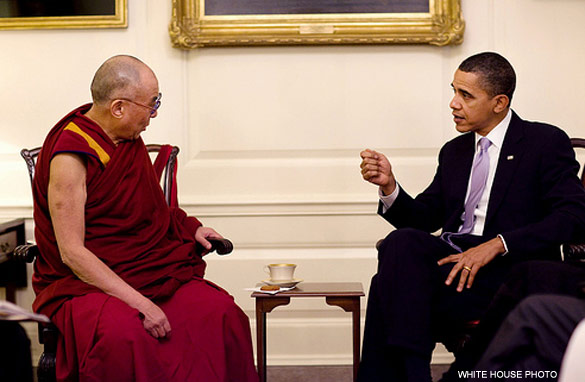 President Obama met with the Dalai Lama on Thursday. (PHOTO CREDIT: White House)
Washington (CNN) - President Obama met with the Dalai Lama - the exiled Tibetan spiritual leader - at the White House on Thursday despite strong objections from Chinese government officials.
The meeting has the potential to further complicate Sino-U.S. tensions, which have been rising in recent months. China has warned it would damage Beijing's ties to Washington.
The Dalai Lama has said he favors genuine autonomy for Tibetans, not independence for Tibet. Beijing regards the Nobel Peace Prize laureate as a dangerous "separatist" who wishes to sever Tibet from China.
During the meeting, Obama stressed his "strong support for the preservation of Tibet's unique religious, cultural and linguistic identity and the protection of human rights for Tibetans," according to a White House statement.