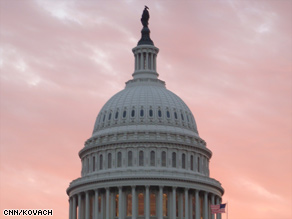 The CNN Washington Bureau's morning speed read of the top stories making news from around the country and the world.
WASHINGTON/POLITICAL
For the latest political news: www.CNNPolitics.com
CNN: China summons U.S. ambassador over Dalai Lama meeting
China summoned the U.S. ambassador on Friday to express its "strong dissatisfaction" over the Dalai Lama's meeting with U.S. President Barack Obama a day earlier.
The Hill: Sebelius: White House may fight for public option in health bill
The White House is willing to make a push for the public option if Senate Democrats decide to bring it up for a vote, Health and Human Secretary Kathleen Sebelius said tonight.
CNN: What's up with the jobs bill?
A new CNN poll shows 84 percent of Americans believe Congress is not doing enough to tackle the nation's jobs problem. This won't come as welcome news to them. When the Senate returns next week lawmakers will vote on a dramatically pared down jobs bill. Even in its diminished form – and despite enormous public pressure for Washington to act – that jobs bill may not pass. Democrats said they are looking for the 60th vote to get it through the chamber.
Boston Herald: Democrats woo Scott Brown's vote for president's $15B jobs bill
Sen. Scott Brown – who campaigned on jobs creation – is facing the first tough test of his independence as Republicans and Democrats court his support for a critical employment bill slated to come up for a vote Monday. Senate Majority Leader Harry Reid is challenging the rising GOP star to buck his own party and support the Democratic measure.
CNN: Conservatives rally at CPAC ahead of midterms
Political activists from across the country spent the first day of the annual Conservative Political Action Conference discussing policy, blasting the Obama administration and plotting a return to power in November.
Salt Lake Tribune: Hatch: Tea Party movement threatening to tear GOP apart
Sen. Orrin Hatch has a message for the Tea Party movement: Work with the GOP or see conservatives lose more ground. "If we fractionalize the Republican Party, we are going to see more liberals elected," Hatch warned a crowd of 300 at a town meeting at American Fork Junior High School on Wednesday night, amid jeers from Tea Party supporters.
New York Times: As Campaign Nears, Paterson Is Seen as Increasingly Remote
Mr. Paterson, as he has said, never asked to be governor. But from the time he succeeded Eliot Spitzer nearly two years ago, he has said he is dedicated to the job and intent on winning it in his own right this fall. On the eve of his election kickoff, however, interviews with dozens of current and former aides, legislators and friends reveal significant criticism about Mr. Paterson's management of the state and of his election effort.
USA Today: Dems hurting, but lead in cash for midterm elections
Amid sinking poll numbers and a spate of retirements by veteran lawmakers, Democrats have one early advantage heading into November's congressional elections: money.
Denver Post: Obama helps Bennet raise $675,000 at Denver fundraisers
President Barack Obama blew through Denver during a snowstorm Thursday afternoon to boost Sen. Michael Bennet's re-election campaign, part of a skip across the West to help vulnerable candidates. … The president urged supporters to throw money, phone calls and even Twitter behind Bennet, the former Denver Public Schools superintendent who was appointed by Gov. Bill Ritter a year ago.
Las Vegas Sun: Obama lands in Las Vegas for second visit of presidency
President Barack Obama touched down at McCarran International Airport at 6:40 p.m. Thursday, marking his second visit to Las Vegas during his presidency. U.S. Reps. Shelley Berkley and Dina Titus were at the airport and greeted the president as he got off Air Force One. …Las Vegas Mayor Oscar Goodman didn't greet Obama and wasn't expected to attend any of the presidential events. He has called on the president to apologize for the comments he made about spending money in the city.
Philadelphia Inquirer: Sestak says federal job was offered to quit race
Rep. Joe Sestak (D., Pa.) said yesterday that the White House offered him a federal job in an effort to dissuade him from challenging Sen. Arlen Specter in the state's Democratic primary.
Indianapolis Star: Democrats' choice is on hold
Democrats will have to wait until after the May 4 primary to officially pick their nominee to replace Sen. Evan Bayh.
NATIONAL
For the latest national news: www.CNN.com
CNN: Black farmers claim victory in proposed settlement over bias
The head of the National Black Farmers Association said Thursday the U.S. government has agreed to pay qualified farmers $50,000 each to settle claims of racial bias. And U.S. Agriculture Secretary Tom Vilsack said those farmers may also pursue a claim for actual damages from the bias, and potentially receive up to $250,000.
CNN: Remains of 2 found after Austin plane crash
The remains of two people have been found in an Austin, Texas, building where a man crashed a small plane, authorities said. Authorities said Andrew Joseph Stack III, 53, an Austin resident with an apparent grudge against the Internal Revenue Service, set his house on fire Thursday and then crashed a Piper Cherokee PA-28 into the building, which houses an IRS office with nearly 200 employees, federal officials said.
CNN: Health insurance system broken, new report says
Health insurance premiums have skyrocketed in recent years and a new government report says the increases are likely to continue, underscoring the need for reform.
Boston Globe: D.C. digging Boston's plowmen
They arrived in the middle of the night, a steel cavalry of about 40 Boston area plowmen answering the call to dig out our nation's capital from this month's record-setting blizzard. And after a week of nonstop work, they are being hailed as heroes.
INTERNATIONAL
For the latest international news: http://edition.cnn.com
New York Times: Two Chinese Schools Said to Be Tied to Online Attacks
A series of online attacks on Google and dozens of other American corporations have been traced to computers at two educational institutions in China, including one with close ties to the Chinese military, say people involved in the investigation.
CNN: Analysis: Taliban governs Afghanistan from the shadows
The news that two Taliban "shadow governors" have been detained in Pakistan underscores the reality that in Afghanistan there are, in effect, two governments.
CNN: Report: Battalion leaders 'negligent' in Taliban ambush that killed 13
The "inadequate" actions of commanding officers, combined with poor intelligence and lack of air and fire support, contributed to more than a dozen coalition deaths during a Taliban ambush in Afghanistan last year, according to a new report.
Washington Post: U.S.-Pakistan cooperation has led to capture of Afghan Taliban insurgents
The capture of senior Afghan Taliban leaders in Pakistan represents the culmination of months of pressure by the Obama administration on Pakistan's powerful security forces to side with the United States as its troops wage war in Afghanistan, according to U.S. and Pakistani officials. A new level of cooperation includes Pakistani permission late last month for U.S. intelligence officials to station personnel and technology in this pulsating megacity, officials said.
CNN: Watchdog: Iran may be working on nuclear warhead
Iran may be working on secretly developing a nuclear warhead for a missile, the head of the United Nations' nuclear watchdog agency said Thursday in a draft report. It's the first time that the the International Atomic Energy Agency has issued such a strong warning about current Iranian nuclear activities.
BBC News: UK denies advance knowledge of fake UK passports
The UK government has again denied it had any prior knowledge of the fake British passports used by the suspected killers of a Hamas militant in Dubai. Shadow Foreign Secretary William Hague said it was "entirely possible" the government had been alerted.
Wall Street Journal: U.A.E. Authorities Probe U.S. Credit-Card Accounts in Hamas Killing
Authorities in the United Arab Emirates are probing five U.S.-issued credit-card accounts, which officials say were used by five of the 11 suspects in last month's killing of a Hamas leader in Dubai, according to a person familiar with the situation. The credit cards, issued by a U.S.-based financial institution, were used to buy travel-related items, such as plane tickets, connected to the alleged assassination operation, this person said.
Wall Street Journal: Myanmar Moves to Privatize Key State Enterprises
A flurry of privatizations of key state enterprises in Myanmar is raising speculation about whether the country's military regime is planning more market reform or simply trying to cash out before an election expected later this year.
CNN: Niger military halts nation's constitution
Niger's constitution has been suspended, a Niger military official announced Thursday night on the nation's three television channels.
Washington Post: Climate pact appears increasingly fragile; U.N. official quits
Just two months after patching together a climate deal in Copenhagen, the world's biggest emitters of greenhouse gases are trying to figure out how to keep the fragile accord together, while the United Nations, which has played a central part in 15 rounds of climate talks, seems destined for a smaller role in the future.
CNN: Lack of translator snarls court hearing for 2 missionaries in Haiti
Two Americans charged with kidnapping in Haiti appeared before a judge Thursday, a day after the judge released eight other Americans on bail and allowed them to return home.
BUSINESS
For the latest business news: www.CNNMoney.com
CNNMoney: Fed raises emergency funding rate
The Federal Reserve raised the rate it charges banks that borrow from the central bank when they run short of funds. The Fed said late Thursday it is raising its discount rate by a quarter percentage point, or 25 basis points, to 0.75%. The central bank said in a statement it made the move in response to improving financial market conditions.
CNNMoney: Toyoda to testify before U.S. lawmakers
Toyota president Akio Toyoda accepted on Thursday a formal invitation to testify at a hearing to be held next Wednesday. The House Oversight Committee sent the invitation Thursday morning. Toyoda had initially said he would not appear before the committee but would instead send North America chief Yoshimi Inaba.
Wall Street Journal: Greece's Next Test Is in a Bond Sale
The government of Greece is set to launch a new bond offering in coming days, a sale that could help determine whether Greece's own debt crisis spreads to the rest of Europe.
Washington Post: Capital One to repay fees to customers who sought to close credit accounts
Capital One reached an agreement with its federal regulator Thursday to reimburse several thousand credit card customers whom it charged annual fees after they had asked to close their accounts, a practice that amounted to a pattern of repeated errors in its own favor.
In Case You Missed It
After meeting with President Obama, the Dalai Lama expresses admiration for the U.S. and pleads for religious tolerance.
http://www.cnn.com/video/#/video/world/2010/02/18/sot.crowley.on.iran.facility.cnn
CNN's Jeanne Meserve reports on what Homeland Security had to say about the Texas plane crash.
http://www.cnn.com/video/#/video/us/2010/02/18/nr.meserve.crash.update.cnn
Subscribe to the CNN=Politics DAILY podcast at http://www.cnn.com/politicalpodcast
And now stay posted on the latest from the campaign trail by downloading the CNN=Politics SCREENSAVER at http://www.CNN.com/situationroom