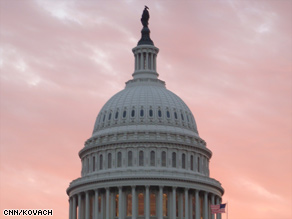 The CNN Washington Bureau's morning speed read of the top stories making news from around the country and the world.
WASHINGTON/POLITICAL
For the latest political news: www.CNNPolitics.com
CNN: Survey: Most Americans believe government broken
Americans overwhelmingly believe that the government is broken, according to a national poll released Sunday. But the CNN/Opinion Research Corp. survey also indicates that the public overwhelmingly holds out hope that what's broken can be fixed.
CNN: Rep. Ron Paul surprise winner of CPAC presidential straw poll
U.S. Rep. Ron Paul, R-Texas, a stalwart foe of government spending, won a blowout victory Saturday in the annual Conservative Political Action Conference presidential straw poll.
CNN: Obama wants government power to block excessive health insurance rate hikes
The Obama administration will propose new legislation that would allow the government to block excessive rate hikes by health insurance companies, a senior administration official told CNN Sunday.
Wall Street Journal: States Look Beyond Washington on Health
Some governors, frustrated by halted federal efforts to overhaul the U.S. health-care system, are introducing their own changes at the state level.
New York Times: Paterson, Before Meeting Obama, Hones Message
One day after defiantly declaring that he would run for governor despite having little support from his party and a diminutive campaign account, Mr. Paterson arrived in the nation's capital on Sunday for two days of meetings with the nation's governors and President Obama. His appearance here, a few hours after a campaign stop at a diner outside Buffalo, suggested that the governor was as determined as ever to let his detractors know that he would not be forced from the race.
CNN: Report: State economies not seen worst of recession
Although the national economy has reported growth, revenues at the state level continue to deteriorate, and state economies have not seen the worst yet, the governors' association said Saturday. The National Governors Association released a report Saturday on states' fiscal situation, as the group's conference in Washington began.
Bloomberg: Republicans Voting Against Stimulus Then Asked Obama for Money
Alabama Republicans Jo Bonner and Robert Aderholt took to the U.S. House floor in July, denouncing the Obama administration's stimulus plan for failing to boost employment. "Where are the jobs?" each of them asked. Over the next three months, Bonner and Aderholt tried at least five times to steer stimulus-funded transportation grants to Alabama on grounds that the projects would help create thousands of jobs.
Washington Post: Democratic senatorial candidates vie to be seen as outsiders
Coons, the New Castle County executive in Delaware, is one of a handful of Democrats vying to win races in open seats that could swing the balance of power in the Senate. These challengers are seizing on the sour national mood to cast themselves as reform-minded outsiders, willing to drive a wedge between themselves and Democratic leaders as they vow to shake up the political establishment that their party controls.
Gary Post-Trubune: A party stronghold
When Sen. Evan Bayh announced he wouldn't run for a third term in Congress, it stunned Indiana Democrats - at least those in Lake County. Bayh's surprise withdrawal from the 2010 election picture has begun to look more premeditated than some people, even in his own party, would like.
Denver post: Taxes, spending: Reaction sharp to Colo. ballot issues
Three measures on the November ballot have alternately been described as efforts to destroy Colorado or save it from an ever-growing government. … Democratic Gov. Bill Ritter, in his State of the State address in January, urged elected leaders from both parties to unite against what he called "three of the most backward-thinking ballot measures this state has ever seen."
NY Daily News: How Ford got Gilly in gear: Potential rival has made Sen. Kirsten Gillibrand tougher, say experts
Harold Ford's maybe-I-will, maybe-I-won't stance on jumping into the Senate race has been a boon for one person – his likely opponent, Sen. Kirsten Gillibrand, experts say. Consider the dynamic: two months ago, Gillibrand was the little-known Senate appointee whose name many voters couldn't even pronounce, much less find in a newspaper.
Washington Post: Linda McMahon, from co-founder of the WWE to U.S. Senate candidate
A co-founder with her husband of the wildly successful World Wrestling Entertainment (WWE), McMahon is willing to spend up to $50 million to fill the Senate seat opened by Chris Dodd's retirement. First she has to get by former congressman Rob Simmons in the Republican primary, then the heavily favored Democratic state attorney general, Richard Blumenthal.
Dallas Morning News: Outside money pours into Texas House race in Irving
The race for Texas House District 105 is drawing a lot of green as Republicans fight to keep Irving red and Democrats try to turn it blue. And nearly two-thirds of the money pouring into campaign coffers is coming from outside of the city.
NATIONAL
For the latest national news: www.CNN.com
Boston Globe: Ft. Hood suspect was Army dilemma
Army superiors were warned about the radicalization of Major Nidal Malik Hasan years before he allegedly massacred 13 soldiers at Fort Hood, Texas, but did not act in part because they valued the rare diversity of having a Muslim psychiatrist, military investigators wrote in previously undisclosed reports.
The Detroit News: Feds plan Kilpatrick charges
Federal officials are preparing felony charges against former Detroit Mayor Kwame Kilpatrick and his father, business consultant Bernard N. Kilpatrick, The Detroit News has learned. For at least five years, the FBI and the U.S. Attorney's Office have been investigating an alleged "pay to play" system at City Hall under Kilpatrick and allegations that contractors wanting City Hall business were directed to hire the former mayor's father as a consultant.
INTERNATIONAL
For the latest international news: http://edition.cnn.com
BBC News: Nato strike kills a number of Afghan civilians
Nato has confirmed a number of civilians were killed in an air strike in southern Afghanistan on Sunday.
CNN: Petraeus: U.S. losses in Afghan offensive 'will be tough'
As coalition and Afghan forces entered the second week of a major offensive against the Taliban in southern Afghanistan, the head of U.S. Central Command warned that the potential loss of lives among U.S. forces in the operation "will be tough."
BBC News: Israel unveils new drone that can fly to Gulf
The Israeli Air Force has introduced a fleet of pilotless aircraft that can stay in the air for nearly a day and fly as far as the Gulf. Israel, along with the US and other Western nations, believes Iran is trying to develop nuclear weapons and has repeatedly suggested it could attack the country if diplomatic attempts to curb the programme fail.
Times of London: Dubai hit squad may have used diplomatic passports
The hit squad that killed a senior Hamas official in Dubai may have entered the country using diplomatic passports, officials in the Emirates said yesterday as they called on Britain and other European countries whose documents were forged to launch a full inquiry.
CNN: U.N. official: Niger's post-coup junta wants return to democracy
The junta leading Niger following last week's coup and suspension of the constitution is working to return the country to democratic rule, a United Nations official said Sunday.
New York Times: Report Seeks Sole Agency to Rebuild War Zones
The government agency responsible for monitoring American reconstruction work in Iraq has proposed the creation of a single organization to oversee future rebuilding to avoid the fraud and waste that have marred this work in the past.The report, released Monday by the Office of the Special Inspector General for Iraq Reconstruction, said an organization with sole authority for reconstruction would eliminate much of the confusion and interagency rivalries that have hampered rebuilding in Iraq and Afghanistan.
Washington Post: Kabul Bank's Sherkhan Farnood feeds crony capitalism in Afghanistan
The close ties between Kabul Bank and Karzai's circle reflect a defining feature of the shaky post-Taliban order in which Washington has invested more than $40 billion and the lives of more than 900 U.S. service members: a crony capitalism that enriches politically connected insiders and dismays the Afghan populace.
The Guardian: Climate scientists withdraw journal claims of rising sea levels
Scientists have been forced to withdraw a study on projected sea level rise due to global warming after finding mistakes that undermined the findings.
BUSINESS
For the latest business news: www.CNNMoney.com
CNNMoney: Toyota exec. boasts of saving $100M avoiding recall
A Toyota executive boasted of the compny saving $100 million by negotiating a limited recall for Toyota Camry and Lexus ES cars over a problem that could cause unintended acceleration. In an internal Toyota (TM) document used as part of a company presentation on its government relations, dated July 6, 2009, the phrase "Negotiated 'equipment' recall on Camry/ES re: [sudden acceleration], saved $100 million+ with no defect found" is among a bullet-pointed list of "wins."
Washington Post: Toyota heads to Capitol Hill with team of lobbyists, history of political giving
As Toyota braces this week for its first round of congressional hearings, the automaker and its affiliates have assembled a formidable lobbying force to build support on Capitol Hill and leverage longstanding relationships with key lawmakers.
Bloomberg: Euro Worst to Come as Greece Hammerlocks ECB on Rates
Derivative traders are signaling that the euro's slump to a nine-month low will continue even if European Union leaders bail out Greece.
Wall Street Journal: London Firm Was Created To Route Cash
Greece's fiscal woes, the exposure of the European financial system to them and the role played by Wall Street in hiding the problems all converge in a fifth-floor office near London's Liverpool Street station where a company called Titlos PLC was created in early 2009. Just 22 days after Titlos was born, the National Bank of Greece SA and Goldman Sachs Group Inc. arranged for the company to sell €5.1 billion, or about $6.96 billion, in notes, according to U.K. and U.S. documents.
CNN: Lufthansa pilots begin four-day strike
The pilots' union of Lufthansa began a strike Monday after a last-ditch effort at negotiations over pay and job security failed, a spokeswoman for the airline told CNN.
In Case You Missed It
CNN's Candy Crowley talks with Sen. Bayh, Fmr. Gov. Corzine, and Fmr. Rep. Molinari about the upcoming health care summit.
http://www.cnn.com/video/#/video/politics/2010/02/21/sotu.health.care.summit.cnn
Subscribe to the CNN=Politics DAILY podcast at http://www.cnn.com/politicalpodcast
And now stay posted on the latest from the campaign trail by downloading the CNN=Politics SCREENSAVER at http://www.CNN.com/situationroom