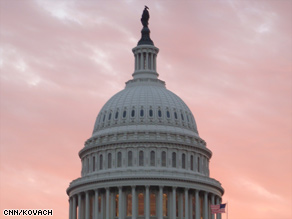 The CNN Washington Bureau's morning speed read of the top stories making news from around the country and the world.
WASHINGTON/POLITICAL
For the latest political news: www.CNNPolitics.com
CNNMoney: Senate takes up jobs bill
The Senate voted Monday to push forward a $15 billion jobs creation bill that would give businesses a tax break for hiring the unemployed. Five Republicans - including newly elected Sen. Scott Brown, R-Mass. - reached across the aisle to approve the procedural measure, which passed by a 62-30 vote. One Democrat did not support it. A final vote on the bill should take place in a few days.
CNN: White House unveils compromise health care bill
The Obama administration raised the stakes in the health care debate Monday, releasing a new blueprint that seeks to bridge the gap between measures passed by the Senate and House of Representatives last year. If enacted, the president's sweeping compromise plan would constitute the biggest expansion of federal health care guarantees since the enactment of Medicare and Medicaid more than four decades ago. The White House said it would extend coverage to 31 million Americans.
CNN: Cheney hospitalized with chest pains, staff says
Former Vice President Dick Cheney was hospitalized Monday with chest pains, according to his office. Cheney, 69, is resting comfortably at George Washington University Hospital, and his doctors are evaluating the situation, his staff said in a statement.
New York Times: Lawmakers' Ties to Toyota Questioned at Start of Inquiries
As Congress prepares to open hearings on Tuesday into Toyota's rash of safety problems, government watchdog groups are questioning whether the deep financial and personal connections between lawmakers and the carmaker could taint the inquiries.
CNN: AG won't rule out New York for 9/11 trial
Attorney General Eric Holder on Monday did not rule out the possibility that accused 9/11 mastermind Khalid Sheikh Mohammed and four accused accomplices would be tried in New York.
Washington Post: U.S. plans for possible delay in Iraq withdrawal
The U.S. military has prepared contingency plans to delay the planned withdrawal of all combat forces in Iraq, citing the prospects for political instability and increased violence as Iraqis hold national elections next month.
CNN: New GOP groups look to center
Two new conservative groups launched Monday are designed to compete with the Democratic political machine that helped sweep President Obama into office in 2008, organizers say.
Arizona Republic: Sen. John McCain: I was misled on bailout
Under growing pressure from conservatives and "tea party" activists, Sen. John McCain of Arizona is having to defend his record of supporting the government's massive bailout of the financial system. In response to criticism from opponents seeking to defeat him in the Aug. 24 Republican primary, the four-term senator says he was misled by then-Treasury Secretary Henry Paulson and Federal Reserve Chairman Ben Bernanke.
USA Today: Step by step, Romney lining up support for 2012
While former Alaska governor Sarah Palin sparks more passion among many Republicans and former Arkansas governor Mike Huckabee conveys more folksy charm, Romney is waging the most deliberate and methodical campaign of any GOP presidential contender in at least two decades for the nomination in 2012.
Pittsburg Post-Gazette: Murtha's widow won't run
The race among Democrats to fill Pennsylvania's Rep. John Murtha's seat often seems like a competition over who would most resemble the 18-term Johnstown powerbroker once in office.
Dallas Morning News: GOP rivals for Texas governor vie for votes
By bus, car and plane, three Republican candidates travel a parallel universe, cutting swaths through the state, on the path – each hopes – to becoming the next Texas governor. It is the final stretch of a yearlong campaign, and now, for Rick Perry, Kay Bailey Hutchison and Debra Medina, the days blur together like so many stripes down a speeding highway, peeling away the miles toward the March 2 primary.
St. Petersburg Times: As Crist poll numbers slide, staffers leave campaign
In the latest sign of turbulence for Charlie Crist's wounded U.S. Senate bid, key staffers are starting to leave the campaign.
Denver Post: Colorado's high court rejects ban on campaign contributions
In another blow to restrictions on political giving by business and labor interests, Colorado's top court Monday rejected a voter-approved measure to bar holders of large, no-bid government contracts from making campaign contributions.
NATIONAL
For the latest national news: http://www.CNN.com
CNN: Najibullah Zazi pleads guilty in New York terrorism plot
Terrorism suspect Najibullah Zazi pleaded guilty Monday to conspiring to detonate explosives in the United States.
Washington Post: Alternatives to BPA containers not easy for U.S. foodmakers to find
Major U.S. foodmakers are quietly investigating how to rid their containers of Bisphenol A, a chemical under scrutiny by federal regulators concerned about links to a range of health problems, including reproductive disorders and cancer. But they are discovering how complicated it is to remove the chemical.
Wall Street Journal: EPA Delays Start of New Rules on Emissions
The head of the U.S. Environmental Protection Agency said Monday the agency would delay subjecting large greenhouse-gas emitters such as power plants and crude-oil refiners to new regulations until 2011, and would raise the threshold for using the Clean Air Act to regulate carbon dioxide emissions.
INTERNATIONAL
For the latest international news: http://edition.cnn.com
Washington Post: Afghan official who will govern Marja pays first visit, makes plea to residents
The Afghan official responsible for governing Marja paid his first visit to this strife-torn community Monday, imploring residents to forsake the Taliban and promising employment programs as an inducement for local men to put down their weapons.
Wall Street Journal: U.S. Special Operations Ordered Deadly Afghan Strike
U.S. Special Operations Forces ordered an airstrike that killed at least 27 civilians in southern Afghanistan and the soldiers may not have satisfied rules of engagement designed to avoid the killing of innocents, Afghan and coalition officials said Monday.
The Guardian: Hamid Karzai takes control of Afghanistan election watchdog
The Afghan president, Hamid Karzai, has unilaterally taken control of the country's top electoral watchdog, provoking outrage from western diplomats, the Guardian has learnt.
BBC News: Iran 'arrests leader of Sunni militants Jundullah'
Iranian authorities have arrested the leader of the Sunni Muslim militant group Jundullah, according to reports on state television. The Arabic language al-Alam channel said Abdolmalek Rigi had been held in eastern Iran, but gave no more details. He is said to be behind a series of deadly bombings and killings in Sistan-Baluchistan province.
CNN: Pakistan captures another Taliban leader
Another senior Afghan Taliban leader has been arrested in Pakistan, two Pakistani intelligence officials told CNN on Monday. Security forces arrested Mullah Abdul Kabir last week from a religious school in the district of Nowshera, 54 miles (88 km) northwest of Islamabad, the officials said.
CNN: U.N. official: North Korea should get food aid
Three days after North Korea declared it will not abandon its nuclear weapons program, a senior United Nations official who has just visited Pyongyang strongly defended international food aid to the so-called Hermit Kingdom.
New York Times: Countless Lost Limbs Alter Life in Haiti's Ruins
More than a month after the earthquake, thousands of new amputees are facing the stark reality of living with disabilities in a shattered country whose terrain and culture have never been hospitable to the disabled.
Times of London: Turkish police arrest 50 in move against anti-Islamist coup
Turkish police arrested the former heads of the Navy and Air Force along with several other senior military officers yesterday in a sweep against top brass linked to a coup plan against the Islamist-leaning Government.
BUSINESS
For the latest business news: www.CNNMoney.com
Bloomberg: Secret AIG Document Shows Goldman Sachs Minted Most Toxic CDOs
When a congressional panel convened a hearing on the government rescue of American International Group Inc. in January, the public scolding of Treasury Secretary Timothy F. Geithner got the most attention. …A potentially more important development slipped by with less notice, Bloomberg Markets reports in its April issue. Representative Darrell Issa, the ranking Republican on the House Committee on Oversight and Government Reform, placed into the hearing record a five-page document itemizing the mortgage securities on which banks such as Goldman Sachs Group Inc. and Societe Generale SA had bought $62.1 billion in credit-default swaps from AIG.
NY Post: Goldman's rehab
The 55-year-old chief executive of Goldman Sachs - three-plus years into his tenure - recently turned to a Texas corporate p.r. firm to buff the image of the tarnished Wall Street powerhouse. Turning to outside consultants to gauge a firm's "perception in the marketplace" is unusual for the 140-year-old firm. But that's what you do, even if you are Masters of the Universe, when the national and international media accuse you of engineering and profiting from a back-door rescue of AIG, of using cash from a taxpayer bailout and cheap Federal Reserve financing to help finance lavish bonuses, and taking down the entire Greek economy.
New York Times: Banks Apply Pressure to Keep Fees Rolling In
As the government cracks down on the way banks charge fees for overspending on debit cards, the industry is mounting an aggressive campaign aimed at keeping billions of dollars in penalty income flowing into its coffers.
CNNMoney: Toyota hit with grand jury subpoena
Toyota said Monday it has received a federal grand jury subpoena for documents relating to the unintended acceleration of its vehicles and braking systems in the Toyota Prius.
Bloomberg: Ford's Jobless Recovery Means No Hiring in Retooling
Ford's jobless recovery shows the constraints on the only U.S. automaker to avoid bankruptcy in 2009. With fewer employees taking buyouts and auto demand about a third less than in 2007, Ford doesn't have openings for a new class of lower-paid union workers who would help cut labor costs.
In Case You Missed It
Some analysts are saying Austin, Texas, may be a national leader in economic recovery. CNN's Tom Foreman shows us why.
http://www.cnn.com/video/#/video/politics/2010/02/22/foreman.building.up.america.cnn
Subscribe to the CNN=Politics DAILY podcast at http://www.cnn.com/politicalpodcast
And now stay posted on the latest from the campaign trail by downloading the CNN=Politics SCREENSAVER at http://www.CNN.com/situationroom