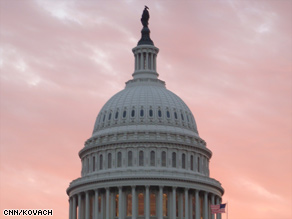 The CNN Washington Bureau's morning speed read of the top stories making news from around the country and the world.
WASHINGTON/POLITICAL
For the latest political news: www.CNNPolitics.com
CNN: Senate jobs bill vote expected Wednesday
While Senate Majority Leader Harry Reid, D-Nevada, indicated that a vote on the Senate jobs bill could come at any time, it is now expected to take place Wednesday.
CNN: Democrats could bypass GOP on health care bill
As a major White House meeting on health care reform approaches this week Senate Majority Leader Harry Reid acknowledged Tuesday that he may use a controversial parliamentary shortcut to bypass GOP opposition and pass a bill. Reid bluntly warned Republicans to "stop crying" about the shortcut because Republicans have used the same procedure many times in the past, he said.
Washington Post: Republicans plan to stress private-sector alternatives to the president's plan
Republicans are preparing to use Thursday's White House health-care summit to sell their own ideas for using the private marketplace to expand coverage and reduce costs, but they remain wary of fumbling away what they believe is an advantage on the issue heading into this year's critical midterm elections.
The Hill: Senate sitting on 290 bills already passed by House; tension mounts
Exasperated House Democratic leaders have compiled a list showing that they have passed 290 bills that have stalled in the Senate. The list is the latest sign that Democrats in the lower chamber are frustrated with their Senate counterparts. An aide to House Speaker Nancy Pelosi (D-Calif.) says the list is put together during each Congress, but that this year's number is likely the largest ever.
CNN: White House: Obama backs repeal of health insurer antitrust exemption
President Obama strongly supports a repeal of the antitrust exemption currently granted to health insurance companies, White House Press Secretary Robert Gibbs said Tuesday. Liberal Democrats in particular have pushed for a repeal of the exemption, which has been in place since the end of World War II, in order to inject new competition into the health care industry while lowering consumer costs.
CNN: Key senator plans to lambast Blackwater actions in Afghanistan
The chairman of the Senate Armed Services Committee plans to unleash a withering attack Wednesday on private contractors working for the company formerly known as Blackwater in Afghanistan, accusing them of flouting regulations and endangering the U.S. mission.
Foreign Policy: Senate set to extend Patriot Act without new restrictions
The Senate is preparing to bring up and pass a short-term extension of some key provisions of the Patriot Act, setting aside changes to the law that were carefully negotiated by a Senate committee last fall.
Washington Post: Wall Street shifting political contributions to Republicans
Commercial banks and high-flying investment firms have shifted their political contributions toward Republicans in recent months amid harsh rhetoric from Democrats about fat bank profits, generous bonuses and stingy lending policies on Wall Street.
New York Times: Zuckerman Courts G.O.P. While Ford Polls Voters
As they weigh whether to make a bid for the Senate seat held by Kirsten E. Gillibrand, Mortimer B. Zuckerman, the publisher of The Daily News, is quietly reaching out to state Republican leaders, and Harold E. Ford Jr., a former congressman, has conducted a poll of New York voters, people told of the moves said. The behind-the-scenes activities highlight how seriously both are examining a run for the office, which, until now, Ms. Gillibrand had appeared likely to hold onto with little competition.
Los Angeles Times: California campaign spending provides glimpse of what's to come for nation
Corporations and unions will soon have their first chance to spend freely on federal campaigns since the Supreme Court lifted restrictions. California has long allowed such spending on state races.
Houston Chronicle: Paul facing unrest at home
In D.C. political circles, Texas Rep. Ron Paul is the quirky icon of libertarian conservatism, a cult figure on American college campuses with a national following large enough to help him capture the presidential poll at the nation's pre-eminent conservative action conference last weekend. But while Paul basks in the applause of conservatives at a Washington hotel, he can't afford to ignore the three self-described conservatives who are assailing his conservative credentials back at home.
Boston Globe: Money flows in auto bill battle
A measure that could make car repairs less expensive for consumers heads to a vote on Beacon Hill today amid a torrent of lobbying by some of the country's most powerful corporations. Advocates, including auto parts makers, say the measure would help consumers get cars repaired more inexpensively because it would allow independent mechanics full access to the same information available to dealership mechanics, who generally charge more. Critics, including most of the world's largest auto makers, oppose the bill, saying it would force them to give away trade secrets to companies that could turn around and make the parts more cheaply.
CNN: Cheney had mild heart attack, office says
Former Vice President Dick Cheney suffered a mild heart attack Monday when he complained of chest pains and was hospitalized, his office said Tuesday.
NY Post: In-Justice! Furor over O's 'Gitmo' appointees
The Justice Department's disclosure that nine of President Obama's appointees had either represented or advocated for Guantanamo detainees has touched off a firestorm of criticism. The surprising admission came three months after Republican Sen. Charles Grassley of Iowa asked Attorney General Eric Holder for a list of names of Obama DOJ appointees who had been involved in legal work for Gitmo prisoners.
NATIONAL
For the latest national news: www.CNN.com
USA Today: NTSB asks to monitor pilots' talk in cockpits
Government investigators are making an unprecedented push to use "black box" voice recordings to routinely monitor pilots' conversations and make sure cockpit crews are focusing on their jobs. The move represents the first time that workplace monitoring could extend into the nation's cockpits and has drawn intense fire from pilots' unions who say that the plan is intrusive. The black box recorders have until now only been used in accident investigation.
Wall Street Journal: Lehman's Ghost Haunts California
Dozens of cities and counties around the country, from Sarasota, Fla., to Boulder, Colo., lost a total of $1.7 billion when Lehman went under, because they held Lehman bonds or other securities. The two worst hit states are Florida and California.
CNN: Navy says it is ready to end ban on women in submarines
Secretary of Defense Robert Gates has notified Congress of plans to allow women to serve aboard submarines, a Defense Department official said Tuesday.
INTERNATIONAL
For the latest international news: http://edition.cnn.com
CNN: Forces in Afghanistan told to limit nighttime raids
A new classified directive to coalition forces in Afghanistan puts restrictions on nighttime raids of Afghan homes and compounds, according to a senior U.S. official who has seen the document.The directive comes as the coalition seeks to reduce tension between its military forces and Afghan civilians in an effort to maintain Afghan public support.
Washington Post: U.S. to embed agents in Mexican law enforcement units battling cartels in Juarez
For the first time, U.S. officials plan to embed American intelligence agents in Mexican law enforcement units to help pursue drug cartel leaders and their hit men operating in the most violent city in Mexico, according to U.S. and Mexican officials.
BBC News: China communists get new anti-corruption ethics code
In China, the Communist Party has issued a new 52-point ethics code, in an attempt to control growing corruption among officials. The code bans members from property speculation, money-making deals, and lavish expenditure. The last set of rules was issued 13 years ago.
CNN: Sudan peace accord signed, state media reports
Sudan on Tuesday signed a framework peace accord with rebels from the nation's volatile Darfur region, state media reported. The framework agreement is considered the first step towards the achievement of a lasting peace accord in Darfur.
Der Spiegel: EU Plans Massive Sanctions Against Iran
The EU is preparing tough sanctions against Iran's energy and financial sectors, according to a confidental list of proposals drawn up for EU foreign ministers and obtained by SPIEGEL ONLINE. The measures, aimed at forcing Iran to back down in the nuclear dispute, would have a dramatic impact on the economy.
Times of London: Escalating Falklands oil dispute goes to UN
The diplomatic row over the Falkland Islands deepened dramatically after Argentina announced that it would take its protests over British oil exploration to the United Nations today.
New York Times: Nigerian President Returns Home Amid Uncertainty
Weeks after his vice president was sworn in to deputize for him, President Umaru Yar'Adua of Nigeria returned home early on Wednesday after three months in a hospital in Saudi Arabia, reviving political anxiety in Africa's most populous nation, according to news reports.
BUSINESS
For the latest business news: www.CNNMoney.com
CNNMoney: Witnesses: Toyota problems could be electronics
Witnesses at the first of three Congressional hearings on Toyota's recall problems testified that they believe they have found a possible additional cause of unintended acceleration in Toyotas, one that has to do with the vehicles' electronic throttle control systems.
CNNMoney: Nearly 25% of all mortgages are underwater
More bad news on the housing bust front: Nearly 25% of all mortgage borrowers were underwater, meaning they more on their loans than their homes are worth.
Washington Post: Troubled banking industry sharply reduced lending in 2009
Lending by the banking industry fell by $587 billion, or 7.5 percent, in 2009, the largest annual decline since the 1940s, as the number of troubled financial institutions rose sharply, the Federal Deposit Insurance Corp. reported Tuesday.
Bloomberg: Geithner May Give Regulators Leeway in Applying Volcker Rule
The U.S. Treasury Department wants to give regulators discretion to define proprietary trading as the White House tries to revive its plan to bar banks from making risky bets that could cause another financial crisis. One month after President Barack Obama said firms "will no longer be allowed" to trade for their own accounts, officials say they need flexibility to avoid impairing the $7.2 trillion Treasury securities market.
Financial Times: Google in Brussels antitrust inquiry
The European Commission has launched a preliminary antitrust investigation into Google's search engine and its search-advertising service. The probe, which the US internet company is believed to have been notified about two weeks ago, will examine both whether it penalises potential competitors in its search rankings, and whether it uses its massive share of the European search advertising market to keep some advertising prices artificially high.
In Case You Missed It
CNN's Brianna Keilar talks to one Toyota plant worker about her concerns about the company.
http://www.cnn.com/video/#/video/politics/2010/02/23/keilar.toyota.workers.speak.cnn
Gen. Stanley McChrystal apologizes for 33 Afghan civilian deaths during a NATO airstrike. CNN's Barbara Starr reports.
http://www.cnn.com/video/#/video/world/2010/02/23/am.starr.afghan.civilian.deaths.cnn
Subscribe to the CNN=Politics DAILY podcast at http://www.cnn.com/politicalpodcast
And now stay posted on the latest from the campaign trail by downloading the CNN=Politics SCREENSAVER at http://www.CNN.com/situationroom