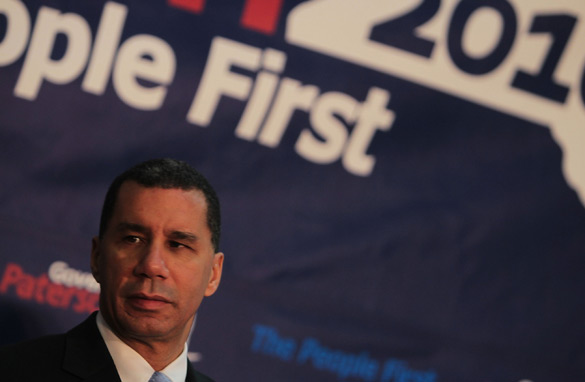 Gov. David Paterson, D-New York, launched a bid for his own term on Saturday. (Getty Images)
(CNN) - In his first press conference since a bombshell New York Times story reported that he may have intervened in a domestic assault case involving a top aide, New York Gov. David Paterson said late Thursday that he will forge ahead with his troubled election bid, despite calls from fellow state Democrats to suspend his campaign.
But Paterson did not completely rule out ending his campaign, which was facing difficult odds even before the New York Times story was published. He said he would spend the "next few days" soliciting the opinions of other party leaders.
"I am not suspending my campaign, but I am talking to a number of elected officials around the state, as I would, fellow Democrats, to hear their opinions," he told reporters in New York City. Asked about the calls for him to back out of the race, Paterson said he had "an open mind" about the situation.
"I want the Democrats to win this November," he said. "I want the governor of the state of New York to be Democratic, hopefully me, and I will weigh what they have to say, but right now I am a candidate for governor."
Paterson said he is in the race "for the long haul," but added: "I am not in it without having my colleagues feel they can talk to me about this."
He expressed confidence that the state Attorney General's office - led by Andrew Cuomo, the Democrat who has been mulling a primary challenge to Paterson - will clear him of any wrongdoing. Ultimately, he said, "everyone will understand."
He said he would not resign the governor's office.