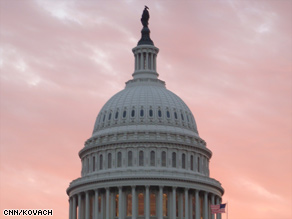 The CNN Washington Bureau's morning speed read of the top stories making news from around the country and the world.
WASHINGTON/POLITICAL
For the latest political news: www.CNNPolitics.com
CNN: Bickering continues as health care summit nears
The day before the White House's bipartisan summit on health care reform, there didn't appear to be much mood for compromise on Capitol Hill.
Wilmington News Journal: VP Biden: We welcome any good GOP ideas on health care
Democrats are ready to work with any good ideas Republicans bring to today's White House summit on health care reform, Vice President Joe Biden said today. But he also said the event "could be pure theater."
CNN: Health care reform efforts prompt lobbying bonanza
As politicians ramp up efforts aimed at trying to forge a consensus on health care reform, there's more evidence of just how intense the activity is behind the scenes at trying to influence the outcome. More than 1,750 companies and organizations hired about 4,525 lobbyists in 2009 whose work was aimed at the issue, according to a new study from the Center for Public Integrity, an organization which tracks lobbying and spending. That translates to 8 health care lobbyists for each member of Congress.
Wall Street Journal: Obama Readies a Fallback Health-Care Proposal
President Barack Obama will use a bipartisan summit Thursday to push for sweeping health-care legislation, but if that fails to generate enough support the White House has prepared the outlines of a more modest plan. His leading alternate approach would provide health insurance to perhaps 15 million Americans, about half what the comprehensive bill would cover, according to two people familiar with the planning.
CNN: Toyota recall: What took so long?
Lawmakers grilled Toyota's president, Akio Toyoda, in a hearing Wednesday aimed at discovering, among other things, why the automaker was slow to respond to safety issues related to sudden acceleration. Mr. Toyoda acknowledged that the company had made mistakes and repeatedly apologized for the recent lapses in quality control. But he did not provide specific answers to questions about what the company knew about certain defects and when they were discovered.
Washington Post: Obama may compromise on consumer agency to pass financial regulation
The Obama administration is no longer insisting on the creation of a stand-alone consumer protection agency as a central element of the plan to remake regulation of the financial system. In hopes of quick congressional approval of a reform bill, White House officials are opening the door to compromise with lawmakers concerned about creating a new bureaucracy, according to congressional and some administration sources.
CNN: Senate OKs jobs bill on bipartisan vote
The Senate passed a $15 billion jobs bill Wednesday on a 70-28 vote. The Senate bill is a scaled-down version of an $85 billion draft bill that was later scrapped for Reid's $15 billion plan. The bill exempts employers from Social Security payroll taxes on new hires who were unemployed; funds highway and transit programs through 2010; extends a tax break for businesses that spend money on investments, such as equipment purchases, among other items.
CNN: Key senators rip Blackwater actions in Afghanistan
Several key U.S. senators on Wednesday tore into private contractors working in Afghanistan for the company formerly known as Blackwater, accusing them of flouting regulations and endangering the U.S. mission.
CNN: Clinton: Congressional delays put U.S. power at risk
Secretary of State Hillary Clinton warned Wednesday that gridlock in Washington may reduce U.S. power on the world stage.
New York Times: Questions of Influence in Abuse Case of Paterson Aide
Last fall, a woman went to court in the Bronx to testify that she had been violently assaulted by a top aide to Gov. David A. Paterson, and to seek a protective order against the man. In the ensuing months, she returned to court twice to press her case, complaining that the State Police had been harassing her to drop it. The State Police, which had no jurisdiction in the matter, confirmed that the woman was visited by a member of the governor's personal security detail.
NY Daily News: Paterson suspends top aide Johnson, asks AG to probe state police role after alleged attack on woman
Gov. Paterson abruptly suspended a top aide without pay on Wednesday night and asked Attorney General Andrew Cuomo to investigate whether state police tried to "improperly influence" a woman the aide reportedly attacked.
USA Today: Study: Battle for Congress to hit $3.7 billion
The non-partisan Center for Responsive Politics predicts the cost of the congressional elections will exceed a record $3.7 billion this year.
Houston Chronicle: 'Tea party' is seeking to bag GOP with grass-roots tactics
Taking a page from the playbook of social conservatives, the "tea party" movement is trying to change the Republican Party of Texas from the ground up. Tea party activists in the major cities and suburbs across Texas have been recruiting and training candidates for precinct chairs as the building blocks to shift the emphasis of the state GOP from social issues to fiscal restraint by the federal government and individual freedom.
Politico: Exclusive: White House privately plots 2012 campaign run
President Barack Obama's top advisers are quietly laying the groundwork for the 2012 reelection campaign, which is likely to be run out of Chicago and managed by White House deputy chief of staff Jim Messina, according to Democrats familiar with the discussions.
St. Petersburg Times: Records show Marco Rubio spent thousands with GOP credit card
U.S. Senate candidate Marco Rubio charged grocery bills, repairs to the family minivan and purchases from a wine store less than a mile from his West Miami home to the Republican Party of Florida while he was speaker of the Florida House, according to records obtained by the St. Petersburg Times/Miami Herald.
CNN: Maryland AG: State could recognize same-sex marriages
Maryland's attorney general said Wednesday that the state may legally recognize same-sex marriages performed in other states.
Syracuse Post-Standard: NYS lawmakers balking at governor's plan to delay income tax refunds
Gov. David Paterson's plan to delay New Yorkers' income tax refunds is unlikely to materialize, according to state legislators from both parties who oppose the idea. Senate and Assembly Republicans and Democrats — as well as taxpayers — have come out in droves against Paterson's proposal to delay by a few weeks $700 million in tax refunds. The state is facing a $1.4 billion budget gap that needs to be closed by April, and Paterson says the delays are necessary to ensure the state doesn't go bankrupt. But lawmakers concede they can't stop Paterson
NATIONAL
For the latest national news: www.CNN.com
Wall Street Journal: Illegal Workers Slip by System
The Department of Homeland Security's controversial and much-touted E-Verify program might be failing to detect one out of two illegal workers whose employment authorizations are screened, outside consultants have told the agency. Tens of thousands of companies participate in E-Verify, either voluntarily or as a condition of doing business with the government.
New York Times: Bribes Let Tomato Vendor Sell Tainted Food
Over the last 14 months, Mr. Watson and three other purchasing managers, at Frito-Lay, Safeway and B&G Foods, have pleaded guilty to taking bribes. Five people connected to one of the nation's largest tomato processors, SK Foods, have also admitted taking part in the scheme. …Prosecutors say that for years, SK Foods shipped its customers millions of pounds of bulk tomato paste and puree that fell short of basic quality standards.
Orlando Sentinel: Tilikum known as dangerous whale at SeaWorld Orlando
SeaWorld Orlando has always known that Tilikum, a 12,000-pound orca that killed trainer Dawn Brancheau on Wednesday, could be a particularly dangerous killer whale. SeaWorld trainers were forbidden from swimming with Tilikum, as they often did with the resort's seven other orcas.
INTERNATIONAL
For the latest international news: http://edition.cnn.com
CNN: India, Pakistan: Fresh bid to mend ties amid Afghan crisis
India and Pakistan are making a fresh attempt to soothe ties strained by the 2008 Mumbai attacks, amid a growing realization that a stable relationship between the two South Asian rivals is key to resolving the Afghan crisis in the region.
New York Times: C.I.A. and Pakistan Work Together, but Do So Warily
The C.I.A. and its Pakistani counterpart, the Directorate of Inter-Services Intelligence, have a long and often tormented relationship. And even now, they are moving warily toward conflicting goals, with each maneuvering to protect its influence after the shooting stops in Afghanistan. Yet interviews in recent days show how they are working together on tactical operations, and how far the C.I.A. has extended its extraordinary secret war beyond the mountainous tribal belt and deep into Pakistan's sprawling cities.
Times of London: Nato admits that deaths of 8 boys were a mistake
A night-time raid in eastern Afghanistan in which eight schoolboys from one family were killed was carried out on the basis of faulty intelligence and should never have been authorised, a Times investigation has found.
Washington Post: Officials puzzle over millions of dollars leaving Afghanistan by plane for Dubai
A blizzard of bank notes is flying out of Afghanistan - often in full view of customs officers at the Kabul airport - as part of a cash exodus that is confounding U.S. officials and raising concerns about the money's origin…. at a time when the United States and its allies are spending billions of dollars to prop up the fragile government of President Hamid Karzai, the volume of the outflow has stirred concerns that funds have been diverted from aid.
Wall Street Journal: U.S. Sells Arms to South Asian Rivals
The Obama administration is sharply expanding American weapons transfers to both India and Pakistan, longtime rivals about to sit down for peace talks Thursday. The U.S. has sought to remain neutral in the thorny relationship between the nuclear-armed neighbors. But Washington hasn't been shy about pursuing weapons deals in the region, which officials say will lead to closer ties with each country while creating new opportunities for American defense firms.
Jerusalem Post: Russia won't back 'crippling sanctions'
Israel and the US will hold a one-day, high-level strategic dialogue on Thursday expected to focus on sanctions against Iran, a day after Russia announced it opposes "paralyzing" sanctions aimed at the Islamic Republic's energy sector.
CNN: 15 new suspects in Dubai murder plot
Police on Wednesday announced 15 new suspects in the January killing of a Hamas leader at a Dubai hotel, bringing to 26 the number of people suspected of involvement in his death.
New York Times: A $1 Billion Hangover From an Olympic Party
The immediate Olympic legacy for this city of 580,000 people is a nearly $1 billion debt from bailing out the Olympic Village development. Beyond that, people in Vancouver and British Columbia have already seen cuts in services like education, health care and arts financing from their provincial government, which is stuck with many other Olympics-related costs. Many people, including Mrs. Lombardi, expect that more will follow.
Bloomberg: U.S. Envoy 'Confident' North Korea Talks to Resume
U.S. special envoy for North Korea Stephen Bosworth said he is "confident" that six-nation talks on the country's nuclear program will resume following discussions yesterday with his Chinese counterpart.
BUSINESS
For the latest business news: www.CNNMoney.com
CNNMoney: Bernanke concerned about weak job market
Federal Reserve chairman Ben Bernanke told Congress on Wednesday that government action has helped start an economic recovery, but that he's worried about the state of the job market. Bernanke also changed his stance and said he'd be willing to consider supporting some legislation that's pending before Congress that would make the Fed more accountable.
Wall Street Journal: The Euro's Next Battleground: Spain
Greece set off the crisis rattling the euro zone. Spain could determine whether the 16-nation currency stands or falls. The euro zone's No. 4 economy, Spain has an unemployment rate of 19%, a deflating housing bubble, big debts and a gaping budget deficit. Its gross domestic product contracted 3.6% in 2009 and is expected to shrink again this year, leaving Spain in its deepest and longest recession in a half-century.
New York Times: Banks Bet Greece Defaults on Debt They Helped Hide
Bets by some of the same banks that helped Greece shroud its mounting debts may actually now be pushing the nation closer to the brink of financial ruin.Echoing the kind of trades that nearly toppled the American International Group, the increasingly popular insurance against the risk of a Greek default is making it harder for Athens to raise the money it needs to pay its bills, according to traders and money managers.
Wall Street Journal: Lehman Reaches Deal on J.P. Morgan Claim
Lehman Brothers Holdings Inc. and J.P. Morgan Chase & Co. have reached a deal that tentatively settles a $7.68 billion claim J.P. Morgan has against Lehman following the investment bank's bankruptcy filing.
San Francisco Chronicle: Italian court convicts Google execs over video
In a case that could have broad implications for Internet use around the world, an Italian court convicted three Google Inc. executives Wednesday of criminal charges for failing to quickly remove an uploaded video. Officials at the Mountain View company pledged to appeal, saying if the verdict is allowed to stand, "the Web as we know it will cease to exist." Legal experts agreed the case raises troubling questions for all U.S. Internet companies that do business globally.
In Case You Missed It
Congress questions the practices of the military contractor formerly known as Blackwater. CNN's Chris Lawrence reports.
http://www.cnn.com/video/#/video/world/2010/02/24/lawrence.afghanistan.oversight.cnn
Akio Toyoda talks about his company's recalls, and his testimony on Capitol Hill, with CNN's Larry King.
http://www.cnn.com/video/#/video/bestoftv/2010/02/24/lkl.toyoda.intv.cnn
Subscribe to the CNN=Politics DAILY podcast at http://www.cnn.com/politicalpodcast
And now stay posted on the latest from the campaign trail by downloading the CNN=Politics SCREENSAVER at http://www.CNN.com/situationroom