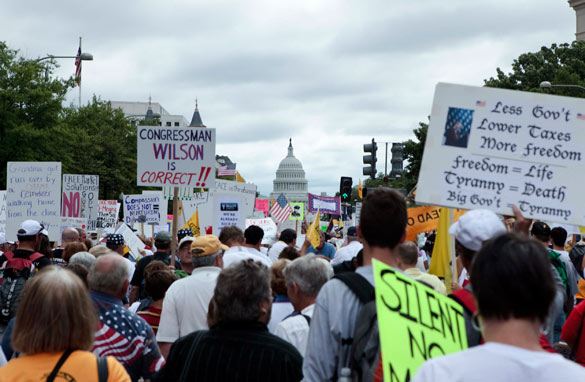 Thousands marched on Washington during a large Tea Party movement rally last September. (Photo Credit: Getty Images/File)
Washington (CNN) - Tea Party activists across the country are expected Saturday to mark the one year anniversary of their movement.
Tea Party organizers say hundreds of events, ranging from protests, rallies, candidate forums, grassroots training seminars, and even movie screenings of a Tea Party documentary, are expected to be held nationwide.
Tea Party activists trace the birth of their movement to a couple of anti-stimulus protests across the country in mid-February of last year. Those small demonstrations were followed days later by business news correspondent Rick Santelli's televised rant on February 19, 2009 about the federal government's Wall Street bailout. Santelli's outburst inspired anti-big government activists to hold Tea Party protests across the country 8 days later.
"On February 27, 2009 a national movement for limited government was born. What started as a few thousand people taking to the streets to protest bailouts and wasteful spending grew to become a massive social movement," says Brendan Steinhauser, director of federal and state campaigns for FreedomWorks, a non-profit conservative organization that helps train volunteer activists and has provided much of the organizational heft behind the Tea Party movement.
"This weekend we want to reinvigorate the movement with hundreds of events around the country, many of them hosted by brand new community organizations. We expect all of this energy to form a tidal wave of electoral power in the November 2010 elections," adds Steinhauser (no relation to this reporter).

Most activists in the grassroots movement call for less federal taxes and spending; a curtailment of some federal powers in the areas they believe are the sovereign domain of state and local governments; opposition to large federal programs such as the $862 billion economic stimulus bill and the $700 billion Wall Street bailout (also known as "TARP"); and opposition to comprehensive heath care reform legislation and cap-and-trade energy legislation supported by President Barack Obama and congressional Democrats.
As the movement has grown, tensions have been rising among various Tea Party groups. Rival factions are battling over who will carry the movement's banner, and others worry that powerful groups are "astroturfing" what they think should remain a grassroots group. There was some pushback against Tea Party Nation when it held what was billed as the first national Tea Party convention, earlier this month in Nashville, Tennessee.
Activists in the Tea Party movement tend to be male, rural, upscale, and overwhelmingly conservative, according to a recent national poll. A CNN/Opinion Research Corporation survey conducted two weeks ago also indicates that the movement's activists would vote overwhelmingly Republican in a two-party race for Congress. Tea Partiers GOP leanings, the poll suggests, may pose a problem for the Tea Party movement if it tries to turn itself into a third party to compete with the two major parties in this year's general election.
"If the Tea Party runs its own candidates for U.S. House, virtually every vote the Tea Party candidate gets would be siphoned from the GOP candidate, potentially allowing the Democrats to win in districts that they might have otherwise lost," says CNN Polling Director Keating Holland. "While the concept of an independent third party is extremely popular, most Americans, including most Tea Party supporters, don't favor a third party that would result in a winner who disagrees with them on most major issues."
According to the survey, roughly 11 percent of all Americans say they have actively supported the Tea Party movement, either by donating money, attending a rally, or taking some other active step to support the movement.
House Minority Leader John Boehner Saturday praised the movement. In a statement the Republican from Ohio said "The Tea Party movement has reminded us who's really in charge of this country, and that's the American people."