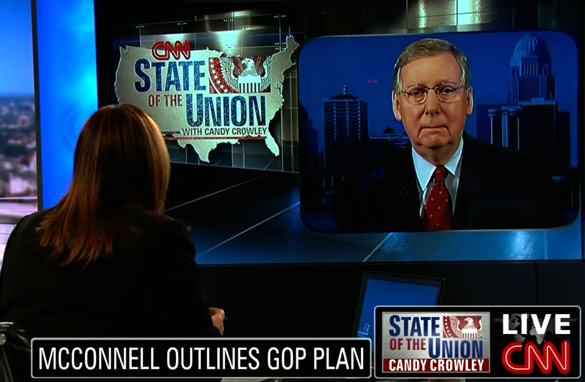 Senate Minority Leader Mitch McConnell said Sunday that last week's White House health care summit was a chance for his party "to display some of our brightest, most knowledgeable Republicans" on the subject of health care policy. (Photo Credit: CNN)
Washington (CNN) – Just days after a bipartisan, televised 7-hour White House summit on health care reform, the leading Republican in the Senate predicted that his entire caucus will act in lockstep and none will vote for the final provisions of health care reform legislation likely to be presented in the next month.
Sen. Mitch McConnell said twice Sunday on CNN's State of the Union that he does not think a single Senate Republican will support the final legislation.
And, in the absence of any GOP support in the Senate, McConnell also predicted that congressional Democrats will proceed to use reconciliation, a Senate procedure reserved for budgetary matters which will allow Democrats to pass some aspects of their health care reform agenda without having to face a threatened Republican filibuster.
Asked about the GOP's staunch refusal to play ball with President Obama and Capitol Hill Democrats after a year's worth of legislative work on health care reform, the Senate Minority Leader defended the position of congressional Republicans.
"That would be great but that's not enough to compensate for this massive government takeover of the U.S. health care system," McConnell told CNN Senior Political Correspondent Candy Crowley after she asked whether Republicans could support a final bill that included meaningful medical malpractice reform, a top GOP priority. "It's just simply not a symmetrical trade-off, if you will. That would be a step in the right direction but I don't think that alone is going to get many of our votes."
Even though McConnell appeared to concede that last week's summit had not succeeded in breaking the policy logjam over health care, the Kentucky Republican praised the event as being positive overall for the GOP.

"We had a chance on Thursday to display some of our brightest, most knowledgeable Republicans. I thought it was actually very good for us because it certainly refuted the notion that Republicans are not interested in this subject, are not knowledgeable about it, and don't have alternatives. And we laid out a number of different things that we think will make a lot more sense to go step-by-step to fix the cost problem [in health care]."
In an interview that aired earlier on State of the Union, House Speaker Nancy Pelosi appeared to concede that there was no hope of Democrats and Republicans working together in a meaningful way to craft a final health care reform bill.
"Let me say this," Pelosi told Crowley. "The bill can be bipartisan, even though the votes might not be bipartisan, because they [Republicans] have made their imprint on this."
Pelosi also suggested that the two parties have fundamental ideological differences that might never be bridged.
"And so what we've had is the year of trying to strive for bipartisanship," the California Democrat said, recounting the last year of wrangling on Capitol Hill, "as I say, over 100 Republican amendments in the bill. And the Republicans placed their own bill on the floor, here in the House, which insured 3 million. Our bill insures over 30 million. So we have a different value system here."
After spending the better part of the last year focused on trying to pass a comprehensive health care reform bill, Democrats have now set the end of March as their new target date for getting a bill through Congress. President Obama will announce "the way forward" on the health care bill next week, White House spokesman Robert Gibbs said Friday.
In the meantime, it is an open secret in Washington that Democrats are preparing to use reconciliation to pass their bill with a simple majority of 51 votes in the Senate. Democrats have been forced to consider use of the procedure because a upset loss last month in a Massachusetts special Senate election has left them one vote short of the 60 votes they need to block a Republican filibuster of a health care reform bill.
Follow Martina Stewart on Twitter: @MMStewartCNN