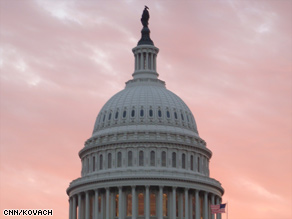 The CNN Washington Bureau's morning speed read of the top stories making news from around the country and the world.
WASHINGTON/POLITICAL
For the latest political news: www.CNNPolitics.com
CNN: Lawmakers brace for reconciliation showdown
With last week's health care summit showing no sign of getting either side to budge, lawmakers Sunday staked out positions in the battle many believe is imminent: a presidential effort to push legislation through without Republican support. Democratic sources have told CNN the general plan is for the House to now pass the version that the Senate passed last year with 60 votes. Meanwhile, negotiators in both chambers would agree to a separate package of changes to that legislation. That package would go before the Senate under reconciliation rules.
New York Times : White House Is Rethinking Nuclear Policy
As President Obama begins making final decisions on a broad new nuclear strategy for the United States, senior aides say he will permanently reduce America's arsenal by thousands of weapons. But the administration has rejected proposals that the United States declare it would never be the first to use nuclear weapons, aides said.
New York Times: Governors' Troopers Pressured by Duty and Politics
All police departments are to some degree political institutions, insular organizations accustomed to concealing their shortcomings and even wrongdoing. But the police units assigned to cover prominent politicians seem to be distinctive for what can often become an explicit tension between loyalty and duty.
Los Angeles Times: GOP moderates poised to gain ground in Congress
With healthcare legislation mired in partisanship, "tea party" activists on the march and GOP leadership dominated by conservatives, Capitol Hill looks like a parched landscape for the withered moderate wing of the Republican Party. But green shoots are sprouting in Washington and on the campaign trail. A small band of Republican moderates in the Senate broke a logjam on jobs legislation. They added to their ranks with the arrival of another New England Republican, Scott Brown. And several moderate Republicans are in a good position to win Senate seats in November.
Las Vegas Sun: Cultivating conservatives
Republicans here — and across rural Nevada — are looking for their Scott Brown, a pickup-driving savior to knock off Reid, Nevada's equivalent of Ted Kennedy. As far as they're concerned, Reid has forgotten his humble Searchlight roots and his home state in the quest for Washington power, complete with a yoga mat and an apartment in the Ritz-Carlton. …On this weekend, a half dozen would-be challengers donned bluejeans and cowboy boots and gave red-meat speeches to win them over on the Lincoln Day dinner circuit, where the name "Glenn Beck" is an applause line and weapons are top prize in the fundraising auction. The annual pilgrimage through Nevada's reddest counties is a must for Republican candidates, with Reid's Senate race giving this year's events a sense of urgency and excitement.
San Jose Mercury News: Your guide to the California governor's race
It's 100 days before the June primary, and California is about to be treated to a governor's race for the ages. And for those of you who haven't been following the festivities so far — hey, we don't blame you — we're here to catch you up and tell you what to look for in the months ahead. Two former Silicon Valley executives — Steve Poizner, a multimillionaire, and Meg Whitman, a billionaire — are vying for the Republican nomination. Whoever wins will face former Gov. Jerry Brown, who scared the other Democrats out of the race without even launching a formal campaign.
The Oakland Tribune: With so many incarnations, Brown not easily pinned down
If past is prologue, Jerry Brown would be a far different governor than he was in his first go-round. After fending off the urge to declare his all-but assured candidacy throughout the fall and most of the winter, Brown, 71, is expected to make it official soon. If he recaptures the governorship in November, he'd be twice as old as he was when he first entered office in 1975 at age 36. It would be full circle — possibly an unprecedented political journey in American history, in which a former governor returns to the same office 27 years after he'd left it.
Detroit Free Press: Dillon tosses hat into crowded ring
Michigan House Speaker Andy Dillon's dive into the Democratic race for governor Sunday was like the last horse pushing into the starting gate.Now that the field of would-be governors seems set, one thing is clear: There's no clear favorite in either party.
Dallas Morning News: GOP governor's campaign is more texting than talking
Rick Perry's campaign has a radical approach that eschews traditional voter turnout efforts in favor of extensive use of social media networks to win Tuesday's GOP primary. Haven't seen a Perry yard sign? There aren't any, and Perry has no local office to house them. Dreading yet another phone call from a political candidate? Don't worry; Perry has no phone banks. And you probably won't see supporters with T-shirts knocking at the door. But you may get a Facebook message from a friend in your social circle. You're more likely to find Perry campaign appeals on Twitter, even craigslist, than to see his mug on a highway billboard.
Austin American-Statesman: Perry's message frustrates Hutchison
Perry has ridden an anti-Washington sentiment to a lead in the polls that has lasted for several months, although it's unclear whether he will win the majority vote he needs to defeat Hutchison and Wharton activist Debra Medina and capture his party's nomination without a runoff. Leading candidates Perry and Hutchison campaigned earnestly over the past couple of days, a fitting near-end to perhaps the highest-profile Republican primary in Texas history.
NATIONAL
For the latest national news: www.CNN.com
CNN: Controversial contractor eligible for lucrative new Pentagon bids
Despite revelations in a congressional investigation of a subsidiary's mismanagement and questionable vetting of employees, the company formerly known as Blackwater could soon win millions of dollars in new job orders for work in Afghanistan.
New York Times: Finding Untainted Jurors in the Age of the Internet
When Enron collapsed in 2001, thousands of employees at its Houston headquarters lost their jobs and savings, and the city's economy reeled. Much of the public's anger was directed at Jeffrey K. Skilling, the company's former chief executive. …The Supreme Court will hear arguments Monday on whether Mr. Skilling's conviction should be overturned because the prejudice against him in Houston was so strong and pervasive that he could not receive a fair trial. …How potential jurors become informed in the Internet era, experts in jury behavior said, cuts in two directions. It may now be harder than ever for defendants to find wholly untainted jurors in their own communities. At the same time, a change of venue in a truly high-profile case is less likely than ever to solve the problem.
Wall Street Journal: As Loans Dry Up, Builders Work for Banks
Home builders in some of the nation's hardest-hit housing markets are going to work directly for banks, in a little-used arrangement that is helping to ameliorate conditions in some battered local economies. The builders traditionally got loans from banks to build homes, but that credit has largely dried up. The contract work builders are getting is welcome as many of them struggle to stay afloat.
INTERNATIONAL
For the latest international news: http://edition.cnn.com
CNN: Security concerns spread as Chile quake death toll rises
As Sunday night fell on Chile, heavily populated parts of the country were without water and electricity, and reports of looting raised fears about security in some areas. The nation's hardest-hit major city declared an overnight curfew. Calling Saturday's early morning 8.8-magnitude quake an "unthinkable disaster," Chilean President Michelle Bachelet said a "state of catastrophe" in the worst-hit regions would continue, allowing for the restoration of order and speedy distribution of aid. The death count doubled on Sunday from a day earlier, to 708 deaths.
CNN: Suspected CIA suicide bomber calls American team 'gift from God'
The man believed to be the suicide bomber who killed seven CIA employees and contractors last year appears in a newly released video, claiming to have tricked Jordanian intelligence officers as a double agent.
Wall Street Journal: Two Dubai Suspects Traveled to U.S.
At least two of the 26 suspects sought by Dubai police for the alleged killing of a top Hamas leader appear to have entered the U.S. shortly after his death, according to people familiar with the situation. Records shared between international investigators show that one of the suspects entered the U.S. on Feb. 14, carrying a British passport, according to a person familiar with the situation. The other suspect, carrying an Irish passport, entered the U.S. on Jan. 21, according to this person. Senior Hamas leader Mahmoud al-Mabhouh's body was found in a Dubai hotel room on Jan. 20.
CNN: Dubai police chief: Mossad should be 'ashamed' over Hamas killing
Dubai's police chief said Sunday the secretive Israeli foreign intelligence unit Mossad "needs to be ashamed" after the January killing of a Hamas leader in a Dubai hotel. Earlier Sunday, police said toxicology results showed that al-Mabhouh was injected with succinylcholine, a drug used to relax muscles during surgery or as an anesthetic, before he was suffocated. Signs indicated that al-Mabhouh resisted as he was being suffocated, police said.
New York Times: Vote Seen as Pivotal Test for Both Iraq and Maliki
A few months ago, building on genuine if not universal popularity, Nuri Kamal al-Maliki appeared poised to win a second term as Iraq's prime minister. Now, as Iraqis prepare to vote in parliamentary elections on March 7, his path to another four years in office has become increasingly uncertain, his campaign erratic and, to some, deeply troubling. Far from consolidating power in the authoritarian manner that has plagued Iraq's history, Mr. Maliki risks losing it through the ballot box. In a region where the traditional exit from power has been "the coup or the coffin," as one Western diplomat here put it recently, the election has become a crucial test of Iraq's post-invasion democracy, and of Mr. Maliki's own fate.
Los Angeles Times: Iran relations with IAEA turn contentious
Iran has dramatically shifted its public tone toward the United Nations' nuclear watchdog, dropping its previous deference while harshly criticizing the agency's latest report and its new director-general as an incompetent and biased lackey of the West.
CNN: Analysis: NATO looks to transform itself to face new threats
Military officials from NATO and its 28 member states descended on Washington last week for a series of discussions about rethinking how the alliance should transform itself in an era when its scope has expanded beyond traditional Cold War boundaries. The seminar was hosted by former Secretary of State Madeleine Albright, who is chairing a group of experts appointed by the NATO secretary-general to recommend a new "Strategic Concept" for the alliance, governing how it perceives and responds to threats.
Wall Street Journal: Pyongyang Is Silent on Alleged Detainees
Two days after North Korea said it detained four South Koreans for allegedly making an illegal entry to the authoritarian state, South Korea's government on Sunday said it still had received no details about the matter from Pyongyang. The situation is the second in five weeks in which North Korea claimed to arrest trespassing foreigners but provided no more information.
Miami Herald: Efforts to engage Cuba stall
The death of a Cuban political prisoner and the prolonged jailing of a U.S. citizen in Havana appear to have cast a dark cloud over U.S. and Spanish government efforts to engage Raúl Castro's government.
BUSINESS
For the latest business news: www.CNNMoney.com
CNNMoney: AIG said to be near $35 billion Asia deal
American International Group Inc., majority owned by the U.S. government after a massive bailout, is close to a $35.5 billion deal to sell its Asian life insurance operations to Britain's Prudential PLC, according to a online report published Sunday.
Wall Street Journal: Google, Microsoft Spar on Antitrust
To Google, the pattern is clear: It contends Microsoft is embarking on a proxy war against it through various apparently unrelated cases, preparing the ground for a broader antitrust assault of some sort on Google's dominance in the online world. "It's become clear that our competitors are scouring court dockets around the world looking for complaints against Google into which they can inject themselves, learn more about our business practices, and use that information to develop a broader antitrust complaint against us," said a Google spokesman, Adam Kovacevich. Microsoft calls that nonsense.
Bloomberg: Corporate Bond Returns Rise Most in Five Months: Credit Markets
U.S. corporate bond sales climbed the most this year and global returns staged the biggest rally since August last week, as concern that Europe's fiscal crises will stifle economic growth eased.
Financial Times: Hedge funds prosper from Greek debt
Hedge funds have made large profits from Greek debt and providing insurance to overexposed European banks, it emerged on Sunday. France signalled that private banks were likely to help in any rescue plan for Athens. The hedge funds have been successful as traders anticipated that over-exposed European banks would drive a wave of selling against Greece, industry insiders told the Financial Times.
In Case You Missed It
As lawmakers consider a jobs bill, jobless numbers remain high, especially for some minority groups.
http://www.cnn.com/video/#/video/us/2010/02/28/lee.minority.jobs.cnn
Senior Political Correspondent Candy Crowley talks with House Speaker Nancy Pelosi about status of the health care bill.
http://www.cnn.com/video/#/video/politics/2010/02/26/sotu.crowley.pelosi.sot.cnn
Subscribe to the CNN=Politics DAILY podcast at http://www.cnn.com/politicalpodcast
And now stay posted on the latest from the campaign trail by downloading the CNN=Politics SCREENSAVER at http://www.CNN.com/situationroom