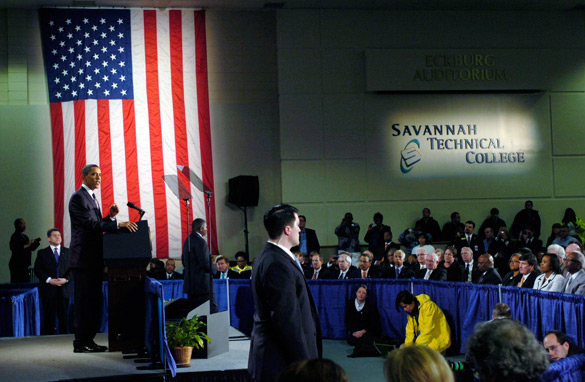 President Obama spoke Tuesday at Savannah Technical College in Savannah, Georgia. (PHOTO CREDIT: Getty Images)
Savannah, Georgia (CNN) - President Barack Obama highlighted an administration initiative Tuesday designed to provide incentives for homeowners to retrofit their homes in a more energy-efficient manner.
The Home Star program, which was first outlined in the president's State of the Union address, would provide rebates to homeowners of up to $3,000 for making energy efficient improvements to their houses. Customers would be eligible for direct rebates at the point of sale, according to the White House.
"This is a commonsense approach that will help jump start job creation while making our economy stronger," Obama said in a speech at Savannah Technical College. "It's what's right to plan for our future."
Among other things, the program would provide 50 percent rebates of up to $1,500 for simpler upgrades such the installation of better insulation, duct sealing, water heaters, windows, doors and roofing.
The $3,000 upgrade would be reserved for more comprehensive retrofits that include a whole home energy audit and retrofit designed to achieve 20 percent energy savings.
The White House has predicted that between 2 million and 3 million homeowners will participate in the program. Obama said Tuesday the program also will help cut the construction industry's 25 percent unemployment rate.