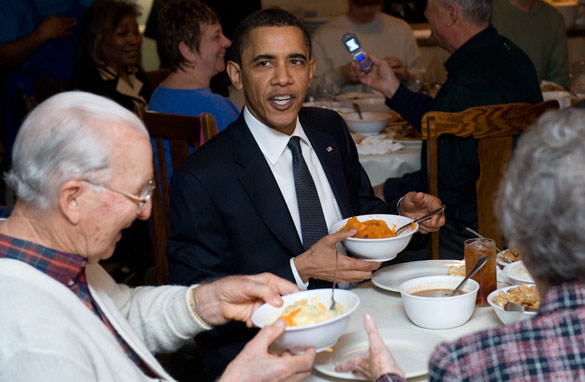 The president had Southern food in Georgia Tuesday and told reporters "Don't tell Michelle." (Photo Credit: Getty Images)
(CNN) – After his first presidential physical found an elevated cholesterol level, sweet tea and fried chicken are probably not what the doctor ordered. But that didn't stop President Obama from indulging in a lunch of Southern cuisine Tuesday in Savannah, Georgia, according to a pool report.
The president joked with reporters to keep quiet about his meal at Mrs. Wilkes' Dining Room, a local restaurant whose menu includes macaroni and cheese, collard greens, fried chicken and biscuits, among other traditional Southern dishes.
"I don't want any lectures about my cholesterol," he said, according to the pool report. "Don't tell Michelle."
Obama's Southern meal comes two days after his annual checkup and a doctor's recommendation that he alter his eating habits in order to help reduce an elevated "bad" cholesterol level.
"Recommend dietary modification to reduce LDL cholesterol below 130," Dr. Jeff Kuhlman, a Navy captain and physician to the president wrote in his report. The report lists Obama's LDL level at 138.
The result of his first physical since taking office has put the president in a bit of an awkward position since first lady Michelle Obama recently launched a national campaign against childhood obesity last month. As part of her campaign the first lady is urging Americans to drink more water and eat smaller portions.
In the president's defense, the first lady didn't explicitly say anything about sweet tea.
Related: Obama indulges in pie, occasional cigarette, spokesman says