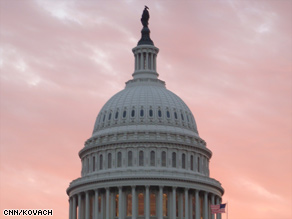 The CNN Washington Bureau's morning speed read of the top stories making news from around the country and the world.
WASHINGTON/POLITICAL
For the latest political news: www.CNNPolitics.com
CNN: Retiring Democrat denies harassment allegations
Rep. Eric Massa, D-New York, denied reports Wednesday that he harassed one of his Capitol Hill staffers – announcing, however, that he would not seek re-election because of health concerns. A spokeswoman for House Majority Leader Steny Hoyer acknowledged that allegations of misconduct against Massa, 50, were under review by the House Ethics Committee.
CNN: Rangel temporarily steps down as House Ways and Means chair
Rep. Charlie Rangel temporarily stepped down as chairman of the House Ways and Means Committee on Wednesday, a decision forced by a growing storm of ethics controversies threatening the veteran congressman.
New York Times: Many Potential Successors if Rangel Retires
Representative Charles B. Rangel's decision to relinquish the coveted chairmanship of the House Ways and Means Committee has raised a once-unthinkable possibility: that after 39 years in Congress, he will not seek re-election this year. If he decided not to run, it would touch off an intense battle for what has been, for the past 20 Congressional elections, the safest of safe House seats. The last time that Mr. Rangel faced a serious Democratic challenger was 1994, when he defeated his primary opponent by nearly two to one.
CNN: Obama outlines final health care plan, urges Congress to act
President Obama outlined his final version of a health care bill Wednesday and urged Congress to bring the plan to a conclusive vote within the next few weeks. He also came out in support of a controversial legislative maneuver known as reconciliation, which would allow changes to the health care bill to be passed by the Senate with only 51 votes - a bare legislative majority.
Politico: Exclusive: RNC document mocks donors, plays on 'fear'
The Republican National Committee plans to raise money this election cycle through an aggressive campaign capitalizing on "fear" of President Barack Obama and a promise to "save the country from trending toward socialism."
CNN: Paterson faces ethics charges over World Series tickets
New York's Commission on Public Integrity is charging Gov. David Paterson with an ethics violation for accepting free tickets to the first game of last year's World Series, the commission said Wednesday. …Paterson, who announced last week that he would not run for election to a full term, has faced controversy since news reports charged that his aide was involved in a domestic violence incident with a woman and that state police later allegedly pressured her to keep quiet.
CNN: Democrat could give Texas governor a run for his money
Bill White, the former Houston mayor, isn't just Rick Perry's Democratic opponent in the Texas governor's race. He's Perry's polar opposite.
Houston Chronicle: Lackluster showing puts damper on Tea Party
Although Medina's 18 percent of the Republican primary vote was much more than most observers expected her to get when the campaign season got under way, the champion of the Tea Party/libertarian insurgents failed to force a runoff. Medina also failed to buoy up other Tea Party candidates across the state. Anti-establishment voters simply didn't materialize at the polls on Tuesday, and most Republican incumbents cruised to victory over their Tea Party challengers.
Dallas Morning News: Hutchison's plans after defeat still 'the million-dollar question'
Sen. Kay Bailey Hutchison lay low on Wednesday after her decisive rejection in the governor's race, taking advice about her future from friends as those waiting for a shot at her job bided their time. In Washington, her resignation would give Democrats a brief shot at regaining their Senate supermajority. In Texas, it would set off a scramble for a coveted open Senate seat. The issue is when.
Philadelphia Inquirer: Slow start to Pa. gubernatorial primary races
By early March in 2002, the battle for governor of Pennsylvania already was escalating into the political equivalent of nuclear war. At the same point eight years later, the election to succeed Rendell has yet to make much noise. And even when it does get going, it might be overshadowed by the state's nationally watched U.S. Senate fight. A pack of lesser-known, less-well-financed candidates of both parties have run no TV or radio commercials. They have been respectful of one another. And polls show that most voters know too little about them – especially the four Democrats – to have any opinion of them.
The Detroit News: Granholm won't be short of job options
Unlike the nearly three-quarter million Michiganians struggling to find a job, Gov. Jennifer Granholm can expect to be bombarded by juicy offers when she leaves the governorship at the end of the year. How about Supreme Court Justice Granholm? Or cabinet secretary Granholm? What about ambassador Granholm? Five months before the primary elections to pick the two main candidates who will battle it out for her job, the term-limited governor is looking at a future with many possibilities.
NATIONAL
For the latest national news: www.CNN.com
Las Vegas Sun: Energy Department withdraws application for Yucca Mountain
The U.S. Department of Energy today filed an application with the Nuclear Regulatory Commission's Atomic Safety and Licensing Board to withdraw its application for a license to build Yucca Mountain.The state has fought the Energy Department's plans for more than 20 years. It has concerns about the proposed facility's proximity to the state's economic hub, Las Vegas, which is about 90 miles from Yucca Mountain.
New York Times: Californians Compete for a Shot at Redistricting
Here in California, Democrats have just one candidate for governor (and he has already done the job), and state lawmakers from both parties seem incapable of passing even modest legislation without a meltdown. But while the state's political class may be languid, a sea of residents is not. Nearly 31,000 of them have raised their hands for the complex and highly bureaucratic task of redrawing the districts of the State Legislature and of the State Board of Equalization, which administers certain taxes — the only citizen effort of its kind in the country.
Wall Street Journal: Stores Land in Gun-Control Crossfire
Starbucks Corp. and some other chain stores in the U.S. are finding themselves caught in the middle of a firearms debate, as gun-control advocates go up against a burgeoning campaign by gun owners to carry holstered pistols in public places. Businesses have the final say on their property. But the ones that don't opt to ban guns—such as Starbucks—have become parade grounds of sorts for open-carry advocates.
USA Today: Census jobs unfilled in some places
The Census Bureau is having trouble finding qualified temporary workers in some neighborhoods for the national head count despite the record number of jobless who have swelled the nationwide pool of applicants.
INTERNATIONAL
For the latest international news: http://edition.cnn.com
Washington Post: U.S. increasingly wary as Burma deepens military relationship with North Korea
The Obama administration, concerned that Burma is expanding its military relationship with North Korea, has launched an aggressive campaign to persuade Burma's junta to stop buying North Korean military technology, U.S. officials said.
CNN: Brazil, U.S. at odds over Iran
Brazil "will not bend" to U.S. pressure to seek sanctions against Iran, Brazilian Foreign Minister Celso Amorim said after a meeting with U.S. Secretary of State Hillary Clinton in Brasilia. The United States was seeking support for sanctions against Iran, which it accuses of harboring a non-peaceful nuclear program. Brazil shares the table with the United States on the United Nations Security Council, where it holds a non-veto seat.
New York Times: U.S. Circulates New Draft Proposal for Iran Sanctions
The United States is circulating a draft of new, tougher sanctions against Iran that concentrate on the banking, shipping and insurance sectors of Iran's economy and is now waiting for China and Russia to signal that they are willing to start negotiating over the measures, United Nations Security Council diplomats said Wednesday.
New York Times: Following Suicide Attacks, Early Voting Begins in Iraq
With security forces on a heightened state of alert before Sunday's national elections, early voting began Thursday morning as hundreds of thousands of Iraqis began making their way to the polls, among them the infirm, people with special needs and members of the military and the police.
ABC News: Al Qaeda's Pakistan Lair Captured
In what is being hailed as a major victory against al Qaeda and its allies, Pakistani forces announced the capture of caves described as the nerve centre of militant activity on the Afghan-Pakistan border. An elaborate network of over 150 caves, believed to have once housed Al Qaeda's number two Ayman al Zawahiri, was revealed to journalists by the Pakitani military.
Investors Business Daily: Austerity Measures May Save Greece, But Will They Topple Europe's Economy?
Greece took steps Wednesday to slash its huge budget deficit, trying to calm markets and pressure Germany to agree to a bailout as Europe aims to avert a widespread sovereign debt crisis. The euro, hammered on fears that Greece's debt debacle will spread to Portugal and Spain, rallied 0.7% vs. the dollar Wednesday. Analysts say the European Union is likely to provide aid if Greece follows through on spending cuts and tax hikes, but a tense political process may drag on. Greek Prime Minister George Papandreou is slated to meet German Chancellor Angela Merkel in Berlin on Friday. But even if global markets settle, tough austerity measures in Greece, Italy, Portugal, Spain and Ireland will take a toll on Europe's already-anemic economic growth.
Der Spiegel: How Safe Is Britain's Proud Pound?
First the euro, now the pound. Britain's currency is coming under massive pressure as speculators bet that the UK's national debt will soon get out of hand. Like Athens, London has its share of problems - and the Brits don't have any euro zone partners to back them up.
BBC News: China slows rise in military spending
China has said its military spending will increase by 7.5% in 2010, ending a long run of double-digit growth. It will spend 532.1bn yuan ($77.9bn, £51.7bn) over the year, the spokesman of the country's annual parliamentary session announced.
CNN: Aid starts to flow in quake-damaged Chile
Aid and increased security were flowing Wednesday into hard-hit areas of Chile, but some residents complained that they still had not received food or water since Saturday's massive earthquake killed more than 800 people.
BUSINESS
For the latest business news: www.CNNMoney.com
Bloomberg: Consumer Agency Within Fed Seen as Victory for Banks
For consumer advocates, housing a new agency to protect Americans from financial-product abuse within the Federal Reserve would be a defeat after lobbying for an independent body. For banks, it would represent a victory. Barney Frank, Chairman of the House Financial Services Committee, called a Senate plan to house the proposed Consumer Financial Protection Agency at the Fed "a joke." Shielding consumers from harmful financial products is "the most conspicuous failure by the Fed," Frank said in an interview yesterday.
CNNMoney: First spark of a jobs recovery
Main Street businesses shed another 18,000 jobs in February, bring the tally of jobs lost from America's small businesses to nearly 3 million since February 2008, according to a report released Wednesday by payroll processor ADP. But there are also signs that the worst of the job hemorrhaging is over.
Wall Street Journal: Facebook CEO in No Rush To 'Friend' Wall Street
Most everyone in Silicon Valley and on Wall Street agrees: The eventual IPO of social-networking site Facebook could make its founder the world's richest twenty-something. Yet Chief Executive Mark Zuckerberg, now 25, seems intent on deferring that multibillion dollar payday.
In Case You Missed It
CNN's Candy Crowley takes a look at what the Texas gubernatorial primary results may mean for the future.
http://www.cnn.com/video/#/video/politics/2010/03/03/crowley.texas.primary.cnn
We get a look at Senator Jim Bunning's political career through the eyes of his constituents. CNN's Ed Lavandera reports.
http://www.cnn.com/video/#/video/politics/2010/03/03/lavandera.bunning.constituents.cnn
Subscribe to the CNN=Politics DAILY podcast at http://www.cnn.com/politicalpodcast
And now stay posted on the latest from the campaign trail by downloading the CNN=Politics SCREENSAVER at http://www.CNN.com/situationroom