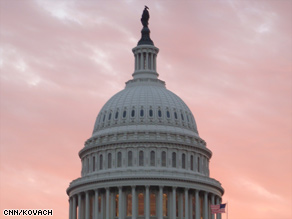 The CNN Washington Bureau's morning speed read of the top stories making news from around the country and the world.
WASHINGTON/POLITICAL
For the latest political news: www.CNNPolitics.com
CNN: Obama to nominate ex-Army general to head TSA, sources say
President Obama has tapped a former Army general to lead the Transportation Security Administration, sources have told CNN. Obama plans to nominate Robert A. Harding, a retired major general with 33 years in the Army, to become the TSA administrator, sources said. Department of Homeland Security Secretary Janet Napolitano will announce the nomination Monday with Harding by her side, according to one administration official.
Bloomberg: Obama Looks to Rally Public in 'Uphill Battle' on Health Bill
President Barack Obama this week kicks off a final push to salvage a health-care overhaul plan that faces opposition from the public and resistance from members of his own Democratic Party. While Obama has brought the effort back from the brink of failure, he still faces hurdles. Republicans are united in opposition, and Democratic lawmakers unhappy with the legislation won't be reassured by polls showing that a majority of Americans oppose it.
Wall Street Journal: Battle Inside Fed Rages Over Bank Regulation
The worst of the banking crisis may be long over, but the political contest over the Federal Reserve is entering a crucial phase in which its personality and role will almost certainly be redefined. The Fed has tried to fend off very public efforts in Congress to strip it of responsibility for regulating America's banks, but a less-visible battle has been playing out inside the central bank. The Fed has undertaken a wrenching reorganization of its army of 3,000 bank supervisors, which has centralized more power in Washington and sometimes pitted officials at the 12 regional Fed banks against those in the capital.
Houston Chronicle: Texas' NASA fight soars even as state's clout fades
Texas' hard-charging campaign to save NASA's back-to-the-moon Constellation program may have star-struck optimism on its side, but the political and historical realities could prove too daunting to overcome. …Texans have so little clout in Washington nowadays that when U.S. Rep. Pete Olson, now Sugar Land's Republican congress-man, wanted to meet privately with NASA chief Charles Bolden, he had to buttonhole the former astronaut after a House panel hearing.
Wall Street Journal: Nostalgia for New Deal Job Plan
The specter of a long period of high unemployment is reviving interest in an old idea: The Works Progress Administration, which put millions to work during the Great Depression. The United States Conference of Mayors is citing President Franklin D. Roosevelt's New Deal programs as its members push for more infrastructure money to go directly to local governments. They are pointing to the legacy of programs like the WPA to bolster their case that such direct public-sector job efforts can work when mayors run them.
The Hill: Unrest in Democratic Party plays out in Emanuel controversy
White House chief of staff Rahm Emanuel has become a reluctant central figure in the battle between liberals and centrists in the Democratic Party. A spate of recent reports have portrayed Emanuel, known for his aggressive brand of Washington politics, as either the voice of reason in a weak, liberal White House or the wet blanket preventing President Barack Obama from pursuing the kind of change he promised as a candidate.
CNN: Republicans reject controversial images of Obama, Pelosi
Top Republicans had harsh words Sunday for a leaked Republican National Committee document containing images skewering President Barack Obama and other top Democrats. The PowerPoint presentation described high-level Republican donors as "ego-driven" and claimed they could be enticed with "tchochkes." The document included a slide – titled "The Evil Empire" – with cartoonish images depicting Obama as the Joker, House Speaker Nancy Pelosi as Cruella DeVille and Harry Reid as Scooby Doo. Since the presentation was leaked to Politico, Republicans have been working to distance themselves from it.
Rochester Democrat and Chronicle: Massa describes incident with aide
Set to resign at 5 p.m. today, Congressman Eric Massa, D-Corning, Steuben County, said Sunday that an ethics investigation was triggered by a comment he made to a staffer at a New Year's Eve wedding, and intimated that Democrats desperate to pass health care legislation pushed the issue to get Massa, a vocal opponent, out of the way.
NY Post: Gov's 'pick me!' path to power
When Eliot Spitzer's top aides were mulling David Paterson as a potential running mate in the winter of 2005, two people who knew him cautioned that the Albany veteran was a "hard partier." They were referring to Paterson's extramarital dalliances, past drug use and penchant for late-night clubbing. But Spitzer's people didn't get the message. It was just one of a comedy of errors that led to Paterson becoming New York's accidental governor and that has now left the state government in disarray as he struggles to survive a host of scandals.
Politico: Sun setting on Harlem
The sun is setting on Harlem as the seat of New York's black political elite and the symbolic national center of black politics. Rangel could end up being the last black congressman from Harlem. Gov. David Paterson, the son of Basil Paterson of the legendary "Gang of Four" who have dominated Harlem for a half-century, has come to embody their central shortcoming: the failure to cultivate a strong second generation.
Boston Globe: Mitt Romney, version 2012
With his new book, "No Apology: The Case For American Greatness,'' our former governor seeks to demolish what he views as the shameful tendency of Obama and his ilk to blame America for the world's problems. The book is another step in Romney's long metamorphosis from the moderate who dueled with Ted Kennedy in 1994 to fierce partisan warrior. He started out as a Republican many Massachusetts Democrats thought they could live with. But he learned years ago that moderate will not cut it in Republican national politics; that's when Massachusetts became a punch line for him.
New York Times: Arkansas's Senator in Middle, Hit on All Sides
In a state where voters are known for valuing personal relationships over ideology, Mrs. Lincoln, a moderate Democrat, is in trouble even here in her own hometown, among those who attended high school with her or went hunting with her father. And her tenuous position shows just how dangerous a place the political middle has become.
Bloomington Pantagraph: Budget debate gives Brady, Quinn chance to spar
Democratic Gov. Pat Quinn and Republican state Sen. Bill Brady have a long campaign road ahead before Election Day in November. In past years, statewide campaigns often didn't start heating up until the Labor Day weekend, after both candidates had spent time fundraising and gathering support within their own parties. But the coming months of the annual legislative session in Springfield could give both Quinn and Brady high-profile opportunities to make their cases to voters — all while still doing their government jobs.
Denver Post: Uphill Senate race doesn't keep Romanoff down
The politician who just over a year ago was considered a Democratic rising star is now resented, even reviled, by some who were once his biggest fans. Since his surprise decision to enter the race in August, Romanoff's political obituary has been written, rewritten, posted, pulled down, tweaked, shelved and dusted off.
NATIONAL
For the latest national news: www.CNN.com
Washington Post: D.C. to be first U.S. city to give away free female condoms to fight HIV/AIDS
The District will become the first city in the United States to distribute female condoms free, part of a project that will make 500,000 of them available in beauty salons, convenience stores and high schools in parts of the city with high HIV rates.
INTERNATIONAL
For the latest international news: http://edition.cnn.com
CNN: Despite risks, Iraqis turn out to vote
Violent attacks on election day didn't stop large numbers of Iraqis from successfully casting their votes in key parliamentary elections Sunday. Polls in Iraq to elect a 325-member parliament closed Sunday evening, capping an electoral process in which militants intent on disrupting the vote carried out dozens of attacks that killed 38 people. Despite the risks, voter turnout could reach 55 percent, a senior U.S. official told CNN.
Los Angeles Times: Iraq election: In Syria, disillusioned refugees trudge to the polls
Candidates in the Iraq election have focused attention on Syria, which has the largest number of Iraqi expatriates. Sunni candidates in particular are seeking out extra support, given Iraq's Shiite-dominated politics.
CNN: Report of American al Qaeda spokesman's arrest questioned
Conflicting reports emerged Sunday about whether Adam Gadahn, a U.S.-born spokesman for al Qaeda, has been arrested in Pakistan. A senior Pakistani government official told CNN that Gadahn was arrested Sunday in Karachi, and a second senior Pakistani government official later confirmed the arrest. But a U.S. intelligence official said there appears to be no validity to the reports that Gadahn was in custody, and other U.S. officials also said they have no indication that Gadahn has been captured.
London Telegraph: Army faces Afghan gag for election
British journalists and TV crews are to be banned from the Afghan front line once a date for the election has been set, while senior officers will be prohibited from making public speeches and talking to reporters. MoD websites will also be "cleansed" of any "non-factual" material including anything containing troops' opinions of the war, according to a memo leaked to The Daily Telegraph.
Jerusalem Post: PA agrees to 'proximity talks'
After months of refusing to hold talks with Israel unless it declared a complete halt to construction in the settlements and east Jerusalem, the Palestinian Authority on Sunday decided to give the US a chance to conduct indirect negotiations between Palestinians and Israelis.
New York Times: U.S. Enriches Companies Defying Its Policy on Iran
The federal government has awarded more than $107 billion in contract payments, grants and other benefits over the past decade to foreign and multinational American companies while they were doing business in Iran, despite Washington's efforts to discourage investment there, records show.
CNN: Suicide bombing kills 11 in Pakistan
A suicide bombing killed 11 people and injured more than 60 others Monday in eastern Pakistan, according to government officials.
Times of London: Nigerian security forces on alert after new burst of sectarian violence
Nigeria's security forces have been put on high alert after a new burst of sectarian violence left over 500 people dead, most of them women and children hacked to death by machete wielding gangs.
New York Times: U.S. Reaches Out to Tokyo's Real Power
Even as Japan's new leaders have promised to transform the way the nation is governed, they have left one thing unchanged: the prime minister, like many before him, is backed by a shadowy leader who is widely seen as really running the country. Now, at a time of turmoil in Washington's ties with Tokyo, American officials are reaching out directly to that power behind the throne.
Bloomberg: Sarkozy Says Euro Zone Ready to Help Greece If Needed
French President Nicolas Sarkozy said the euro region is ready to rescue Greece should the government struggle to fund its budget deficit, arguing that the country is "under attack" from so-called speculators.
BUSINESS
For the latest business news: www.CNNMoney.com
CNN: CBO: $10 trillion jump in debt under Obama budget
If President Obama's 2011 budget were put into effect as proposed, the U.S. federal government would add an estimated $9.8 trillion to the country's accrued debt over the next decade, according to a preliminary analysis from the Congressional Budget Office.Of that amount, an estimated $5.6 trillion will be in interest alone.
Wall Street Journal: AIG, MetLife Are Poised To Announce Deal on Alico
American International Group Inc. and MetLife Inc. were putting finishing touches Sunday on a widely anticipated, $15.5 billion deal for AIG's second-largest foreign life-insurance business, people familiar with the matter said. The complicated deal would leave U.S. government-controlled AIG owning roughly a fifth of MetLife, the nation's No. 1 seller of life insurance.
Los Angeles Times: Toyota workers raised quality, safety concerns with bosses in 2006 memo
A 2006 memo raised safety concerns for workers and vehicles over the automaker's push to trim costs and boost production.
Wall Street Journal: Moving While Staying Still on the Yuan
If People's Bank of China Governor Zhou Xiaochuan is ever looking for a new career, he might find steady work as a diplomat. His words on China's exchange-rate policy over the weekend achieved a tricky dual goal. Admitting that the exchange-rate policy was part of China's response to the global economic crisis, Mr. Zhou raised the hopes of those looking for an end to the yuan's de-facto peg against the dollar. But he gave away no indication on how or when China might start to raise the yuan's value.
In Case You Missed It
A retiring House Democrat who is unsure whether he will back his own party's health care reform bill.
http://www.cnn.com/video/#/video/politics/2010/03/07/sotu.baird.health.care.cnn
Pres. Obama says he respects the millions of Iraqis who refused to be deterred by violence to cast ballots today.
http://www.cnn.com/video/#/video/politics/2010/03/07/obama.iraq.election.cnn
Subscribe to the CNN=Politics DAILY podcast at http://www.cnn.com/politicalpodcast
And now stay posted on the latest from the campaign trail by downloading the CNN=Politics SCREENSAVER at http://www.CNN.com/situationroom