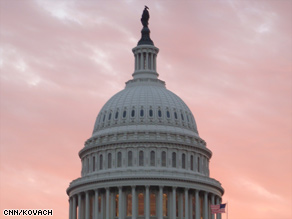 The CNN Washington Bureau's morning speed read of the top stories making news from around the country and the world.
WASHINGTON/POLITICAL
For the latest political news: www.CNNPolitics.com
CNN: Obama: Time to debate health care over
President Obama on Monday tore into private health insurers for recent rate hikes, taking a more aggressive rhetorical turn as he pushes for final congressional passage of his top domestic priority. Obama repeated his assertion that the plan under consideration includes the best Democratic and Republican ideas. The time for debate has ended, he argued.
Syracuse Post-Standard: Central New York congressmen emerge as key swing votes on final health care bill
Central New York's three congressmen, who voted for health care reform in November, are now undecided as President Barack Obama tries to push his top legislative priority across the finish line. As a result of their concerns about a final bill, Democratic Reps. Dan Maffei, Michael Arcuri and Bill Owens are emerging as a key block of swing votes that could make or break the historic legislation.
Bloomberg: Papandreou to Press Obama to Join EU Crackdown on 'Speculators'
Greek Prime Minister George Papandreou will press U.S. President Barack Obama to help Europe combat "unprincipled speculators," who he said have roiled financial markets and threaten a new global financial crisis. Papandreou, who is struggling to convince investors his government is serious about taming Europe's biggest budget deficit, meets Obama and Treasury Secretary Timothy F. Geithner today in his first U.S. visit since being elected in October.
Washington Post: Pentagon resists Army's desire to stop development of MEADS missile system
Another battle is brewing at the Pentagon over a costly weapons program that many military leaders do not want but that so far has proven difficult to kill. After several failed attempts, the Army is trying again to cancel a $19 billion missile defense system that the United States is developing in partnership with Italy and Germany. Known as the Medium Extended Air Defense System, or MEADS, it has been in the works for more than a decade and is designed to replace, in part, the Army's aging Patriot system.
CNN: Massa says Democratic leaders want him out
House Democratic leaders on Monday refuted embattled Rep. Eric Massa's allegation that they want to get rid of him because of his opposition to health care legislation.
Politico: Massa — New conservative media hero
He's spent only 431 days in Congress, has never seen any of his bills pass out of subcommittee and was best known for voting against major pieces of legislation because they weren't liberal enough for him — at least until he was accused of sexually harassing a male staffer. Meet Eric Massa, conservative media hero. The New York Democrat's weekend radio rant against House Speaker Nancy Pelosi, Majority Leader Steny Hoyer and White House chief of staff Rahm Emanuel has his star rising on the right even as he resigns from Congress under an ethical cloud.
Los Angeles Times: Letter on Muslim radical roils GOP Senate race
Terrorism and the Middle East are continuing to roil the Republican Senate contest after a letter written by former congressman Tom Campbell emerged that appeared to contradict statements Campbell and his aides had made about his dealings with a radical Muslim professor.
Pittsburg Post-Gazette: Former Murtha aide wins Democratic committee's endorsement
Former Murtha aide wins Democratic committee's endorsementFormer congressional aide Mark Critz on Monday won the Democratic nomination for the special election to succeed his former boss, the late U.S. Rep. John P. Murtha, D-Johnstown.In a statement Monday night, Mr. Critz, who worked as district director for Mr. Murtha, indicated that he will key on the economy in his bid to replace Mr. Murtha.
San Francisco Chronicle: Site asks public to share dirt on Meg Whitman
The hard work of digging up dirt on a political opponent – more politely known as opposition research – has traditionally been done in the dark recesses of a campaign operation. But analysts say a labor-union-funded independent campaign aimed at billionaire Republican gubernatorial candidate Meg Whitman breaks new ground in how it conducts "oppo research."
NATIONAL
For the latest national news: www.CNN.com
Los Angeles Times: Nearly 300 illegal immigrants arrested in San Diego, Calexico
Nearly 300 illegal immigrants, some with criminal records, were arrested during the weekend attempting to enter the United States from Mexico in the San Diego and Imperial Valley areas, authorities said Monday. At border checkpoints including San Ysidro and Calexico, 294 immigrants were found hidden in vehicles, or were using fraudulent entry documents or documents legally issued to someone else, the U.S. Department of Homeland Security said. Among those arrested were 16 fugitives wanted on charges of battery, burglary, assault and probation violation.
CNN: Justices to hear case over protests at military funerals
A small Kansas church that has gained nationwide attention for protesting loudly at funerals of U.S. service members will receive a Supreme Court hearing over free speech rights. The justices Monday accepted an appeal from the father of a U.S. Marine killed in Iraq over efforts to keep members of the Topeka-based Westboro Baptist Church from demonstrating near memorial services and burials.
INTERNATIONAL
For the latest international news: http://edition.cnn.com
CNN: U.S. envoy: Iraqis 'deserve congratulations' for vote
Iraq's elections "really went very, very well" and the "Iraqi people deserve a lot of congratulations from us," the United States' ambassador to Baghdad said Monday. Hamdiya al-Husseini, a commissioner of the Independent High Electoral Commission said Monday that the election turnout was 62 percent nationwide and 53 percent in Baghdad.
CNN: McChrystal eyes securing Kandahar
The top U.S. general in Afghanistan vowed that coalition forces "are absolutely going to secure Kandahar," as security efforts expand in the country's south.The news conference coincided with a visit by U.S. Secretary of Defense Robert Gates, who was also to meet with Karzai.
Washington Post: Zabul province seeks U.S. troops, but is caught in Afghan numbers game
To work in Zabul province these days is to feel forsaken. This sparsely populated swath of desert and scrub brush does not feature prominently in the plans of Afghanistan or NATO to combat the insurgency, despite its 40-mile border with Pakistan and historical importance for the Taliban. U.S. commanders acknowledge the troubles here, but the math is simple: The cost of consolidating tens of thousands of troops for major operations in neighboring Helmand and Kandahar is that other volatile parts of Afghanistan must do without.
BBC News: US denies Israel settlement move violates moratorium
The US has said Israel's authorisation of new building in a Jewish settlement in the West Bank does not violate a recently announced moratorium. But a state department spokesman said it was "the kind of thing that both sides need to be cautious of".
Der Spiegel: Proposal for European Monetary Fund Wins EU Support
German Finance Minister Wolfgang Schäuble has suggested setting up a European monetary fund to enable the euro zone to tackle debt crises such as that seen in Greece without resorting to the IMF. EU Monetary Affairs Commissioner Olli Rehn has welcomed the idea.
BBC News: Brazil slaps trade sanctions on US over cotton dispute
The Brazilian government has announced trade sanctions against a variety of American goods in retaliation for illegal US subsidies to cotton farmers. The World Trade Organization (WTO) approved the sanctions in a rare move.
New York Times: Myanmar's Ruling Junta Is Selling State's Assets
Myanmar's military government has quietly begun the largest sell-off of state assets in the country's history, including more than 100 government buildings, port facilities and a large stake in the national airline, diplomats and businessmen here say. The sell-off, analysts say, appears to be part of a political transition as the government introduces elections for the first time in 20 years and a new Constitution under which the military seems likely to perpetuate its rule, though more from behind the scenes.
Los Angeles Times: Nigerian massacre victims buried in mass grave
Survivors say Christian villagers were trapped in nets and hacked to death by Muslim herdsman in attacks with ethnic and religious overtones. Death estimates vary wildly, from 200 to 500.
CNN: American missionary held in Haiti released
Charisa Coulter, one of two American missionaries detained for more than a month in Haiti on suspicion of kidnapping 33 children after January 12's devastating earthquake, was released Monday.
London Telegraph: Chile earthquake moved city of Concepcion 10ft to the west
The massive magnitude 8.8 earthquake that struck the west coast of Chile last month moved the entire city of Concepcion at least 10 feet to the west, research has found.
BUSINESS
For the latest business news: www.CNNMoney.com
CNN: Northrop: No bid on tanker contract
Northrop Grumman Corp. said it will not bid on a multi-billion-dollar contract to build a new air refueling tanker for the U.S. Air Force because it believes the rules for the contract favor its competitor, Boeing.
Wall Street Journal: Google Testing TV-Search Service
Google Inc. is testing a new television-programming search service with Dish Network Corp., according to people familiar with the matter, the latest development in a fast-moving race to combine Internet content with conventional TV.
Bloomberg: IPhone Network Jams Open Market for Time Warner Cable
IPhone users coping with jams on AT&T Inc.'s network may get some relief from an unexpected quarter: cable companies. Time Warner Cable Inc., the biggest pay-television provider in New York City, is pitching phone companies including AT&T and Verizon Wireless on a service that uses its underground cables to carry mobile calls and Web downloads - easing the congestion spurred by data-hungry users of smartphones like the iPhone.
Wall Street Journal: Venture-Capital Firms Caught in a Shakeout
The technology bubble popped a decade ago, but the venture-capital industry that helped finance the boom stayed largely intact. Now venture-capital firms are going through their own brutal culling. Venture firms are struggling to raise new cash, hampered by poor investment returns and a difficult economy. Last year, 125 venture funds in the U.S. collected $13.6 billion, down from 203 funds that raised $28.7 billion in 2008, according to data tracker VentureSource.
New York Times: Public Pension Funds Are Adding Risk to Raise Returns
States and companies have started investing very differently when it comes to the billions of dollars they are safeguarding for workers' retirement. Companies are quietly and gradually moving their pension funds out of stocks. They want to reduce their investment risk and are buying more long-term bonds. But states and other bodies of government are seeking higher returns for their pension funds, to make up for ground lost in the last couple of years and to pay all the benefits promised to present and future retirees. Higher returns come with more risk.
In Case You Missed It
CNN's Lisa Sylvester reports on the Coffee Party's movement from Facebook to local coffee shops.
http://www.cnn.com/video/#/video/politics/2010/03/08/sylvester.coffee.party.cnn
Subscribe to the CNN=Politics DAILY podcast at http://www.cnn.com/politicalpodcast
And now stay posted on the latest from the campaign trail by downloading the CNN=Politics SCREENSAVER at http://www.CNN.com/situationroom