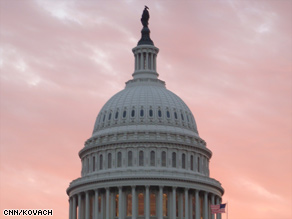 The CNN Washington Bureau's morning speed read of the top stories making news from around the country and the world.
WASHINGTON/POLITICAL
For the latest political news: www.CNNPolitics.com
CNN: House health care vote waits for CBO, Senate parliamentarian
House Speaker Nancy Pelosi said Tuesday that before the House acts on final health care legislation, leaders are waiting for costs assessments from the Congressional Budget Office, and information from the Senate parliamentarian.
Bloomberg: Obama's Health-Care Push Gets Challenge From Business Coalition
President Barack Obama is facing a renewed push against his health-care legislation as a coalition of business groups plans to spend as much as $1 million a day on advertisements to pressure lawmakers into voting "no."
The Hill: Joe Biden still has one foot in the Senate; may be key to healthcare
A senator for 36 years, Biden's relationship with his former colleagues has been key to President Barack Obama's first 13 months in office. From the stimulus plan to the Iraq war to peace in the Middle East , Biden has been a critical go-between for an administration that has struggled to push its agenda through a Senate controlled by the same party. With Democrats poised to use reconciliation to pass healthcare reform, Biden's deep friendships on both sides of the aisle will be put to the test. Biden, in his role as Senate president, could cast tie-breaking votes and overrule the Senate parliamentarian.
CNN: Unemployment benefit bill moves forward in Senate
A nearly $140 billion bill to extend unemployment benefits and a host of expiring tax cuts cleared a procedural hurdle Tuesday in the Senate on a vote of 66-34. Eight Republicans joined with all Democratic senators except for Ben Nelson of Nebraska on Tuesday's vote to end debate on the bill, which still must be merged with a companion bill in the House.
Bloomberg: Senate Said to Weigh $50 Billion Fund to Wind Down Failed Firms
Senate negotiators are closing in on a deal to create a $50 billion trust fund from fees on large financial firms that may include Goldman Sachs Group Inc. and Citigroup Inc. and be used to wind down failing institutions, said a Senate aide and two people familiar with the talks.
Time: Can Lindsay Graham Broker a Deal on 9/11 Trials?
President Barack Obama's chief of staff, Rahm Emanuel, is deep in negotiations with Republican South Carolina Senator Lindsey Graham over where and how to try confessed 9/11 ringleader Khalid Sheikh Mohammed. At stake are not just civilian court trials for the man known as KSM and his co-conspirators, but also the legal fate of all terrorism suspects, the future of the Guantánamo Bay detention facility and the credibility of U.S. Attorney General Eric Holder. But as talks continue, Democrats on Capitol Hill and in the Administration are wondering just what Graham can deliver.
ABC News: War of Words Continues Between White House, Supreme Court
Supreme Court Chief Justice John Roberts Tuesday criticized President Obama for rebuking the high court's decision striking down some campaign finance reform laws at the State of the Union in January. Speaking to law students at the University of Alabama, Roberts said he had "no problems" with criticism in general. "On the other hand, there is the issue of the setting, the circumstances and the decorum," said the Chief Justice.
CNN: Massa seeks to divert attention from harassment allegations
Embattled former Rep. Eric Massa sought Tuesday night to turn attention away from sexual harassment allegations swirling around him in the wake of his resignation. During a rambling interview Tuesday night, Massa called allegations that he groped a male staffer "not true," despite admitting just hours before in another interview to tickling a male employee.
Politico: Republicans look at options on Eric Massa scandal
After a week of lying low and watching House Democrats struggle with the Eric Massa sex scandal and resignation, GOP leaders are now weighing their options on how best to exploit the controversy.
Albany Times-Union: Will lackluster Lazio fade away?
Republicans are having a second thought about gubernatorial candidate Rick Lazio. His name is Steve Levy. Top party officials convened Tuesday morning at the Fort Orange Club to meet with Levy, the Suffolk County executive who is a Democrat. That the GOP would even consider Levy is a sign of growing frustration with Lazio, a former Long Island congressman who has secured the support of the weighted majority of Republican leaders.
Miami Herald: Rubio's money requests for Miami-Dade could be an issue
Republican U.S Senate front-runner Marco Rubio brags on his website that he didn't officially request budget pork in his last four years as a leader in the Florida House. But during Rubio's eight years in office - including the final two when he was House speaker - he unofficially helped push loads of hometown spending: $250 million, according to a Herald/Times analysis of little-known budget documents. The amount of budget money connected to Rubio attests to his skill as a lawmaker, but also contrasts with his campaign image as a tight-fisted spending hawk crusading against "earmarks" that have plagued the budget process in Washington.
Des Moines Register: In Iowa visit, Santorum defends his record against abortion
Former Pennsylvania Sen. Rick Santorum passionately defended his record against abortion Tuesday night amid an underground effort to discredit him. Santorum received a standing ovation after his remarks from the crowd of 400 people at the spring fundraiser of the Iowa Christian Alliance at Walnut Creek Community Church in Windsor Heights. He is among a class of lesser-known Republicans mentioned as potential presidential talent who could catch fire among Iowa's social conservatives.
The Detroit News: Democratic activist to challenge Stupak for seat
A Democratic activist announced today she's challenging Rep. Bart Stupak out of her frustration that his hard line on abortion funding threatens to derail health care legislation pending in Congress. The primary challenge is the latest sign of how Stupak has emerged as the potential deal-breaker on health care.
NATIONAL
For the latest national news: www.CNN.com
CNN: U.S.: Pennsylvania woman tried to recruit terrorists
Pennsylvania woman has been indicted for conspiracy to provide material support to terrorists and kill a person in a foreign country, the Justice Department announced Tuesday.
Washington Post: Gay marriages expected to create wedding-related jobs in D.C.
As the first same-sex couples married in Washington on Tuesday, the city is in the national spotlight as a pioneer in the gay-rights movement. But local officials say the historic event also has more practical implications for a city grappling with 12 percent unemployment: jobs. A study by the nonprofit Williams Institute predicted that legalizing same-sex marriage will create 700 jobs and contribute $52.2 million over three years to the local economy.
INTERNATIONAL
For the latest international news: http://edition.cnn.com
CNN: U.S. condemns Israel's decision to build in disputed territory
Vice President Joe Biden said Tuesday that the United States condemns Israel's decision to build 1,600 housing units in a Jerusalem neighborhood, calling it "a step that undermines the trust we need right now."
Los Angeles Times: U.S. changing focus of Iran policy
After keeping a careful distance for the last year, the Obama administration has concluded that the Iranian opposition movement has staying power and has embraced it as a central element in the U.S.-led campaign to pressure the country's clerical government.
The Guardian: Britain to Hamid Karzai: start Afghanistan peace talks now
Britain will today urge the Afghan government to put more effort into the pursuit of peace talks amid fears that the war could be prolonged – and more British lives lost – as a result of incompetence and lack of political will in Kabul. A speech to be delivered in the US by the foreign secretary, David Miliband, will reflect growing anxiety in London that President Hamid Karzai's professed desire for a political solution has not been backed up by any serious planning or concrete proposals.
Washington Post: Saddam Hussein weighed nuclear 'package' deal in 1990, documents show
As troops massed on his border near the start of the Persian Gulf War, Iraqi President Saddam Hussein weighed the purchase of a $150 million nuclear "package" deal that included not only weapons designs but also production plants and foreign experts to supervise the building of a nuclear bomb, according to documents uncovered by a former U.N. weapons inspector.
New York Times: Upset by U.S. Security, Pakistanis Return as Heroes
A tour of the United States arranged by the State Department to improve ties to Pakistani legislators ended in a public relations fiasco when the members of the group refused to submit to extra airport screening in Washington, and they are now being hailed as heroes on their return home. Pakistan is one of 14 mostly Muslim countries whose citizens must go through increased checks before they fly into the United States…The inclusion of Pakistan on the list was broadly criticized as an insult to a country that the United States calls an ally.
CNN: Myanmar bars Suu Kyi's election participation
Myanmar's ruling junta has announced a new election law that disqualifies pro-democracy leader Aung San Suu Kyi from participating in upcoming national elections. The Political Parties Registration Law, announced in state-run newspapers Wednesday, excludes electoral participation by members of a political party if they have been convicted in court.
New York Times: Somalia Food Aid Bypasses Needy, U.N. Study Finds
As much as half the food aid sent to Somalia is diverted from needy people to a web of corrupt contractors, radical Islamist militants and local United Nations staff members, according to a new Security Council report.
Los Angeles Times: Gulf of Aden pirates are having less success
Although pirates last year made many more attempts to board ships in the Gulf of Aden and off the coast of Somalia, the number of successful seizures was about the same as in 2008, according to the U.S.-organized multinational maritime force here. The figures suggest that new "defensive driving" tactics adopted by many commercial shipping companies are helping ward off attackers, naval officials said.
BUSINESS
For the latest business news: www.CNNMoney.com
Wall Street Journal: Swaps Come Under Fire
International momentum is building for stricter oversight of derivatives trading, as a top U.S. regulator recommended new limits on credit-default swaps and European leaders pushed for a ban on speculative bets against government debt following recent financial turmoil in Greece.
Bloomberg: Pound Slide to Help U.K. Outpace Europe, Goldman Says
The pound's drop last week to a 10- month low may help the U.K. economy grow faster than the region sharing the euro, which is hobbled by budget deficits and aging populations, according to Goldman Sachs Group Inc.
Wall Street Journal: Irish Take Bitter Medicine to Survive the Age of Red Ink
Late last year, Ireland looked a lot like Greece. The financial crisis coincided with a housing bust that left Ireland's banks in terrible shape, requiring a government rescue. Ireland's fiscal deficit rose to almost 12% of gross domestic product—a shade under Greece's 12.7%. But unlike Greece—where protests and strikes are expected to escalate this week after the government unveiled new spending cuts and tax increases after months of foot-dragging—Ireland took swift measures to snuff out fears of a default.
BBC News: China's exports up 46% in February
China's exports jumped by 46% in February compared with a year ago, raising hopes of a strong recovery in global trade. It is likely to increase pressure on the Chinese government to raise the value of the yuan, which the US in particular complains is undervalued.
New York Times: Bank of America to End Overdraft Fees on Debit Purchases
In a move that could bring an end to the $40 cup of coffee, Bank of America said on Tuesday that it was doing away with overdraft fees on purchases made with debit cards, a decision that could cost the bank tens of millions a year in revenue and put pressure on other banks to do the same.
CNNMoney: Cash for Clunkers: Better than we thought
The government's Cash for Clunkers program resulted in a far bigger boost to car sales than was previously estimated, even by the government, according to a new analysis by Maritz Research, an automotive market research company.
In Case You Missed It
The U.S. vice president arrives in the Middle East for talks with Israeli and Palestinian leaders. Paula Hancocks reports.
http://www.cnn.com/video/#/video/world/2010/03/09/hancocks.me.biden.talks.cnn
Former Rep. Eric Massa says he is out of office for "standing up to a horrific mistake we are about to make."
http://www.cnn.com/video/#/video/us/2010/03/09/acosta.bpr.healthcare.protests.cnn
Subscribe to the CNN=Politics DAILY podcast at http://www.cnn.com/politicalpodcast
And now stay posted on the latest from the campaign trail by downloading the CNN=Politics SCREENSAVER at http://www.CNN.com/situationroom