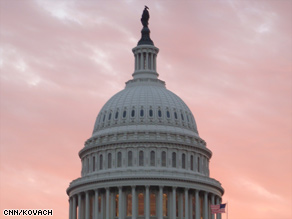 The CNN Washington Bureau's morning speed read of the top stories making news from around the country and the world.
WASHINGTON/POLITICAL
For the latest political news: www.CNNPolitics.com
CNNMoney: Jobless claims bill OK'd by Senate
The Senate on Wednesday approved a wide-ranging bill that would push back the deadline to file for extended unemployment insurance until year-end and extends dozens of expired tax breaks.
CNN: House Democrats plan ban on earmarks for for-profits
House Democrats said Wednesday that they will ban earmarks directed to for-profit companies. The move, announced by the Appropriations Committee and its Defense subcommittee, would apply to government spending bills Congress is considering for next year. But the committee said in a written statement that the new rules are also "intended to become a long-term proposition."
Washington Post: Politics, shaky economy create no rush to restructure Fannie and Freddie
The federal government has spent the past half year seeking to roll back its emergency efforts at propping up the financial markets - with the notable exception of its involvement in mortgage giants Fannie Mae and Freddie Mac. As recently as December, the Obama administration said it expected to release a preliminary report on how to remake Fannie Mae and Freddie Mac around Feb. 1. But no plan was produced, and in response to questions from lawmakers, Treasury Secretary Timothy F. Geithner clarified last month that it would be another year before the government proposes how to restructure the firms.
CNN: White House continues to slam insurers
President Obama took his increasingly populist health care overhaul pitch to the political battleground state of Missouri Wednesday, turning up the heat on private health insurers in a speech.
Washington Post: Hillary Rodham Clinton widens her circle at the State Department
Hillary Rodham Clinton ran a presidential campaign notoriously insular and unhappy, managing a group of egos and backstabbers whose dysfunction may have cost her the White House. Understandably, people wondered what kind of management style she would bring to the State Department. But a little over a year into her tenure as secretary of state, allies and detractors alike say Clinton has made a vigorous effort to widen her circle, wooing and pulling into her orbit the agency's Foreign Service and civil service officials, many of whom said in interviews that she has brought a new energy to the building.
New York Times: Trying Times for Father of New York's Governor
It has not been easy being David A. Paterson the last several weeks. He was hounded into abandoning an election bid to remain governor because of accusations his administration interfered in a domestic abuse case against a senior aide, has been accused of perjury in a separate ethics case and has fended off demands that he resign. It has not been much easier being Governor Paterson's father.
Politico: Nancy Pelosi aide knew of Eric Massa concerns in October
The House ethics committee closed its investigation into sexual harassment allegations against former Rep. Eric Massa on Wednesday afternoon — even as an aide to House Speaker Nancy Pelosi acknowledged for the first time that her office learned of concerns about Massa far earlier than previously known…. a Pelosi aide told POLITICO on Wednesday evening that Massa's chief of staff, Joe Racalto, informed a member of Pelosi's "member services" operation in October that Massa was living with several aides, had hired too many staff members and used foul language around his staff.
New York Times: More Messages Link Senator to Job Effort
Previously undisclosed e-mail messages turned over to the F.B.I. and Senate ethics investigators provide new evidence about Senator John Ensign's efforts to steer lobbying work to the embittered husband of his former mistress and could deepen his legal and political troubles.
CNN: Some Republicans dub Nevada Tea Party candidate a fake
It's a grass-roots protest movement composed of the newly politicized and people distrustful of hierarchy. So how is it possible to be an illegitimate Tea Party member? Ask Republicans in Nevada. Some are accusing Jon Scott Ashjian, a new Tea Party candidate running for U.S. Senate, of being a fake. The allegation? He was put in the race by agents of Senate Majority Leader Harry Reid to siphon votes from the GOP
San Francisco Chronicle: SEIU to focus on California races
The leader of one of the nation's top campaign donors – the 2.2 million-member Service Employees International Union – said Tuesday the union will have less enthusiasm for congressional campaigns this year out of frustration over Washington's political gridlock, a move that may have major implications in California. Organized labor not only provides cash to candidates – predominantly Democrats – but its membership has traditionally done the door-to-door, neighbor-to-neighbor campaigning that is the lifeblood of any political campaign.
NATIONAL
For the latest national news: www.CNN.com
CNN: Jihad Jane, American who lived on Main Street
The Pennsylvania woman who dubbed herself Jihad Jane is an American who lived literally on Main Street in an apartment where she spent much time online, posting messages saying she was "desperate to do something" to help Muslims.
USA Today: Half of Kansas City public schools to close
The Kansas City school board is closing nearly half of the district's schools in a desperate bid to stay afloat. The board's 5-4 decision Wednesday night means 29 out of 61 schools will shut down at the end of the school year. The district is seeking to erase a projected $50 million budget shortfall.
Dallas Morning News: State Board of Education continues debate over standards for social studies
State Board of Education members resumed their volatile debate over social studies standards Wednesday as the panel neared its first vote on what Texas students will be taught in U.S. history, government and other classes over the next decade.
INTERNATIONAL
For the latest international news: http://edition.cnn.com
CNN: Biden: U.S. won't play favorites between Israelis, Palestinians
The United States will hold both Israel and the Palestinians responsible for any steps that make peace between them more difficult, U.S. Vice President Joe Biden said Wednesday. He said both sides must "build an atmosphere of support for negotiations and not complicate them," specifically criticizing an Israeli announcement that it would build more apartments on disputed land.
Jerusalem Post: Arab League: Talks on hold
Palestinian Authority President Mahmoud Abbas will not enter indirect peace talks with Israel as planned, Arab League Secretary-General Amr Moussa said overnight Wednesday, due to Israel's approval of plans to build 1,600 housing units in east Jerusalem's Ramat Shlomo.
CNN: Gates ends Afghanistan trip as Iran's Ahmadinejad begins his
After surveying training camps in eastern Afghanistan, Defense Secretary Robert Gates hinted Wednesday that U.S. troops could be leaving earlier than the announced July 2011 troop withdrawal date. Without giving details, Gates said that any early pullout and hand over of control to Afghan forces "would have to be conditions-based."
Wall Street Journal: Arrests Force Taliban Flight
The Afghan Taliban's leadership has spread out to cities across Pakistan in an effort to evade capture that is also making it harder for them to organize. The dispersion of Taliban leaders, a response to Pakistan's recent arrests of senior militants there, is slowing the group's process of replacing its operations chief and effective No. 2, Mullah Abdul Ghani Baradar, say militants and tribal elders with ties to the insurgents.
New York Times: Spy Chief in Pakistan to Stay On Another Year
Pakistan's spy chief has been granted an unusual one-year extension in his job, a move that may also pave the way for a longer term for the head of the army, Gen. Ashfaq Parvez Kayani, who is scheduled to step down this year. … it had been clear for weeks that General Kayani planned to keep General Pasha at his side, and that the weak civilian government would have little choice but to go along with it. The two generals have driven Pakistan's strategic decisions in the past two years. The likelihood that they would retain their posts represented continuity, at least, in one of Washington's most complicated, mistrustful and high-stakes relationships with an ally.
Bloomberg: Greeks Brace for Protests, National Strike Over Budget Cuts
Greece's unions will shut down hospitals, airports and schools today in the country's second general strike this year to protest Prime Minister George Papandreou's latest round of budget cuts to curb the European Union's biggest deficit.
BBC News: Russian PM Vladimir Putin due in India for talks
Russian Prime Minister Vladimir Putin is due in India for talks expected to focus on arms and energy contracts. The two sides are due to sign two deals worth over $10bn in defence and civilian nuclear reactors and Russia will refit an aircraft carrier. They will also try to boost bilateral trade, which is currently worth $8bn.
CNN: Nigerian violence fed by ethnic, economic issues, ex-president says
Former Nigerian President Olusegun Obasanjo insisted Wednesday that this week's explosion of violence that claimed at least 200 lives is not driven by religious tensions between Christians and Muslims - but by ethnic, social, and economic problems.
BUSINESS
For the latest business news: www.CNNMoney.com
CNNMoney: Record monthly deficit for U.S.: $221 billion
The United States dropped a record $220.9 billion further into the red in February, the Treasury Department reported Wednesday. The shortfall was up from the previous record $193.9 billion shortfall in February last year.
Washington Post: TARP Panel Finds Fault With GMAC Bailouts
A Congressional panel, in a report to be released Thursday, questioned the need for the Treasury Department's $17.2 bailout of GMAC as the company dealt with the collapsing mortgage market in 2008 and 2009. The panel, the Congressional Oversight Panel for the Troubled Asset Relief Program, raised questions about the Bush administration's initial decision to rescue GMAC in December 2008.
Los Angeles Times: Investors can soon make bets on movie box office
Welcome to Hollywood's newest version of risky business: movie derivatives. Two trading firms, one of them an established Wall Street player and the other a Midwest upstart, are each about to premiere a sophisticated new financial tool: a box-office futures exchange that would allow Hollywood studios and others to hedge against the box-office performance of movies, similar to the way farmers swap corn or wheat futures to protect themselves from crop failures.
Wall Street Journal: Offshore Brazil Beckons for BP
British oil giant BP PLC agreed Thursday to acquire a big swath of oil assets from U.S. independent oil and gas producer Devon Energy Corp for $7 billion, in a deal that will vault BP into the hot new oil region off the shores of Brazil. The deal will also reinforce BP's dominant position in the Gulf of Mexico and in a huge oil field in the Azerbaijani sector of the Caspian Sea.
CNN: Ex-Toyota lawyer says documents prove company hid damaging information
When former in-house defense attorney Dimitrios Biller resigned from his top post at Toyota, he walked out with something potentially more valuable than his nearly $4 million severance package. Biller, now entangled in litigation with the auto giant, defended the company in product liability and negligence cases from 2003 to 2007. He says he quit because of what he alleges were "criminal acts" by Toyota - specifically, withholding information the company was legally required to turn over to plaintiffs' lawyers during litigation.
CNNMoney: Twitter users not so social after all
Twitter may be a fast-growing social network, but most of its 50 million accounts merely follow other users rather than posting their own messages. It seems that Twitter is becoming more of news feed than a social network, said Paul Judge, author of the report and chief research officer at Barracuda. And that raises questions about its growth potential, as well as how the Internet phenomenon will make money.
In Case You Missed It
The Chief Justice calls the SOU a "pep rally." CNN's Brian Todd has the tense history between Roberts and President Obama.
http://www.cnn.com/video/#/video/politics/2010/03/10/pkg.todd.roberts.vs.obama.cnn
A former Obama campaign official has some tough things to say, but says he's still a supporter. CNN's Ed Henry reports.
http://www.cnn.com/video/#/video/politics/2010/03/10/pkg.henry.obama.insider.critic.cnn
Subscribe to the CNN=Politics DAILY podcast at http://www.cnn.com/politicalpodcast
And now stay posted on the latest from the campaign trail by downloading the CNN=Politics SCREENSAVER at http://www.CNN.com/situationroom