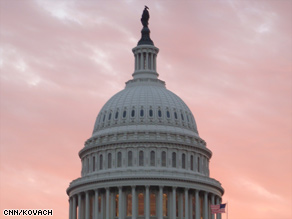 The CNN Washington Bureau's morning speed read of the top stories making news from around the country and the world.
WASHINGTON/POLITICAL
For the latest political news: www.CNNPolitics.com
CNN: House GOP adopts yearlong earmark ban
House Republicans agreed Thursday to adopt a ban on congressional earmarks in spending bills for next year, upping the ante with Democrats in the political battle over fiscal responsibility and pork barrel spending.
CNN: Senate Democrats weigh adding student loans to health care bill
Senate Democrats huddled in the Capitol Thursday afternoon to hash out the issue of whether to include changes to student loan policies in the same reconciliation bill that will include fixes to health care reform.
CNN: Democrats' legislative push for health care reform begins Monday
Democrats have set a date to begin what they hope is the final phase of health care debate in Congress. A Democratic leadership source told CNN Radio that the legislative push begins Monday when the House Budget Committee is expected to vote on a key procedural piece of the health care package. That measure will not contain new policy language, but it ignites the process, known as reconciliation, that Democrats are using to pass and change the Senate health care bill.
CNNMoney: Financial reform bill coming from Democrats
Senate Democrats on banking panel plan to release and start working on a financial overhaul bill next week, without Republican support. Senate Banking Chairman Chris Dodd, D-Conn., said Thursday he planned to release a draft bill on Monday, even though a "few outstanding issues remain," including consumer protection.
Philadelphia Inquirer: GOP lawmaker wants White House answers on Sestak
The top Republican on the House Oversight and Government Reform Committee wants the White House to spell out all its official contacts with Rep. Joe Sestak (D., Pa.), saying it may have broken the law if it offered Sestak a federal job to sway him from challenging Sen. Arlen Specter in the Democratic primary.
CNN: Independent counsel named in investigations of New York governor
New York Attorney General Andrew Cuomo has appointed a former chief judge of the State Appellate Court to oversee two investigations of Gov. David Paterson.Cuomo is widely rumored to be planning a run for governor and drew criticism recently from some quarters for investigating the current governor.
Los Angeles Times: Whitman's funds could pose conflicts
Billionaire GOP gubernatorial candidate Meg Whitman has invested her vast wealth in firms that sought to profit from the country's credit crisis, in venture capital and hedge funds open only to the wealthy, and in oil, gas, healthcare and other concerns seeking to influence state policy. The first public glimpse into the financial portfolio of the former EBay chief came Thursday, when she filed an economic-interest disclosure required of candidates. The holdings present potential conflicts of interest for a governor. Whitman spokeswoman Sarah Pompei said the candidate would "likely" move her holdings into a blind trust if she is victorious "and will scrupulously avoid any conflicts of interest."
Wall Street Journal: Senor Getting Attention of GOP for Senate Seat
New York Republican officials are eyeing Dan Senor, a former foreign policy adviser to President George W. Bush, as a potential challenger to U.S. Sen. Kirsten Gillibrand. Mr. Senor, the 38-year-old husband of CNN anchorwoman Campbell Brown, hasn't announced his candidacy, but people familiar with the matter said he is seriously mulling the race. Ms. Gillibrand, who was appointed by Gov. David A. Paterson in January 2008 to replace Hillary Clinton after President Barack Obama tapped her to be his secretary of state, has the support of the Obama administration and New York's senior senator, Charles Schumer.
Politico: Democrats focus on Vitter
In an election cycle with few at-risk GOP Senate incumbents, the Louisiana seat held by Republican David Vitter is shaping up as the Democrats' best opportunity to take down a sitting senator. While Democrats will spend most of their time and treasure during this cycle defending beleaguered incumbents, Vitter is one of just two Senate Republicans seeking reelection — the other is Richard Burr of North Carolina — whom they can seriously expect to challenge, according to one Democratic Party strategist.
Pittsburg Post-Gazette: GOP nominates newcomer to succeed Murtha
Republicans last night selected a political newcomer who has never sought elected office as their nominee in the special election to succeed the late U.S. Rep. John P. Murtha. Tim Burns, a self-made millionaire from Eighty Four, Washington County, and a native of Mr. Murtha's hometown of Johnstown, handily defeated Bill Russell, who mounted a strong challenge to Mr. Murtha in 2008.
Chicago Sun-Times: Boston Blackie's owner hit with bank fraud charges
On the same day Senate hopeful Alexi Giannoulias tried to shift the spotlight off his family's struggling bank and onto his opponent's bank ties, police arrested a major Giannoulias contributor and customer of the family bank as he tried to flee the country ahead of check-kiting charges.
NATIONAL
For the latest national news: www.CNN.com
USA Today: States may hold onto tax refunds for months
Residents eager to get their state tax refunds may have a long wait this year: The recession has tied up cash and caused officials in half a dozen states to consider freezing refunds, in one case for as long as five months. States from New York to Hawaii that have been hard-hit by the economic downturn say they have either delayed refunds or are considering doing so because of budget shortfalls.
CNN: 10,000 claims over 9/11 illness, injuries settled
The WTC Captive Insurance Co. announced settlements Thursday with more than 10,000 plaintiffs who claimed sickness or injuries after the 9/11 terrorist attacks. The settlements could total up to $657 million. WTC Captive was created with a $1 billion FEMA grant and provides insurance coverage to the City of New York and its debris-removal contractors. In the aftermath of attacks of September 11, 2001, New York was unable to get adequate amounts of liability insurance for the rescue, recovery and debris-removal work done at the World Trade Center site.
INTERNATIONAL
For the latest international news: http://edition.cnn.com
CNN: Thousands protest Greek austerity measures
Thousands of people marched through Athens Thursday as part of a 24-hour nationwide strike to protest further austerity measures by the embattled government. The strike began at midnight and caused all government-run institutions - including schools, airports, trams, subways, and most buses - to close down. Banks and the media were also shut, meaning no broadcast news Thursday and no newspapers Friday.
CNN: Early Iraq election results put prime minister's group in lead
The first results from Iraq's parliamentary elections were released Thursday, five days after millions of Iraqis went to the polls in defiance of the threat of violence. Two of Iraq's 18 provinces announced early results, which put the group led by Prime Minister Nuri al-Maliki in the lead.
Foreign Policy: Clinton, Medvedev to meet in Moscow
Secretary of State Hillary Clinton will meet with Russian President Dmitry Medvedev next week in Moscow, a State Department official confirms to The Cable. The meeting will cover ongoing negotiations to finalize the follow-on to the START nuclear reductions treaty as well as other issues of mutual interest. She will not meet with Prime Minister Vladimir Putin, the Russian leader who is most publicly criticizing the START negotiations and explicitly trying to tie them to U.S. missile-defense plans in Europe.
Jerusalem Post: Biden wants direct talks by summer
Soon after US Vice President Joe Biden left for Jordan on Thursday, senior Israeli officials said they anticipate the proximity talks with the Palestinians will begin soon, because Biden made clear to the PA leadership that this is what the US expects. According to the officials, Biden – in his speech at Tel Aviv University on Thursday – made it obvious that despite the row over the construction plans in northeast Jerusalem's Ramat Shlomo neighborhood, the US was interested in "putting everything back on the rails." Biden, meanwhile, told Al-Jazeera in an interview taped in Bethlehem on Wednesday that he expected that direct negotiations dealing with all the core issues would begin in about four months.
Bloomberg: Gates Sees Saudi Help, International Support for Iran Sanctions
Defense Secretary Robert Gates said yesterday the U.S. has enough backing from other nations to make tougher sanctions work against Iran and signaled that Saudi Arabia may try to persuade China, its biggest oil customer, to go along.
CNN: New Jersey man suspect in Yemen rampage
Federal authorities are investigating a New Jersey man suspected of being an al Qaeda member and going on a deadly rampage at a hospital in Yemen.
Washington Post: Program aims to rebuild Afghan police force, repair its image
U.S. and Afghan officials are beginning a major overhaul of the Afghan police with the goal of cleaning up a force whose recent history of corruption has undermined confidence in the Kabul government and fueled the insurgency.
Times of London: Torture, terror and table tennis: Iraq hostage Peter Moore tells of ordeal
The survivor of Britain's longest hostage crisis in 20 years revealed yesterday how he endured months of torture during his ordeal in Iraq. Peter Moore told The Times that he was hung by his arms from a door as a punishment and doused in water by his captors. Speaking in detail for the first time since his release, he also told of a series of mock executions.
CNN: Thailand braces for massive political protests
Thailand braced for anti-government demonstrations that began Friday and were expected to peak over the weekend with as many as 150,000 protesters on the streets. In anticipation, the government has mobilized 50,000 security forces, said acting spokesman Panitan Wattanayakorn.
Washington Post: Aftershocks a reality check for Chilean President Sebastián Piñera
Sebastián Piñera pledged during his presidential campaign to bring fiscal prudence to Chile, but moments before his inauguration Thursday, he received a jolting reminder of how last month's 8.8-magnitude earthquake has shredded that promise. A quick succession of aftershocks left dignitaries, including several Latin American presidents, smiling nervously and eyeing the ceiling at a ceremony in the congressional building in coastal Valparaiso.
BUSINESS
For the latest business news: www.CNNMoney.com
New York Times: Report Details How Lehman Hid Its Woes as It Collapsed
It is the Wall Street equivalent of a coroner's report — a 2,200-page document that lays out, in new and startling detail, how Lehman Brothers used accounting sleight of hand to conceal the bad investments that led to its undoing. The report, compiled by an examiner for the bank, now bankrupt, hit Wall Street with a thud late Thursday. The 158-year-old company, it concluded, died from multiple causes. Among them were bad mortgage holdings and, less directly, demands by rivals like JPMorgan Chase and Citigroup, that the foundering bank post collateral against loans it desperately needed.
Wall Street Journal: Caterpillar Joins 'Onshoring' Trend
Caterpillar Inc. is considering relocating some heavy-equipment overseas production to a new U.S. plant, part of a growing movement among manufacturers to bring more operations back home—a shift that will likely spark fierce competition among states for new manufacturing jobs. The trend, known as onshoring or reshoring, is gaining momentum as a weak U.S. dollar makes it costlier to import products from overseas. Manufacturers are also counting on White House jobs incentives, as well as their ability to negotiate lower prices from U.S. suppliers who were hurt by the downturn and willing to bargain.
New York Times: Patchwork Pension Plan Adds to Greek Debt Woes
Greece's patchwork system of early retirement has contributed to the out-of-control state spending that has led to Europe's sovereign debt crisis. Its pension promises will grow sharply in coming years, and investors can see the country has not set aside enough to cover those costs, making it harder for Greece to borrow at a reasonable rate. As a consequence of decades of bargains struck between strong unions and weak governments, Greece has promised early retirement to about 700,000 employees, or 14 percent of its work force, giving it an average retirement age of 61, one of the lowest in Europe.
Wall Street Journal: Google Prepares to Stop Censoring in China
Google Inc. could stop censoring its Web-search results in China within weeks, said people familiar with the matter, but the company isn't likely to withdraw from the country entirely. Google may end up making individual agreements with different Chinese agencies to allow it to operate some parts of its business in a patchwork arrangement, said one person familiar with the talks.
Der Spiegel: Germany Applies Brakes to Google & Co.
The German government has discovered the Internet and data privacy as a political issue. The new debate over who should control the online world reveals a clash of two cultures, with the American ideal of freedom contrasting with the European desire for privacy.
In Case You Missed It
Secretary of State Hillary Clinton comments on the release of her department's annual report on human rights practices.
http://www.cnn.com/video/#/video/politics/2010/03/11/bts.clinton.human.rights.cnn
Subscribe to the CNN=Politics DAILY podcast at http://www.cnn.com/politicalpodcast
And now stay posted on the latest from the campaign trail by downloading the CNN=Politics SCREENSAVER at http://www.CNN.com/situationroom