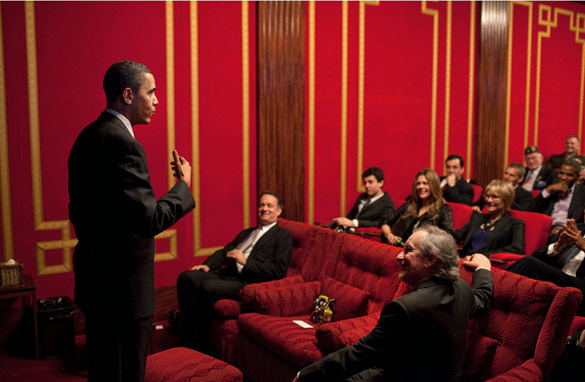 Actor Tom Hanks, left, and director Steven Spielberg, right, ended up having front row seats at a recent White House screening of the first episode of their HBO WWII miniseries. (Photo Credit: Pete Souza/White House photo)
Washington (CNN) – Hollywood mega-stars Steven Spielberg and Tom Hanks have starring roles in a new behind-the-scenes Web video released by the White House Saturday.
The famous director and actor paid a visit to the executive mansion Thursday to provide President Obama with a private screening of the first episode of "The Pacific," a ten-part HBO miniseries they produced that follows three U.S. Marines through their battles in the Pacific theater during WWII. HBO is owned by Time Warner, which is also the parent company of CNN.
In the Web video, Hanks and Spielberg explain the significance of their miniseries in short interviews and display their excitement at being at the White House surrounded by Washington luminaries.
"I think there is, what, 40 seats in the theater?" Hanks says in the clip as military generals file into the White House movie theater in the East Wing. "Every one will be taken by some sort of honcho and big shot. I think Steven and I might have to stand in the back of the room."
In the clip, uber-director Spielberg is shown filming the event and guests with his Flip camera, a consumer electronic originally intended for those with no knowledge of filmmaking. As Obama walks into the movie theater, Spielberg is shown right behind the president filming with the tiny digital video camera.

The Web video also shows Spielberg and Hanks mingling with those in attendance at Thursday's screening, including members of the Joint Chiefs of Staff, members of Congress, and members of the veterans groups Veterans of Foreign Wars and the Women in the Military Service for America Memorial Foundation.
In the 10-part miniseries, "We're really trying to show people the kind of strength and courage that these young kids brought to the world," Spielberg says in the Web video about the Americans who fought in WWII. "And, finishing the war in victory, they were able to re-start America on solid bedrock having defeated fascism."