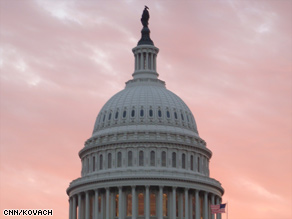 The CNN Washington Bureau's morning speed read of the top stories making news from around the country and the world.
WASHINGTON/POLITICAL
For the latest political news: www.CNNPolitics.com
CNNMoney: Senate takes a stab at financial reform
The head of a key banking panel is expected Monday to release a draft bill of sweeping regulatory changes aimed at warding off future collapses in the financial system. While much of the attention has focused on battles over the creation of a new consumer regulator to ensure consumers get a fair shake with mortgages and credit cards, the final draft is expected to address other areas, including some lawmakers generally agree about.
New York Daily News: Dems and GOPers trade final blows as Obama pushes for health plan to clear Congress this week
The year-long trench warfare over health care is finally almost over – at least until the November elections. Republican opponents of President Obama's health care reform predicted Sunday that Democrats will be severely punished by angry voters in the mid-term elections. Democrats shot back that populist elements of the controversial plan, which the White House hopes will clear Congress by the weekend, will actually pay off for Democrats in the fall.
CNN: Millions being spent on TV to influence health care debate
Upwards of $1 million a day is expected to be spent on health care television ads this week, as interest groups work overtime to try to influence Congress before the House votes on President Obama's top domestic priority.
The Hill: House Democrats release bill for Budget markup Monday
House Democrats on Sunday night set into motion what they hope will be the final steps on healthcare reform. The House Budget Committee on Sunday evening released text that will serve as the base legislation for the changes the House will seek to the Senate bill this week.
CNN: Boehner: Moving Gitmo prisoners to U.S. 'makes no sense'
The top Republican in the House and a senior White House adviser on Sunday debated a plan for closing the U.S. military prison at Guantanamo Bay and moving some of the terrorism suspects held there onto American soil.Two months past President Obama's self-imposed deadline for closing Guantanamo, the facility remains open as details of where to house the suspects are being worked out.
USA Today: Education groups vary in response to White House plan
The Obama administration's plan to make sweeping changes to the 2002 No Child Left Behind education law is getting mixed reaction among educators: Teachers unions complained that teachers are being scapegoated by the overhaul; a school board leader praised it but called for more flexibility; and an administrators group said it was just glad to see NCLB go away.
Minneapolis-St. Paul Star-Tribune: Midwestern farmers push for Cuban markets
Nearly a decade after then-Gov. Jesse Ventura met with Fidel Castro in Cuba, a new wave of Minnesota politicians is leading efforts to end travel and trade restrictions with the communist island nation. Much like Ventura's 2002 Havana trade mission, the political muscle is being provided by Midwestern farmers and agricultural interests in search of new markets for exports.
Houston Chronicle: Ron Paul's son leads in GOP race over choice of the establishment
Despite their many similarities, Rand Paul is far less of a quirky outsider than his iconoclast father. Ron Paul is the first to admit that his son has smoother edges and better political table manners. But most importantly, Rand Paul, 47, has more conventional conservative views on social issues and foreign policy than his libertarian, anti-interventionist dad. And that's an important reason why Rand is giving a veteran Republican officeholder a scare in the May 18 primary.
Boston Globe: Cahill navigating uncharted waters
Now comes the hard part for state Treasurer Timothy P. Cahill, the political renegade running for governor. He is a virtual solo act, lacking the natural base of activists and interest groups major-party candidates enjoy. There will be no huzzahs at a convention of the faithful, few, if any, shared fund-raising lists, and little chance at major endorsements that generate publicity and volunteers. No independent candidate has won a statewide election in Massachusetts. None has come close. If this campaign were a referendum on chutzpah, Cahill would be ahead in the polls, not trailing incumbent Democrat Deval Patrick and the leading GOP challenger, Charles D. Baker, as a recent Rasmussen Reports survey indicated.
San Francisco Chronicle: PR startup seeks office as GOP contender
Murray Hill might be the perfect candidate for this political moment: young, bold, media savvy, a Washington outsider eager to reshape the way things are done in the nation's capital. And if these are cynical times, well, then, it's safe to say Murray Hill is by far the most cynical. That's because this little upstart is, in fact, a startup. Murray Hill is actually Murray Hill Inc., a small, 5-year-old Silver Spring, Md., public relations company that is seeking office to prove a point (and perhaps get a little attention). After the Supreme Court declared that corporations have the same rights as individuals when it comes to funding political campaigns, the self-described progressive firm took what it considers the next logical step: declaring for office.
NATIONAL
For the latest national news: www.CNN.com
New York Times: Saving U.S. Water and Sewer Systems Would Be Costly
Today, a significant water line bursts on average every two minutes somewhere in the country, according to a New York Times analysis of Environmental Protection Agency data. State and federal studies indicate that thousands of water and sewer systems may be too old to function properly. For decades, these systems — some built around the time of the Civil War — have been ignored by politicians and residents accustomed to paying almost nothing for water delivery and sewage removal. And so each year, hundreds of thousands of ruptures damage streets and homes and cause dangerous pollutants to seep into drinking water supplies.
San Jose Mercury News: U.S. officials to unveil sweeping proposal for broadband
Recognizing that high-speed Internet has joined telephone service and electricity as essential tools of modern life, the federal government will unveil an ambitious blueprint this week to extend broadband to virtually all Americans. Crafted by the Federal Communications Commission over the past year, the national broadband plan is expected to set the federal government's high-tech agenda on a variety of fronts, with far-reaching implications for Silicon Valley. At its core, the plan, which will be released Tuesday, will propose ways to close the long-standing digital divide by bringing broadband into 90 percent of American homes by 2020.
INTERNATIONAL
For the latest international news: http://edition.cnn.com
New York Times: Contractors Tied to Effort to Track and Kill Militants
Under the cover of a benign government information-gathering program, a Defense Department official set up a network of private contractors in Afghanistan and Pakistan to help track and kill suspected militants, according to military officials and businessmen in Afghanistan and the United States.
CNN: 3 people associated with U.S. consulate killed in Mexico
Three people connected to the U.S. consulate in Ciudad Juarez, Mexico, were killed in two drive-by shootings, a senior White House official told CNN Sunday. Two of the victims were an American employee at the consulate and her U.S. citizen husband.
CNN: Taliban Web site claims Afghan blasts were 'message' to U.S. general
A series of deadly blasts in southern Afghanistan's volatile Kandahar province on Saturday was a message to the top U.S. general in Afghanistan, according to a posting Sunday on a Taliban Web site.
CNN: Israel to investigate timing of settlement announcement
Israeli Prime Minister Benjamin Netanyahu has set up a team to investigate why officials announced new settlement construction in disputed territory while U.S. Vice President Joe Biden was visiting the country. The Israeli announcement of construction in East Jerusalem came during Biden's visit last week. It complicated U.S. efforts to set up so-called proximity talks between the Israelis and Palestinians, the latest attempt to nudge the two sides back toward talking directly.
Jerusalem Post: Oren: Worst crisis with US since '75
Israel's ambassador to Washington Michael Oren convened Foreign Ministry consuls for an emergency briefing, and told them the crisis between Israel and the US is the worst since 1975, Army Radio reported. …In his briefing to consuls, Oren said the crisis with the US is of "historic" proportions. The US reportedly wants Israel to announce that it's cancelling the Ramat Shlomo project, investigate how the project came to be announced when Biden was here, and make gestures towards the Palestinian Authority. The US also reportedly demands that Israel publicly announce that all core issues will be discussed during negotiations.
London Telegraph: Kim Jong-il keeps 'emergency fund' in European banks
Kim Jong-il, the Supreme Leader of North Korea, has a $4 billion (£2.6 billion) "emergency fund" hidden in secret accounts in European banks that he will use to continue his lavish way of life if he is forced to flee the country.
Wall Street Journal: China Talks Tough to U.S.
Premier Wen Jiabao aimed sharp words at Washington on Sunday, ceding little ground on China's currency policy and suggesting that U.S. efforts to boost its exports by weakening the dollar amounted to "a kind of trade protectionism."In his once-yearly news conference, Mr. Wen blamed the recent deterioration in what he called China's most important foreign relationship on U.S. weapons sales to Taiwan and President Barack Obama's meeting with Tibetan spiritual leader the Dalai Lama.
Washington Post: Haitians who fled capital strain impoverished towns in countryside
The earthquake that struck Haiti's capital city has also jarred the impoverished countryside, sending 600,000 people into the provinces - where locals are now overwhelmed with the task of feeding and sheltering desperate newcomers.
BUSINESS
For the latest business news: www.CNNMoney.com
CNNMoney: Is the Fed blowing bubbles?
Is the Federal Reserve forever blowing bubbles? With interest rates hovering at historic lows, some economists and investors fear the Fed's easy-money policy could create another asset bubble. But others don't see a need to hit the panic button just yet. Critics want the central bank to start hiking rates and withdrawing some of the trillions of dollars pumped into the system over the last few years to help spur U.S. economic activity. Neither move is likely to happen at Tuesday's meeting of central bank policymakers.
Bloomberg: U.S., U.K. Move Closer to Losing AAA Debt Rating, Moody's Says
The U.S. and the U.K. have moved "substantially" closer to losing their AAA credit ratings as the cost of servicing their debt rose, according to Moody's Investors Service. The governments of the two economies must balance bringing down their debt burdens without damaging growth by removing fiscal stimulus too quickly, Pierre Cailleteau, managing director of sovereign risk at Moody's in London, said in a telephone interview.
Wall Street Journal: Google Is Poised to Close China Site
Google Inc. appears increasingly likely to shutter its Chinese-language search engine, a step that would remove one of the last major foreign players from the world's most populous and fastest-growing Internet market. A person familiar with the situation said on Saturday that Google is likely to take action within weeks. Separately, Chinese authorities on Friday told local news Web sites that Google's Chinese site is likely to close and that, if it does, the news sites will be required to use only official accounts of the situation, rather than publish stories from anywhere else, according to a person familiar with the order.
Wall Street Journal: Wachovia Is In Talks Over Allegations From Mexico
Wachovia Bank, a part of Wells Fargo & Co., is in talks with the Justice Department to settle U.S. government allegations that a failure in bank controls enabled Mexican exchange houses to launder drug money, according to people familiar with the situation. The exchange houses, known as casas de cambio, line the U.S.-Mexican border and serve as a hub in the global remittance business that allow U.S. immigrants to send money back to Latin America to help relatives. Federal officials, however, also have identified the money-transfer business as a way for drug traffickers to move cash around.
In Case You Missed It
As census forms arrive in Americans' mailboxes, CNN's Kate Bolduan looks at costs associated with the big count.
http://www.cnn.com/video/#/video/us/2010/03/14/bolduan.census.costs.cnn
House Minority Leader John Boehner invites competition from potential candidates of the Tea Party movement.
http://www.cnn.com/video/#/video/politics/2010/03/14/sotu.boehner.competition.cnn
Subscribe to the CNN=Politics DAILY podcast at http://www.cnn.com/politicalpodcast
And now stay posted on the latest from the campaign trail by downloading the CNN=Politics SCREENSAVER at http://www.CNN.com/situationroom