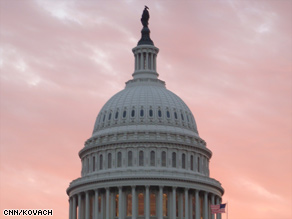 The CNN Washington Bureau's morning speed read of the top stories making news from around the country and the world.
WASHINGTON/POLITICAL
For the latest political news: www.CNNPolitics.com
CNN: House Democrats weigh controversial rule in health care vote
Can the House of Representatives pass a health care bill without actually voting on it? That question - bizarre to most casual political observers - took center stage Tuesday as top House Democrats struggled to find enough support to push President Barack Obama's top legislative priority over the finish line. House Minority Leader John Boehner, R-Ohio, said Tuesday that Republicans will try to block the procedure. They will try to force a vote on a resolution requiring the Senate health care bill to be brought to an up-or-down vote.
Bloomberg: Health-Care Bill Faces Delay as Democrats Struggle With CBO
Congressional Democrats, racing to finish work on an overhaul of the U.S. health system, are facing delays as they strive to meet deficit-cutting targets. The Democrats, who had expected a final cost estimate from the Congressional Budget Office as early as last week, have to show that a bill amending legislation the Senate passed in December will reduce the federal budget deficit by $2 billion over the first five years and not add to the deficit afterward.
CNN: Health care foes 11 votes shy of defeating bill
Five more House Democrats said Tuesday that they will vote against Senate health care legislation, which puts opponents of reform just 11 votes shy of the 216 needed to prevent President Obama from scoring a major victory on his top domestic priority. An ongoing CNN analysis shows that opposition in the House to the Senate health care plan has reached 205 members.
New York Times: Senate G.O.P. Leader Finds Weapon in Party Unity
Before the health care fight, before the economic stimulus package, before President Obama even took office, Senator Mitch McConnell, the Republican minority leader, had a strategy for his party: use his extensive knowledge of Senate procedure to slow things down, take advantage of the difficulties Democrats would have in governing and deny Democrats any Republican support on big legislation. Republicans embraced it. Democrats denounced it as rank obstructionism. Either way, it has led the two parties, as much as any other factor, to where they are right now. Republicans are monolithically against the health care legislation, leaving the president and his party executing parliamentary back flips to get it passed, conservatives revived, liberals wondering what happened.
Politico: Senate rejects earmark ban
The Senate on Tuesday soundly rejected efforts to impose a ban on congressional earmarks, throwing a wrench in House efforts to significantly curtail pet projects this election year.
CNN: Pentagon probes alleged ad hoc spy ring
The Department of Defense has launched an investigation into whether a $24 million contract to gather information about developments in towns and villages in Afghanistan and Pakistan may have been inappropriately used instead to run an ad hoc spy ring, according to U.S. military officials. Concern within the Central Intelligence Agency about the contract prompted the investigation, officials said.
The Hill: Petraeus offers first public support for change to 'Don't ask'
Gen. David Petraeus, the head of U.S. Central Command, said Tuesday that the time has come to consider changing the controversial law barring openly gay from people serving in the U.S. military.
Wall Street Journal: Obama's New Partner: Al Sharpton
With his wavy bouffant and medallion necklaces, the Rev. Al Sharpton famously confronted government officials on behalf of black Americans. Now he has found a new role: telling black leaders to quiet their criticisms and give the government a chance. President Barack Obama has turned to Mr. Sharpton in recent weeks to answer increasingly public criticism in the black community over his economic policy. Some black leaders are charging that the nation's first African-American president has failed to help black communities hit hard by the downturn, leaving party strategists worried that black Democrats will become dispirited and skip November's congressional elections.
CNN: Holder: Decision on venue for 9/11 terror trial weeks away
The Obama administration's decision on where to try the self-proclaimed mastermind of the 9/11 terror attacks will be made "within weeks, not months," Attorney General Eric Holder told a House panel on Tuesday. … Holder waged verbal battles Tuesday with Republican lawmakers who demanded to know whether al Qaeda leader Osama bin Laden would be given Miranda rights and tried in a U.S. civilian criminal court if he is captured. "The chances he'll be captured alive are infinitesimal. He'll be killed by our people, or his own people so he's not captured by us," Holder told the House panel, which oversees the Justice Department budget.
Philadelphia Inquirer: Gibbs: WH conversations with Sestak clean
White House Press Secretary Robert Gibbs, after ducking questions for weeks on the subject, said he was assured that administration's contacts with Rep. Joe Sestak were "not problematic." Sestak said last month that the White House offered him a high-ranking federal job to forego a primary challenge to Sen. Arlen Specter (D.,Pa.), but Sestak has since declined to provide details. The top Republican on the House Government Oversight and Reform Committee, California's Darrell Issa, has demanded answers from the White House, saying that somebody broke the law if such an offer was made.
Washington Times: GOP warms to Paul in Ky.
Rand Paul has run his U.S. Senate campaign as the consummate outsider: a grass-roots candidate drawing support from regular Joes and Janes. Now that his candidacy has gained momentum, he's beginning to pick up support from the Republican establishment. Once dismissed as an oddball and extremist with little chance of being elected to the Senate, Mr. Paul is now considered the man to beat in Kentucky.
CNN: Obama campaign guru eyes House seat
Senior Obama campaign official Steve Hildebrand is eyeing a Democratic primary challenge to South Dakota Rep. Stephanie Herseth Sandlin, a decision he said hinges largely on whether she votes against health care reform later this week.
The Hill: N.H. primary shows battle for Tea Party endorsement
The Tea Party dynamic is on full display in New Hampshire, where a veteran officeholder is challenging his Republican primary opponent for the conservative movement's blessing. In the GOP primary, former Rep. Charlie Bass (R-N.H.), who lost to Rep. Paul Hodes (D-N.H.) in 2006, is running for his old job against broadcaster Jennifer Horn (R). Hodes is running for the Senate and his Democratic-leaning district is seen as a possible pickup for Republicans.
Denver Post: Underdogs Buck, Romanoff make strong inroads at caucuses
Colorado caucus-goers boosted the hopes of underdog candidates Tuesday night in the long-awaited first votes in a trio of high-profile races. … The main purpose of the caucuses is to begin the delegate-selection process that ends at the Democratic and Republican party assemblies in May. Candidates who receive at least 30 percent of delegates' votes at those assemblies make the ballot for August's primary elections. Candidates who participate in the process but fall short of 30 percent would have to petition to be onto the primary ballot.
NATIONAL
For the latest national news: www.CNN.com
CNN: Secure Border Initiative to undergo overhaul
Another brick is falling from the Bush administration's highly touted "virtual wall" that was intended to keep illegal immigrants from entering the United States. Homeland Security Secretary Janet Napolitano said Tuesday she will take $50 million in federal stimulus money away from the Secure Border Initiative, also known as SBInet, and spend it on proven, off-the-shelf technology to protect U.S. borders.
CNN: Pentagon: Sexual assault reporting up among troops
Reports of sexual assaults among U.S. military service members rose 11 percent last year, according to a study released by the Pentagon on Tuesday. Some 3,230 reports of sexual assaults across all of the services were made during fiscal year 2009, which ended on September 30, 2009. That was up from the fiscal year 2008 number of 2,923 sexual assaults reported.
Detroit Free Press: A Michigan no-meat day? Dairy farmers have a cow
Michigan hunters and meat producers had a collective cow today at the news Gov. Jennifer Granholm had issued an official proclamation declaring Saturday "Michigan Meatout Day." The proclamation was labeled "unconscionable and insensitive to livestock and dairy farmers by the Michigan Farm Bureau. Granholm's proclamation, issued at the urging of vegetarian activists, cited the benefits of a plant-based diet and the increasing availability of alternatives to meat and dairy products for vegans and vegetarians. Following a series of "whereases," Granholm encourages "the residents of this state to choose not to eat meat" on Saturday.
INTERNATIONAL
For the latest international news: http://edition.cnn.com
CNN: Clinton dismisses any crisis with Israel
Secretary of State Hillary Clinton is dismissive of the view that relations between the United States and Israel are in crisis after a row between the two countries over settlements.She said U.S. and Israeli officials are in intense talks "over steps that we think would demonstrate the requisite commitment to this process," and the United States is waiting for a response from Israel on steps it is willing to take. She did not say when or how that response would be conveyed.
CNN: Allawi edges ahead of al-Maliki in Iraq vote count
Former Iraqi Prime Minister Ayad Allawi's bloc has edged ahead of the coalition led by Prime Minister Nuri al-Maliki in Iraq's parliamentary vote, but al-Maliki remained ahead in the largest provinces, election officials announced Tuesday.
New York Times: Followers of Sadr Emerge Stronger After Iraq Elections
The followers of Moktada al-Sadr, a radical cleric who led the Shiite insurgency against the American occupation, have emerged as Iraq's equivalent of Lazarus in elections last week, defying ritual predictions of their demise and now threatening to realign the nation's balance of power.
CNN: Update: U.S. changing rule for holding detainees
A controversial policy that gives U.S. forces in Afghanistan four days to question detainees is being changed to give soldiers more time to interrogate the captives, Gen. David Petraeus said Tuesday. Petraeus told the Senate Armed Services Committee that American troops will now be able to hold detainees for up to 14 days before either releasing them or turning them over to the Afghan government. In some cases, longer detention will be an option, he said.
CNN: Somali president calls new pact a 'historic success'
Somalia's president called a new alliance between a rebel group and the country's government "a historic success" and said Tuesday that it marked a closer step toward recovery for the failed state. The peace agreement between the government and the Ahlu Sunnah group was signed Monday night at the headquarters of the African Union in Addis Ababa, Ethiopia, according to the United Nations.
CNN: Ireland's top cardinal accused of ducking blame over abuse probe
Ireland's top Catholic cardinal is using the "Nuremberg defense" in the face of public outrage at his role 35 years ago in investigating one of the country's most notorious child-abusing priests, an activist said Tuesday.The latest scandal comes on the heels of a huge government-backed report that found the Archdiocese of Dublin and other Catholic Church authorities in Ireland covered up child abuse by priests from 1975 to 2004. Child sexual abuse was "widespread" then, the report found.
Washington Post: Colombia voters elect political novices with possible links to death squads
A new political party accused of having links to right-wing death squads gained important political ground in Colombia's congressional elections Sunday, raising concerns that ties between corrupt politicians and armed gangs remain strong, despite vigorous criminal investigations.
BUSINESS
For the latest business news: www.CNNMoney.com
CNNMoney: Stocks rise after Fed holds rates
Stocks closed higher Tuesday after the Federal Reserve voted to keep interest rates at historic lows and Standard & Poor's did not downgrade Greece's credit rating. Stocks have been grinding higher in recent weeks as traders remain bullish about the economic recovery. But the number of shares trading hands has been relatively low, suggesting that many investors are on the sidelines awaiting more concrete evidence of improvement.
Bloomberg: Bernanke Will Tell Congress Bank Oversight Aids Monetary Policy
Federal Reserve Chairman Ben S. Bernanke said the central bank is best qualified to oversee the largest financial institutions and should retain its oversight of smaller banks as well. …Senate Banking Committee Chairman Christopher Dodd proposed legislation this week that would limit the Fed's supervisory authority to bank holding companies with more than $50 billion in assets. Under his plan the Federal Deposit Insurance Corp. and the Office of the Comptroller of the Currency would regulate other banks. A bill passed by the House of Representatives in December left the Fed's current supervisory authority intact.
Wall Street Journal: Ex-Merrill Trader Is Banned by U.K.
British securities regulators sanctioned a former Merrill Lynch & Co. senior trader for improperly valuing a large trading position, in one of the first enforcement actions stemming from investigations into whether Wall Street firms "mismarked" hard-to-value securities.The action by the Financial Services Authority comes amid multiple investigations by the U.S. Securities and Exchange Commission into whether banks and traders hid from investors the true value of their assets.
Wall Street Journal: Business Sours on China
Foreign businesses say their relationship with China is starting to sour, as tougher government policies and intensifying domestic competition combine to make one of the world's most important markets less friendly to multinationals.
Washington Post: China appears to be preparing for Google departure
The Chinese government on Tuesday appeared to set the foundation for Internet giant Google to pull out of the country, with one spokesman contending that the company's potential departure would be an "individual business act" and another warning Google to obey Chinese law whether it leaves China or not.
In Case You Missed It
Nervous House Democrats say they won't support the Senate health bill, a move that could backfire for President Obama.
http://www.cnn.com/video/#/video/us/2010/03/17/henry.health.target.cnn
Former CIA operative John Kiriakou talks to CNN's Jeanne Meserve about his spy days and terror suspect Abu Zubaydah.
http://www.cnn.com/video/#/video/us/2010/03/16/bts.meserve.kiriakou.cnn
Subscribe to the CNN=Politics DAILY podcast at http://www.cnn.com/politicalpodcast
And now stay posted on the latest from the campaign trail by downloading the CNN=Politics SCREENSAVER at http://www.CNN.com/situationroom