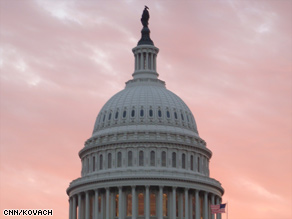 The CNN Washington Bureau's morning speed read of the top stories making news from around the country and the world.
WASHINGTON/POLITICAL
For the latest political news: www.CNNPolitics.com
CNN: Democrats unveil $940 billion compromise health care plan
Democratic congressional leaders unveiled a long-awaited $940 billion compromise health care plan Thursday, setting the stage for a final legislative showdown on President Obama's domestic priority. White House press secretary Robert Gibbs announced that Obama had decided to delay an upcoming trip to Australia and Indonesia to help push the bill over the finish line. The president had been set to depart Washington on Sunday, the same day that the House of Representatives is likely to vote on the measure.
CNNMoney: Health reform: Where the money will come from
Democrats pushing for health care reform are closer to the finish line than ever, but it's not over yet. And the question of cost will remain a central issue in coming days. The estimated long-term deficit reduction comes mainly from more than $500 billion in savings from health programs like Medicare, and $438 billion in new tax revenue.
Wall Street Journal: GOP Plots Strategies to Nullify Health Bill
Republicans are looking beyond Sunday's expected vote on the Democrats' health-care overhaul to focus on strategies for striking back should it pass, ranging from challenges to the measure by individual states to a national repeal campaign. Opponents say they can still defeat the bill this weekend. By talking about the tactics now, and showing how they intend to rally the public, they hope to sway wavering lawmakers to vote no. And if the bill passes, they have a head start on a strategy to knock off all or parts of the legislation.
New York Times: From Bitter Campaign to Strong Alliance
Sixteen months after Mr. Obama surprised nearly everyone by picking her as secretary of state, the two have again surprised nearly everyone by forging a credible partnership. Mrs. Clinton has proved to be an eager team player, a tireless defender of the administration, ever deferential to Mr. Obama and careful to ensure that her husband, the former president, does not upstage her boss. …Still, there is none of the deep familiarity or the tight bonds — the round-the-clock, back-channel access — of their predecessors, Condoleezza Rice and George W. Bush, or going further back, James A. Baker and the first President Bush or Henry A. Kissinger and Richard M. Nixon.
Wall Street Journal: Deal Near on Gitmo, Trials for Detainees
The White House is nearing a deal with a bipartisan group of senators to close the Guantanamo Bay prison and pave the way for more detainees to be tried before military commissions, a move that would reverse a signature Obama administration security policy. The effort, led by White House counsel Robert Bauer and White House Chief of Staff Rahm Emanuel, further sidelines Attorney General Eric Holder, who at a hearing Tuesday continued to argue that the planners of the Sept. 11, 2001, attacks and other terrorists should be given civilian federal trials.
Chicago Tribune: U.S. planning to go ahead with plan to buy Illinois prison
The Obama administration plans to purchase the state prison in rural Thomson, Ill., regardless of whether Congress allows terrorism suspects to be transferred there, a Justice Department official said Thursday.
Miami Herald: NRA has gotten most of what it wanted in Florida Legislature in 2010
Adoption agencies can't require prospective parents to disclose whether they have a firearm, according to a new bill that rocketed Thursday out of the Legislature and awaits the governor's signature. Gov. Charlie Crist plans to approve the legislation, along with another National Rifle Association-backed bill that would stop legislators from raiding a special trust fund that pays for concealed-weapons permit regulation. The bill could be passed by the Legislature as early as next week. Both bills attest to the might of the NRA. But the group has won so many victories that even supporters say the gun lobby is now left with little nips and tucks to the right to own firearms.
CNN: Sources: Subpoenas related to Sen. Ensign investigation are issued
At least one company and the National Republican Senatorial Committee have been issued subpoenas requesting documents in a federal grand jury investigation related to Sen. John Ensign, R-Nevada. The Senate Ethics Committee also is investigating Ensign, who has been dogged by allegations of improper conduct stemming from an affair with the wife of a former aide.
New York Times: Two in Georgia Governor's Race Were Accused of Misconduct
Two former high school teachers running for governor in Georgia were suspended from their jobs in the past for sexual misconduct involving students, according to state documents. The candidates were long shots to win the race, but the news could affect the crowded primary elections in July, political experts said. The governor's office in Georgia is likely to be in play for either party, after a streak of scandals last fall weakened the normally dominant state Republicans.
Politico: Arizona exec. eyes McCain challenge
As Sen. John McCain works to beat back a primary challenge from the right, Arizona businesswoman Nan Stockholm Walden is taking a look at entering the Senate race on the Democratic side, according to Democrats in Arizona and in Washington. Walden, an executive at Farmers Investment Co. who served as a staffer for former Democratic Sens. Bill Bradley and Daniel Patrick Moynihan, could provide her party with a credible, well financed candidate in the event that McCain loses or is severely wounded in his nomination fight with former Rep. J.D. Hayworth, Democrats said.
Denver Post: Sen. Bennet slips between worlds of reform, fundraising
Washington reformer as the best way to steer his election bid through the choppy waters of 2010, touting an ambitious 'fix-it' agenda in his first campaign ad this week. But analysts say that effort will quickly run up against an essential fact of his candidacy: Perhaps more than anything else, Bill Ritter's Senate appointee has distinguished himself as a prolific fund-raiser, a master of Washington's money game. Stacking up million-dollar quarter after million-dollar quarter, Bennet has far out-paced his opponents with lucrative takes from lobbyists, corporate PAC's, and Wall Street.
Houston Chronicle: Perry sounds like White House, not White, on mind
Gov. Rick Perry is gearing up for a re-election campaign against Democrat Bill White, but at a Tuesday night panel discussion he sounded more like a man running for president. Joining conservative commentators Michael Medved and Michael Reagan for an "America Unplugged" tour stop at TriPoint's Grantham Center, Perry tackled everything from health care to Israeli security, invoking his home state only to tell the crowd of more than 200 that Texas offers a model that Washington should follow.
NATIONAL
For the latest national news: www.CNN.com
Washington Post: Defense official says Afghan program was authorized
Michael D. Furlong, the senior Defense Department employee under investigation for allegedly running an unauthorized intelligence-gathering operation in Afghanistan, says his now-suspended program was fully authorized by top U.S. military commanders. According to Furlong, the program, which began in late 2008, was requested by Army Gen. David D. McKiernan, the former top U.S. commander in Afghanistan, and approved by the U.S. Central Command.
CNN: Chicago man pleads guilty to terror plots
A Chicago man charged in two international terror plots, including the 2008 attacks in Mumbai, India, pleaded guilty Thursday to a dozen counts against him and now will not face a trial. David Headley, 49, pleaded guilty in a federal court in Chicago to a dozen federal terrorism charges. Authorities said he scouted out targets for the terrorist attacks in Mumbai that killed more than 160 people and planned an attack on a Danish newspaper that published cartoons depicting the Prophet Mohammed.
Washington Post: Dismantling of Saudi-CIA Web site illustrates need for clearer cyberwar policies
The use of computers to gather intelligence or to disrupt the enemy presents complex questions: When is a cyberattack outside the theater of war allowed? Is taking out an extremist Web site a covert operation or a traditional military activity? Should Congress be informed?
CNN: U.S. authorities launch inquiry in Mexico killings
More than 200 federal, state and local law enforcement personnel have been assigned to an operation intended to find who was responsible for Saturday's fatal shootings of three people linked to the U.S. consulate in Cuidad Juarez, Mexico, an official said.
New York Times: Arizona Drops Children's Health Program
Arizona on Thursday became the first state to eliminate its Children's Health Insurance Program when Gov. Jan Brewer signed an austere budget that will leave nearly 47,000 low-income children without coverage. The Arizona budget is a vivid reflection of how the fiscal crisis afflicting state governments is cutting deeply into health care. The state also will roll back Medicaid coverage for childless adults in a move that is expected to eventually drop 310,000 people from the rolls.
INTERNATIONAL
For the latest international news: http://edition.cnn.com
CNN: U.S., Israel continue talks over settlement concerns
The U.S. special envoy for Middle East peace is returning to the region this weekend as the United States continues its discussions with Israel over the Obama administration's demand that the country reverse its decision on construction in disputed territory in East Jerusalem. Israeli Prime Minister Benjamin Netanyahu has spoken with U.S. Secretary of State Hillary Clinton, and they have discussed specific actions that might be taken to improve the atmosphere for progress toward peace, said State Department spokesman P.J. Crowley on Thursday. Meanwhile, Clinton arrived in Russia on Thursday to jump-start talks on two diplomatic fronts: a new nuclear treaty between the countries and the stalled Mideast peace process. On Friday, Clinton will represent the United States in a meeting with other members of the Mideast Quartet - the United Nations, the European Union and Russia.
Jerusalem Post: IAF strikes in Gaza after Kassam attack
IAF aircraft struck six targets in the Gaza Strip overnight Thursday, in response to a Kassam attack that killed a foreign worker in Netiv Ha'asara earlier in the day. The army said it struck three smuggling tunnels on the Egyptian border, a weapons production facility and two tunnels intended for infiltration into Israel to carry out attacks. Two Palestinians were reportedly wounded in the strikes.
Times of London: Tehran accused of arming Taleban with weapons and explosives
The Iranian Government has been accused by Afghan and Western officials of delivering tonnes of weaponry to the Taleban, including plastic explosives, mortars, grenades and technical manuals. Weapons and documents shown to Channel 4 News indicate that more than ten tonnes of weapons have been intercepted at Iran's desert border with Afghanistan in the past year, with a tonne and a half recovered in the past week. The reports come as General David Petraeus, the head of US Central Command, warned the Senate Foreign Relations Committee that Iran also provided a base for al-Qaeda operatives.
Washington Post: As Taliban makes comeback in Kunduz province, war spreads to northern Afghanistan
For most of the past eight years, this northern province has been relatively peaceful, far removed from the insurgency in the Taliban heartlands of Kandahar and Helmand in the south. But the past year has brought such a dramatic Taliban comeback in Kunduz that Gen. Stanley A. McChrystal, commander of U.S. and NATO forces in Afghanistan, is planning to shift some of the ongoing troop reinforcements to the north of the country, the first significant American deployment to the region since the fall of the Taliban regime in 2001, U.S. officials say.
Times of London: Success of secret two-child policy could force Chinese rethink on family planning
A secret experiment allowing families in a rural Chinese county to have two children could herald the beginning of a social revolution after years of the notorious one-child-only rule. Details of the experiment were reported for the first time in the Southern Weekend newspaper in Guangzhou — and the results are sure to call into question the viability of the official family planning policy. According to the paper, the population of the county has grown over the 25-year period of the scheme by 20.7 per cent, which is nearly five percentage points lower than the national average, despite families being allowed two children. The experiment also appears to have redressed the imbalance between male and female births in China: the national average is 118 males to every 100 females, but in Yicheng the ratio was in line with the natural norm at 106 to 100.
BUSINESS
For the latest business news: www.CNNMoney.com
Wall Street Journal: Shortcomings Exposed in Oil Data
The U.S. government faces shortcomings in producing its oil-inventory data, according to internal Department of Energy documents, casting doubt on figures that affect the production and prices of the world's most important industrial commodity.
Bloomberg: Zapatero's Bid to Avoid Greek Fate Hobbled by Regions
Prime Minister Jose Luis Rodriguez Zapatero's drive to show Spain can avoid Greece's fate is being held hostage by the country's regional governments. As Zapatero tries to cut the euro area's third-highest budget deficit, regional chiefs facing elections over the next year are refusing to trim spending. The European Commission said yesterday Spain may need deeper budget cuts to meet its deficit goals, and the regions' performance is "an additional risk." Zapatero's room to maneuver is limited by the 17 regions that control 37 percent of public spending.
Wall Street Journal: Germany Open to Joint Europe-IMF Bailout for Greece
Germany signaled it is open to supporting a joint bailout of Greece by European governments and the International Monetary Fund should the country need assistance, as Greece pressed Europe for concrete help by next week. The German finance ministry had as recently as last week raised objections to an IMF program for Greece.
CNNMoney: Greenspan offers a mixed mea culpa
Alan Greenspan acknowledged Thursday that U.S. regulators had failed to grasp the magnitude of the financial crisis, but the former Federal Reserve chairman argued that low interest rates were not to blame for inflating the housing bubble. In a paper he is due to deliver at the Brookings Institution on Friday, Greenspan, who was Fed chairman from 1987 to 2006, examines the factors that caused the global financial crisis and plunged the U.S. economy into one of the worst recessions on record.
Times of London: Google may keep Chinese web services alive
Google is considering a plan to keep many of its operations in China, even though it is resigned to closing its flagship search engine over a censorship dispute with the Chinese authorities. The company could keep operating its Beijing research and development centre, advertising sales offices and mobile phone and browser businesses. Some Google web services may survive, including its Chinese music search business and the popular Chinese version of its knowledge market site, Google Answers.
In Case You Missed It
CNN's Ed Henry takes a look at how many kickbacks can be found in the final health care package.
http://www.cnn.com/video/#/video/politics/2010/03/19/ac.henry.whitehouse.deals.cnn
Hillary Clinton is in Moscow to jump-start talks on a new nuclear treaty between the U.S. and Russia.
http://www.cnn.com/video/#/video/world/2010/03/18/lok.chance.russia.clinton.cnn
Subscribe to the CNN=Politics DAILY podcast at http://www.cnn.com/politicalpodcast
And now stay posted on the latest from the campaign trail by downloading the CNN=Politics SCREENSAVER at http://www.CNN.com/situationroom