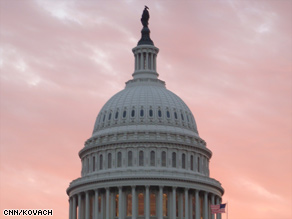 The CNN Washington Bureau's morning speed read of the top stories making news from around the country and the world.
WASHINGTON/POLITICAL
For the latest political news: www.CNNPolitics.com
CNN: Landmark health care overhaul bill heads to Obama's desk
President Obama will sign sweeping health care reform legislation into law at the White House on Tuesday, according to two Democratic officials familiar with the planning. A separate compromise package of changes also passed the House on Sunday and still needs to be approved by the Senate. The officials noted that the Senate cannot begin debate on the package before Obama signs the underlying bill into law. Republicans promised to continue fighting the reforms, with 11 state attorneys general - all Republican - planning lawsuits challenging the constitutionality of the bill's mandate for people to buy health insurance and requirements for states to comply with its provisions.
CNN: CNN poll: Majority disapprove of Obama for first time
For the first time, a CNN poll has found that a majority of Americans disapprove of President Obama's job performance. According to a CNN/Opinion Research Corporation poll released Monday, 51 percent of respondents disapprove of Obama's job performance and 46 percent approve of it.
CNN: Texas Congressman: I made 'baby killer' remark
A Texas Republican acknowledged on Monday that he was the person who yelled "baby killer" during Sunday's House debate on health care reform. Rep. Randy Neugebauer said he shouted out "'it's a baby killer' in reference to the agreement reached by the Democratic leadership" on compromise language that emphasized federal funds would not be used to pay for abortions.
The Hill: McCain: Don't expect GOP cooperation on legislation for the rest of this year
Democrats shouldn't expect much cooperation from Republicans the rest of this year, Sen. John McCain (R-Ariz.) warned Monday. McCain and another Republican senator decried the effect health reform legislation has had on the Senate, a day after the House passed the upper chamber's bill. GOP senators emerged Monday to caution that the health debate had taken a toll on the institution, warning of little work between parties the rest of this year.
Politico: Weak tea? Partiers fear fallout
Ready and eager to transition from opposing health care reform to targeting the members of Congress who made it happen, tea party organizers find themselves grappling instead with reports of ugly behavior at this weekend's protests in Washington that could stymie efforts to broaden the movement's appeal. While the thousands of tea partiers who thronged the Capitol grounds on short notice in advance of Sunday's House health care vote were proof of the movement's continuing energy, their impact was undercut by accounts of racist and homophobic epithets directed at Democratic lawmakers by a handful of individuals among this weekend's crowd.
New York Times: Next Big Issue? Social Security Pops Up Again
Now that landmark legislation overhauling the health insurance system is about to become law, addressing Social Security's solvency could well become the next big thing for President Obama and Congressional Democrats. Central to the health care changes are hundreds of billions of dollars in reductions in Medicare spending over time and expansions of Medicaid. As some administration officials acknowledge, that effectively takes those fast-growing entitlement programs off the table for deficit reduction just as Mr. Obama's bipartisan commission to reduce the mounting national debt gets to work.
CNN: Holder, Senate Republicans showdown abruptly postponed
Attorney General Eric Holder finally sent his answers from a November hearing to Senate Republicans Monday, on what was presumed to be the eve of an expected showdown between Holder and the GOP lawmakers over plans to close Guantanamo Bay prison and put detainees on trial in civilian courts. But while Holder, his aides and Republican lawmakers were separately intently planning for the hearing before the Senate Judiciary Committee, Senate Democrats were fretting about potentially missing the White House party to celebrate passage of a health care bill, aides acknowledged. Judiciary Chairman Sen. Patrick Leahy, D-Vermont, postponed the hearing late Monday to the consternation of both the Justice Department and the GOP. Holder is out of town on travel the rest of this week, and Congress is out the following week, so no new hearing date is scheduled.
CNN: Netanyahu: Jerusalem not a settlement but our capital
Israeli Prime Minister Benjamin Netanyahu on Monday sharply defended his government's plan to build new housing on disputed land in East Jerusalem, a decision that has put Israel at odds with its leading ally. In a defiant speech to the leading pro-Israel lobby in the United States, Netanyahu said Jewish neighborhoods in East Jerusalem are "an integral and inextricable part of modern Jerusalem." Netanyahu had dinner with Biden on Monday evening and will meet with President Obama at the White House on Tuesday, the prime minister's office said.
CNN: Netanyahu, Obama to meet at White House
Israeli Prime Minister Benjamin Netanyahu will meet with U.S. President Barack Obama at the White House on Tuesday, as the allies remain at odds over Israel's plan to build new housing on disputed land in East Jerusalem.
Wall Street Journal: U.S. Aims to Bolster Overseas Fight Against Cybercrime
The alleged Chinese cyber attacks on Google have spurred proposals at the State Department and on Capitol Hill to establish an ambassador-level cybersecurity post and to tie foreign aid to a country's ability to police cybercrime. In the wake of the cyber attacks on Google, officials at the State Department circulated a proposal to create an ambassador-like post, according to officials briefed on the proposal. This person would take on such duties as negotiating cyber policy at the United Nations, and making sure the U.S. has a consistent position on cybersecurity when issues come up overseas. The proposal, however, has run ran into internal resistance from the State Department's intelligence bureau, which currently oversees most cybersecurity matters at the department, said Mr. Lewis, who frequently advises the administration.
CNNMoney: Senate panel OKs Wall Street reform
A key banking panel took only minutes Monday to approve a sweeping regulatory reform measure aimed at warding off future collapses in the financial system. With no debate or discussion the Senate Banking Committee voted 13-10 in favor of the bill put forth by panel chairman Sen. Christopher Dodd, D-Conn., moving it to the full Senate just after Dodd gaveled the hearing to order at 5 p.m. ET. Dodd's proposal would create a new consumer regulator housed inside the Federal Reserve to ensure consumers get a fair shake with mortgages and credit cards. It would also push banks and financial firms to strengthen capital cushions and create a new process for taking down giant failing companies and preventing future Wall Street bailouts.
Wall Street Journal: Defense Industry Pursues Gold in 'Smart Power' Deals
Lockheed Martin Corp. became the nation's No. 1 military contractor by selling cutting-edge weaponry like the F-35 Joint Strike Fighter. Its latest contribution to the U.S. arsenal: training prosecutors in Liberia's Justice Ministry. The U.S. government has hired the defense contractor to test an emerging tenet of its security policy. Called "smart power," it blends military might with nation-building activities, in hopes of boosting political stability and American influence in far-flung corners such as Liberia.
Los Angeles Times: Meg Whitman sets record spending pace in campaign for governor
Republican Meg Whitman spent $27 million on her campaign for governor in the first 11 weeks of the year, setting a record-shattering pace with a prime-time television ad blitz to introduce herself to voters and attack her GOP opponent, according to a disclosure statement she filed Monday. Whitman, the billionaire ex-chief of EBay, has spent $46 million since joining the race early last year, seven times more than either of her main rivals.
St. Petersburg Times: Lavish party spending extends to Rubio's former chief of staff
During the five months of his $175,000-a-year job in Rubio's office, [Richard] Corcoran continued spending tens of thousands of dollars in party donations for a slew of expenses, including dinners with his boss, personalized chairs for Republican leaders and $4,600 for electronics, according to American Express statements obtained by the St. Petersburg Times and Miami Herald. Corcoran's hefty credit card bills — $60,000 in one two-month period alone — reflect the free-wheeling party spending on travel and dining that disgraced Rubio's successor, indicted former Rep. Ray Sansom of Destin, and cost former state party chairman Jim Greer his job. State law bans public employees from working on political campaigns while on duty.
NATIONAL
For the latest national news: www.CNN.com
CNN: ACORN plans to shut down
The community organizing group ACORN announced Monday it is closing its operations amid falling revenues. …The 40-year-old liberal group was crippled by scandal six months ago when a pair of conservative activists posing as a pimp and a prostitute secretly videotaped two ACORN employees appearing to give them advice about setting up a prostitution ring and evading the IRS.
New York Times: U.S. Bolsters Chemical Restrictions for Water
The Environmental Protection Agency announced on Monday that it would overhaul drinking water regulations so that officials could police dozens of contaminants simultaneously and tighten rules on the chemicals used by industries. The new policies, which are still being drawn up, will probably force some local water systems to use more effective cleaning technologies, but may raise water rates.
INTERNATIONAL
For the latest international news: http://edition.cnn.com
CNN: Clinton to meet Mexican president on drug trafficking and border security
U.S. Secretary of State Hillary Clinton will travel to Mexico on Tuesday for meetings with President Felipe Calderon and other top Mexican officials on narcotics trafficking and border security. Clinton will be joined by Secretary of Defense Robert Gates, Secretary of Homeland Security Janet Napolitano, Director of National Intelligence Dennis Blair and Chairman of the Joint Chiefs of Staff Admiral Michael Mullen.Drug-related bloodshed has gripped Mexico since Calderon declared war on the cartels shortly after taking office in December 2006. Much of the violence has occurred in the Ciudad Juarez area, across the border from El Paso, Texas.
New York Times: Americas Development Bank Forgives Much of Haiti's Debt
Haiti received a boost to its balance sheet on Monday when the Inter-American Development Bank, meeting in the Mexican resort city of Cancún, agreed to forgive $479 million of the country's $1.2 billion in foreign debt.To draw attention to Haiti's long-term needs, meanwhile, former Presidents Bill Clinton and George W. Bush met Monday with President René Préval on the grounds of the toppled National Palace in Port-au-Prince and toured the central plaza, which has been transformed into a sprawling squatter camp.
Washington Post: Pakistani Parliament expected to approve curbs on President Zardari's powers
Pakistan's Parliament is expected to pass constitutional changes in coming weeks that would vastly curtail the powers of President Asif Ali Zardari, effectively sidelining the unpopular leader of the nation's weak civilian government.
Wall Street Journal: U.S. Sees Hope in Pakistan Requests for Help
Pakistan sent a 56-page document to the U.S. ahead of strategic talks scheduled for Wednesday, seeking expanded military and economic aid in what some American officials believe is an implicit offer to crack down in return on the Afghan Taliban. The previously undisclosed document includes requests ranging from U.S. help to alleviate Pakistan's chronic water and power shortages to pleas for surveillance aircraft and support in developing the country's civilian nuclear program.
New York Times: U.S. Officials Meet Iraqi Leader After Recount Call
The two top American officials in Iraq met Monday with Prime Minister Nuri Kamal al-Maliki after his endorsement over the weekend of a recount in the parliamentary elections incited fears of a political crisis in a country not accustomed to peaceful transfers of power. n the political vacuum created by the delay in the tally of the March 7 vote, suspicions have run deep that fraud and political tampering could cast doubt on the validity of the elections. But American diplomats said they were assured that there was no crisis, after conversations between Mr. Maliki and the two officials, Gen. Ray Odierno, the top American military commander in Iraq, and Christopher R. Hill, the American ambassador.
USA Today: Rebuilding Iraq: Slow but steady progress
Seven years after the invasion, the reconstruction of Iraq has taken longer and cost more than initial estimates, but U.S. officials say money spent training Iraqi security forces has started to show results and has helped protect American investments. Although some results, such as oil production, have fallen short of early estimates, other projects, such as sewage treatment, have exceeded initial goals, according to U.S. officials, outside experts and the U.S. government watchdog for Iraq reconstruction.
Bloomberg: Greek Impasse Deepens as Trichet Rejects Loan Subsidy
Europe's stalemate over possible aid for debt-encumbered Greece deepened as European Central Bank President Jean-Claude Trichet spoke out against offering low- interest loans for which the Greek government has pressed. Trichet's demand for stringent terms and German Chancellor Angela Merkel's push for sanctions against nations that breach deficit limits heightened the chance that Greece will leave a March 25-26 summit empty-handed. That could force Prime Minister George Papandreou to decide whether he's ready to fulfill his threat and turn instead to the International Monetary Fund.
London Telegraph: Nicolas Sarkozy reshuffles cabinet after regional election humiliation
President Nicolas Sarkozy has dismissed his labour minister and reshuffled several other Cabinet posts after Leftists humiliated his Conservatives in France's regional elections – a defeat that exposed his inability to convince the public on his economic reforms.
CNN: New Catholic child abuse allegations surface
Four Catholic priests and two nuns have been accused of sexually abusing children in Germany's diocese of Regensburg, the diocese confirmed Monday. Five of the six cases date back to the 1970s, while the sixth is from 1984, the diocese said. The six clergy members are all still alive. Seven people have come forward with the allegations.
BUSINESS
For the latest business news: www.CNNMoney.com
Wall Street Journal: Got TARP? If So, Pay Czar Plans Compensation Review
The U.S. pay czar will review executive compensation at Goldman Sachs Group Inc., J.P. Morgan Chase & Co., Morgan Stanley and 416 other firms that took government bailout funds, to determine if compensation paid during the height of the financial crisis should be returned, according to government officials.
CNNMoney: Google stops censoring in China
In a long-awaited announcement, Google said Monday that it will stop censoring search services on google.cn, its Chinese search site. Google (GOOG, Fortune 500) is now redirecting its Chinese users to its Hong Kong site, google.com.hk, which offers uncensored search results, according to Google's company blog. Google's search site for Chinese users is now hosted on servers that are in Hong Kong.
Bloomberg: Oil Trades Near $82 After Rising on Economic Recovery Optimism
Crude oil traded near $82 a barrel in New York after rising on optimism fuel demand will increase amid improved prospects for an economic recovery in the U.S., the world's biggest energy consumer.
CNN: Document: Toyota warned dealers of throttle surging in 2002
Auto manufacturer Toyota warned dealerships in 2002 that Camry owners were complaining about throttles surging and recommended adjustments in an electronic control unit to fix the problem, according to a document obtained by CNN.
In Case You Missed It
Democrats' promises on health care may not happen unless the Senate clears the "fix it" bill. CNN's Dana Bash reports.
http://www.cnn.com/video/#/video/politics/2010/03/23/bash.health.care.not.so.fast.cnn
Ted Kennedy's widow talks exclusively with CNN's John King about visiting the late senator's grave before Sunday's vote.
http://www.cnn.com/video/#/video/politics/2010/03/22/jk.vicki.kennedy.gravesite.visit.cnn
Subscribe to the CNN=Politics DAILY podcast at http://www.cnn.com/politicalpodcast
And now stay posted on the latest from the campaign trail by downloading the CNN=Politics SCREENSAVER at http://www.CNN.com/situationroom