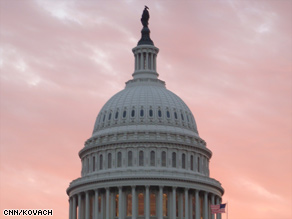 The CNN Washington Bureau's morning speed read of the top stories making news from around the country and the world.
WASHINGTON/POLITICAL
For the latest political news: www.CNNPolitics.com
CNN: GOP starts effort to block changes to new health care law
The Senate launched debate Tuesday on a House-passed bill to make changes in the hours-old health care reform law, with Republicans promising to use every parliamentary tool available to undermine or defeat the measure.
CNN: Obama to sign executive order on abortion limits Wednesday
President Obama will sign an executive order Wednesday that ensures that existing limits on the federal funding of abortion remain in place under the new health care overhaul law.The White House said the executive order reaffirms longstanding restrictions on the federal funding of abortion in the new law.
Detroit Free Press: Did 'backroom deal' sway Stupak? He blasts GOP claim
Republicans in Washington complained today of an "apparent backroom deal" worth $726,000 to three airports in U.S. Rep. Bart Stupak's district, suggesting the funding may have somehow swayed his vote for health care reform legislation. Problem is, the same round of improvement grants — worth millions of dollars to some airports – went to facilities all over the nation, including those in districts of some of the staunchest opponents to the reform bill. …Republican antipathy toward Stupak, a Democratic from Menominee on the Upper Peninsula, has been growing since Sunday, when he went from a nay vote to a yea one on health care reform.
CNN: States sue to block health care bill
Officials from 14 states have gone to court to block the historic overhaul of the U.S. health care system that President Barack Obama signed into law Tuesday, arguing that the legislation's requirement that individuals buy health insurance violates the Constitution.
New York Daily News: Staten Island Rep. Mike McMahon faces White House wrath over health care 'no' vote
Rep. Mike McMahon defied a high-level arm-twisting campaign to vote no on health care, leaving some White House aides furious with the Staten Island rookie. The Daily News learned that President Obama's political director, Patrick Gaspard, dispatched a prominent New York donor last week to warn McMahon his campaign contributions would dry up if he sided with Republicans.
Politico: After meeting, deafening silence
The Obama administration shifted this week from red hot anger at Benjamin Netanyahu to an icier suspicion toward the Israeli Prime Minister, who made clear in a marathon of meetings with U.S. officials that he would give ground only grudgingly on their goal of stopping the continued construction of new Israeli housing units on disputed territory. Netanyahu met with President Barack Obama Tuesday evening in two sessions, the first an unexpectedly-long 90 minutes, according to one source briefed on the meeting. But the meetings were shrouded in unusual secrecy, in part because U.S. officials, who just ten days earlier called the surprise announcement of new housing in East Jerusalem an "insult" and an "affront," made sure to reward Netanyahu with a series of small snubs: There were no photographs released from the meeting, and no briefing for the press.
The Hill: Tired of waiting, Schumer seeks a deadline on China
Sen. Charles Schumer (D-N.Y.) said Tuesday he would seek a vote by May on legislation that would punish China for currency manipulation. The public call for a Senate vote before the Memorial Day recess builds pressure on President Barack Obama to take a tougher line with the world's fastest-rising economic power.
The Hill: Senate Dems to face a second showdown on jobless benefits
Senate Democrats plan to pass another short-term emergency extension of unemployment aid this week, setting up a showdown with conservative Republicans demanding it be paid for. Congress's last extension of unemployment benefits and COBRA health insurance subsidies for the unemployed expires on April 5. With a 9.7 percent jobless rate and lawmakers scheduled to begin a two-week recess this weekend, congressional Democrats said another short-term extension is necessary soon.
CNN: Massachusetts Senator takes aim at cable host
Massachusetts Senator Scott Brown's political shop released a fundraising e-mail Tuesday that names a surprising potential rival for his seat in 2012: MSNBC anchor Rachel Maddow.
Miami Herald: Complaint targets Rubio's spending
Former Florida House Speaker Marco Rubio misspent donations to the Republican Party of Florida and his political committees "to subsidize his lifestyle," according to a sweeping complaint filed with the Florida Commission on Ethics. "This is clearly a political stunt by Democrats who are either working directly with Charlie Crist or have already looked past Crist to a general election fight with Marco Rubio," said spokesman Alex Burgos.
Houston Chronicle: GOP says White did not report $83,000 in income
The Republican Party of Texas filed a formal ethics complaint against Democratic gubernatorial candidate Bill White on Tuesday, accusing him of failing to report $83,000 of income to the Texas Ethics Commission.
Fort Worth Star-Telegram: State Board of Education's work becomes issue in governor's race
Democratic gubernatorial candidate Bill White said Tuesday that he wants Gov. Rick Perry to ask State Board of Education Chairwoman Gail Lowe to send tentatively approved social studies curriculum revisions back to the committees where the proposals started.The board's work on the standards has brought national attention, much of it negative. As one of the nation's largest buyers of textbooks, Texas plays a major role in deciding what's printed in them.Perry seemed unlikely to fulfill White's request.
San Jose Mercury News: Whitman backtracks on releasing full tax returns
Meg Whitman on Tuesday backed away from a promise to release 25 years of personal tax returns, suggesting that she might release only a "summary statement" of her taxes in what's become a high-stakes chess game over transparency in the governor's race. The apparent about-face comes less than two weeks after the billionaire former eBay CEO issued a startling challenge to her opponents: Release a quarter-century of your personal tax returns, and I'll release mine.
NATIONAL
For the latest national news: www.CNN.com
CNN: TSA nominee wants to move airport screening closer to 'Israeli model'
President Obama's nominee to head the Transportation Security Administration told Congress on Tuesday he wants U.S. airport security to more closely resemble security at Israeli airports, where officers engage travelers in conversations and questions to determine whether they are a threat to aircraft.
USA Today: Texas big Census winner this decade
The decade that opened with booming growth in the Sun Belt is closing on a quieter but similar note despite the toll the recession has taken on some of the USA's fastest-growing areas, according to Census estimates released Tuesday. Six Texas counties are among the 25 fastest-growing from 2000 to 2009: Rockwall, Williamson, Collin, Hays, Fort Bend and Montgomery.
New York Times: Tough Bill Advances in Arizona on Illegal Immigrants
The Arizona Legislature gave preliminary approval Tuesday to a proposal that would allow the police to arrest illegal immigrants on trespassing charges simply for being in the state. The provision, which opponents and proponents call a first in the nation, is part of a wide-ranging bill whose sponsors say they hope will make life tougher for illegal immigrants.
Los Angeles Times: California may vote on legalizing pot
Fourteen years after California decided marijuana could be used as a medicine and ignited a national movement, the state is likely to vote on whether to take another step into the vanguard of drug liberalization: legalizing the controversial weed for fun and profit.
INTERNATIONAL
For the latest international news: http://edition.cnn.com
CNN: UK: Israel behind passport forgery in Dubai killing
There are "compelling reasons" to believe the Israeli government was responsible for forging British passports used in a plot to kill a Hamas leader in the United Arab Emirates earlier this year, British Foreign Secretary David Miliband said Tuesday. The UK expelled an Israeli diplomat and changed the advice it gives its citizens about traveling to Israel as a result of the scandal, Miliband said. He did not name the diplomat or say what rank the envoy held.
CNN: Taliban fighters training in Iran, U.S. officials say
Iran is helping train Taliban fighters within its borders, according to U.S. military and intelligence officials. The United States has already said that the Taliban may be receiving limited training from the Iranians in Afghanistan, but the officials told CNN that training in the use of small arms was occurring within Iran.
Wall Street Journal: Cell Carriers Bow to Taliban Threat
Every evening at dusk, cellphones go dead in this district just outside Kandahar, Afghanistan's second-largest city. All three mobile-phone companies operating here turn off their antennas, returning to air only when the sun rises above the jagged hills to the east. The reason for this nightly blackout, implemented across southern and eastern Afghanistan: a Taliban decree that aims to prevent villagers from passing tips to coalition forces.
BBC News: Afghan President Karzai in China for trade talks
Afghan President Hamid Karzai is due to meet Chinese President Hu Jintao and other senior officials in Beijing. Trade and China's investment in Afghanistan's war-torn economy are expected to be the main issues during Mr Karzai's three-day visit. Cash-rich Beijing is looking to secure deals on developing Afghanistan's mineral deposits, correspondents say.
CNN: 3 Gitmo detainees handed over to nation of Georgia
Three Guantanamo Bay prison detainees have been flown to the nation of Georgia and handed over to the Tblisi government, the Justice Department announced Tuesday. U.S. officials did not identify those released, or say whether they expected the three men to be released by Georgian authorities. The transfer reduces to 183 the number of prisoners still detained at Guantanamo more than two months after President Barack Obama's self-imposed deadline to close the facility. One of those remaining is Mohammmed Oul Slahi, whom a federal judge Monday ordered released.
New York Times: U.S. and Mexico Revise Joint Antidrug Strategy
Responding to a growing sense that Mexico's military-led fight against drug traffickers is not gaining ground, the United States and Mexico set their counternarcotics strategy on a new course on Tuesday by refocusing their efforts on strengthening civilian law enforcement institutions and rebuilding communities crippled by poverty and crime.
Los Angeles Times: Bid for Iraq vote recount intensifies
Senior politicians from Prime Minister Nouri Maliki's ruling coalition warned Tuesday that Shiite Muslim-dominated southern Iraq could severely loosen its ties with Baghdad if the nation's electoral commission failed to meet its demand for a manual recount of ballots in parliamentary elections. The politicians, who also echoed Maliki's warning Sunday that sectarian violence could return without a recount, accused the U.S. Embassy of working against them. In turn, Western diplomats and advisors to the Iraqi government described Maliki's circle as terrified of losing power and said Iraq was entering a dangerous period.
The Guardian: Sudanese president threatens to expel election observers
Sudan's president, Omar al-Bashir, has warned foreign election observers that his government "will cut off their fingers and put them under our shoes" if they urge the country to delay next month's elections. Bashir, who is seeking to win another term in the 11 April polls, was responding to a statement issued last week by observers from the US-based Carter Centre, which said a minor postponement may be required to address logistical difficulties. The vote is scheduled to be the first competitive election in Sudan in 24 years.
Washington Post: Resistance against N. Korean regime taking root, survey suggests
There is mounting evidence that Kim Jong Il is losing the propaganda war inside North Korea, with more than half the population now listening to foreign news, grass-roots cynicism undercutting state myths and discontent rising even among elites. A survey of refugees has found that "everyday forms of resistance" in the North are taking root as large swaths of the population believe that pervasive corruption, rising inequity and chronic food shortages are the fault of the government in Pyongyang - and not of the United States, South Korea or other foreign forces.
BUSINESS
For the latest business news: www.CNNMoney.com
Wall Street Journal: Tax-Break Battle Flares
J.P. Morgan Chase & Co. is nearing a deal that would allow it to benefit from a tax refund of as much as $1.4 billion, becoming the latest company to tap a little-noticed plank in an economic stimulus bill.That law let companies apply losses from 2008 or '09 against taxes paid in the previous five years, instead of the previous two years. Failed Seattle thrift Washington Mutual is eligible for about $2.6 billion in tax refunds, thanks to big losses in 2008. Now J.P. Morgan, which took over WaMu's banking operations in September 2008, is in discussions with the Federal Deposit Insurance Corp. and bondholders about the refund.
Chicago Tribune: Obama pay czar cuts compensation for TARP recipients
The Obama administration's pay czar said Tuesday that he was cutting compensation an average of 15 percent from 2009 for the top executives at American International Group Inc., General Motors Co., Chrysler and two other firms that received exceptional federal bailouts and have yet to repay the money.
CNNMoney: TARP watchdog slams Obama foreclosure program
President Obama's foreclosure prevention program will likely fall far short of its goal and may even do more harm than good, a government watchdog said Tuesday. The Special Inspector General for the Troubled Asset Relief Program said the Treasury Department set targets that weren't "meaningful," mismanaged the implementation of the program, and now risks a substantial number of "re-defaults," with many participants ultimately losing their homes anyway.
Bloomberg: Japan's Exports Grow at Fastest Pace in 30 Years
Japan's exports climbed at the fastest pace in 30 years in February as global trade recovered from the worst postwar recession, increasing prospects for a sustained economic rebound in the nation.
Washington Post: Google's decision signals change in Western businesses' approach to China
After Google's audacious decision to confront China over the issue of censorship, officials here insisted Tuesday that the Internet giant's case was an isolated one and would not affect China's opening to the West or its market-oriented reforms. But Western businesspeople said the episode had underscored a broader sea change in how U.S. and European companies deal with the government here. More specifically, they said, Western businesses have begun to push back openly against China.
In Case You Missed It
President Obama signs the health care bill into law as critics continue to fight back. CNN's Sandra Endo reports.
http://www.cnn.com/video/#/video/politics/2010/03/23/endo.wh.health.care.bill.signing.cnn
CNN's John King talks with bloggers and an independent activist about the landmark health care vote's effect.
http://www.cnn.com/video/#/video/bestoftv/2010/03/23/jk.how.will.vote.shape.cnn
Subscribe to the CNN=Politics DAILY podcast at http://www.cnn.com/politicalpodcast
And now stay posted on the latest from the campaign trail by downloading the CNN=Politics SCREENSAVER at http://www.CNN.com/situationroom