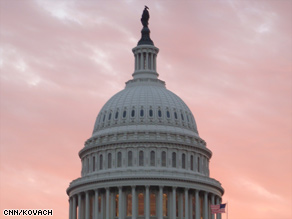 The CNN Washington Bureau's morning speed read of the top stories making news from around the country and the world.
WASHINGTON/POLITICAL
For the latest political news: www.CNNPolitics.com
CNN: Obama hits the road to sell health care overhaul
Barack Obama's journey to reform America's health care system comes full circle Thursday as he returns to the place where he launched his ideas. Three years ago, Obama began his crusade with a memorable speech focusing on health care that was delivered in Iowa City, Iowa, the state that holds the first presidential caucus in an election year. The president will speak on the freshly signed law at the University of Iowa in the afternoon, his first event since the historic passage of the landmark legislation. Obama's speech is part of a White House plan to begin aggressively selling the benefits of his health care overhaul and give some political cover to Democratic lawmakers jittery about their political futures, according to Democratic officials familiar with the plans.
CNN: Senate Dems defeat initial GOP attacks on health care 'fixes' bill
Senate Republicans on Wednesday launched an attempt to amend or kill legislation expanding the recently enacted health care reform law - part of a GOP pledge to use every parliamentary tool available to undermine the measure.The amendments also are designed to force Democrats to cast unpopular votes in the run-up to this November's midterm elections.
CNN: House Democrats report increased threats since health care vote
Democratic congressional leaders Wednesday demanded Republicans join them in condemning a spate of threats and vandalism that has followed Sunday's vote on a sweeping overhaul of the U.S. health care system. More than 10 Democrats have reported trouble since the weekend vote, House Majority Leader Steny Hoyer told reporters.
CNN: Blasted by left and right, Stupak appears safe back home
Inside the Washington beltway, Rep. Bart Stupak is taking heat from the left and right. Three days after a major anti-abortion group took back its "Defender of Life" award from the Michigan Democrat over his support for the health care bill, the nation's leading abortion rights groups announced Wednesday that it is backing Stupak's primary election challenger because Stupak helped delay the legislation for months.
CBS News: GOP Lawmaker Darrell Issa Poised to Call for Special Prosecutor to Investigate White House
Rep. Darrell Issa, the top Republican on the House Oversight committee, told CBS News Wednesday that he will call for a special prosecutor to investigate the White House if it does not address Rep. Joe Sestak's claim that he was offered a federal job in exchange for dropping out of the Pennsylvania Senate primary.
Washington Post: Obama urges Democrats to make hard push on financial regulation
President Obama and Democratic lawmakers moved Wednesday to accelerate their efforts at overhauling the nation's financial regulation, seeking to exploit divisions among Republicans over how much to compromise on a landmark bill now awaiting Senate action.
CNNMoney: Geithner: China letting Fed set yuan's path
In what may be the bluntest assessment by a high-ranking White House official of China's exchange rate policy, Treasury Secretary Tim Geithner said Wednesday that China's undervalued currency makes the nation dependent on U.S. monetary policy.
CNN: Health care vote triggers Democratic primary
A South Dakota doctor will challenge Rep. Stephanie Herseth Sandlin in the Democratic primary, a close friend tells CNN. Herseth Sandlin had avoided a primary challenge when former Obama campaign official Steve Hildebrand decided not to run against her, which he said he seriously considered because of her vote against the Democratic health care reform bill. She was one of 34 House Democrats who voted against the legislation on Sunday. Hildebrand, in an email to allies this afternoon, will now endorse Kevin Weiland, a doctor from Rapid City.
NATIONAL
For the latest national news: www.CNN.com
CNN: Source: Pentagon set to ease policy on gays in the military
Defense Secretary Robert Gates is expected to announce changes Thursday easing the Defense Department's "don't ask, don't tell" policy prohibiting homosexuals from serving openly in the military, a senior Defense Department official has confirmed to CNN.
INTERNATIONAL
For the latest international news: http://edition.cnn.com
Washington Post: United States and Russia reach nuclear-arms deal
The United States and Russia have reached a deal on their most extensive nuclear arms-control agreement in nearly two decades, the Kremlin announced Wednesday. A Kremlin spokesman told reporters that the two countries' presidents would talk soon to decide when to sign the pact. "All documents related to the new treaty have been agreed upon," he said, speaking on the condition of anonymity because of diplomatic sensitivity. The declaration appeared to surprise the White House, with spokesman Robert Gibbs saying that the two sides were "close" to a treaty but that it would not be announced until Obama could speak with President Dmitry Medvedev, probably in the next few days.
CNN: Civil nuclear issue on Pakistan's agenda as talks with U.S. begin
Secretary of State Hillary Clinton is promising "a new day" in U.S.-Pakistan relations and new efforts to move beyond previous mistrust and misunderstandings. And Pakistan is hoping improved relations will generate new American help with civilian nuclear power. Clinton started two days of high-level talks with Pakistani leaders Wednesday morning at the State Department.
Bloomberg: Netanyahu Says Progress Made on Housing Dispute in U.S. Visit
Israeli Prime Minister Benjamin Netanyahu said he made progress during talks in Washington on resolving a dispute with the U.S. over housing in Jerusalem that threatens American-mediated peace talks with the Palestinians.
CNN: Israel approves more housing in East Jerusalem
In a move likely to further strain relations between the United States and Israel, the municipality of Jerusalem has given final approval for a controversial Israeli housing project in the heart of a Palestinian neighborhood in East Jerusalem.
Wall Street Journal: U.S. Softens Sanction Plan Against Iran
The U.S. has backed away from pursuing a number of tough measures against Iran in order to win support from Russia and China for a new United Nations Security Council resolution on sanctions, according to people familiar with the matter.
Washington Post: For two detainees who told what they knew, Guantanamo becomes a gilded cage
When it came to their initial treatment at Guantanamo, Sawah and Slahi had little in common, according to military officials. Their paths would intersect only later, when they both made the same choice: to cooperate with the United States. But as the Obama administration attempts to close the prison, Sawah and Slahi are trapped in a gilded cage. Their old jihadi comrades want them dead, revenge for the apostasy, now well known, of working with the United States. The U.S. government has rewarded them for their cooperation but has refused to countenance their release.
Los Angeles Times: North Koreans fear another famine amid economic crisis
Women who fled to China describe acute shortages and anger after a disastrous currency devaluation. As an ailing Kim tries to secure his son's ascension, some people are beginning to speak out.
Times of London: Pope 'failed to act' on US sex abuse claims
The sex abuse scandal enveloping the Catholic Church has moved still closer to Pope Benedict XVI with revelations today that in the 1990s the then Cardinal Joseph Ratzinger failed to defrock an American priest who molested hundreds of deaf boys, despite receiving letters from a number of American bishops pleading with him to act on the matter.
BUSINESS
For the latest business news: www.CNNMoney.com
CNNMoney: Bank of America to cut some mortgage balances
Bank of America announced Wednesday that it will first look at reducing the loan balances of certain distressed homeowners with subprime or adjustable rate mortgages to make their payments more affordable. The move makes Bank of America (BAC, Fortune 500) one of the first major loan servicers to systematically incorporate the controversial loan modification technique into its home retention program.
Wall Street Journal: Dubai World Gets $9.5 Billion
Dubai's government Thursday said it will inject about $9.5 billion into Dubai World and real estate developer Nakheel but didn't outline details of plans to settle a debt restructuring deal with banks.
Wall Street Journal: Brin Drove Google to Pull Back in China
Google Inc. co-founder Sergey Brin pushed the Internet giant to take the risky step of abandoning its China-based search engine as that country's efforts to censor the Web and suppress dissidents smacked of the "totalitarianism" of his youth in the Soviet Union. In an interview with The Wall Street Journal, Mr. Brin, who came to the U.S. from Russia at the age of 6 in 1979, said the compromises to do business in the world's largest Internet market had become too great.
In Case You Missed It
CNN's Jill Dougherty reports on the closed-door meeting between President Obama and Israel's prime minister.
http://www.cnn.com/video/#/video/us/2010/03/24/dougherty.netanyahu.obama.cnn
Subscribe to the CNN=Politics DAILY podcast at http://www.cnn.com/politicalpodcast
And now stay posted on the latest from the campaign trail by downloading the CNN=Politics SCREENSAVER at http://www.CNN.com/situationroom