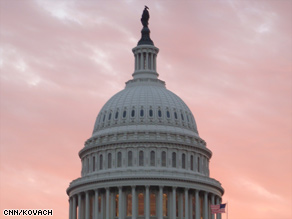 The CNN Washington Bureau's morning speed read of the top stories making news from around the country and the world.
WASHINGTON/POLITICAL
For the latest political news: www.CNNPolitics.com
CNN: House passes Senate's health care 'fixes' bill
The House of Representatives passed a slightly altered health care "fixes" bill Thursday night, completing legislative action on President Obama's top domestic priority. The so-called "fixes" bill, approved by a 220-207 vote, now goes to Obama to be signed into law. It makes changes in the broader health care reform measure that Obama enacted Tuesday.
CNN: Health care reform anger takes a nasty, violent turn
Shots fired at a congressman's campaign headquarters. Windows smashed at Democratic offices across the country. A coffin placed on a lawmaker's lawn. Hate-filled voice mail messages left on members of Congress' phone lines. Those are just some of the incidents reported since the House passed historic health care reform legislation Sunday - a bill that became the law of the land. The issue has unleashed a deep-seated anger from those worried about a government takeover of health care, and what they deem as the process being "rammed through" Congress.
Politico: Kathleen Sebelius: 'Important changes' coming
One of the most common phrases in the health reform bill is, "the secretary shall." With the 22 strokes of President Barack Obama's pen this week, Health and Human Services Secretary Kathleen Sebelius became vastly more powerful, with huge responsibility — and leeway — as the bill's massive changes are implemented.
Sebelius said it is likely that hundreds of people will be added to the HHS payroll of nearly 80,000, but the exact number has not been determined.
CNN: Senators battle again over extending jobless benefits
On the eve of a two-week spring recess, the Senate found itself embroiled again over the issue of a short-term extension of unemployment benefits and other programs. At it issue, as it was just a few weeks ago when Republican Sen. Jim Bunning of Kentucky blocked quick passage of a similar extension, is whether Congress should find budget offsets for the bill's cost of almost $10 billion a month, or agree to spend the money without designating how to pay for it.
CNNMoney: Unemployed and 'underwater' to get mortgage relief
Under fire to do more to stop the foreclosure crisis, the Obama administration will announce Friday new steps to help the unemployed and those who are "underwater" with a bigger mortgage than their home is worth.
CNNMoney: Washington to run student loans
Congress passed a bill Thursday to make Washington the one-stop shop for cheap student loans and to boost need-based scholarships. Starting July 1 nearly all federally backed student loans, like Stafford loans, will come directly from the federal government. The measure prevents private student lenders, including Sallie Mae (SLM, Fortune 500) and Nelnet (NNI), from making loans, although both have federal contracts to service government loans to students.
New York Times: Paterson Seen With Key Role in Response to Aide's Abuse Case
Gov. David A. Paterson personally helped draft a statement last month that he hoped would be endorsed by a woman involved in a domestic dispute with one of his top aides, proposing language asserting that there had been no violence in the encounter, according to three people with knowledge of the governor's role.
CNN: CNN Poll: Obama tied in hypothetical 2012 matchup
The public is split right down the middle on whether President Barack Obama should be re-elected and a majority of Americans predict he will be a one-term president, according to a new national poll.
Politico: White House, labor to vote-switchers: We won't forget
Senior White House and organized labor officials are warning the handful of House Democrats who supported health care legislation last year only to oppose the final measure on Sunday that they shouldn't expect assistance for their reelection campaigns this fall.
New York Times: Political Tide Could Wash Away Utah Senator
The dissatisfaction with Washington sweeping through politics is not only threatening the Democratic majority in Congress, it is also roiling Republican primaries. The Tea Party movement and advocacy groups on the right are demanding that candidates hew strictly to their ideological standards, and are moving aggressively to cast out those they deem to have strayed, even if only by participating in the compromises of legislating. There is no bigger quarry in the eyes of many conservative activists than Mr. Bennett, who has drawn seven challengers and will not know for six weeks whether he will even qualify for the ballot.
Albany Times-Union: Lazio gets hearing with GOP lawmakers
Rick Lazio attempted to cement his support among Republican legislators Thursday in closed door meetings at the Capitol a day after the lawmakers were courted by his principal rival to lead the Republican ticket, Suffolk County Executive Steve Levy. Levy was received politely by legislators, but most held firm in their support for Lazio. An enrolled Democrat, Levy announced he was seeking the Republican line for governor last week with the support of top GOP officials. With almost half the leaders of GOP county party organizations now supporting Levy, Lazio found in legislators a solid backstop.
Los Angeles Times: McCain adapting to face a challenge from the right
Former congressman and radio host J.D. Hayworth has rallied conservatives in his bid for the Arizona Republican's Senate seat, using the things that set McCain apart on the national stage against him.
San Jose Mercury News: Long-shot GOP Senate candidate Chuck DeVore pins hope on conservative credentials
With a copy of the Constitution always in his coat pocket and a monologue about the ills of progressivism never far from his lips, Chuck DeVore is very serious about his politics. But as Glenn Beck rattled off DeVore's low ratings from liberal interest groups during an appearance on Fox News last month, the Republican Senate candidate was practically giddy. The segment encapsulated DeVore's greatest strength in his long-shot bid to beat two better-known and better-funded opponents in the June GOP primary. In a year when tea party protests have become a driving force in GOP politics, DeVore is firmly in sync with the movement — the conservative's conservative in the race — boasting decades of activism in the GOP and purity on hot-button Republican issues.
Dallas Morning News: Challenger White steers middle course in bid to unseat Perry
In the Republican primary, Rick Perry attracted national attention as a Southern governor touting states' rights and entertaining the idea of secession. The effort paid off, as Perry trounced rival Kay Bailey Hutchison. But now, Democratic challenger Bill White hopes to turn that attention to his favor by wooing general election voters uncomfortable with Perry's appeal to his party's hard right.
St. Petersburg Times: Crist releases tax returns, challenges Rubio to follow suit
Gov. Charlie Crist on Thursday released tax returns going back to 2000 and challenged rival Marco Rubio to do the same, another salvo in their escalating U.S. Senate race. The Rubio campaign said the former House speaker intends to release his after the 2009 return is completed but did not say when the records would be made public.
Philadelphia Inquirer: Nutter endorses Williams in governor's race
Yes, he got into the race late. Very late. True, he's little known beyond his home turf. For now, anyway. And, for the moment, you'll have to take his word that he's quickly raised close to $1.5 million. But with no other candidate appearing to take clear command in the Democratic primary for governor, State Sen. Anthony Hardy Williams says he has as much chance as any of them to win the May 18 vote, now 53 days away. Mayor Nutter, standing with Williams at a battery of microphones in the Science Center in West Philadelphia, formally gave his endorsement to Williams' candidacy.
NATIONAL
For the latest national news: www.CNN.com
CNN: Gates eases ban on gays in the military
Defense Secretary Robert Gates announced Thursday that the Pentagon will start to ease its enforcement of the "don't ask, don't tell" policy prohibiting homosexuals from serving openly in the military. Among other things, Gates said the Pentagon is raising the threshold for what constitutes an appropriate level of information necessary to launch a "credible inquiry" into allegations of homosexual behavior.
Wall Street Journal: U.S. Revamps Afghan Troop Deployments
The Pentagon is revamping the way it deploys troops to Afghanistan, putting in place a new system that will return units to the same parts of the country so they can develop better regional expertise and closer relationships with local Afghan power brokers. Senior military officials say the "Campaign Continuity" initiative will determine the specific provinces and regions where many of the 30,000 soldiers and Marines who are being sent to Afghanistan as part of the Obama administration's retooled war strategy will end up serving. The plan represents a significant change for the military, which has long rotated its combat forces through both Afghanistan and Iraq. Under the new system, the Pentagon will essentially be assigning responsibility for the Afghan war to the same small number of Army and Marine units.
USA Today: Cigarette taxes are gold rush for states
Cash-strapped states are hitting smokers hard in the pocketbook, raising cigarette taxes to help plug budget shortfalls. So far this year, legislators have voted to raise cigarette taxes by $1 per pack in Utah and 75 cents a pack in New Mexico. At least a half dozen other states have been considering increases, including tobacco-growing South Carolina and Georgia. In 2009, 14 states and the District of Columbia raised cigarette taxes.
INTERNATIONAL
For the latest international news: http://edition.cnn.com
Jerusalem Post: Obama demands Netanyahu's peace answers by Saturday
Prime Minister Binyamin Netanyahu will convene his senior ministers on Friday to discuss the demands made by US President Barack Obama and his overall trip to Washington – a trip that, because of negative atmospherics and amid a paucity of hard information, has been widely characterized as among the most difficult in recent memory.
CNN: U.S. pledges millions in aid to Pakistan
The United States on Thursday announced tens of millions of dollars of aid to Pakistan, for roads and power plants, as the Obama Administration tries to forge a new relationship with a major ally in the fight against terrorism. The announcements came as two days of high level talks wrapped up in Washington.
CNN: Purported Bin Laden message hints at retaliation
An audio message purportedly from al Qaeda leader Osama bin Laden threatened retaliation against Americans if alleged 9/11 mastermind Khalid Sheikh Mohammed is executed. The message - aired Thursday by the Arabic-language TV network Al-Jazeera - is directed at "the American people about our prisoners," the speaker said.
Washington Post: Ayad Allawi, once seen as a U.S. puppet, returns to the center of Iraqi politics
The man who was widely derided as an American puppet when he stepped down as prime minister five years ago has become a leading contender for Iraq's top job based on his strong showing in this month's elections among a group that lost more than any other with the U.S.-led invasion.
CNN: Chavez critic arrested in Venezuela
The president of a Venezuelan TV station that has been critical of leftist President Hugo Chavez was arrested Thursday on charges that he abused his right to free speech, then released after a two-hour hearing before a judge. Globovision is the last remaining nationwide private TV broadcaster critical of Chavez.
New York Times: Pope Was Told Pedophile Priest Would Get Transfer
The future Pope Benedict XVI was kept more closely apprised of a sexual abuse case in Germany than previous church statements have suggested, raising fresh questions about his handling of a scandal unfolding under his direct supervision before he rose to the top of the church's hierarchy. Cardinal Joseph Ratzinger, the future pope and archbishop in Munich at the time, was copied on a memo that informed him that a priest, whom he had approved sending to therapy in 1980 to overcome pedophilia, would be returned to pastoral work within days of beginning psychiatric treatment. The priest was later convicted of molesting boys in another parish.
BUSINESS
For the latest business news: www.CNNMoney.com
Financial Times: Eurozone agrees to Greek rescue deal
Eurozone leaders on Thursday night agreed a rescue package for Greece including assistance from the International Monetary Fund as well as bilateral loans from fellow euro-member states.Thhe agreement followed a breakthrough earlier in the day between France and Germany on the principles of a rescue.
Wall Street Journal: Debt Fears Send Rates Up
A sudden drop-off in investor demand for U.S. Treasury notes is raising questions about whether interest rates will finally begin a march higher—a climb that would jack up the government's borrowing costs and spell trouble for the fragile housing market. For months, investors have focused their attention on the debt crisis in Europe, but there are signs the spotlight is turning to the ability of the U.S. to finance its own budget deficit.
Bloomberg: China May Resume Yuan Float, Avoid Sharp Revaluation
China may allow the yuan to trade more freely against the dollar, while avoiding an abrupt revaluation that would wreck its exports, according to Fan Gang, an adviser to the country's central bank.
CNNMoney: Medicare tax hikes: What the rich will pay
High-income households will be paying more into Medicare as a result of the new health reform law. For starters, the Medicare payroll tax is going up for individuals making more than $200,000 in wages, and couples making more than $250,000.
Wall Street Journal: Companies Take Health-Care Charges
In the wake of Washington's health-care overhaul, some companies are taking big one-time charges for anticipated costs, fanning tension with the administration over the legislation's impact on corporate America.
In Case You Missed It
Security threats become a contentious political issue. CNN's Dana Bash reports.
http://www.cnn.com/video/#/video/politics/2010/03/25/ac.bash.security.threats.cnn
CNN's Chris Lawrence asks troops in Afghanistan what they think about the easing of the "don't ask, don't tell" policy.
http://www.cnn.com/video/#/video/world/2010/03/25/lawrence.afghan.dont.ask.dont.tell.cnn
Subscribe to the CNN=Politics DAILY podcast at http://www.cnn.com/politicalpodcast
And now stay posted on the latest from the campaign trail by downloading the CNN=Politics SCREENSAVER at http://www.CNN.com/situationroom