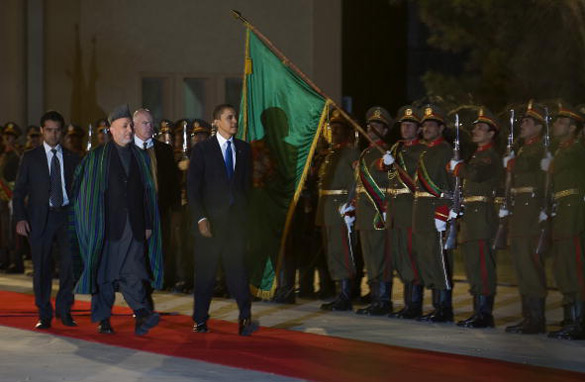 During his first trip to Afghanistan since taking office, President Obama met with Afghan President Hamid Karzai. (Photo Credit: Getty Images)
(CNN) - President Barack Obama made a surprise trip Sunday to Afghanistan where he met with Afghan President Hamid Karzai.
Obama left his Camp David retreat for the previously unannounced trip and flew to Afghanistan on Air Force One, landing at Bagram Air Base at 7:24 p.m. (around 11 a.m. ET). Obama then flew on a helicopter to the Presidential Palace for a meeting with Karzai.
The two presidents took part in a 10-minute arrival ceremony before walking into the palace. U.S. officials said they planned to hold a one-on-one meeting first, joined by key aides, and then bring in Karzai's cabinet.
In a briefing with pool reporters on the trip, National Security Adviser James Jones said Obama would push Karzai to improve efforts to meet benchmarks for better governance in his second term, which began last year.
According to Jones, Obama planned to point out that certain issues such as a merit-based system for appointing key government officials, battling corruption and taking on narcotics trafficking that helps fund insurgents needed more attention.

The trip came after what has been perhaps the most successful week of Obama's presidency, in which he signed comprehensive health care legislation - his top domestic priority - into law and announced plans to sign a new nuclear arms reduction treaty with Russia on April 8.
White House Press Secretary Robert Gibbs said Afghan authorities were notified of Obama's trip on Thursday. The president previously canceled a trip to Indonesia and Australia planned for March 21-26 in order to see through passage of the health care bill.
Since taking office, Obama ordered the deployment of an additional 30,000 troops to Afghanistan while also saying he intended for combat forces to start coming home in July 2011.
Karzai has said that by the end of 2010, Afghan security forces will be able to take over some security responsibilities from international forces. By the end of his second term in 2014, Karzai has said, he would like his government to have full responsibility for security.
Karzai emerged victorious from August presidential elections that were marred by widespread fraud. Two months after the vote, a U.N.-backed panel of election monitors threw out nearly a third of Karzai's votes, citing fraud.
Left short of a majority, Karzai agreed to a runoff with challenger Abdullah Abdullah, but Abdullah withdrew just before the runoff vote.
The trip is Obama's second to Afghanistan. He first traveled there in 2008, four months before his victory in the election that made him president. On that visit, part of a broader trip to the Middle East, Obama
traveled to eastern Afghanistan to meet with U.S. forces and also met with Karzai.
Updated: 1:08 p.m.