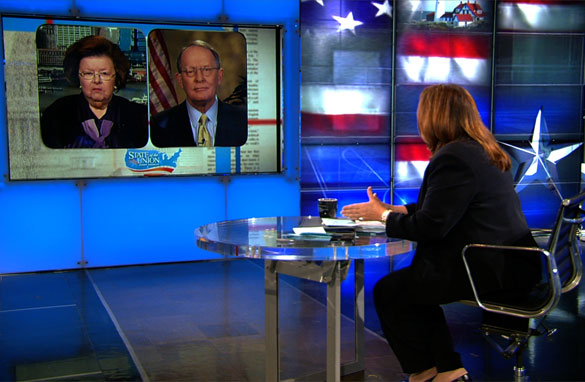 Sens. Barbara Mikulski, D-Maryland, and Lamar Alexander, R-Tennessee, discussed the need for a more civil political discourse on Sunday's State of the Union. (Photo Credit: CNN)
Washington (CNN) – Commenting on the high-temperature political rhetoric of the last week and some incidents of violence and threats against lawmakers, a leading Senate Republican walked a fine line Sunday.
Appearing on CNN's State of the Union, Sen. Lamar Alexander, R-Tennessee, said "ugliness" ought to be condemned. And, at the same time, the Tennessee Republican said the nation's leaders needed to "respect" the anger some have about the direction the country is headed in.
"There's no doubt there has been - the anger today is more visible," Alexander told CNN Senior Political Correspondent Candy Crowley. "You can go to any Web site and see ugliness. It used to be beneath the surface and it's on top now, and it ought to be condemned.
Related: Anger over health care bill a sign of the times?
"But there's also a lot of real anger out there about the direction of the country. And we need to respect that and then conduct ourselves in a civil way, which I think we United States senators are capable of doing and did do this week."
Sen. Barbara Mikulski, D-Maryland, agreed with Alexander and had detailed advice about how to cool down the country's political rhetoric.

"I have a suggestion," Mikulski told Crowley on State of the Union. "Let's go back to the three R's: respect, rules of engagement that promote decorum, and, number three, stop the rewards system that enables you to raise a lot of money after using outrageous and bizarre behavior."
Asked about recent efforts by fellow Democrats to raise money in the wake of threats and vandalism directed at Democratic lawmakers who supported the health care bill, Mikulski called out members of her own party.
"I think it's stridency, whether it is from the right or the left. We need to lower the decibel level."
Earlier: Axelrod weighs in on Dem fundraising off of threats, violence
Follow Martina Stewart on Twitter: @MMStewartCNN