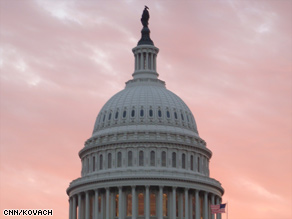 The CNN Washington Bureau's morning speed read of the top stories making news from around the country and the world.
WASHINGTON/POLITICAL
For the latest political news: www.CNNPolitics.com
CNN: Obama headed back to U.S. after surprise visit to Afghanistan
President Obama is expected to return to the United States on Monday morning after a surprise visit to Afghanistan, where he met with his Afghan counterpart and reiterated the need to wipe out terror networks. Obama slipped into Bagram Air Base near Kabul under the cover of darkness on Sunday. He met with about 2,000 troops at the U.S. base and told them their work is significant to security at home.
Afghan corruption: How to follow the money?
The essential question, said an American executive whose company does significant work in Afghanistan, is "whether you'd rather pay $1,000" for Afghans to safely deliver a truck, even if part of the money goes to the insurgents, or pay 10 times that much for security provided by the U.S. military or contractors.
Politico: President Obama plans strong hand with Congress
An emboldened President Barack Obama will take a stronger hand with Congress in coming weeks, planning to push lawmakers to pass new regulations for Wall Street by September, the second anniversary of the meltdown, aides tell POLITICO. The spring offensive, if successful, would allow Obama to claim concrete progress on all of his domestic priorities, despite a "lost year" between the passage of a stimulus package in February 2009 and the signing of health reform last week.
CNN: Democrats, Republicans spar over Obama's recess appointments
A Republican-led effort to block President Obama's nominations for top federal jobs led to the 15 recess appointments announced by the White House, Obama's senior adviser said in an interview broadcast Sunday. Much of the controversy over Obama's decision to use his authority to make recess appointments focused on Craig Becker, a union lawyer nominated to the National Labor Relations Board. Republicans and business groups criticize the Becker appointment as circumventing the Senate and bowing to pressure from labor allies.
New York Times: Obama Team Is Divided on Tactics Against Terrorism
Senior lawyers in the Obama administration are deeply divided over some of the counterterrorism powers they inherited from former President George W. Bush, according to interviews and a review of legal briefs. The rift has been most pronounced between top lawyers in the State Department and the Pentagon, though it has also involved conflicts among career Justice Department lawyers and political appointees throughout the national security agencies.
New York Times: Coverage Now for Sick Children? Check Fine Print
Just days after President Obama signed the new health care law, insurance companies are already arguing that, at least for now, they do not have to provide one of the benefits that the president calls a centerpiece of the law: coverage for certain children with pre-existing conditions. The authors of the law say they meant to ban all forms of discrimination against children with pre-existing conditions like asthma, diabetes, birth defects, orthopedic problems, leukemia, cystic fibrosis and sickle cell disease. The goal, they say, was to provide those youngsters with access to insurance and to a full range of benefits once they are in a health plan. To insurance companies, the language of the law is not so clear.
Wall Street Journal: Medicare Nominee Would Face Big Changes
Donald Berwick, President Barack Obama's choice to lead the agency that runs Medicare and Medicaid, would face the major challenge of overseeing sweeping changes to both programs required under the recently enacted health-care overhaul, if elected. According to two administration officials, Mr. Obama will nominate Dr. Berwick, a Harvard University professor and specialist in patient safety, to take over the top post at the Centers for Medicare and Medicaid Services. The post—among the most-critical to implementing the president's health overhaul—has been vacant for more than three years.
Tampa Bay Tribune: Feuding Crist, Rubio hurl attacks
The expected battle broke out between Gov. Charlie Crist and Marco Rubio in their first public debate Sunday – a debate so negative it worried some Republicans about the future of the race and drew a rebuke from state party Chairman John Thrasher.
Washington Post: Business backgrounds are working for first-time GOP candidates
Could 2010 be the year of the Republican businessman? Early returns in governors' and Senate races across the country show men and women who have spent their entire lives in the private sector making significant gains in their first runs for office.
Boston Globe: Maine blazes a trail in funding
Mitchell is one of four gubernatorial candidates in Maine racing to collect 3,250 of those $5 contributions to qualify for a clean elections program that has become a model nationwide. Candidates who meet Thursday's deadline will become eligible for between $400,000 and $1.8 million in public funds but will be prohibited from accepting other contributions for the rest of the campaign. Maine's system has gained in popularity since its introduction in 2000, with more than 80 percent of legislative candidates now participating. The system extends to gubernatorial candidates but not to congressional seats. This year, Maine could have two major-party nominees for governor relying only on public funds for the first time.
Denver Post: Markey a polarizing force in 4th Congressional District
Markey has worn a bull's-eye since she unseated a congresswoman in a Republican-leaning district, but her vote for health care reform ramped up an already high-stakes race. What happens between now and the mid-term elections in November will make for fascinating political theater in a race that has attracted attention throughout the state and all the way to the White House.
Kansas City Star: Campaign ad places hateful message on the air
The program director of KMBZ radio in Kansas City says the station has no choice but to air commercials with racially biased and anti-Semitic claims from a write-in candidate for the U.S. Senate from Missouri. The ads — which began on the station last week — are from Glenn Miller, a Springfield man who once ran the White Patriot Party. He's been described by the Southern Poverty Law Center in Montgomery, Ala., as a white supremacist and former paramilitary organizer.
San Jose Mercury News: Meg Whitman's campaign shakes the world of political advertising
The eBay billionaire's campaign for governor has turned into a political phenomenon, the likes of which the Golden State has never seen. The unprecedented ad blitz — so much and so soon — has TV and radio executives smiling and many of their viewers grumbling. Like it or not, the result is indisputable: More than two months before the primary and seven months before the general election, Whitman has grabbed California's attention. Even second-graders are asking their parents about the woman who keeps popping up on their TV.
NATIONAL
For the latest national news: http://www.CNN.com
CNN: At least 7 arrested after raids in 3 states
Federal authorities plan to unseal charges Monday against several people arrested in a series of weekend raids in Michigan, Ohio and Indiana, prosecutors in Detroit said Sunday. At least seven people were arrested on charges that were under seal over the weekend, a law enforcement source said Sunday. Mike Lackomar, a county leader for the Southeast Michigan Volunteer Militia, said the target of the raid was a Christian militia group called the Hutaree. The group proclaims on a Web site that it is "preparing for the end time battles to keep the testimony of Jesus Christ alive."
INTERNATIONAL
For the latest international news: http://edition.cnn.com
CNN: Israeli security forces seal off West Bank
Israeli security forces said they will close the West Bank region from midnight Sunday to Tuesday, April 6. Only people who need medical attention and journalists with appropriate credentials will be allowed to cross, the Israel Defense Forces said in a statement. Israeli Defense Minister Ehud Barak ordered the closure during the Passover holiday. Closures preventing Palestinians from traveling out of the occupied territory are not uncommon during Jewish holidays. However, the latest comes amid increased tension between Palestinians and Israelis.
BBC News: US 'may not veto UN resolution on Jerusalem'
The US is considering abstaining from a possible UN Security Council resolution against Israeli settlements in East Jerusalem, sources suggest to the BBC. There are no concrete plans at present to table such a resolution at the UN. But it is likely that the US is considering how to maintain pressure, and a UN resolution would be one way, says BBC state department correspondent Kim Ghattas. The US usually blocks Security Council resolutions criticising Israel.
Washington Post: China struggles with stance on nuclear power as summit nears
Two weeks before the United States hosts a summit on nuclear security, one of its most important invitees, China, has yet to RSVP. Chinese President Hu Jintao will be in the neighborhood for a meeting in Brazil three days after the Washington summit is scheduled to end April 13. But China's coyness in accepting an invitation that went out to the leaders of more than 40 countries reflects an uncertainty about how to deal with the Obama administration's call for a nuclear-weapons-free world and its role as a rising nuclear power, even while the United States and Russia move to cut their nuclear stocks, according to Chinese government sources and Western analysts.
CNN: Russia: Blasts being probed as acts of terrorism
Explosions that rocked two subway stations in central Moscow during the Monday morning rush hour are being investigated as acts of terrorism, authorities said. Suicide bombers were suspected, the Russian prosecutor's office said. The blasts killed at least 35 people and wounded 40 others, Russia's Emergency Situations Ministry said. The casualty tolls were fluctuating immediately after the blasts.
New York Times: North Korea Warns South Over Buffer Zone
North Korea accused the United States and South Korea on Monday of creating provocations by allowing tourists and journalists into the heavily armed buffer zone that has divided the Korean Peninsula since the armistice signed more than a half century ago. While North Korean statements of belligerence are routine, the warning came as tensions in the Korean Peninsula were already high over the mysterious sinking of a South Korean naval patrol ship near the disputed border with the North on Friday. Hopes were dimming for 46 missing sailors of the 1,200-ton vessel, the Cheonan.
CNN: S. Korean ship's section believed found
South Korean officials said Monday they have found what they believe to be the rear section of a sunken navy ship where up to 46 sailors could be trapped, according to the Yonhap News Agency.The 1,200-ton patrol ship Cheonan was carrying 104 sailors when an apparent explosion caused it to capsize Friday night in the Yellow Sea near a disputed maritime border between the Koreas. Fifty-eight sailors have been rescued, but hopes were fading for finding the remaining 46. No bodies or survivors have been found in the sea.
Washington Post: Some in Indonesia praise, seek to replicate China's fight against United States
Amid cries of "God is Great," the former chief of staff of the Indonesian army joined hard-line Muslim activists in a Jakarta ballroom last week to denounce the United States - and praise China as a model of how to stand up to Washington. The boisterous event, organized by an Islamic organization called Hizb ut-Tahrir, brought together two groups of Indonesians that don't usually mix - fervent champions of an Islamic state and zealous secular nationalists. What united them was a shared fury at Washington and the hope that Beijing can put America in its place.
Washington Post: As Holy Week begins, protesters urge pope to resign over abuse scandal
Pope Benedict XVI opened Holy Week on Sunday amid one of the most serious crises facing the church in decades, with protesters in London demanding that he resign and calls in Switzerland for a central registry for pedophile priests.
CNN: No agreement after Thai PM, protesters meet
Thai Prime Minister Abhisit Vejjajiva met with the leaders of an anti-government movement Sunday in a highly anticipated meeting that ultimately did not produce an agreement. The opposition is demanding that the prime minister dissolve the parliament. It was unusual for the leader of a state to sit at the same table with demonstrators. Abhisit finally agreed to the talks after the protesters pulled back their crowd and regrouped to their main gathering place.
BUSINESS
For the latest business news: www.CNNMoney.com
CNN: Prison for four Rio Tinto executives in China
A Shanghai court has sentenced an Australian mining executive to seven years for bribery and five years for stealing commercial secrets in the Rio Tinto case.The cashe case against Hu and three other employees of the British-Australian company was closely watched over fears of a government crackdown on foreign companies doing business in China.
Wall Street Journal: FDIC Stands Between J.P. Morgan and a Tax Windfall
The Federal Deposit Insurance Corp. backed away from its support for a $1.4 billion tax break benefiting J.P. Morgan Chase & Co., setting up a battle between the regulator and the nation's second-largest bank.
Bloomberg: Papandreou Faces 15.5 Billion-Euro Bond Burden After Aid Plan
Greek Prime Minister George Papandreou, fresh from winning a European Union aid package last week, now has to prove he can keep his nation's finances afloat. His government still has to raise as much as 15.5 billion euros ($21 billion) by the end of May, almost as much debt as it sold in the first quarter, says Petros Christodoulou, head of the country's debt agency. Failure to do so could spark a new round of the fiscal crisis and trigger the use of the aid plan crafted by EU leaders in Brussels on March 25.
Wall Street Journal: For Volvo, a New Life Under Chinese
China's Zhejiang Geely Holding Group Co. agreed to buy Volvo cars from Ford Motor Co. on Sunday for $1.8 billion, a landmark agreement designed to vault the Chinese company onto the global automotive stage.
In Case You Missed It
Sen. Harry Reid vows to fight for his political career. CNN's Jessica Yellin reports.
http://www.cnn.com/video/#/video/politics/2010/03/26/am.yellin.reid.unpopular.cnn
Service dogs can help vets deal with many types of injuries, even mental health issues. CNN's Barbara Starr reports.
http://www.cnn.com/video/#/video/us/2010/03/27/pkg.starr.vets.dogs.cnn
Subscribe to the CNN=Politics DAILY podcast at http://www.cnn.com/politicalpodcast
And now stay posted on the latest from the campaign trail by downloading the CNN=Politics SCREENSAVER at http://www.CNN.com/situationroom