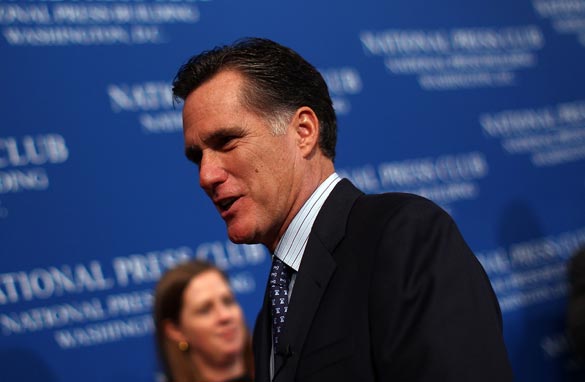 Mitt Romney is headed back to Iowa for the first time since his 2008 presidential bid came to a close. (Getty Images)
(CNN) - Mitt Romney returns to Iowa Monday for the first time since the 2008 presidential campaign.
While the former Massachusetts governor and Republican presidential candidate may make another bid for the White House, his first trip to Iowa in two years is also partially about selling books.
Romney will give remarks and signs books at an event at the Des Moines Public Library. Later Monday, he speaks at Iowa State University. Romney's book, "No Apology: The Case for American Greatness," was released at the beginning of the month and made the New York Times bestseller list.
The former Massachusetts governor is not the only possible 2012 GOP presidential hopeful to peddle books in Iowa, where caucuses kick off the presidential primary season.
Both former Alaska Gov. Sarah Palin and former Arkansas Gov. Mike Huckabee, who also ran for the 2008 GOP presidential nomination, held book signings in Iowa late last year.
Former Sen. Rick Santorum speaks at a Pottawattamie County Republican Party lunch Tuesday. It's the second trip to Iowa in less than a month for Santorum, who represented Pennsylvania for two terms in the U.S. Senate before losing re-election in 2006.
Some of Romney's possible opponents 2012 opponents have pointed out what they call the similarities between the health care reforms passed by Congress and signed into law last week by Obama and the Massachusetts model passed while Romney was governor of the Bay State.
In an interview published Sunday in the Nashua Telegram, Minnesota Gov. and probable Republican presidential candidate Tim Pawlenty said "looking at the Massachusetts experience, it would not be one I would want for the country to follow any further."
In a statement to CNN Monday, Romney advisor Eric Fehrnstrom responded: "While there are some similarities between the two plans, the differences are far more profound. Obama's plan has turned into a Dr. Jekyll-Mr. Hyde version of what Mitt Romney passed in Massachusetts with massive tax increases, cuts in senior care, insurance price controls and an over-reaching federal government."
Polls suggest that Romney, Palin and Huckabee all appear bunched together at the front of the pack in a very early look at the next race for the White House. According to a CNN/Opinion Research Corporation survey released last week, 22 percent of Republicans want to see Romney get the GOP nomination, with 18 percent backing Palin and 17 percent supporting Huckabee. All other Republicans tested in the poll were in single digits.
Follow Paul Steinhauser on Twitter: @psteinhausercnn