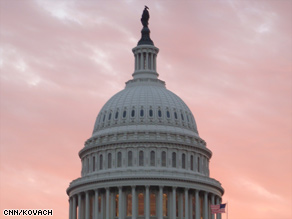 The CNN Washington Bureau's morning speed read of the top stories making news from around the country and the world.
WASHINGTON/POLITICAL
For the latest political news: www.CNNPolitics.com
CNN: Obama set to sign health care 'fixes' bill
President Obama is set to claim final victory on his top domestic priority Tuesday by signing into law a package of changes to the newly enacted health care reform bill. The signing ceremony at a community college in northern Virginia will culminate almost a year of fiercely partisan debate and a tortuous legislative journey on the proposals generated by Democrats and unanimously opposed by Republicans.
CNN Poll: Americans divided on repealing health care law
Most Americans disapprove of the health care reform law, but that does not translate into majority support for the "repeal and replace" strategy backed by most GOP leaders, according to a new national poll. A CNN/Opinion Research Corporation survey released Monday indicates that 56 percent of the public disapproves of the new legislation, with 42 percent approving of the bill that President Obama signed into law last week. Tuesday the president signs into law fixes to the original legislation that were approved by Congress last week.
New York Times: Companies Push to Repeal Provision of Health Law
An association representing 300 large corporations urged President Obama and Congress on Monday to repeal a provision of the health care overhaul that prompted AT&T, Caterpillar and other companies to announce substantial charges for the current quarter. Many companies said they were taking these charges now, before the current quarter ended, to comply with accounting rules. But some corporate critics asserted that the companies' rapid response to the health legislation was aimed at pressing the administration to repeal the provision.
Los Angeles Times: Donald Berwick is Obama's likely pick to run Medicare and Medicaid
Dr. Donald Berwick, President Obama's likely pick to run Medicare and Medicaid as the government embarks on a massive overhaul of the nation's health insurance system, has been a sometimes provocative advocate for more efficient delivery of patient care.
A professor of pediatrics and healthcare policy at Harvard Medical School, Berwick is best known in healthcare circles for founding and running the Institute for Healthcare Improvement, a 19-year-old think tank focused on "cultivating promising concepts for improving patient care and turning those ideas into action."
CNNMoney: $600 million in housing aid on the way for 5 more states
Five more states will receive federal funding to help troubled homeowners avoid foreclosure, the Obama administration announced Monday. Last month, President Obama unveiled the Hardest Hit Fund, which pumped $1.5 billion into state housing agencies in California, Arizona, Florida, Nevada and Michigan. These five were originally identified because they had been hardest hit by the housing bust, with prices declining more than 20%. Now, an additional $600 million is being doled out to the five states that have the largest number of counties suffering unemployment rates above 12%: North Carolina, Ohio, Oregon, Rhode Island and South Carolina.
Washington Post: Obama administration may send U.S.-Russia arms treaty to Congress by late April
The Obama administration plans to send the new arms-control treaty package with Russia to Congress by the end of April, hoping for ratification by year's end, officials said Monday as they laid out details of the proposed agreement. Ellen Tauscher, undersecretary of state for arms control and international security, said that work was still being done in Geneva on the treaty, including details on inspections and exchanges of data. Despite the administration's hopes for Senate ratification this year, several Republican senators have expressed concern about moving too quickly on a vote.
Bloomberg: Reform in Congress Lacking Cash Clause to Stop Lehman-Like Runs
In 2,615 pages of financial reform legislation introduced in the U.S. Congress, there are no rules to ensure that banks keep enough cash-like assets when credit disappears. Guidelines on liquidity risk management, which were published March 17 by the Federal Reserve, the Treasury Department and the Federal Deposit Insurance Corp., also avoided spelling out how much banks need to hold, and in what form, to make sure they don't collapse if short-term lending dries up. International efforts to do that for the global banking system could take years to implement.
Politico: Pre-existing condition vexes Mitt Romney
Just as health care, or "Obamacare," as it is derided on the right, hangs over this year's midterm elections, it is already casting a shadow on the 2012 presidential contest — and its GOP front-runner. What was once thought to be an asset for Romney, his passage as Massachusetts governor of a health care mandate for the state's residents, now poses a potentially serious threat to his White House hopes.The prospect of a larger government role in health care has become so toxic among conservatives that Romney's principal calling card from his Beacon Hill tenure has become something he's now defending rather than touting.
CNN: California Republican returning RNC money after racy club visit
A California-based political consultant who charged the Republican National Committee nearly $2,000 for a night out at Voyeur – a risque West Hollywood nightclub now at center of the latest controversy surrounding RNC chairman Michael Steele – will return the money to the party, a committee spokesman told CNN Monday.
Washington Post: Chairmen Sandy & Carl Levin are bound by respect, likability - and Capitol history
They are beloved, and they are powerful. The boys from Detroit, who've quarried the bedrock of Midwest progressivism, are currently in charge of the only certain things in life: death and taxes. That is, the Senate Armed Services Committee and the House Ways and Means Committee. They are the first brothers since 1881 to serve simultaneously as chairmen, and no other siblings have served as long together in Congress.
Baltimore Sun: Ehrlich 'missed being part of the debate'
Maryland's last governor, who followed two decades in elected office by opening a Baltimore branch of a law firm and hosting a radio talk show, is tired of life on the sidelines. Republican Robert L. Ehrlich Jr.'s daily routine has, in recent months, become increasingly like a campaign. Within weeks, many expect he will announce that he'll run against Gov. Martin O'Malley, a Democrat who defeated him in November 2006.
Lexington Herald-Leader: Grayson and Paul tangle over national security issues
The Republican U.S. Senate candidates turned up the volume on their television-ad shouting match Monday, this time over the sensitive issue of the Sept. 11, 2001, terrorist attacks. Trey Grayson, Kentucky's secretary of state, used his latest ad to again hammer his rival, Bowling Green eye surgeon Rand Paul, on national security issues.
Miami Herald: Meek turns in voter petitions to get on Florida ballot
U.S. Rep. Kendrick Meek on Monday gave elections officials the last of the petitions signed by voters to get him on the ballot, capping an almost year-long effort intended to build momentum for his U.S. Senate race. The petitions - with more than 145,000 names, his campaign says - give Meek a trove of information on sympathetic Florida voters the Miami Democrat will need to take on his Republican rivals who have drawn national attention in the contest.
San Jose Mercury News: Meg Whitman running out of campaign cash
If Meg Whitman's gubernatorial campaign keeps burning greenbacks at the rate it has since the first of the year, her war chest will be empty shortly after noon on Thursday, the first of April. No April Fools. So political speculation on Monday centered on when the billionaire would write her next big check and just how huge it will be. Whitman has already donated $39 million to her campaign — a California political record for self-funding.
Philadelphia Inquirer: Health-care lawsuit fuels governor's race
The partisan rancor swirling around the health-care debate has shifted from Washington to the states, and nowhere more so than in the race to choose Pennsylvania's next governor. Last week's decision by Tom Corbett and 12 other state attorneys general to sue to halt implementation of the health-care law has opened deep fissures along the political fault lines. In states such as Pennsylvania, the suit has pitted Democratic governors against their chief law enforcement officers, and injected the national health-care issue into state races.
NATIONAL
For the latest national news: www.CNN.com
New York Times: State Debt Woes Grow Too Big to Camouflage
California, New York and other states are showing many of the same signs of debt overload that recently took Greece to the brink — budgets that will not balance, accounting that masks debt, the use of derivatives to plug holes, and armies of retired public workers who are counting on benefits that are proving harder and harder to pay.
Washington Post: NASA to investigate cause of Toyota problems
The federal probe into runaway Toyotas has resulted in enough scientific mystery that investigators have asked NASA scientists for help. The nation's auto-safety regulators have tapped nine experts from the space agency to answer questions involving software, hardware and other electronics issues, the Department of Transportation is expected to announce Tuesday, according to sources briefed on the plan who asked not to be identified because it is not yet public.
CNN: Tennessee, Delaware schools to get Race to the Top funds
Tennessee and Delaware were the only two states designated Monday to receive funds in the first round of the education funding competition "Race to the Top," federal officials announced. Delaware will receive $100 million under the program, while Tennessee will receive $500 million.
CNN: 'Christian warrior' militia accused in plot to kill police
Nine people federal prosecutors say belong to a "Christian warrior" militia were accused Monday of plotting to kill a Michigan law enforcement officer and then attack other police at the funeral. Six Michigan residents, two residents of Ohio and an Indiana resident were indicted by a federal grand jury in Detroit, Michigan, on charges of seditious conspiracy, attempted use of weapons of mass destruction, teaching the use of explosive materials and possessing a firearm during a crime of violence, U.S. Attorney Barbara L. McQuade and FBI Special Agent in Charge Andrew Arena announced.
USA Today: 1.6M more forms must be sent out
About 120 million Census forms have gone out and a second mailing is underway to prod procrastinators, but the Census Bureau is going to have to send an additional 1.6 million to addresses it missed the first time. Nearly 2,600 governments appealed the Census address list for their communities, requesting that almost 1.8 million addresses be added, says Philip Fulton, director of an independent appeals panel. The group has been poring over tax and utility records, building permits, aerial photos and other evidence submitted to support the appeals.
CNN: Postal Service edges toward cutting Saturday delivery
Neither snow nor rain nor heat nor gloom of night may stay the nation's letter carriers from the swift completion of their appointed rounds, but e-mail and the recession may stop their Saturday deliveries. Under a plan to be delivered Tuesday to its regulator, the U.S. Postal Service announced Monday it would cut Saturday delivery beginning in the first half of next year.
INTERNATIONAL
For the latest international news: http://edition.cnn.com
CNN: Female suicide bombers blamed in Moscow subway attacks
Russian investigators combing two subway stations attacked by female suicide bombers think Chechen rebels may have been behind the rush-hour strike that killed dozens of people. The two explosions that rocked the subway stations in central Moscow during rush hour killed at least 38 people and wounded more than 60 others, spawning widespread public outrage. Prime Minister Vladimir Putin said the "terrorists" responsible for the Moscow subway attacks Monday "will be destroyed."
New York Times: Afghan Leader Is Seen to Flout Influence of U.S.
This month, with President Hamid Karzai looking ahead to a visit to the White House, he received a terse note from aides to President Obama: Your invitation has been revoked. Incensed, Mr. Karzai extended an invitation of his own — to Mahmoud Ahmadinejad, the Iranian president, who flew to Kabul and delivered a fiery anti-American speech inside Afghanistan's presidential palace. But the red carpet treatment of Mr. Ahmadinejad is just one example of how Mr. Karzai is putting distance between himself and his American sponsors, prominent Afghans and American officials here said. Even as Mr. Obama pours tens of thousands of additional American troops into the country to help defend Mr. Karzai's government, Mr. Karzai now often voices the view that his interests and the United States' no longer coincide.
London Telegraph: Afghanistan: Nato to launch Kandahar assault in June
Nato forces will launch in June a long-planned assault on the Taliban's spiritual home in the southern Afghan city of Kandahar, a senior military official has said. The goal is to rid the city of Taliban forces before the Muslim holy month of Ramadan begins in August, according to the official. US officials previously have disclosed plans for a Nato-led offensive in the area this year but have not said when it might happen. The two-month offensive will be a major test of President Barack Obama's new strategy in Afghanistan and a bellwether of the war in general.
BBC News: G8 announces border plan to boost Afghan-Pakistan trade
The G8 group of industrial countries has announced an economic initiative targeting the Afghan-Pakistan border. The plan, made public at a meeting of G8 ministers in Canada, aims to help improve trade between the two countries and strengthen border infrastructure. The plan is designed to boost development and employment.
Washington Post: Clinton rebukes Canada at Arctic meeting
It was supposed to be a meeting of polar pals. But a high-level session on the dramatic changes in the Arctic turned chilly Monday, as Secretary of State Hillary Rodham Clinton rapped Canada for leaving out several players. The Canadian government invited the other four countries with Arctic coastlines - Russia, Norway, Denmark and the United States - to hold talks on developing the region, which is being transformed by climate change. But in an indication of the intrigue and suspicion involved in the opening of the resource-rich region, three other countries and several indigenous groups complained about being excluded.
Washington Post: In Iraq, candidates seek an edge with post-election maneuvers
An Iraqi commission that removes government workers who are loyalists to the outlawed Baath Party announced Monday that it would contest the results of the March 7 parliamentary elections, a move sure to create further chaos in the aftermath of balloting that hardened Iraq's sectarian divide. The Accountability and Justice Commission, run by two Shiite candidates, said that six people with loyalties to Saddam Hussein's Baath Party won seats; the commission wants them and their votes thrown out.
CNN: No signs of life in search of sunken South Korean ship
Divers have been hammering on the hulls of the front and rear sections of a sunken South Korean navy ship, but no signs of life have been detected, military officials said Monday. The 1,200-ton patrol ship Cheonan was carrying 104 sailors when an apparent explosion caused it to capsize Friday night in the Yellow Sea near a disputed maritime border between the Koreas. Fifty-eight sailors have been rescued, but hopes were fading for finding the remaining 46. No bodies or survivors have been found in the sea.
Washington Post: U.S., India reach agreement on nuclear fuel reprocessing
India and the United States announced Monday the successful conclusion of negotiations granting rights to India to reprocess spent nuclear fuel, a new step toward opening nuclear commerce between the two countries, potentially worth billions of dollars.
CNN: Democracy advocate's party to skip Myanmar elections
The political party of democracy advocate Aung San Suu Kyi has decided not to participate in elections this year in Myanmar, which is formerly known as Burma. Representatives of the National League for Democracy said they have reached a consensus that they will not register their party under a new election law and will not participate in the election.
BUSINESS
For the latest business news: www.CNNMoney.com
CNNMoney: Dow at new 18-month highs
Stocks gained Monday, pushing the Dow to its highest point in a year-and-a-half, after a report showing a rise in consumer spending added to bets about the strength of the economic recovery.
Bloomberg: U.S.-Bound Boxes Pile Up in Asia as Lines Avoid Adding Ships
South Korea's biggest port, overwhelmed with empty containers a year ago, is now dealing with shipping lines that have more cargo than they can carry. Surging shipments of furniture, electronics and clothes to the U.S. and Europe, coupled with capacity cuts by shipping lines, has caused as much as 15 percent of containers to be delayed in Busan this year, often by more than a week, according to Park Jong Ho, assistant general manager at Busan International Container Terminal Co.
CNNMoney: Treasury moves closer to selling Citi stake
The Treasury Department said Monday it was moving closer to unloading its entire stake in Citigroup, but offered little insight into the timing of the sale. The sale of Treasury's entire stake at Monday's opening price of $4.38 a share would generate nearly $34 billion. That would lead to a profit of approximately $8.7 billion for the government.
Wall Street Journal: New iPhone Could End AT&T's U.S. Monopoly
Apple Inc. plans to begin producing this year a new iPhone that could allow U.S. phone carriers other than AT&T Inc. to sell the iconic gadget, said people briefed by the company. The new iPhone would work on a type of wireless network called CDMA, these people said. CDMA is used by Verizon Wireless, AT&T's main competitor, as well as Sprint Nextel Corp. and a handful of cellular operators in countries including South Korea and Japan. The vast majority of carriers world-wide, including AT&T, use another technology called GSM.
In Case You Missed It
CNN's Jessica Yellin looks at the challenges facing party-switching Sen. Arlen Specter.
http://www.cnn.com/video/#/video/politics/2010/03/29/yellin.specter.switch.cnn
Health and Human Services Secretary Kathleen Sebelius warns insurance companies about looking for loopholes.
http://www.cnn.com/video/#/video/politics/2010/03/29/jk.kathleen.sebelius.intv.cnn
Subscribe to the CNN=Politics DAILY podcast at http://www.cnn.com/politicalpodcast
And now stay posted on the latest from the campaign trail by downloading the CNN=Politics SCREENSAVER at http://www.CNN.com/situationroom