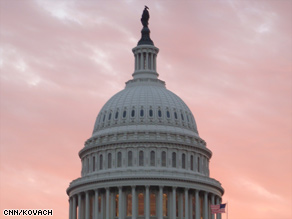 The CNN Washington Bureau's morning speed read of the top stories making news from around the country and the world.
WASHINGTON/POLITICAL
For the latest political news: www.CNNPolitics.com
CNN: Obama signs health care 'fixes' bill
President Obama sealed a final victory on his signature domestic priority Tuesday, signing a sweeping package of changes to the newly enacted health care reform law. The so-called "fixes" bill - approved over unanimous Republican opposition in both chambers of Congress - significantly expands health insurance subsidies for lower- and middle-income families while watering down a tax on expensive health policies. The measure also overhauls the national college student loan system by shifting government funding for loans away from commercial banks to new education initiatives. Until now, commercial banks have received federal subsidies to provide student loans.
CNN: Republican candidates told to talk health care
Republican Senate candidates are being instructed Tuesday to promote the party's health care policy proposals as they continue to push the "repeal and replace" theme following passage of President Obama's health care reform legislation.
Salt Lake Tribune: Utah contemplates another suit over reform
The federal lawsuit challenging the constitutionality of health care reform may take a new turn in Utah. State Attorney General Mark Shurtleff is contemplating also challenging the federal mandate that states create exchanges, which are marketplaces for purchasing health insurance. Utah is one of two states that already have exchanges, and the federal government has no right to tell Utah how to run it, contends Shurtleff.
CNN: Obama, Sarkozy discuss Iran sanctions, global economy
President Obama and French President Nicolas Sarkozy on Tuesday pledged mutual support for tougher U.N. sanctions against Iran over Tehran's refusal to comply with international regulations regarding its nuclear energy program. In a joint White House news conference after they met for more than an hour, Obama and Sarkozy agreed that the international community must prevent Iran from developing nuclear weapons.
CNN: Obama energy plan would open up Gulf drilling
In a move that could help win Republican support for other energy initiatives, President Obama will announce plans Wednesday to open large sections of the eastern Gulf of Mexico and an area off the Virginia coast for oil and natural gas drilling.
CNNMoney: How Google plays the angles in Washington
Google is barnstorming the nation's capital. Five years after it opened its Washington office, the tech giant is playing an increasingly powerful role in public policy debates over everything from patent reform to foreign policy. Google (GOOG, Fortune 500) lobbied 13 government agencies last year, spending just under $6 million in the process. That places the search company right behind Microsoft (MSFT, Fortune 500), IBM (IBM, Fortune 500) and Oracle (ORCL, Fortune 500) among the biggest tech lobbies in Washington.
CNN: Republican chief faces fallout over sex-themed nightclub tab
Republican National Committee Chairman Michael Steele is being criticized again after the committee bankrolled a Republican donor's tab at a risque Hollywood nightclub with other party members. The news comes as Republicans seek donations for an expected brutal and expensive battle to win back the House and the Senate during the midterm elections in November.
Baltimore Sun: Ehrlich announces run for governor
Robert L. Ehrlich Jr. confirmed Tuesday that he will try to reclaim his former job as governor, hoping to benefit from a national anti-incumbent sentiment that emerged since the last presidential election and has deepened during the health care debate.If victorious, Ehrlich, a Republican, would become the first politician in modern Maryland history to win a rematch after losing as an incumbent governor.
Dallas Morning News: Kay Bailey Hutchison scheduled news conference, decision on future expected
Sen. Kay Bailey Hutchison is expected to announce her future political plans Wednesday in San Antonio. …Hutchison has said frequently that she would leave the Senate before her term ends in 2012. Several state politicians have already declared their interest in running in a special election to replace her. But Cornyn, McConnell, and every member of the Texas Republican delegation to the U.S. House have urged Hutchison to reconsider, saying her seniority and experience are too valuable for Texas to lose. Also urging her to stay: election rival Gov. Rick Perry.
Politico: Last-minute surprises in Missouri
The final day of filing for office in Missouri brought a few surprise candidacies that could shake up a couple of key congressional races in the Show-Me State. None may have greater impact than the entrance of a former state lawmaker into the 7th District congressional race to replace Rep. Roy Blunt. Steve Hunter, a former Joplin state representative, became the ninth Republican candidate to join a highly contested primary for a southwest Missouri seat that will almost surely remain red in November. Blunt is vacating the seat to run for U.S. Senate.
Lexington Herald-Leader: Now in Kentucky GOP Senate race, Jeremiah Wright and 9/11
Republican U.S. Senate candidate Trey Grayson called on his chief rival, Rand Paul, Tuesday to stop airing an ad that uses imagery of the Sept. 11, 2001, terrorist attacks in New York and Washington. Paul's campaign manager, David Adams, responded by calling Grayson's request to pull the 9/11 ad "nonsense." The squabble between Paul and Grayson is not the first time the use of 9/11 images has been an issue. During President Bush's 2004 re-election campaign, Bush was criticized by relatives of the terrorist strikes, who contended Bush was exploiting photos of the tragedy for political gain.
NATIONAL
For the latest national news: www.CNN.com
CNN: Fighting identity theft not a priority, report says
Ten million Americans a year are victims of identity theft. It's a growing problem in the United States, but fighting it doesn't appear to be a priority, a new report says. A report by the Justice Department Inspector General released Tuesday cites the wide-ranging costs and dangers of ID theft. Although the report has no new numbers, the financial losses are believed to be substantially higher than the $15.6 billion documented in 2005.
CNN: Militia arrests timed to prevent violence, official says
Federal authorities decided to arrest members of the Hutaree militia group upon learning they were planning an exercise in April that might have included violence, a federal prosecutor said Tuesday.
INTERNATIONAL
For the latest international news: http://edition.cnn.com
CNN: Moscow fears 'war unleashed on its streets'
A change in tactics among Chechnya's militants is threatening to bring their nationalist fight to the heart of Russia's cities, terrorism analysts fear. The warning came as Russian investigators said they believed Chechen rebels were responsible for Monday's twin suicide bombings in Moscow's subway network that killed at least 39 people.
BBC News: Nine killed by twin bombings in Russia's Dagestan
At least nine people, including a top regional police official, have been killed by two bombs in Russia's restive North Caucasus republic of Dagestan. A car bomb was detonated at about 0830 (0430 GMT) outside the offices of the local interior ministry and the FSB security agency in the town of Kizlyar. The second bomb went off about 35 minutes later on the same street.
ABC News: EXCLUSIVE: Iran Nuclear Scientist Defects to U.S. In CIA 'Intelligence Coup'
An award-winning Iranian nuclear scientist, who disappeared last year under mysterious circumstances, has defected to the CIA and been resettled in the United States, according to people briefed on the operation by intelligence officials.
CNN: Americans face terror trial in Pakistan
Five Americans accused of plotting attacks on Pakistan face up to life imprisonment in a terror trial that begins Wednesday in the city of Sargodha.
Los Angeles Times: Suspect details U.S. Consulate-related shootings, officials say
A suspect arrested in the slaying of a U.S. Consulate official and two other people in the Mexican border city of Ciudad Juarez says the intended target was the diplomat's husband, an El Paso corrections officer, Mexican authorities said late Tuesday.The suspect, Ricardo Valles de la Rosa, is a member of the notorious Aztecs drug gang, which got its start in jailhouses in El Paso and operates on both sides of the border.
CNN: Military sets sights on June push in Kandahar, officials say
U.S. and coalition forces in Afghanistan have their sights set on a June offensive designed to gain control of the southern city of Kandahar from the Taliban, according to U.S. military officials. The assault on the Taliban's spiritual center will be the second major military operation to rid a southern Afghan city of Taliban control as the U.S. ratchets up pressure under the command of Gen. Stanley McChrystal. Officials said the main goal of the offensive is removing the Taliban before the Muslim holy month of Ramadan, which begins in August.
New York Times: Despite Doubt, Karzai Brother Retains Power
Ahmed Wali Karzai, the most powerful man in southern Afghanistan, may maintain links with drug dealers and insurgents, as some American officials and Afghans believe. And he might have played a central role in last summer's fraudulent presidential election, as Western diplomats charged. But Mr. Karzai is also the brother of the Afghan president, Hamid. And after debating Ahmed Wali's future for months — and with a huge military operation in the area looming — Afghan and American officials have decided that the president's brother will be allowed to stay in place.
CNN: U.N. delays Bhutto report release
U.N. Secretary-General Ban Ki-moon agreed to delay until April 15 the release of a report on the assassination of former Pakistani Prime Minister Benazir Bhutto, according to a statement from Ban's spokesperson. Pakistani President - and Bhutto's widower - Asif Ali Zardari had made the delay request, the spokesperson noted Tuesday.
Washington Post: Vatican, Catholic officials defend Pope Benedict XVI's record on child abuse cases
The Vatican on Tuesday dismissed any notion that Pope Benedict XVI should take personal responsibility for the child-sexual-abuse scandal rocking the church, defending his management of such cases and vowing that the crisis would not interrupt what historians view as his conservative agenda for Catholics around the world.
BUSINESS
For the latest business news: www.CNNMoney.com
Washington Post: Holding back job growth? Workers' awesome output
When workers become more efficient, it's normally a good thing. But lately, it has acted as a powerful brake on job creation. And the question of whether the recent surge in productivity has run its course is the key to whether job growth is finally poised to take off. One of the great surprises of the economic downturn that began 27 months ago is this: Businesses are producing only 3 percent fewer goods and services than they were at the end of 2007, yet Americans are working nearly 10 percent fewer hours because of a mix of layoffs and cutbacks in the workweek.
Investors Business Daily: Home Prices, Consumer Mood Improve
Consumer confidence rose more than expected in March and home prices posted their smallest annual decline in three years, according to separate reports Tuesday. But analysts remain cautious.
Bloomberg: Irish Banks Need $43 Billion on 'Appalling' Lending
Ireland's banks need $43 billion in new capital after "appalling" lending decisions left the country's financial system on the brink of collapse. The fund-raising requirement was announced after the National Asset Management Agency said it will apply an average discount of 47 percent on the first block of loans it is buying from lenders as part of a plan to revive the financial system.
CNBC: Half of Commercial Mortgages to Be Underwater: Warren
By the end of 2010, about half of all commercial real estate mortgages will be underwater, said Elizabeth Warren, chairperson of the TARP Congressional Oversight Panel, in a wide-ranging interview on Monday. As a result, the economy will face another "very serious problem" that will have to be resolved over the next three years, she said, adding that things are unlikely to return to normalcy in 2010.
Wall Street Journal: BP Begins Big Push To Revive Iraq's Oil
BP PLC Tuesday awarded $500 million in contracts to drill wells in Iraq's giant Rumaila oil field, the first step in a mammoth initiative by foreign oil companies to revive the country's energy industry.
Bloomberg: IPhone-Weary TV Broadcasters Gear Up to Fight FCC for Airwaves
TV broadcasters are getting ready for a fight over a U.S. government attempt to redistribute airwaves and help wireless carriers cope with a surge in traffic from bandwidth-guzzling devices like the iPhone. Ion, Nexstar Broadcasting Group Inc., Sinclair Broadcast Group Inc. and LIN TV Corp. say they're depending on that spectrum so they can offer live TV via mobile phones. The FCC says carriers such as AT&T Inc. need the airwaves more as smartphones like Apple Inc.'s iPhone cause the amount of data sent through U.S. networks to more than double annually.
In Case You Missed It
CNN's Brian Todd reports on the existence of FBI files so secret, they were kept separate from the FBI's regular files.
http://www.cnn.com/video/#/video/us/2010/03/31/todd.fbi.secret.files.cnn
Subscribe to the CNN=Politics DAILY podcast at http://www.cnn.com/politicalpodcast
And now stay posted on the latest from the campaign trail by downloading the CNN=Politics SCREENSAVER at http://www.CNN.com/situationroom