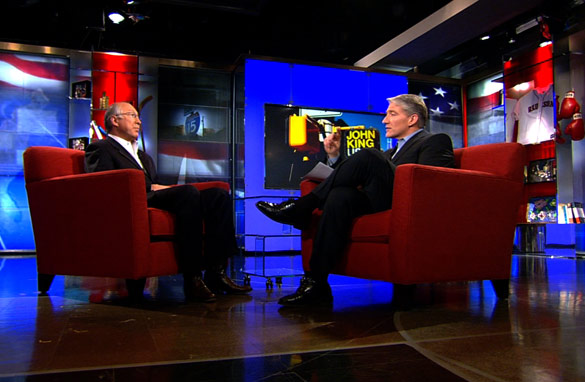 Interior Secretary Ken Salazar told CNN that the White House's new plan for some offshore drilling "represents a new direction for us in this administration." (Photo Credit: CNN)
Washington (CNN) – Interior Secretary Ken Salazar said Wednesday that the Obama administration's new plan for limited offshore drilling is intended to promote American energy independence and national security while protecting critical natural resources.
Watch: Salazar on offshore drilling
"This is a balanced plan," Salazar said on CNN's John King, USA. "It represents a new direction for us in this administration based on what had happened in the past. We're not just going thoughtlessly and rushing to lease [federal lands for drilling] everywhere in America."
President Obama's new plan would include lifting a 20-year ban on drilling off the Virginia coastline, while clamping down on other sites, including southwest Alaska's Bristol Bay.
In an interview with CNN Chief National Correspondent John King, Salazar defended the administration's move against criticisms from Democrats who are concerned about possible environmental damage and Republicans who feel the plan does not go far enough to open up areas for drilling.

"We're going to protect the environment," Salazar said. The interior secretary added that the administration will conduct all the required environmental analyses regarding the areas off the Atlantic coast subject to Obama's new plan. "But, at the end of the day, this administration stands ready and strong with a foot in conservation, and we're not going to do anything that's going to degrade the environment or the coastlines."
Related: Environmentalists critical of Obama drilling plan
Salazar explained the White House's decision to place some areas entirely off limits because they're home to wildlife in need of protection.
"We're going to protect those environments because they're very special places," the interior secretary said of Alaska's Bristol Bay and areas off the Pacific coast.
And the former senator rejected the notion that Obama's decision was part of larger political strategy to win support for comprehensive energy legislation that would establish a national so-called "cap-and-trade" system for carbon emissions.
"They are simply wrong," Salazar told King when asked about suggestions from Republican quarters that Obama is playing politics with energy policy. The Cabinet secretary said the new plan is "based on what is the best science."
Salazar said that, despite a partisan political environment during a midterm election year, Democrats might be able to get an energy bill through Congress.
"I think it's possible. It's not that it's going to be easy, but then nothing is easy," he told King. He added that, "My own view is that this is an issue that transcends party lines." Salazar said that politicians on both sides of the aisle believe developing a comprehensive energy policy will increase the country's national security and create jobs.
"This is an American issue that ought to unite many people behind this initiative."