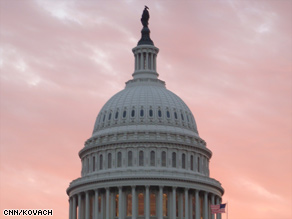 The CNN Washington Bureau's morning speed read of the top stories making news from around the country and the world.
WASHINGTON/POLITICAL
For the latest political news: www.CNNPolitics.com
CNN: Obama energy plan would open Atlantic and Gulf drilling
President Obama unveiled plans Wednesday to open large swaths of U.S. coastal waters in the Atlantic Ocean and the Gulf of Mexico to oil and natural gas drilling - a move likely to please the energy industry but upset the administration's environmentalist supporters.
Politico: President Obama's new push meets Capitol Hill resistance
The president's push to turn health care reform into a catalyst for the rest of his agenda is getting mixed early reactions on Capitol Hill, where Democratic leaders' desire to take advantage of healthy majorities before the November elections must contend with lawmakers' survival instincts. White House aides told POLITICO earlier this week that an emboldened Barack Obama plans to parlay his win on health care into a crackdown on Wall Street excesses, a rewrite of education and campaign finance laws and possibly a climate change bill — all before the fall's midterms.
CNN: Democrats raise money off of Biden's F-bomb
President Obama's political organization agrees with Vice President Joe Biden: "Health Reform is a BFD." While using a four-letter word could land an elementary school kid in detention, Organizing for America is embracing it with the hope of raising some cash. OFA, the president's political arm housed at the Democratic National Committee, is using Biden's now infamous phrase on a T-shirt to commemorate the signing of health care reform into law.
CNN: Conservative leader tells donors to stop giving to RNC
The head of an influential social conservative organization urged supporters Wednesday to stop donating to the Republican National Committee and instead contribute to its own coffers or to candidates with like-minded goals.
New York Daily News: Report: Big donors jumping ship from Republican National Committee, Michael Steele over spending
The RNC may be in need of some TLC. In the wake of an embarrassing spending spree of nearly $2,000 at a risque strip joint, which led to one staffer being fired, a new report suggests donors are abandoning the Republican National Committee – and have been for a while. Daily Caller reports that Federal Election Commission filings show at least eight top donors, including Home Depot co-founder Bernard Marcus, have declined to contribute for more than a year.
Washington Post: Administration seeks to change pay incentives at major firms
When the Obama administration imposed restrictions on executive pay last year at some of the largest companies the government had bailed out, officials said they were aiming to set a new standard for compensation across corporate America that would discourage risky business practices. But as firms begin to disclose last year's bonuses ahead of annual shareholder meetings, it is becoming clear that companies across a wide range of industries are paying executives in ways that officials worry will not discourage the kind of excessive short-term risk-taking that led to the financial crisis.
New York Times: Secretary of the Army Says He Will Not Pursue 'Don't Ask, Don't Tell' Discharges
The secretary of the Army, John M. McHugh, said Wednesday that he was effectively ignoring the "don't ask, don't tell" law because he had no intention of pursuing discharges of active-duty service members who have recently told him that they are gay. President Obama, Defense Secretary Robert M. Gates and Adm. Mike Mullen, the chairman of the Joint Chiefs of Staff, have all called on Congress to repeal the 17-year-old law and allow gay service members to serve openly. Although Mr. Gates announced revised standards last week that make it harder for the military to discharge service members whose sexual orientation is revealed by third parties, gay men and lesbians who willingly reveal their sexual orientation still face ouster from the military, at least as the law is written.
Seattle Post-Intelligencer: Pols dash for cash as crucial deadline looms
Mail and e-mail boxes of political donors are full-to-bulging as March in Washington goes out like a lion: Incumbent officeholders, like Sen. Patty Murray, D-Wash., in this state, want fund raising figures that roar. The message of the past week has been drilled home. Give by March 31, which is when federal campaigns total up their earnings and deliver reports to the Federal Election Commission.
CNN: Hutchison explains decision to remain in Senate
Despite making a pledge to resign, Sen. Kay Bailey Hutchison announced Wednesday that she will not retire before her term expires in 2012. Citing the recent passage of health care reform, a possible change in energy policy and the federal government's "massive debt," Hutchison said there were plenty of reasons to remain in Washington.
Dallas Morning News: Hutchison's decision to stay put scrambles other Texas politicians' plans
By staying in the Senate, Kay Bailey Hutchison gives the GOP a boost nationally but scrambles the political landscape in Texas for those hoping to replace her. Had Hutchison resigned, as she repeatedly vowed to do over the past year, it could have put a safe Republican seat in political jeopardy and forced the GOP to divert money here to keep it.
Los Angeles Times: Dueling tele-town halls and fundraising pleas in Senate race
Call it the battle for the conference-call vote. On the heels of a key fundraising deadline, Republican Senate candidates Tom Campbell and Carly Fiorina are simultaneously turning to some old-fashioned technology Wednesday evening to reach out to voters in the heated primary race to take on Democratic Sen. Barbara Boxer. They are dead even in recent polling, with the third GOP candidate, Assemblyman Chuck DeVore, trailing. Tele-town halls allow candidates to get their message across to thousands of likely voters in an hour or two, a reach difficult to replicate at traditional campaign rally events.
CQ Politics: Obey Faces First Competitive Race in Years
Rep. David R. Obey (D-Wis.), the hard-driving chairman of the House Appropriations Committee, has scarcely faced serious Republican opposition during a House career that has spanned more than 40 years. But there is evidence that suggests Obey will get a credible GOP challenge this year in his northwestern 7th district — from Sean Duffy, a young county prosecutor whose candidacy has prompted CQ Politics to shift the rating of the Wisconsin 7 race from Safe Democratic to Likely Democratic.
Rochester Democrat and Chronicle: Republican Tom Reed raps Paterson for delay in calling special election for Massa's seat
Republican Tom Reed said today he is frustrated with Gov. David Paterson's delay in calling a special election in the 29th Congressional District. The seat has been vacant since Democrat Eric Massa resigned March 8. It is up to Paterson whether or not to call a special election. If he does not, a representative will be selected during the general election Nov. 2.
The Detroit News: Tea party seeks toehold in Michigan
While tea party activists are affecting decisions in the halls of Congress, their influence is increasingly being felt in the city halls of Michigan. Inspired by Congress' push to pass national health care reform, supporters have organized high-profile rallies outside the offices of Democratic Reps. Gary Peters in Bloomfield Township and Sander Levin in Roseville. The national Tea Party Express tour that winds its way through Michigan in early April has added a twist to their stops in the Upper Peninsula: calling for the defeat of Rep. Bart Stupak, D-Menominee, who was a key swing vote on health care legislation in Congress. Followers have caught the attention of candidates and those in office.
NATIONAL
For the latest national news: www.CNN.com
CNN: Not-guilty pleas entered for 8 Michigan militia members
Not-guilty pleas were entered Wednesday in federal court in Detroit on behalf of eight militia members accused of plotting to kill police officers as part of a revolt against the federal government.
Wall Street Journal: Cash-Poor Cities Take On Unions
Nationwide, politicians looking for budget cuts are confronting politically powerful unions that represent state and local government employees—15% of U.S. workers and organized labor's biggest stronghold. At the heart of this fight is an unbalanced equation: The economy is shrinking cities' and states' tax income as their pension and health-care costs have soared. As a result, some governments are diverting money from services to cover benefits, or raising taxes and fees. That doesn't sit well with some taxpayers—many frustrated at seeing their own benefits being cut by private-sector employers. So governments are seeking cuts in union benefits long considered sacrosanct.
New York Times: Albany Misses Its Deadline on the Budget
The state budget is officially late. Again. The fiscal year came to a close on Wednesday night with no budget deal between the Legislature and Gov. David A. Paterson, leaving New York State running on the fiscal equivalent of fumes. The government will stay in business thanks to emergency legislation that the governor signed on Wednesday providing for about two weeks of necessary expenses. Mr. Paterson also moved to delay some $2.1 billion in aid to schools, a step he said was necessary to ensure that the state had enough cash to keep operating.
CNN: Government held liable in warrantless wiretapping case
A federal judge ruled Wednesday that the government is liable for illegally wiretapping an Islamic charity without a valid search warrant. The ruling in Northern California District Court reaffirmed an earlier decision that the warrantless wiretaps conducted on an Oregon-based Islamic non-profit organization were illegal.
INTERNATIONAL
For the latest international news: http://edition.cnn.com
CNN: Chechen rebel leader claims he ordered attack on Moscow subway
Chechen rebel leader Dokku Umarov claimed that he personally gave orders to attack the Moscow subway this week, according to a Chechen rebel Web site. Kavkaz Center, a Web site that regularly carries messages from the rebels, released a video in which Umarov said he was behind the Monday attacks.
CNN: China agrees to discuss sanctions against Iran
China has agreed to negotiate possible sanctions against Iran over Tehran's failure to comply with international regulations involving its nuclear energy program, the U.S. permanent representative to the United Nations said Wednesday.
CNN: 'D.C. Five' defense team says Pakistan faked evidence
The trial of the "D.C. Five" opened in Sargodha, Pakistan, on Wednesday with the defense accusing Pakistani authorities of fabricating evidence against five Americans accused of plotting attacks on Pakistan. The Americans could get life in prison if convicted. Their lawyers claim that they planned no such terrorist attacks and were implicated by Pakistani authorities who were under intense pressure to indict them.
New York Times: When Military Moves a War, There Are No Shortcuts
In trying to speed 30,000 reinforcements into Afghanistan while reducing American forces in Iraq by 50,000, American commanders are orchestrating one of the largest movements of troops and matériel since World War II. Military officials say that transporting so many people and billions of dollars' worth of equipment, weapons, housing, fuel and food in and out of both countries between now and an August deadline is as critical and difficult as what is occurring on the battlefield.
Washington Post: Afghan parliament's lower house rejects Karzai election proposals
The lower house of the Afghan parliament on Wednesday resoundingly rejected President Hamid Karzai's bid to change the nation's elections law and to exert more control over the commission that investigates voting fraud. The vote represented a sharp rebuke of Karzai's effort this year to change the law by presidential decree while parliament was on recess, and a show of force by a legislature that has become increasingly willing to resist rubber-stamping presidential proposals.
Bloomberg: Putin Visits Chavez in Russian Bid to Grow in Obama's Backyard
Prime Minister Vladimir Putin will pay his first visit to Venezuelan President Hugo Chavez tomorrow as Russia seeks to regain lost influence in Latin America through energy and arms deals.
CNN: Haiti gets nearly $10B in aid pledges
A broad array of international donors pledged nearly $10 billion in long-term assistance to Haiti's earthquake recovery efforts during a daylong conference at United Nations headquarters.
BUSINESS
For the latest business news: www.CNNMoney.com
Wall Street Journal: Fed Opens The Books On Bear, AIG Toxic Assets
The Federal Reserve Bank of New York lifted a veil of secrecy on the troubled mortgage assets it purchased as part of the 2008 rescues of Bear Stearns Cos. and American International Group Inc. The disclosures listed scores of subprime residential mortgage securities and pieces of commercial loans made to dozens of properties across the country, such as the Crossroads Mall in Oklahoma City—featuring the city's only indoor full-size carousel—and the Hilton Garden Inn in Panama City, Fla. The data show the government is now in the same situation as many U.S. banks: dealing with a portfolio of loans and property that have lost their value, and which borrowers are struggling to pay off.
New York Times: Hedge Fund Managers' Pay Roars Back
The Lazarus-like recovery of the nation's big banks did not benefit just the bankers — it also created huge paydays for hedge fund managers, including a record $4 billion gain in 2009 for one bold investor who bet big on the financial sector.
Bloomberg: M&A Creeps Higher as Cross-Border, Hostile Deals Spur Recovery
Mergers and acquisitions gained momentum in the first quarter with more than 2,034 cross-border transactions and 10 hostile takeovers signaling a recovery from the worst deal market in six years.
Wall Street Journal: Greece Plans Global Bond Issue
Greece plans to raise up to $10 billion in the coming weeks even though officials say they are frustrated that the country's borrowing costs haven't fallen after the recent rescue pledge by its fellow European nations. Last week's reassurance by the European Union that the bloc wouldn't let Greece default was meant to lower the amount of interest Greece must offer to attract the new money it desperately needs. A week later, that hasn't happened, raising expectations that the EU, together with the International Monetary Fund, will need to step in to bail out Greece.
CNNMoney: Tussle over health care law impact on companies
A growing number of major U.S. corporations are expecting to take tax charges in the first quarter related to the recently enacted health care reform law. But while some companies are fretting about the charges, defenders of the law say the new rules merely close a loophole that allowed a double-dip benefit.
Bloomberg: AT&T May Find Apple's IPad Adds to Strain on Wireless Network
AT&T Inc., facing criticism for jams in its network in cities like New York, may find the Apple Inc. iPad adds more strain than officials anticipated. The biggest U.S. phone carrier has played down the expected impact of Apple's iPad tablet computer, which goes on sale this weekend in the U.S., saying many consumers will choose to run it on Wi-Fi hot spots rather than on AT&T's wireless network.
In Case You Missed It
CNN's Brian Todd reports on the outrage among environmentalists and coastal politicians over the Obama drilling plan.
http://www.cnn.com/video/#/video/us/2010/03/31/todd.offshore.drilling.debate.cnn
U.S. troops now use prescription drugs at record rates in combat and upon their return. CNN's Barbara Starr reports.
http://www.cnn.com/video/#/video/us/2010/03/31/pkg.starr.troops.on.drugs.cnn
Subscribe to the CNN=Politics DAILY podcast at http://www.cnn.com/politicalpodcast
And now stay posted on the latest from the campaign trail by downloading the CNN=Politics SCREENSAVER at http://www.CNN.com/situationroom