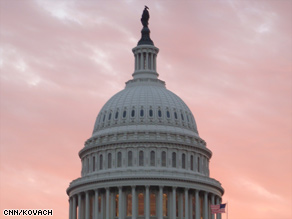 The CNN Washington Bureau's morning speed read of the top stories making news from around the country and the world.
WASHINGTON/POLITICAL
For the latest political news: www.CNNPolitics.com
CNN: U.S. to implement new airport security measures
All flights entering the United States will be subjected to a new level of security screening, officials plan to announce Friday. The new security measures, that will be announced by Department of Homeland Security Secretary Janet Napolitano, will use "real-time, threat-based intelligence," according to the official.
CNN: Obama seeks to reassure small business on health care
President Obama sought to reassure jittery small-business owners Thursday that they stand to benefit from the recently enacted health care law - an assertion not universally shared by a traditionally Republican-leaning constituency. The president took his pro-reform message to Maine, a politically friendly state he carried by nearly 20 points in the 2008 general election.
The Hill: McCain: GOP hopes to sidestep veto in repeal efforts
Sen. John McCain (R-Ariz.) on Thursday backed a plan that he says would allow the Republicans to avoid a presidential veto while negating the effects of a new healthcare law. The 2008 GOP presidential nominee backed a plan that would strip funding from the healthcare law, which he says would not take an override to a veto to accomplish. Brooke Buchanan, a McCain spokesperson told The Hill that the move would be done using "fencing language" in an appropriations bill that would get rid of the health bill funding.
CNNMoney: Frank rebukes House staffer for taking lobbying job
House Financial Services chief Barney Frank publicly denounced a House Financial Services Committee staffer for leaving to become a lobbyist. Peter Roberson played a key role in writing House financial overhaul legislation and will now lobby on behalf of a company that the legislation directly impacts. Federal law prevents Roberson from talking with House staffers on the House Financial Services panel for a year. But he's free to lobby the Senate staffers, who are in the midst of crafting similar overhaul legislation before a final Senate vote.
CNNMoney: 34 miles per gallon: The new normal
Final rules for new fuel economy standards were unveiled by the government Thursday, placing the national average for all vehicles at more than 34 miles per gallon, well above current levels. The new standards were originally announced in May 2009 by the Obama administration. The final details were unveiled jointly by the Department of Transportation and the Environmental Protection Administration.
CNN Poll: Democrats lose edge on economy
Democrats have lost their large advantage over Republicans when Americans are asked which party would do a better job with the economy, according to a new national poll. A CNN/Opinion Research Corporation survey released Thursday indicates that 48 percent of Americans say Republicans in Congress would do a better job dealing with the economy, with 45 percent saying that congressional Democrats would better handle the issue.
New Orleans Times-Picayune: Rep. Anh 'Joseph' Cao opts out of GOP moratorium on earmark requests
New Orleans Rep. Anh "Joseph" Cao is one of only three Republicans to defy the House GOP's self-imposed one-year moratorium on earmark requests. Saying that New Orleans' needs are too great to abide by a ban on earmarks, Cao has submitted appropriations requests for about 75 projects - running the gamut from levee improvements to health care - totaling about $420 million.
Washington Post: Democrats map out midterm campaign strategy for Obama
Facing a tough midterm election in which they could potentially lose their majorities in Congress, Democrats are privately debating where and how President Obama can help - or hurt. The president is unlikely to campaign in Arkansas and hasn't been to Illinois since last summer, even though both states have important Senate races. Although many states won't hold primaries until next month, Obama has appeared at only one campaign rally this year - for Martha Coakley, who lost a special Senate election in Massachusetts. He has held no big events in any number of states - including Pennsylvania, Louisiana and Ohio - with competitive races.
Dallas Morning News: Leppert noncommital on 2012 Senate run
Before Sen. Kay Bailey Hutchison closed the door Wednesday on her plans to leave the Senate, Mayor Tom Leppert was widely expected to be among the candidates vying to take her seat. With a special election now off the table, Leppert declined to rule out or to commit to running for the Senate in the 2012 Republican primary.
Albany Times-Union: GOP picks ex-Army officer for run against Murphy
Calling his campaign a move toward freedom and away from centralization and dependency, retired Army Col. Chris Gibson will challenge U.S. Rep. Scott Murphy in November for the 20th Congressional District seat. Gibson was one of four candidates who sought the endorsement. The other candidates have said they will honor the party choice and Gibson is not expected to face a primary. Murphy, 40, a Glens Falls Democrat, is serving his first term in office after beating Assemblyman Jim Tedisco last year in a special election to replace Sen. Kirsten Gillibrand. The political atmosphere has changed since the special election.
Kansas City Star: Racist radio ads draw challenge
The Missouri Broadcasters Association has written state Attorney General Chris Koster asking him to determine whether white supremacist Glenn Miller is a "legally qualified" Senate candidate. Miller, of Springfield, has filed as a write-in candidate for the office. He's bought time on several stations to air ads that demean Jews and non-whites, sometimes using racist language.
NATIONAL
For the latest national news: www.CNN.com
USA Today: Gates orders overhaul of Pentagon mentor program
Defense Secretary Robert Gates on Thursday ordered an overhaul of the Pentagon's use of retired senior officers to advise the military, limiting the pay of "senior mentors" and requiring them to disclose their business ties to defense contractors.
Washington Post: U.S. files civil suit against defense contractor KBR
The Justice Department on Thursday filed a civil suit against defense contractor Kellogg Brown & Root Inc., alleging that the firm provided false statements in charging the government for the unauthorized use of private security guards in Iraq.
Los Angeles Times: Military's refusal to discharge lesbian a new Catch-22
Lt. Robin R. Chaurasiya wasn't exactly asked, but she told anyway: She is a lesbian, and in a civil union with another woman. Her commander at Scott Air Force Base in Illinois, Lt. Gen. Robert R. Allardice, could have discharged her under the Pentagon's "don't ask, don't tell" policy. Instead, he determined in February that she should remain in the Air Force because she acknowledged her sexual orientation for the purpose of "avoiding and terminating military service." Chaurasiya says that is not true. But the general's reasoning has the flavor of a Catch-22: If you admit to being homosexual you can be discharged from the military, but if you admit it for the purposes of being discharged you won't be.
CNN: Feds argue against releasing 8 members of Michigan militia
Federal prosecutors are fighting to keep behind bars eight Michigan militia members accused of plotting to kill police officers as part of a revolt against the U.S. government. Court-appointed defense attorneys argued Thursday their clients from the Michigan-based Hutaree militia do not pose a threat and should be free while awaiting trial.
Des Moines Register: Extremist group demanding governors' resignations
The FBI and the U.S. Department of Homeland Security have advised Gov. Chet Culver that an "identified sovereign citizens' extremist group" is sending letters to the nation's governors demanding their resignations.
INTERNATIONAL
For the latest international news: http://edition.cnn.com
CNN: Al-Sadr flexes muscles in Iraqi political jockeying
Muqtada al-Sadr, the firebrand cleric with a loyal following among the Shiite population in Iraq, could play a major role in the formation of a new national government. Al-Sadr has refused to back the top vote-getters in the March 7 election and is asking his followers to designate a prime minister of their choosing in a referendum this weekend. This is the latest political jockeying in the aftermath of the election for the 325-member parliament.
New York Times: Iran Plays Host to Delegations After Iraq Elections
Iran may seem an unlikely place to turn for guidance when it comes to putting together a democratic government, but that is exactly what most of Iraq's political class did immediately after last month's parliamentary elections. The ink was hardly dry on the polling results when three of the four major political alliances rushed delegations off to Tehran. Yet none of them sent anyone to the United States Embassy here, let alone to Washington.
CNN: Israel launches air strikes on Gaza
Israeli jets launched eight air strikes early Friday on Gaza, Palestinian officials said. There were no immediate reports of casualties. The Israel Defense Forces said in a statement that two weapons factories were hit, one in northern Gaza and the other in central Gaza, as were two weapons depots in southern Gaza.
Christian Science Monitor: Changing course, Fatah officials call for Palestinian protests against Israel
After years of muting Palestinian rhetoric of 'popular resistance,' senior officials in Fatah, which governs the West Bank, are calling for protests against Israel's settlement expansion and construction of its separation barrier.
New York Times: Afghan President Rebukes West and U.N.
Hamid Karzai, the Afghan president, delivered extraordinarily harsh criticism on Thursday of the Western governments fighting in his country, the United Nations, and the British and American news media, accusing them of perpetrating the fraud that denied him an outright victory in last summer's presidential elections.
Wall Street Journal: Taliban Gag Kandahar's Clerics to Keep Grip on City
The deadly conflict between the Taliban, who claim to be waging an Islamic holy war on infidel occupiers and their local collaborators, and Kandahar's religious authorities, who decry suicide bombing as an apostasy and back the central government, has largely passed unnoticed amid the carnage engulfing this country. It is a clash in which the Taliban have scored an insidious victory. Silencing the moderate clerics has given the insurgents a stranglehold on public discourse and a near-monopoly on interpreting Islam.
Washington Post: Enduring army role in Swat spurs questions about Pakistan's civilian government
Officially, the military operation to purge the Taliban from Pakistan's Swat Valley ended last summer. But even as life in the lush region returns to normal, the army's footprint is everywhere. The military is rebuilding roads, schools and libraries. It is buying computers for women's vocational institutes and solar-powered streetlights for villages. It is planting a million trees. The work has made soldiers hugely popular, but some wonder why the civilian government is not doing it.
CNN: Obama, Hu discuss nuclear security by phone
U.S. President Barack Obama and Chinese President Hu Jintao discussed Iran's nuclear program, developing bilateral relations and ways to implement economic growth during an hour-long phone conversation from Air Force One on Thursday night.Hu announced Wednesday that he would attend a Nuclear Security Summit in Washington on April 12-13. Obama has invited more than 40 nations to participate in the event.
Los Angeles Times: Mexico drug gangs turn weapons on army
Drug traffickers fighting to control northern Mexico have turned their guns and grenades on the Mexican army, authorities said, in an apparent escalation of warfare that played out across multiple cities in two border states. In coordinated attacks, gunmen in armored cars and equipped with grenade launchers fought army troops this week and attempted to trap some of them in two military bases by cutting off access and blocking highways, a new tactic by Mexico's organized criminals.
Der Spiegel: Catholic Abuse Hotline Overrun Amid New Allegations
A hotline set up by the Catholic Church in Germany to counsel victims of sexual abuse was overrun on its first day, with almost 4,500 calls. Further allegations have continued to emerge even as Chancellor Angela Merkel says the church is taking "necessary measures."
BUSINESS
For the latest business news: www.CNNMoney.com
CNNMoney: Finally, an end to job losses
The long nightmare of job losses appears to be just about over. When the Labor Department reports its monthly employment readings for March on Friday, economists are forecasting a gain of 184,000 jobs. If that happens, it would be only the second month with a positive reading since December of 2007, and the biggest jump in employment since March of that year, a good nine months before the official start of the recession.
Wall Street Journal: Mortgage Problems? Fed Can Relate
The Federal Reserve Bank of New York doesn't have to look far to understand the woes of banks and investors that hold loans and securities underpinned by real estate. It can look at its own books. A review of the portfolios the regional Fed bank assumed as part of two financial bailouts in 2008 shows a complex hodgepodge of souring commercial-property loans, securities backed by U.S. subprime loans, credit insurance written on troubled bond and mortgage insurers and loans tied to struggling hotels in Georgia and California. The New York Fed published the detailed portfolios on Wednesday.
CNN: Daimler fined $185M for bribery
German carmaker Daimler AG and three of its subsidiaries pleaded guilty in U.S. federal court in Washington to bribing government officials with tens of millions of dollars in Russia, China and 20 other countries, the Justice Department announced. U.S. District Court Judge Richard Leon ordered Daimler to pay $93.6 million in criminal fines, and $91.4 million in civil penalties. The civil fines represent the restitution of profits made in the illegal deals.
CNNMoney: Auto sales up, but still show weakness
U.S. auto sales rebounded 24% in March with virtually every automaker posting double-digit gains in sales. But the industry is not in as strong shape as those surges in sales would suggest. The comparison is to one of the worst months for auto sales in history, when the threat of bankruptcy and possible closure hung over both General Motors and Chrysler Group and huge job losses and tight credit hurt the sales of almost every automaker.
In Case You Missed It
A scientist that was associated with Iran's nuclear program is now reportedly in the United States.
http://www.cnn.com/video/#/video/world/2010/03/31/dougherty.iran.defector.cnn
Subscribe to the CNN=Politics DAILY podcast at http://www.cnn.com/politicalpodcast
And now stay posted on the latest from the campaign trail by downloading the CNN=Politics SCREENSAVER at http://www.CNN.com/situationroom