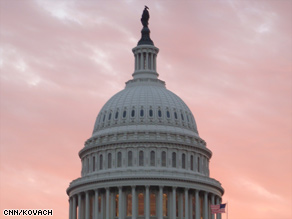 The CNN Washington Bureau's morning speed read of the top stories making news from around the country and the world.
WASHINGTON/POLITICAL
For the latest political news: www.CNNPolitics.com
CNNMoney: Economic tide has turned – White House
The slow but steady U.S. economic recovery appears set to continue, with underlying indicators signaling a growing strength, some of the nation's senior economists said Sunday.
CNN: Geithner delays report, sidesteps China currency policy
President Barack Obama's senior economic adviser said Sunday that the government was delaying a report to Congress on exchange-rate policies of U.S. trading partners to provide more time to address China's alleged manipulation of its currency.
Bloomberg: Obama Focuses on Three Candidates to Succeed Justice Stevens
The Obama administration, likely to learn in the next several weeks whether Justice John Paul Stevens will retire, is focusing on three candidates to succeed him, a White House official familiar with the deliberations said. The group includes U.S. Solicitor General Elena Kagan and federal appellate judges Diane Wood and Merrick Garland, the person said, speaking on the condition of anonymity.
Salt Lake Tribune: Obama panel examines nation's nuclear waste issues
Two recent announcements from the Obama administration have energized nuclear power advocates. The first is his plan to offer $18.5 billion in loan guarantees for new nuclear plants; the other, a task force to look at the dangerously radioactive waste often blamed for delaying what some anticipate will be a nuclear renaissance. More than a few Utahns are keeping an eye on the new Blue Ribbon Commission on America's Nuclear Future. Tooele County includes the nation's largest low-level radioactive waste disposal site, the mile-square EnergySolutions landfill, and the nation's only high-level nuclear site licensed in the past three decades, the derailed Private Fuel Storage facility on the Goshute reservation in Skull Valley. Both sites have generated controversy in Utah for decades. Now, they could become part of a national nuclear strategy.
Boston Globe: Gains for Pakistan bear Kerry's mark
The president of Pakistan recently sent Senator John F. Kerry flowers. Pakistan's powerful army chief spent three hours at Kerry's house recently for dinner. And soon, officials in Islamabad will confer on Kerry the "hilal-e-Pakistan'' — the highest honor given to a foreigner. …As chairman of the Senate Foreign Relations Committee, Kerry has been the president's point man on providing billions of dollars in aid to Pakistan aimed at improving the US image there and strengthening the uneasy alliance with Islamabad. Both goals are considered essential for US success next door in Afghanistan.
Politico: Obama's mission: Saving Gov. Patrick
President Barack Obama raised $2.5 million for the Democratic National Committee Thursday night, but his trip to Boston had another, less publicized purpose — saving Deval Patrick. Few politicians are as close to Obama as the Massachusetts Democratic governor or have deeper ties to the president and his core team of advisers. And almost no one faces a tougher reelection battle this year than Patrick, whose disapproval ratings would be considered near-terminal if not for the three-way race that he currently finds himself in. As a result, the White House is looking to every weapon in its arsenal to help Patrick win a second term.
Baltimore Sun: Debate on dirty word: 'lobbyist'
Democrats in Maryland, worried about a punishing election-year climate, want voters thinking of something more damning than "incumbent" when they go to the polls. Their preferred enemy: the lobbyist. The strategy became clear last week when former Republican Gov. Robert L. Ehrlich Jr. confirmed that he wants to unseat Democratic Gov. Martin O'Malley. The message from O'Malley's campaign: Voters will have a choice between a sitting governor who made tough decisions in a down economy and an ousted opponent turned high-priced lobbyist for corporate interests.
Chicago Sun-Times: Illinois tea party at a crossroads
Dismissed by some as fringe but striking a chord with those frustrated by the growth of government, the tea party in Illinois finds itself at a crossroads over its future now that the health care reforms are law. Some in the movement say they need to move beyond protests and create a more formal structure. Others say the movement's spontaneous character remains its greatest strength, even though they concede that their loose network opens the door to fringe elements, including a few who believe the Sept. 11 attacks were planned by the U.S. government.
Pittsburg Post-Gazette: Opponents attacking Specter from all sides
After a career that's taken him through two parties, five terms, 30 years and thousands of votes, it was inevitable that the story of this Senate election would be all about Arlen. What would have been harder to predict was the variety of Arlens it's been about - the morphing Democrat-turned-Republican-turned-Democrat persona of Arlen Specter's own career shifts arrayed against the varied caricatures projected by a quartet of rivals.
Las Vegas Sun: Many fronts in Sue Lowden's fight
Lowden's tour bus is hardly Scott Brown's pickup truck. The "Monaco Executive" comes complete with kitchen, shower and bed. An armed driver doubles as a bodyguard. …In any other year, a candidate would highlight a lavishly funded campaign with establishment support — a way to put some distance between herself and 11 other Republicans vying to take on Reid in November. In 2010, it can be a liability. The Tea Party movement that's animating the GOP primary here, although fractious, is defined in large part by its deep hatred of the political establishment. Lowden's chief rival, Danny Tarkanian, is seeking traction by labeling her an entrenched insider. Meanwhile, Reid's campaign is making her balancing act more difficult. It's launched an offensive, issuing near-daily attacks portraying Lowden as a greedy corporate chief who treated her employees poorly to boost the bottom line.
St. Petersburg Times: In praising Rubio, Giuliani exacts revenge on Crist
Back in 2007 and early 2008, Rudy Giuliani spent so much time campaigning for president in Florida he was like a houseguest who wouldn't leave. And a big part of Giuliani's Florida-is-everything strategy was the expectation that super popular Gov. Charlie Crist would endorse him. That never happened, of course, as Crist not only pulled the endorsement Giuliani had banked on, but threw his support to John McCain just before Florida's crucial GOP presidential primary. Now it's payback time. Giuliani on Monday is expected to campaign in Miami with Crist's U.S. Senate rival, Marco Rubio.
Richmond Times-Dispatch: Republican hopefuls lining up in bids for Va. seats in Congress
As the Republican whip in the House of Representatives, Rep. Eric Cantor, R-7th, has emerged as one of the leading critics of President Barack Obama and congressional Democrats. But as he seeks re-election to a sixth term in Congress, Cantor may be unopposed by a Democrat. It's a far different story in Virginia's 2nd and 5th districts, where Republicans are lining up to take on freshmen Democrats they think are vulnerable. Seven candidates each are seeking the GOP nominations to run against Rep. Glenn Nye, D-2nd, and Rep. Tom Perriello, D-5th, who were first elected in 2008, along with Obama. With nominations still unsettled, more than 40 candidates are vying for Virginia's 11 House seats.
Minneapolis St. Paul Star-Tribune: GOP sees Walz's First District seat as ripe for picking
Republicans aiming to win back control of Congress in November see bright prospects around places like Bill's Hardware in Minnesota Lake, where owner Georgia Neubauer wonders what the health care overhaul will mean to her business and the seven employees. The answers that emerge in the coming months could bear heavily on a key congressional race in Minnesota's First District, a sprawling patch of rural heartland represented by DFLer Tim Walz. The Mankato teacher-turned-politician was largely unknown until he ran as a centrist Democrat four years ago and knocked off a seemingly safe GOP incumbent. Now a clutch of Republicans vying to take on Walz see the First District as their best chance to pick up a House seat in Minnesota during an election year that is expected to be tough for Democrats.
Washington Post: In Colorado, health-care debate reverberates in congressional race
Rep. Betsy Markey, a first-term Democrat in a Republican district, was one of just eight House members who switched their votes from "no" to "yes" when President Obama's health-care bill finally passed Congress. Her vote left the endangered incumbent in an even more precarious position. In the days since, Markey has been both praised and vilified. The National Republican Congressional Committee taunted her with an e-mail release proclaiming, "Bye Bye, Betsy." She made former Alaska governor Sarah Palin's list of targeted Democrats. But they were only ratifying the obvious. In November, the race in Colorado's 4th District will be crucial to Republican hopes to take over the House.
NATIONAL
For the latest national news: www.CNN.com
New York Times: States Skeptical About 'Race to Top' School Aid Contest
A dozen governors, led by Bill Ritter Jr. of Colorado, sat with Secretary of Education Arne Duncan in a hotel ballroom in Washington a few weeks back, praising his vision and gushing with enthusiasm over a $4 billion grant competition they hoped could land their states a jackpot of hundreds of millions of dollars. But for many of those governors, the contest lost some sizzle last week, when Mr. Duncan awarded money to only two states — Delaware and Tennessee. Many states are questioning the criteria by which winners were chosen, wondering why there were only two that won and criticizing a last-minute cap on future awards.
Wall Street Journal: L.A. Spars Over Green Energy
City officials and Los Angeles's power company are sparring over big increases in electricity rates that the utility says it needs to pay for a push into renewable energy. So far, the city council is balking at the requests. But both sides agree the utility will need more revenue, making some substantial increases likely later this year. Los Angeles's case could serve as a warning to officials in other cities and states who are also trying to change the energy mix of local utilities, substituting more power from renewable sources, such as wind and sun, for power from coal- or gas-burning plants.
INTERNATIONAL
For the latest international news: http://edition.cnn.com
CNN: Two killed, 100 injured in Mexican earthquake
A 7.2 magnitude earthquake struck northwest Mexico's Baja California on Sunday, rattling Arizona and southern California, and leaving at least two dead and 100 injured in Mexico, authorities said.
CNN: Karzai seeks tribal support for military operation
Afghan President Hamid Karzai met with tribal leaders Sunday in the violence-plagued Kandahar province to shore up support for an impending military offensive. He promised to hold back until he had their backing. Karzai, accompanied by the U.S. commander in Afghanistan, Gen. Stanley McChrystal, said he will see that similar gatherings are held throughout the region to gauge the opinion of the people.
Wall Street Journal: Karzai Slams the West Again
President Hamid Karzai lashed out at his Western backers for the second time in three days, accusing the U.S. of interfering in Afghan affairs and saying the Taliban insurgency would become a legitimate resistance movement if the meddling doesn't stop. Mr. Karzai, whose government is propped up by billions of dollars in Western aid and nearly 100,000 American troops fighting a deadly war against the Taliban, made the comments during a private meeting with about 60 or 70 Afghan lawmakers Saturday.
New York Times: Drones Batter Qaeda and Allies Within Pakistan
A stepped-up campaign of American drone strikes over the past three months has battered Al Qaeda and its Pakistani and Afghan brethren in the tribal area of North Waziristan, according to a mid-ranking militant and supporters of the government there. The strikes have cast a pall of fear over an area that was once a free zone for Al Qaeda and the Taliban, forcing militants to abandon satellite phones and large gatherings in favor of communicating by courier and moving stealthily in small groups, they said.
New York Times: U.S. Admits Role in February Killing of Afghan Women
After initially denying involvement or any cover-up in the deaths of three Afghan women during a badly bungled American Special Operations assault in February, the American-led military command in Kabul admitted late on Sunday that its forces had, in fact, killed the women during the nighttime raid. The admission immediately raised questions about what really happened during the Feb. 12 operation — and what falsehoods followed — including a new report that Special Operations forces dug bullets out of the bodies of the women to hide the true nature of their deaths.
Wall Street Journal: Iran Sanctions Yield Little
In its latest proposed set of tougher United Nations sanctions on Iran, the U.S. is again relying on asset freezes as one tool to pressure the country not to build nuclear weapons. But a close look at how much Iranian money has been frozen to date in the U.S. under existing sanctions shows that the total amount is surprisingly small, less than $43 million, or roughly a quarter of what Iran earns in oil revenue in a single day.
CNN: Three deadly blasts rock Baghdad
Three blasts set off by suicide bombers in cars went off in quick succession in Baghdad on Sunday morning, killing at least 30 people and wounding 200, Iraq's Interior Ministry said. The blasts went off within five minutes of one another, all near embassy buildings in the capital. Two of the explosions occurred in the Mansour neighborhood in western Baghdad. One blast was close to the Egyptian Embassy, the other near a complex that holds a number of embassies, including those of Syria and Germany. The third car bomb exploded near the Iranian Embassy in the central part of the city.
Financial Times: UK speedboat floats into Iran's arms
Has a record-breaking British powerboat become the "ultimate toy" for an Iranian playboy or – as US investigators fear – is it now equipped with the world's fastest torpedoes aimed at sinking an aircraft carrier in the Gulf? …Craig Hooper, a San Francisco-based naval strategist who has been following the Bradstone Challenger, says Iran is scouring the world for speedboats with potential military use. But there is much debate whether a boat such as the Bradstone Challenger, even armed with one or two torpedoes, would represent a serious threat against an aircraft carrier in the confined waters of the Gulf.
CNN: South Korea stops search for missing sailors
A week-long search for dozens of sailors lost when a South Korean warship sunk in waters close to North Korea was called off late Saturday after a request from the families of the missing men.
CNN: White supremacist leader killed in South Africa
Eugene Terreblanche, one of South Africa's most notorious white supremacists, was killed Saturday in an apparent dispute over wages with workers on his farm. Terreblanche was the leader of the neo-Nazi Afrikaner Weerstandsbeweging (Afrikaner Resistance Movement, or AWB) which attempted to resist South Africa's transformation from Apartheid to democracy in the 1990s. Terreblanche's death comes amid a time of racial polarization in the country.
CNN: Cardinal tells pope: Faithful not influenced by 'gossip'
In a rare move, a senior cardinal spoke before the pope's Easter Mass address at the Vatican on Sunday, saying the pontiff maintains the support of Catholics around the world "who do not let themselves be influenced by the gossip." Speaking at the beginning of the Easter Sunday ceremony, Sodano did not specifically mention the sexual abuse scandal that has engulfed the Catholic Church in recent months.
CNN: China rescues 114 from flooded mine
More than a week after their coal mine in northern China was flooded by a rush of underground water, 114 miners were pulled out alive Monday, China's state-run TV reported. Rescuers worked to reach another 39 believed to be still trapped inside. CCTV, which carried the rescue efforts live, showed the miners being brought out in stretchers to loud cheers.
BUSINESS
For the latest business news: www.CNNMoney.com
Wall Street Journal: Inflation Fears Cut Two Ways at the Fed
The Federal Reserve's decisions to keep interest rates near zero and to flood the financial system with credit are sparking fears of an eventual outbreak of inflation. But inside the Fed, an influential band of policy makers is fretting over the opposite: that the already-low rate of inflation is slowing further. The presidents of the New York and San Francisco regional Fed banks, William Dudley and Janet Yellen, see the abating inflation rate as convincing evidence the economy still is burdened by excess capacity and needs to be sustained by the Fed.
Financial Times: Brown says bank levy accord growing
Gordon Brown yesterday claimed the world's large economies were close to agreeing a global tax on banks that would cost the financial sector billions of pounds a year, but played down expectations that a deal could be struck at the Group of 20 in June. The prime minister, who held talks with Angela Merkel, German chancellor, outside London last week, said the scene was set for a "global responsibility levy".
New York Times: Developers Are in a Scramble to Strike iPad Gold
While many developers have spent weeks working on applications for Apple's newest toy, only a handful were given iPads on which to test their software. The rest had to wait until the device went on sale Saturday for the moment of truth: How well does our app work on the iPad? Does it look and feel right? Or do we have a lot more work to do? For small developers, the stakes are high. Having an app accepted for a highly coveted Apple product means reaching a passionate group of consumers who have demonstrated their willingness to spend over and over again on applications for mobile devices like the iPhone and iPod Touch. The potential revenue is huge; the apps market for those two devices alone is already worth a billion dollars a year in sales.
In Case You Missed It
John Paul Stevens hints at retirement after almost 35 years on the Supreme Court. CNN's Kate Bolduan reports
http://www.cnn.com/video/#/video/politics/2010/04/05/bolduan.cotus.stevens.retires.cnn
CNN's Candy Crowley talks about getting the economy going with Pres. Obama's economic adviser Larry Summers.
http://www.cnn.com/video/#/video/politics/2010/04/04/sotu.summers.jobs.cnn
Subscribe to the CNN=Politics DAILY podcast at http://www.cnn.com/politicalpodcast
And now stay posted on the latest from the campaign trail by downloading the CNN=Politics SCREENSAVER at http://www.CNN.com/situationroom