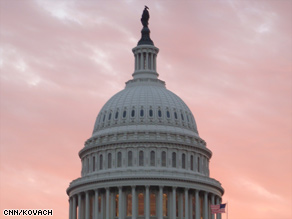 The CNN Washington Bureau's morning speed read of the top stories making news from around the country and the world.
WASHINGTON/POLITICAL
For the latest political news: www.CNNPolitics.com
CNN: U.S. to announce new nuclear weapons strategy
The United States will swear off the development of new generations of nuclear weapons and reduce its reliance on them in a sweeping overhaul of its nuclear strategy due out Tuesday. The Obama administration's Nuclear Posture Review will alter decades of American policy to provide an incentive for countries to stay within the rules of the 1968 Non-Proliferation Treaty, a senior administration official told CNN. The focus of U.S. nuclear policy will be on isolating countries that are flouting their obligations under that pact, the official said.
Wall Street Journal: U.S. Defends Legality of Killing With Drones
The Obama administration, facing questions about the legality of its drone program—a key part of U.S. counterterrorism efforts in Pakistan's Afghan-border region—is pushing back with a legal defense of a program it only tacitly acknowledges. The United Nations Special Rapporteur for Extrajudicial Executions and some legal scholars have questioned whether it is legal for the U.S. to target and execute individuals in countries the U.S. isn't at war with. Professor Mary Ellen O'Connell of the University of Notre Dame law school has called the drone program "unlawful killing," and says it violates international law. For the first time, a senior Obama administration official—Harold Koh, the State Department's legal adviser—has publicly articulated the legal basis for targeted killings.
Foreign Policy: State Department begins interviews in Eikenberry leak investigation
The investigation into who leaked Amb. Karl Eikenberry's secret cables opposing the U.S. troop surge in Afghanistan is heating up. It's been more than four months since the Washington Post published a sensational scoop, reporting that Eikenberry had warned Washington, in strong language, against committing more American forces to the war-torn country unless Afghan President Hamid Karzai cracked down on corruption and demonstrated a greater capacity to govern. And it's been more than two months since the New York Times published the text of the two memos.
CNN: Unemployment benefits expire for thousands
Extended unemployment benefits will temporarily expire for thousands of Americans on Monday because the Senate went on its spring recess without approving a one-month deadline extension. The extension, which had bipartisan support, would have cost about $10 billion, but a lone Republican, Sen. Tom Coburn, said no until the costs are offset.
CNN: Steele tries to reassure GOP as top aide resigns
Embattled Republican National Committee Chairman Michael Steele sought to reassure party activists that the GOP will be prepared for November's elections after Monday's resignation of his chief of staff. Ken McKay was replaced by Mike Leavitt, who served as the RNC's deputy chief of staff for external communications. And a few hours after McKay's departure was announced, another key Steele political ally said that his firm was cutting ties with the RNC.
Las Vegas Sun-Times: Harry Reid kicks off campaign tour in Searchlight
Senate Majority Leader Harry Reid kicked off his re-election campaign this morning with a speech to supporters in his hometown of Searchlight, before embarking on a statewide bus tour. He capped off his day in Las Vegas.Facing a tough re-election campaign, Reid argued that Congress has worked to turn around the economy.He spoke not far from where the conservative Tea Party held its March 27 rally to protest passage of the health care bill and rail against what the movement's members call a national lurch toward socialism.
CNN: Giuliani backs Rubio, rips into Obama
Rudy Giuliani hailed former Florida House Speaker Marco Rubio Monday as the "one candidate that [Florida Republicans] can trust" to uphold conservative values in Washington. Rubio will face Florida Gov. Charlie Crist in the GOP senatorial primary in late August.
CNN: Whitman narrowly leads Brown in third straight poll
A third straight poll of California voters indicates that Meg Whitman has a slight lead over Jerry Brown in this year's battle for California governor. A Los Angeles Times/University of Southern California survey released Monday indicates that Whitman's multi-million dollar television commercial campaign has erased her once-unknown status in the Golden State.
Hartford Courant: Simmons Camp Says McMahon Lied On Rell Questionnaire
Republican U.S. Senate candidate Linda McMahon's answers last year on an official questionnaire about her background have been blasted by a spokesman for her opponent for the GOP's nomination, former U.S. Rob Simmons, as a continuation of "her troubling habit of dishonesty." Sunday's Government Watch column said that on a questionnaire that McMahon filled out for Gov. M. Jodi Rell's office in January of 2009 - when the governor was poised to nominate her to the State Board of Education - McMahon answered "no" to five questions when it appears the answer should, or arguably should, have been "yes." McMahon also said she had a bachelor's degree in education when it was really in French.
Lexington Herald Ledger: Kentucky Senate race could help measure Tea Party's true clout
If political newcomer Rand Paul, a darling of the Tea Party movement, sails to victory in Kentucky's May 18 GOP primary, the win could prove a harbinger of November's mid-term elections. Political analysts and national media outlets continue to focus on the battle between Paul and the Republican establishment's favorite — Kentucky Secretary of State Trey Grayson — as an experiment in grass-roots insurgency powered by disgruntled conservatives who bemoan what they see as an unprecedented expansion of federal government. In many ways, the Kentucky contest will help measure the Tea Party movement's true clout. But a lot of that depends on whether Paul, 47, an eye surgeon from Bowling Green, can avoid some potential land mines that have drawn attention nationally.
NATIONAL
For the latest national news: www.CNN.com
CNN: 25 killed in West Virginia mine blast
Twelve miners died Monday and more than a dozen were unaccounted for after an explosion erupted inside an underground mine in Raleigh County, West Virginia, the mine's parent company said. Another 21 miners were injured in the blast at the Upper Big Branch Mine, according to Michael Mayhorn, emergency dispatcher for Boone County, which was called in to assist in the response. The explosion apparently occurred during an afternoon shift change, witnesses and officials said.
NY Post: Geeks' goofs cost NY $140M in Medicaid
Bureaucratic bungling of the Medicaid program at the state level has squandered more than $140 million in taxpayer dollars over the last decade by putting thousands of ineligible people on the public health-insurance rolls. The reason, The Post has learned, is a simple computer hiccup - and the problem isn't even completely fixed. Albany computer geeks failed to update the database, so the system misread new codes in information provided by the federal government dating back to 1999, according to explosive documents included in litigation filed in 2001 against the state by New York City. The case has bounced around the court system and was recently ruled on by the state Court of Claims.
INTERNATIONAL
For the latest international news: http://edition.cnn.com
CNN: Video shows deaths of two Reuters journalists in Iraq in 2007
One of two photojournalists killed in a 2007 attack by a U.S. helicopter gunship in Iraq was being rescued when the gunship's crew fired on the van to which he was being carried, according to footage posted online Monday.
CNN: 'We run this country,' Karzai says of Afghan people
Plans to drive the Taliban from Afghanistan's second-largest city and surrounding districts will start only when the plans have the support of the population, Afghan President Hamid Karzai said Monday. Karzai has told tribal leaders in the Kandahar region, the Taliban's traditional stronghold, that he would hold back the NATO offensive until he had their backing. His insistence on that support drew a fresh expression of frustration from the White House on Monday, but Karzai told CNN, "We run this country," referring to the Afghan people.
CNN: Interpol ramps up hunt for Saddam Hussein's daughter
The international police organization Interpol has stepped up the hunt for Saddam Hussein's eldest daughter, who is wanted by Iraqi authorities on terrorism charges. Interpol posted a picture on of Raghad Hussein, 41, on its Web site, noting that she is being pursued for "crimes against life and health incitement [and] terrorism." Iraqi authorities say that Hussein has provided financial backing for a terrorist cell network tied to a series of attacks on coalition forces in Iraq.
Christian Science Monitor: Russia Islamist network takes shape as Caucasus hit by another terrorist attack
Five terrorist attacks that killed almost 60 people in a single week have left Russians deeply shaken. The latest attack took place today in the restive Republic of Ingushetia.Some experts worry that an Islamist insurgent network led by Chechen "emir" Doku Umarov, who took responsibility for the suicide bombings that killed 40 people at two Moscow metro stations a week ago, may be preparing to launch a new wave of assaults against Russia's heartland.
Wall Street Journal: Jordan's King Issues Rebuke to Israel
ordan's King Abdullah II said he will push the Obama administration next week to impose on Israel the terms and time-line for new peace talks with the Palestinians, as concerns mount inside his government that the stalled dialogue could fuel a new round of violence in the Middle East that targets moderate Arab states.
New York Times: Priest Charged in U.S. Is Still Serving in India
A Catholic priest who has been criminally charged with sexually assaulting a 14-year-old girl in Minnesota six years ago is still working in his home diocese in India despite warnings to the Vatican from an American bishop that the priest continued to pose a risk to children, according to church documents made public on Monday.
The Guardian: Gordon Brown triggers general election with Labour closing in on Tories
Gordon Brown will today take the journey from Downing Street to Buckingham Palace to trigger a 6 May general election to be fought on a Labour manifesto that promises a series of bold initiatives to reform public services in a programme of "national renewal". A draft of the manifesto seen by the Guardian pledges that an unprecedented fourth-term Labour government would be "bolder about the role of state intervention in markets" and deliver sweeping constitutional change. Failing police forces could be taken over by their neighbours under one radical proposal.
BUSINESS
For the latest business news: www.CNNMoney.com
BBC News: US Treasury Secretary Geithner boosts India trade ties
US Treasury Secretary Timothy Geithner is beginning his first visit to India since assuming office. He will be launching the US-India Economic and Financial Partnership in Delhi on Tuesday with Indian Finance Minister Pranab Mukherjee. It will focus on infrastructure, financial investment and economic stability, US Treasury officials say. Mr Geithner is also expected to press India to open its highly regulated markets to US investment.
Wall Street Journal: Fannie Mae, Freddie Mac Touch Off Swaps Scrap
The regulator of Fannie Mae and Freddie Mac is on the cusp of making big changes to the market for interest-rate swaps, in a move that could potentially cut into Wall Street firms' revenues and generate new business for some firms that run exchanges. The Federal Housing Finance Agency, which oversees the government-owned mortgage giants, expects them to start using a clearinghouse to trade the swaps by year's end, according to people familiar with the matter.
Wall Street Journal: Traders Beat Wall Street CEOs in Pay
Many Wall Street chief executives took a big pay cut for 2009. But their real value may have been in deflecting attention from their troops—who enjoyed the largest collective payday on record. Across Wall Street, leading firms paid out $140 billion in compensation and benefits, the highest number in history, based on a final tally of the pay disclosures at 38 financial-services firms. That figure, which was projected earlier by The Wall Street Journal, represented an increase from $123 billion earned by financial professionals in 2008 and $137 billion in 2007.
NY Post: Debt reduction bill due
Roughly two million embattled Americans got credit-card relief last year - getting banks to cut their huge card balances, thus allowing them to crawl out from under the giant debt bus and get on with their lives. Well, surprise, here comes a second bus to run them down: that forgiven debt is considered income and Uncle Sam wants his share. That's right, two million temporarily overjoyed people are going to have to pay income tax on the forgiven debt.
CNNMoney: U.S. seeks $16.4 million fine against Toyota
The Department of Transportation's National Highway Traffic Safety Administration is seeking the maximum fine of $16.4 million against Toyota Motor Corp. for failing to notify the agency of a "sticky pedal" defect in its cars for at least four months. Under federal regulations, automakers are required to inform the agency within five days of determining that a safety defect exists in one of its products.
CNNMoney: Apple: 300,000 iPads sold on day one
Apple said Monday it sold 300,000 iPads in the United States on the first day the highly anticipated tablet device was available in stores. The company also said that iPad users downloaded over one million apps from Apple's App Store and over 250,000 ebooks during the first day.
Boston Globe: Health insurers sue to raise rates
A half-dozen health insurers yesterday filed a lawsuit against the state seeking to reverse last week's decision by the insurance commissioner to block double-digit premium increases — a ruling they say could leave them with hundreds of millions in losses this year.
In Case You Missed It
CNN's Chris Lawrence explains why the poppy harvest could lead to problems during the NATO offensive into Kandahar.
http://www.cnn.com/video/#/video/world/2010/04/05/lawrence.afghanistan.poppy.cnn
New video shows a 2007 attack by a U.S. Apache helicopter the killed two journalists. CNN's Wolf Blitzer explains.
http://www.cnn.com/video/#/video/world/2010/04/05/tsr.starr.iraq.video.cnn
Subscribe to the CNN=Politics DAILY podcast at http://www.cnn.com/politicalpodcast
And now stay posted on the latest from the campaign trail by downloading the CNN=Politics SCREENSAVER at http://www.CNN.com/situationroom