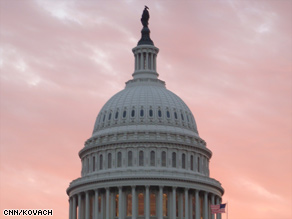 The CNN Washington Bureau's morning speed read of the top stories making news from around the country and the world.
WASHINGTON/POLITICAL
For the latest political news: www.CNNPolitics.com
CNN: U.S. announces new restrictions on nuclear weapon use
The United States will swear off the development of new generations of nuclear weapons and will not use its existing arsenal to attack nonnuclear states that are in compliance with nonproliferation agreements, the Obama administration said Tuesday.
Wall Street Journal: Crackdown Sought on Nuclear Material
A proposed communiqué calls for leaders from more than 40 countries to endorse a global crackdown on the illicit trade of nuclear material at a summit in Washington next week. The communiqué, which was reviewed by The Wall Street Journal, calls for tougher criminal prosecution of traffickers, better accounting for weapons-grade nuclear materials and more international collaboration in such cases. The international community must "effectively prevent and respond to incidents of illicit nuclear trafficking," the draft says.
New York Times: U.S. Approves Targeted Killing of American Cleric
The Obama administration has taken the extraordinary step of authorizing the targeted killing of an American citizen, the radical Muslim cleric Anwar al-Awlaki, who is believed to have shifted from encouraging attacks on the United States to directly participating in them, intelligence and counterterrorism officials said Tuesday.
CNN: White House could cancel Karzai visit
An upcoming U.S. visit by Afghanistan President Hamid Karzai could be called off if he continues to make troubling political statements, White House Press Secretary Robert Gibbs said Tuesday. President Obama invited Karzai to visit Washington on May 12, but Gibbs said that subsequent "troubling and untruthful remarks" by the Afghan president have raised questions about the value of such a meeting.
Wall Street Journal: Debate Reopens on Overhaul of U.S. Spy Agencies
A former U.S. spy chief reopened the debate over the government's intelligence structure Tuesday, calling for the formation of a Department of Intelligence that would put the existing 16 intelligence agencies under one department.
Investors Business Daily: Social Security Near Legal Turning Point On Disability Funds
Come 2018, even Social Security's staunchest defenders will have no choice but to admit that the program faces an urgent crisis. That's when Social Security's Disability Insurance Trust Fund is due to run out, resulting in benefit cuts for disabled workers and their families. The dire financial state of Social Security's disability program is almost always overlooked amid the broader debate over the fiscal health of the program. But 2018 is important because it is the earliest date by which Congress would be forced to act to stave off a sudden hit to some of Social Security's neediest beneficiaries.