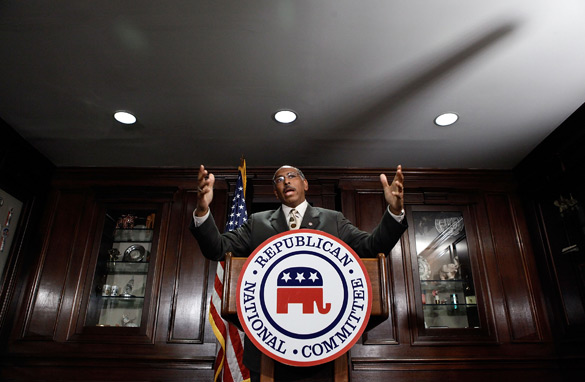 Three Republican state party chairmen Wednesday dismissed criticism of RNC Chairman Michael Steele. (PHOTO CREDIT: Getty Images)

Washington (CNN) -– A trio of Republican state party chairmen Wednesday dismissed criticism of Michael Steele and sought to highlight the Republican National Committee chairman's political spadework ahead of the 2010 midterm elections.
A handful of embarrassing incidents at the RNC and a major staff shake-up have given critics an opening to question Steele's leadership and exposed a schism in the GOP about whether he should remain at the helm of the committee heading into November.
"We are on the offensive," California Republican Party Chairman Ron Nehring declared in a telephone interview with CNN. "That is what is lost on the discussion here. The victories in New Jersey, Virginia and Massachusetts helped to create this environment of where we are right now, and the RNC was absolutely critical to making that happen."
Over the past year, Republicans won the governorships in New Jersey and Virginia as well as picking up the late Massachusetts Sen. Edward Kennedy's seat. Political analysts expect the GOP to win additional seats in the House and Senate in November.
Nehring, Delaware Republican Party Chairman Tom Ross and Illinois Republican Party Chairman Pat Brady all spoke to CNN in a conference call set-up by the RNC. The three state party chairmen also are participating in a private conference call this afternoon with all 167 RNC members and Steele.
"We are winning elections, raising money, and what we really need to do as a group is focus on that," Ross said.
However, for the past week that focus has been blurred by charges that Steele is misusing party funds on such things as private jets to travel around the country.
On Tuesday, New Hampshire RNC member Sean Mahoney accused Steele of spending donors' money with "reckless disregard" and resigned his position on the committee. And prominent GOP strategist Alex Castellanos said that Steele should step down for the good of the party.
In addition, Steele came under fire from social conservatives last week after reports surfaced that the RNC had picked up a nearly $2,000 tab at a bondage-themed West Hollywood nightclub for a group of young donors. A few days later, Democrats distributed an RNC fundraising solicitation that had a misprinted number sending callers to a phone sex line. Steele's chief of staff, Ken McKay, resigned earlier this week, and a one-time Steele political consultant cut ties to the RNC.
"Mistakes were made, no doubt, but that happens in any $100 million enterprise," Brady said. "He did the right thing and took action … and will continue to do so."
The RNC fired the staffer who authorized the $2000 expenditure at the nightclub.
Steele's fate rest in the hands of the 167 RNC members, and his three allies predicted he will survive. "I think the chairman has broad-based support," said Brady, adding that this support extends to "some of those who were troubled by [the nightclub] expenditure."
The three party chairmen all noted that they were not worried about accusations of Steele's excessive spending. Nehring said he views this early spending as needed to help Republicans win in November. And the chairmen said that they view Steele and the RNC as an equal partner.
"Phone calls are promptly returned," Nehring said. "E-mails are promptly returned."