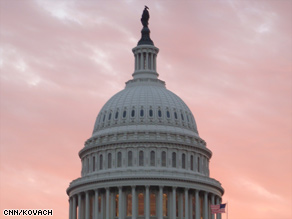 The CNN Washington Bureau's morning speed read of the top stories making news from around the country and the world.
WASHINGTON/POLITICAL
For the latest political news: www.CNNPolitics.com
CNN: U.S. announces new restrictions on nuclear weapon use
The United States will swear off the development of new generations of nuclear weapons and will not use its existing arsenal to attack nonnuclear states that are in compliance with nonproliferation agreements, the Obama administration said Tuesday.
Wall Street Journal: Crackdown Sought on Nuclear Material
A proposed communiqué calls for leaders from more than 40 countries to endorse a global crackdown on the illicit trade of nuclear material at a summit in Washington next week. The communiqué, which was reviewed by The Wall Street Journal, calls for tougher criminal prosecution of traffickers, better accounting for weapons-grade nuclear materials and more international collaboration in such cases. The international community must "effectively prevent and respond to incidents of illicit nuclear trafficking," the draft says.
New York Times: U.S. Approves Targeted Killing of American Cleric
The Obama administration has taken the extraordinary step of authorizing the targeted killing of an American citizen, the radical Muslim cleric Anwar al-Awlaki, who is believed to have shifted from encouraging attacks on the United States to directly participating in them, intelligence and counterterrorism officials said Tuesday.
CNN: White House could cancel Karzai visit
An upcoming U.S. visit by Afghanistan President Hamid Karzai could be called off if he continues to make troubling political statements, White House Press Secretary Robert Gibbs said Tuesday. President Obama invited Karzai to visit Washington on May 12, but Gibbs said that subsequent "troubling and untruthful remarks" by the Afghan president have raised questions about the value of such a meeting.
Wall Street Journal: Debate Reopens on Overhaul of U.S. Spy Agencies
A former U.S. spy chief reopened the debate over the government's intelligence structure Tuesday, calling for the formation of a Department of Intelligence that would put the existing 16 intelligence agencies under one department.
Investors Business Daily: Social Security Near Legal Turning Point On Disability Funds
Come 2018, even Social Security's staunchest defenders will have no choice but to admit that the program faces an urgent crisis. That's when Social Security's Disability Insurance Trust Fund is due to run out, resulting in benefit cuts for disabled workers and their families. The dire financial state of Social Security's disability program is almost always overlooked amid the broader debate over the fiscal health of the program. But 2018 is important because it is the earliest date by which Congress would be forced to act to stave off a sudden hit to some of Social Security's neediest beneficiaries.
CNN: Man arrested, accused of death threats against U.S. senator
Police arrested a 64-year-old Washington state resident for allegedly making death threats against Democratic Sen. Patty Murray of Washington, the Justice Department announced Tuesday. Wilson allegedly stated that Murray "had a target on her back" and that he wanted to kill her, according to the statement, which said the threats were in response to congressional passage of the new health care bill.
CNN: RNC member resigns in wake of spending scandals
A member of the Republican National Committee resigned his post in protest on Tuesday, accusing party chairman Michael Steele of spending donor's money with "reckless disregard." Sean Mahoney, one of New Hampshire's three national committee members, sent his resignation letter to Steele one day after RNC Chief of Staff Ken McKay resigned in the wake of several spending controversies that have engulfed the committee. Longtime Steele consultant Curt Anderson also parted ways with the RNC on Monday, as did a top fundraiser, former Belgium Ambassador Sam Fox.
The Hill: Five stumbling blocks that could wipe out many Democrats
Democrats feel they have grabbed political momentum, but the party still faces several dangers that could wipe it out in November. Democratic strategists and independent political experts identify roughly five stumbling blocks that the party must overcome to avert big losses: history, jobs and the economy, an apathetic base, ethics and anti-Washington sentiment.
CNN: The challenger gets challenged
This rematch is getting interesting. Wednesday, former Maryland Gov. Robert Ehrlich kicks off his bid for his old office. On the eve of that campaign kickoff, the man he's running against, current Maryland Gov. Martin O'Malley, offered to debate Ehrlich this Saturday morning on a popular Baltimore radio station.
Boston Globe: Politically, Patrick's back in the game
Massachusetts Democrats, who for months had all but given up hope of holding onto the governor's office, are now convinced that Deval Patrick's reelection campaign has come to life, in part because of his reengagement in the political process that he shunned during much of his term.Add in some legislative successes and proactive moves on Beacon Hill, and Patrick, according to legislators, mayors, and political operatives, is emerging from a dark period that saw pundits and even some of his closest allies writing him off.
Los Angeles Times: Jerry Brown gets a Democratic challenger
It may appear that Democrat Jerry Brown has an unfettered path to the November election. But technically, that's not true. San Francisco resident Peter Schurman, a former executive director of MoveOn.org, announced his candidacy for the Democratic gubernatorial nomination via press release Tuesday. Schurman staked out the ground to Brown's left, calling for tax increases and lowering the vote threshold in the Legislature to make tax hikes easier. While Brown, and Republicans Meg Whitman and Steve Poizner suck up all the oxygen in the race, there are actually 23 people who have declared their candidacy for governor, according to the secretary of State's website.
San Francisco Chronicle: Whitman pumps $20 million more into campaign
Billionaire Republican Meg Whitman's decision to toss another $20 million of her own money into her campaign to become California's next governor has set off a tsunami of mud-slinging attack ads – and a pricey new chapter in a record-breaking race to the top.
Philadelphia Inquirer: Williams' jaw-dropping coffers for Pa. top post
In the race for cash in the gubernatorial campaign, two candidates from Pittsburgh are comfortably leading – but it's a latecomer from Philadelphia who is emerging as the surprise. Allegheny County Executive Dan Onorato and state Attorney General Tom Corbett are far ahead of their rivals in the May 18 primary when it comes to money in the bank, according to campaign reports released Tuesday. But it is Sen. Anthony Hardy Williams (D., Philadelphia) who turned political heads with his fund-raising numbers Tuesday. Williams, who just entered the race in February, has managed to raise $1.7 million since the beginning of the year, the most for that time period in the Democratic field.
Dallas Morning News: Perry hopes NASCAR ad will help him lap White
Gov. Rick Perry's re-election campaign is getting a new driver this month: NASCAR star Bobby Labonte. The governor unveiled a new campaign ad Tuesday, emblazoned on Labonte's No. 71 Chevrolet Impala that's part of the Samsung 500 at Texas Motor Speedway April 18 in Fort Worth. Perry faces former Houston Mayor Bill White, a Democrat whose spokeswoman was not impressed with Perry's shiny rental.
NY Post: 'Tea' time in governor race
Tea Party-backed Buffalo developer Carl Paladino kicked off his promised $10 million campaign for the GOP nomination for governor last night, vowing to shake up the race and capture grassroots support. Paladino has already made headlines for aggressively going after Republican Suffolk County Executive Steve Levy and state party Chairman Ed Cox. Last night, he included Andrew Cuomo, facetiously calling the Democratic front-runner a "prince."
Los Angeles Times: McCain stumps for Fiorina
Sen. John McCain left his own tough primary battle in Arizona to weigh in on the California Senate race on Tuesday when he visited the state to campaign for Carly Fiorina. But McCain's appearance in a state where he lost the 2008 presidential election to Barack Obama by 24 points highlighted the challenges Fiorina faces in her first run for political office. Although she touts her work as a McCain surrogate during his presidential run, she was sidelined by his advisors after repeated gaffes that presaged ones she has made in this campaign.
Miami Herald: Maurice Ferre, former insider, now an outsider in race for U.S. Senate
One day last fall, Maurice Ferre, a towering figure in Miami politics, in his seventh decade and nearly 15 years out of public office, decided to run for the U.S. Senate. At the time, the former six-term mayor of Miami who helped shape the city's cosmopolitan profile was already months and millions of dollars behind Democratic front-runner U.S. Rep. Kendrick Meek. Five months later - outspent roughly 33 to 1, without a real campaign machine and facing daunting odds - Ferre seems more inspired than intimidated by the mountain.
Pittsburg Post-Gazette: Toomey renews quest to unseat Specter
For once, says Pat Toomey, the political planets and stars have aligned in a year of protest brushfires he thinks could yet send him to the U.S. Senate seat deprived him six years ago. The then-and-now of the quest to unseat Arlen Specter is a study in political tectonics. Today, Mr. Toomey, a youthful 48, conservative Republican, has a seemingly clear field - to say nothing of the backing of the same Republican establishment that Mr. Specter abandoned last year when he changed sides and became the Senate's newest Democrat.
CQ Politics: Nevada's Economic Woes Continue to Dog Titus
Freshman Rep. Dina Titus (D-Nev.) spent most of March taking heat on Democrats' health care overhaul bill. But it is the state of the economy in the beleaguered 3rd district, and not the "yes" vote she ultimately cast on the legislation, that is likely to be the determining factor in her tight re-election contest.
Cincinnati Enquirer: A tea-flavored Ohio House race
Can the founder of the Cincinnati Tea Party, political newbie, muster enough support to beat out two experienced Republican candidates? That's for voters to decide when they cast their ballot in May's primary. A crowded GOP primary for state representative in the 28th Ohio House District means voters have plenty of choices to send into battle with Democrat Connie Pillich in November.
Washington Post: McDonnell's Confederate History Month proclamation irks civil rights leaders
Gov. Robert F. McDonnell, reviving a controversy that had been dormant for eight years, has declared that April will be Confederate History Month in Virginia, a move that angered civil rights leaders Tuesday but that political observers said would strengthen his position with his conservative base.
NATIONAL
For the latest national news: www.CNN.com
CNN: Mine deaths spark criticism of operator's record
The deaths of at least 25 workers in a West Virginia coal mine this week have turned a harsh spotlight on the safety record of the mine's owner, which has paid record fines for safety and environmental violations. Virginia-based Massey Energy Co. has racked up millions of dollars in penalties in recent years. The Montcoal, West Virginia, mine where Monday's fatal explosion took place received 458 citations from federal inspectors in 2009, and more than 50 of those were for problems that the operators knew about but had not corrected, according to federal mine safety records.
CNN: Drilling begins into coal mine; governor holds 'a sliver of hope'
Rescue workers began drilling a hole Tuesday toward where they believe four miners may be located more than a day after a blast killed 25 others in a coal mine here. "There's a sliver of hope, but we know that the odds are not in our favor," West Virginia Gov. Joe Manchin told CNN.
CNN: L.A. mayor looks at shutting most city services twice a week
The mayor of Los Angeles, California, called Tuesday for a plan to shut down all city services - except for public safety and revenue-generating positions - twice a week beginning Monday in an effort to solve the city's budget crisis. He said he was asking the city administrative officer to develop a plan to shut down the city for two days a week and calculate the money the city would save from the move.
INTERNATIONAL
For the latest international news: http://edition.cnn.com
CNN: 7.7-magnitude quake strikes Indonesia
A 7.7-magnitude earthquake struck off the coast of Indonesia early Wednesday, triggering two tsunamis and injuring several people, officials said. Six people on Simeulue island were injured when the quake hit, and two houses collapsed under the violent shaking, said Dadik, the head of Simeulue police, who goes by only one name.
CNN: Seven explosions kill dozens in Baghdad
Seven separate explosions rocked Baghdad on Tuesday morning, killing at least 34 people and wounding 104 others, Iraq's Interior Ministry said.
Jerusalem Post: PM to take part in US nuke summit
Prime Minister Binyamin Netanyahu announced on Tuesday that he will return to the US on Monday, to take part in President Barack Obama's Nuclear Security Summit, just three weeks after he met with Obama in a meeting widely characterized as extremely difficult. Beyond meeting Obama at a reception for the more than 40 leaders from around the world who are expected at the two-day gathering, no one-on-one meeting is scheduled between the two men.
New York Times: Palestinians Try a Less Violent Path to Resistance
Something is stirring in the West Bank. With both diplomacy and armed struggle out of favor for having failed to end the Israeli occupation, the Fatah-dominated Palestinian Authority, joined by the business community, is trying to forge a third way: to rouse popular passions while avoiding violence. The idea, as Fatah struggles to revitalize its leadership, is to build a virtual state and body politic through acts of popular resistance.
New York Times: Pakistan Weighs Changes to Revise Constitution
Pakistan's Parliament opened debate on Tuesday on a set of amendments intended to refurbish the Constitution after decades of distortions inflicted by a series of military autocrats. The changes were widely heralded here as important step toward improving the long-term health of the country's beleaguered democracy. But they also threatened to open a new chapter of instability for the government of President Asif Ali Zardari, as they strip away his powers and leave him more vulnerable to challenges from the opposition.
MSNBC: Ex-U.N. envoy: Karzai may have drug problem
A former U.N envoy to Afghanistan on Tuesday questioned the "mental stability" of Hamid Karzai and suggested the Afghan president may be using drugs. In an interview on MSNBC's "The Daily Rundown," Peter Galbraith described Karzai as "off-balance" and "emotional." Galbraith also called for President Barack Obama to vastly limit Karzai's power to appoint officials within the war-torn country until he proves himself a reliable partner to the U.S. "He's prone to tirades. He can be very emotional, act impulsively. In fact, some of the palace insiders say that he has a certain fondness for some of Afghanistan's most profitable exports," said Galbraith, in an apparent reference to opium or heroin.
Bloomberg: Indian Police Hunt for Maoists Behind Biggest Strike
Indian security forces combed dense forests for Maoist rebels who killed 76 police in their biggest strike in four decades, as Home Minister Palaniappan Chidambaram flew in to assess the situation.
CNN: N. Korea: American sentenced to 8 years
An American man detained in North Korea for illegally entering the country was sentenced to eight years of hard labor, North Korea's state-run news agency reported Wednesday.
BUSINESS
For the latest business news: www.CNNMoney.com
Financial Times: Beijing lays ground for renminbi shift
China has begun to prepare the ground publicly for a shift in exchange rate policy, days after the US Treasury said it would postpone a decision on whether to name China a "currency manipulator". A senior government economist told reporters in Beijing on Tuesday China could widen the daily trading band for the renminbi and allow it to resume the gradual appreciation it halted in July 2008 in response to the global credit crisis.
Wall Street Journal: Rates Rise as Fear Returns on Greece
Greece's financial crisis flared up again Tuesday as doubts about a rescue plan rattled the euro and sent the country's bonds tumbling to their lowest levels since the problems began. The selloff in the Greek bond market drove interest rates on Greek debt higher, putting more pressure on the embattled nation as it seeks to borrow billions of dollars this year. It also intensifies pressure on other European Union nations to be more explicit about terms for any bailout of Greece should it be unable to find buyers for its bonds. The other 15 countries that use the euro have pledged to help, but the bloc remains divided over just where the threshold for aid lies.
CNNMoney: Fed: Recovery may lose steam
Federal Reserve policymakers are worried that the economic recovery may lose steam going forward, despite recent moderate improvements, according to minutes from their recent policy meeting released Tuesday. Though the latest data suggest an uptick in economic activity, Fed members believe that some sectors of the economy could stifle overall growth, the minutes from the March 16 meeting said.
Financial Times: Goldman denies 'bets against clients'
Goldman Sachs will on Wednesday rebuff accusations that it "bet against" clients in the mortgage market at the height of the financial crisis in a letter to investors that contains the most robust defence yet of the bank's actions during the ­turmoil.In an eight-page introduction to Goldman's 2009 annual report, Lloyd Blankfein, chief executive, and his number two, Gary Cohn, tackle claims that their company profited from the US housing debacle and the collapse of the insurer AIG.
Wall Street Journal: Mr. Dimon Goes To Washington
As Congress prepares to push finance regulation to the front burner, plenty of bank executives—stung by Washington's Wall Street bashing—are keeping a low profile. James Dimon, chairman and chief executive of J.P. Morgan Chase & Co., isn't one of them. Buoyed by J.P. Morgan's relative good health, he's spent the past year launching his own campaign to stave off government proposals that would rein in profits, boost consumer protections and impose new fees. Mr. Dimon's bank shelled out more for lobbying efforts last year—$6.2 million—than any of its peers, and the CEO has lately been a regular presence in the halls of Congress.
Bloomberg: Switzerland Threatens Tax Cheats Using 'Wrappers' From Insurers
Swiss regulators are probing whether investors are buying life insurance to hide undeclared assets from tax authorities as the dispute over banking secrecy widens. The concern is that so-called wrapper products, sold by insurers through units in Luxembourg, Liechtenstein and Singapore, are being used to conceal untaxed money. Finma's review comes a year after Switzerland agreed to cooperate with international regulators to avoid being blacklisted by the Organization for Economic Cooperation and Development.
CNNMoney: Comcast prevails over FCC in Web traffic fight
A federal appeals court in Washington ruled on Tuesday that the FCC does not have the authority to stop Internet service provider Comcast from interfering with its customers' file sharing. Tuesday's court decision is the latest volley in a legal fight dating back to 2007, when Comcast subscribers realized that the company was hindering their ability to use peer-to-peer applications like BitTorrent to swap files that consume large amounts of bandwidth.
In Case You Missed It
CNN's Tom Foreman goes over the possible causes of the deadly mine explosion that killed 25 miners on Monday.
http://www.cnn.com/video/#/video/us/2010/04/07/ac.what.caused.mining.disaster.cnn
Alex Castellanos says the RNC might need to "take a different direction" when it comes to its leadership.
http://www.cnn.com/video/#/video/politics/2010/04/06/tsr.alex.castellanos.intv.cnn
Subscribe to the CNN=Politics DAILY podcast at http://www.cnn.com/politicalpodcast
And now stay posted on the latest from the campaign trail by downloading the CNN=Politics SCREENSAVER at http://www.CNN.com/situationroom