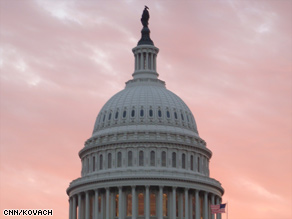 The CNN Washington Bureau's morning speed read of the top stories making news from around the country and the world.
WASHINGTON/POLITICAL
For the latest political news: www.CNNPolitics.com
CNN: Obama, Medvedev to sign arms treaty
U.S. President Barack Obama landed in the Czech Republic on Thursday for a meeting with Russian President Dmitry Medvedev to sign a major nuclear arms control agreement that reduces the nuclear stockpiles of both nations. The new Strategic Arms Reduction Treaty (START) builds on a previous agreement that expired in December.
Washington Post: U.S. looks to nonnuclear weapons to use as deterrent
As the White House pushes for cuts in the U.S. nuclear arsenal, the Pentagon is developing a weapon to help fill the gap: missiles armed with conventional warheads that could strike anywhere in the world in less than an hour. U.S. military officials say the intercontinental ballistic missiles, known as Prompt Global Strike weapons, are a necessary new form of deterrence against terrorist networks and other adversaries. As envisioned, the conventional missiles would give the White House a fresh military option to consider in a crisis that would not result in a radioactive mushroom cloud.
CNN: Five states join lawsuit against health care bill
Five more states – Indiana, North Dakota, Mississippi, Nevada and Arizona – on Wednesday joined 13 others in a lawsuit against the historic overhaul of the U.S. health care system signed into law last month by President Barack Obama, the Texas attorney general announced.
Wall Street Journal: States Reignite Abortion Debate
Less than three weeks after the passage of the landmark national health-care bill, the abortion debate is being reignited: Lawmakers in least six states are pushing for legislation to block abortion coverage in some health plans. After rancorous clashes over abortion coverage in the national bill, opponents were assured that federal funds wouldn't subsidize coverage of the procedure. The final legislation requires insurers that sell plans in new government-run exchanges to segregate payments for abortion coverage from other premiums to ensure government subsidies won't go toward the procedure.
CNN: Holder discusses terrorism, signs pact with Algeria
Attorney General Eric Holder signed a treaty with Algeria on Wednesday that he hopes will help combat terrorism in an area crucial in the battle against violent extremists. During a visit to Algiers, Holder signed the pact with Algerian Minister of Justice Tayeb Belaiz.
CNN: Gov. McDonnell apologizes for omitting slavery in Confederacy proclamation
Virginia Gov. Bob McDonnell apologized Wednesday for leaving out any reference to slavery in his recent proclamation designating April as Confederate History Month, calling it a "major omission."