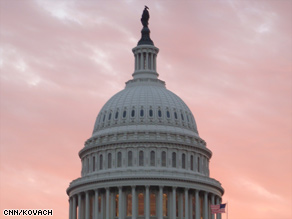 The CNN Washington Bureau's morning speed read of the top stories making news from around the country and the world.
WASHINGTON/POLITICAL
For the latest political news: www.CNNPolitics.com
CNN: Obama, Medvedev to sign arms treaty
U.S. President Barack Obama landed in the Czech Republic on Thursday for a meeting with Russian President Dmitry Medvedev to sign a major nuclear arms control agreement that reduces the nuclear stockpiles of both nations. The new Strategic Arms Reduction Treaty (START) builds on a previous agreement that expired in December.
Washington Post: U.S. looks to nonnuclear weapons to use as deterrent
As the White House pushes for cuts in the U.S. nuclear arsenal, the Pentagon is developing a weapon to help fill the gap: missiles armed with conventional warheads that could strike anywhere in the world in less than an hour. U.S. military officials say the intercontinental ballistic missiles, known as Prompt Global Strike weapons, are a necessary new form of deterrence against terrorist networks and other adversaries. As envisioned, the conventional missiles would give the White House a fresh military option to consider in a crisis that would not result in a radioactive mushroom cloud.
CNN: Five states join lawsuit against health care bill
Five more states – Indiana, North Dakota, Mississippi, Nevada and Arizona – on Wednesday joined 13 others in a lawsuit against the historic overhaul of the U.S. health care system signed into law last month by President Barack Obama, the Texas attorney general announced.
Wall Street Journal: States Reignite Abortion Debate
Less than three weeks after the passage of the landmark national health-care bill, the abortion debate is being reignited: Lawmakers in least six states are pushing for legislation to block abortion coverage in some health plans. After rancorous clashes over abortion coverage in the national bill, opponents were assured that federal funds wouldn't subsidize coverage of the procedure. The final legislation requires insurers that sell plans in new government-run exchanges to segregate payments for abortion coverage from other premiums to ensure government subsidies won't go toward the procedure.
CNN: Holder discusses terrorism, signs pact with Algeria
Attorney General Eric Holder signed a treaty with Algeria on Wednesday that he hopes will help combat terrorism in an area crucial in the battle against violent extremists. During a visit to Algiers, Holder signed the pact with Algerian Minister of Justice Tayeb Belaiz.
CNN: Gov. McDonnell apologizes for omitting slavery in Confederacy proclamation
Virginia Gov. Bob McDonnell apologized Wednesday for leaving out any reference to slavery in his recent proclamation designating April as Confederate History Month, calling it a "major omission."
Politico: Jim DeMint: The right's rainmaker
Jim DeMint wants to remake the Senate a little more in his own image, and he's built a rainmaking campaign finance juggernaut to help in the reconstruction effort. The poster warrior for the South Carolina Republican's conservative crusade is Marco Rubio, the insurgent former Florida House speaker who vaulted from near-obscurity to take a double-digit lead in the polls over sitting Republican Gov. Charlie Crist in the race for the GOP's Florida Senate nomination. DeMint's Senate Conservatives Fund claims credit for more than $343,000 in support of Rubio's campaign, a combination of direct donations, underwriting fundraising appeals on Rubio's behalf and bundling hundreds of thousands of dollars in online and direct-mail contributions sparked by those solicitations.
CNN: Palin, Bachmann rally conservatives
Republican hot button Sarah Palin took the stage Wednesday in downtown Minneapolis, Minnesota, calling on conservatives to "get our country back on the right track." The former Alaska governor and current conservative superstar headlined the event hosted by the Republican Party of Minnesota. Palin also offered a direct thank you to members of the Tea Party movement. Also featured, Minnesota Rep. Michele Bachmann, a recent fixture among the Tea Party crowd and fierce critic of President Obama.
USA Today: Five former governors seek return to office
During the nation's economic downturn, governors have faced tough choices: raising taxes, cutting services, downsizing campaign promises made during better times. Amid the political upheaval that has followed, this year's elections already are guaranteed to produce the most new governors in 50 years. That class of newcomers could include some old-timers. Five ex-governors are trying to get their former jobs back. Their pitch: Are you better off than you were when I was in charge?
Fortune: What now for Eliot Spitzer?
Two years after resigning in disgrace, Eliot Spitzer is back in the spotlight: writing columns, giving TV interviews, making speeches. It's a little like his first big political setback, when, upon losing a run for New York attorney general in 1994, he became a talking head on Geraldo and Hannity and Colmes.This has prompted speculation about a comeback, generating tabloid headlines that he had plans to run for office in 2010. For months Spitzer dismissed such speculation, saying he couldn't put his battered family through it. But now, even as he protests, he declines to shut the door.
Milwaukee Wisconsin Journal Sentinel: Leinenkugel to run against Feingold, source says
With a name that Wisconsin brew made famous, Dick Leinenkugel could shake up a Republican primary for U.S. Senate that still lacks a big name while former Gov. Tommy Thompson remains on the sidelines. The state commerce secretary intends to do just that in the coming weeks after leaving his post Friday, several sources familiar with his plans said Wednesday. Also Wednesday, Oshkosh business executive Ron Johnson said he was weighing entrance into the race. The developments left the fall primary campaign even more unsettled fairly late in the game by traditional political standards and shed no new light on Thompson's plans. Democratic Sen. Russ Feingold awaits the winner.
Los Angeles Times: Sen. Boxer emphasizes progress on the economic front as she gears up for tough reelection race
As Sen. Barbara Boxer girds for a tough reelection battle, she is crisscrossing California during the Senate recess to highlight what she sees as concrete accomplishments in the last year - jobs created by the economic stimulus package, benefits from the healthcare bill for seniors and the ill and tax breaks for businesses that are hiring the unemployed.
St. Petersburg Times: As Rubio gains, Crist shifts
When Marco Rubio announced Wednesday that he had raised a whopping $3.6 million over the past 90 days, it was another game-changer in the Republican U.S. Senate primary. This just a day after Gov. Charlie Crist bucked fellow Republicans and vetoed an elections bill he was expected to sign — and the same day he reversed course and hinted he might veto a teacher tenure bill favored by Jeb Bush and other Republican leaders. On top of that, Crist plans to call the Legislature into special session this summer to overhaul state ethics laws — an issue Republican leadership has avoided this year. It all fed a surge in speculation that Crist is positioning himself to drop out of the Republican primary and run instead as an independent.
Wall Street Journal: Rangel Challenged by a Historic Foe
Rep. Charles Rangel, already beleaguered by ethics troubles, now faces a primary challenge from Adam Clayton Powell IV, son of the legendary congressman Mr. Rangel defeated four decades ago. In an interview, Mr. Powell, a member of the New York state assembly, said Wednesday he intended to challenge Mr. Rangel in the Democratic primary for the congressional seat that encompasses Harlem and much of upper Manhattan.
Bloomberg: Tea Party Ads Target Stupak for 'Betrayal' on Health-Care Vote
Tea Party activists started an advertising campaign against Representative Bart Stupak yesterday for backing President Barack Obama's health-care bill when it was passed by the House last month.
NATIONAL
For the latest national news: www.CNN.com
CNN: Diplomat taken into custody after airliner disturbance
A passenger with diplomatic credentials of Qatar was detained Wednesday night after a disturbance aboard a United Airlines flight en route to Denver, Colorado, federal authorities said. Initial reports were that the incident involved an attempt to set a shoe on fire, but there were later indications that the situation may have resulted from a misunderstanding involving smoking during the flight.
USA Today: Security alerts divert more flights in 2010
The number of flights forced to land prematurely because of security alerts doubled in the first three months of this year compared with the same period in 2009, federal figures show. Thirty-five U.S. flights were diverted from their destination to a different airport from Jan. 1 through March 31 for security reasons, according to figures the Transportation Security Administration gave USA TODAY.
Boston Globe: Insurers call halt, get state warning
The standoff between Massachusetts regulators and health insurance companies intensified yesterday, as most insurers stopped offering new coverage to small businesses and individuals, and state officials demanded that the insurers post updated rates online and resume offering policies by Friday. People seeking to buy health insurance for the first time, or customers looking to change policies, found they could not do so, at least temporarily. The confusion…followed the state Division of Insurance's rejection last week of 235 of 274 premium increases proposed by insurers. The increases were for policies covering what is known as the small group market, which includes more than 800,000 people across Massachusetts.
CNN: Air quality safe for crews to resume search for missing miners
Four rescue teams are getting ready to re-enter a West Virginia coal mine to search for four missing miners after determining the air quality is safe. In all, 32 rescuers will enter the Upper Big Branch South Mine early Thursday, Kevin Stricklin, an administrator for the federal Mine Safety and Health Administration (MSHA), told reporters.
INTERNATIONAL
For the latest international news: http://edition.cnn.com
CNNMoney: Geithner plans China sidetrip
Treasury Secretary Timothy Geithner will meet with a top Chinese official this week, possibly opening the door to a discussion over the value of China's currency. Geithner, who has been in India this week, will add a trip to Beijing to meet with Vice Premier Wang Qishan on Thursday. The focus of the talks is unclear. However, it's expected that the value of the yuan could be the main topic of their discussion. A number of U.S. officials have blasted the Chinese government in recent months for allegedly undervaluing its currency. China has denied such accusations.
The Guardian: Greece pins hopes on luring investors in US and far east
The Greek government is planning trips to the US and the far east to lure investors and calm the markets, as the country's debt crisis worsened today. It is believed that Greek officials will visit the US in mid-April, and also plan to travel to China and other Asian-Pacific countries soon. The US fundraising, denominated in US dollars, could be in the region of $5bn (£3.27bn).
CNN: Video purportedly shows U.S. soldier captured in Afghanistan
A video purportedly showing a U.S. soldier captured in Afghanistan last June was posted Wednesday on a radical Web site. Pfc. Bowe Robert Bergdahl, 23, disappeared from his combat outpost in southeastern Paktika province sometime after he finished his guard duty shift on the night of June 29. CNN could not independently verify the authenticity of the video, and U.S. military officials could not immediately be reached for comment late Wednesday.
CNN: Ex-foreign minister says she's Kyrgyzstan's interim leader
A former foreign minister claimed to be in control of an interim government in Kyrgyzstan early Thursday after a wave of protests that left at least 40 dead and appeared to have driven President Kurmanbek Bakiev from office.No independent confirmation of the claim was immediately available. The U.S. State Department said earlier that it believed Bakiev remained in power, but Otunbayeva said he had fled Bishkek, the capital, and his government had resigned after a day of clashes between anti-government protesters and police.
CNN: Thai premier declares state of emergency amid protests
Thailand's Prime Minister Abhisit Vejjajiva declared a state of emergency Wednesday, hours after anti-government demonstrators stormed the country's parliament. Speaking on nationwide television, he said the "purpose is to restore peace and order and to stop the spreading of false information to the Thai public."
Der Spiegel: German Trainers Describe Pitiful State of Afghan Police
A functioning police force is seen as a prerequisite for a Western withdrawal from Afghanistan. German trainers, however, paint a disastrous picture of the quality of Afghan security forces. Too many police, they say, can't read or write, can't shoot straight or take bribes.
BUSINESS
For the latest business news: www.CNNMoney.com
New York Times: China Offers High-Speed Rail to California
Nearly 150 years after American railroads brought in thousands of Chinese laborers to build rail lines across the West, China is poised once again to play a role in American rail construction. But this time, it would be an entirely different role: supplying the technology, equipment and engineers to build high-speed rail lines. The Chinese government has signed cooperation agreements with the State of California and General Electric to help build such lines.
CNNMoney: General Motors loses $3.4 billion
General Motors reported $3.4 billion loss in the fourth quarter of 2009, but is on track to possibly return to profitability in 2010, the company said Wednesday.
CNNMoney: Greenspan: 'I was right 70% of the time'
Alan Greenspan acknowledged Wednesday that mistakes were made during his long tenure as chairman of the Federal Reserve, but he argued that the low interest rate policy he championed at the central bank didn't inflate the housing bubble.
Washington Post: Federal Reserve Chairman Ben Bernanke sounds a warning on growing deficit
Federal Reserve Chairman Ben S. Bernanke warned Wednesday that Americans may have to accept higher taxes or changes in cherished entitlements such as Medicare and Social Security if the nation is to avoid staggering budget deficits that threaten to choke off economic growth.
Wall Street Journal: US Airways, United in Talks
UAL Corp.'s United Airlines and US Airways Group Inc. have resumed discussions of a potential merger that would create a global behemoth, people familiar with the matter said Wednesday. The talks are the latest in a decadelong dance between the two big airlines and have recently heated up after months of off-and-on conversation, these people said. The talks aren't that far along and could falter again, these people said.
In Case You Missed It
On the eve of the president's trip to the Czech Republic, CNN's Ed Henry talks to students about Obama's visit.
http://www.cnn.com/video/#/video/politics/2010/04/08/henry.obama.prague.preview.cnn
CNN's Brian Todd reports on new findings of citations given to Massey Energy the day of the West Virginia mine blast.
http://www.cnn.com/video/#/video/us/2010/04/07/tsr.todd.mine.citations.cnn
Subscribe to the CNN=Politics DAILY podcast at http://www.cnn.com/politicalpodcast
And now stay posted on the latest from the campaign trail by downloading the CNN=Politics SCREENSAVER at http://www.CNN.com/situationroom